ProPair Data Scientist – Role Summary
Mission for Data Scientist: To optimize performance and usage of ProPair products. Ensure products work as expected, monitor and optimize customer performance, and complete analysis for product enhancement and use case expansion. Performance of our products is critical to our success; the Data Scientist will support the Data Science, Product and Customer Success functions.
Outcomes
The Data Scientist will…
Monitor and maintain customer models, and manage the model tuning process. Includes monitoring and reporting on A/B tests and adding quantifiable metrics to improve value modeling/ ROI reporting. Will also develop methods to improve this process, using data pipelines, deployment and monitoring procedures.
Drive deep insights from customer data to understand where our products are working or struggling, and develop a strategy to improve or implement new use cases. Share performance results from existing customer use cases.
Dig through data weekly to find new features that can used to amplify product performance. Work with Product team to implement these insights into production.
Own all facets of customer data assets: data maintenance, field standardization, access to data sources, performance reporting, production monitoring and error resolution. Ensure consistent flow of data from customer systems and troubleshoot issues. Will also add features and identify new data sources to improve ProPair products.
Competencies
The Data Scientist is…
Experienced with at least three years of machine learning model development, deployment and maintenance.
Experienced with using Tableau (or similar BI tools) and capable of managing a complex data infrastructure.
Able to effectively and clearly document and share insights from analysis.
Intellectually curious and professionally inspired by that curiosity.
Willing and prepared to take initiative and action to achieve goals without requiring specific direction.
Honest, fair and ethical; and builds trust with teammates, customers and partners.
Committed and lives up to verbal and written agreements, regardless of personal cost.
In possession of an advanced degree in Engineering, Physics, Math or Computer Science.
About ProPair
Learn more about how ProPair's Machine Learning applications and technology are revolutionizing how mortgage lenders and sales organizations attack their lead waste problems, visit http://www.propair.ai.
To learn more about this role, contact Ethan Ewing at eewing@propair.ai or 650-465-8321.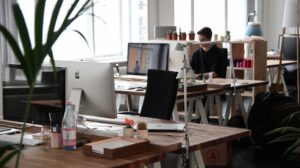 Get ahead of your competition
See how many sales you're missing with The ProPair Challenge. Connect with us to run a free 48-hour data analysis using machine learning, where we'll pull lead management data and show you opportunities to improve lead scoring, distribution and conversion.