You hear a lot about how important lead generation is for your business and maybe even the use of AI for lead generation. Of course, you need to generate leads before you can work and convert them.
But once leads come into your system, do you have the support you need to manage them?
Like many organizations, you may struggle with navigating the thousands of lead data points you receive, as well as how to translate the data for salespeople and keep leads moving through the sales funnel.
Sales automations have made this easier by simplifying repeatable processes. But sales automations alone often still rely on manually establishing rules and structures for the leads to flow through.
There's a better, more effective way — artificial intelligence (AI) and machine learning (ML) provide automated lead management solutions that can skyrocket your success with not only managing leads but actually converting them.
It's all done through accurate, intelligent data analysis and management that doesn't have to rely on human intervention to work effectively. Read on to learn more about adding AI/ML lead management automation.
Test the capability of AI lead management. Schedule your own free ProPair demo.
The time to use AI is now
It's no longer enough to be curious about AI or test it within one process. The tools are accessible and businesses are using them.
The number of businesses that have adopted it grew by 270% over the past four years, and more than 9 in 10 leading businesses have ongoing investments in AI.
Now the focus is on how to use AI across more areas of the business and to scale the business itself.
Get our free download to learn the top 5 ways to boost sales with AI.
Why are AI tools for sales growing in business?
Beyond keeping up or getting ahead of the competition, the reason businesses are jumping on the AI train is because it provides unquestionable benefits, improving processes that directly impact ROI.
When it comes to marketing and sales operations, you have the potential to analyze and optimize thousands of data points as leads flow into your business. To work and convert leads you need to collect their basic data and track their behavior, measuring these against various objectives to reach success (see more about SQLs and MQLs).
This simply isn't possible or effective with a manual system. AI/ML applications augment what we can do manually, enhancing our capabilities.
Artificial intelligence and machine learning make lead management solutions more efficient and functional than ever, analyzing and providing insights on that data instantly, which you can then use to quickly act on to convert more leads.
In short, using AI/ML applications now will improve ROI, optimize performance, and increase sales. So what are you waiting for?
Learn more. Read our Guide to Implementing AI/ML for Executives in Sales Operations
THE PROPAIR CHALLENGE
Are you closing all the sales you can?
See exactly what you're missing and why.
Ways AI and ML impact lead management solutions
AI/ML tools for sales are increasingly being added to organizations' toolkits. Just as AI sales automations tools are growing, so are intelligent or predictive AI/ML use cases.
With AI/ML applications, your organization can optimize all lead data that flows into your CRM. It can enhance all marketing efforts, track all lead behaviors and provide actionable decision support to sales teams to know how to work and convert leads.
Artificial intelligence
Artificial intelligence tools are here to enhance the work we do, achieving tasks that sales teams otherwise wouldn't have the time for or the physical capability.
AI is changing how we manage leads because it can analyze large amounts of data, using advanced calculations to produce actionable insights that sales and marketing teams can use to optimize lead management automations.
Machine learning
Machine learning in particular is a type of AI that uses models to predict outcomes. As machine learning tools perform, they also learn from outcomes and get better at making accurate predictions.
They start by providing insights from historical data and then progress by applying all new data to that same model to improve predictions continuously. And it's all done without any manual adjustments or re-evaluations.
Convert more leads: Invest in new AI for lead management tools
If you're collecting and working leads, you're likely investing a lot of resources, and for good reason. Leads are the lifeblood of any business that sells a product or service. Converting them is directly tied to revenue and growth goals.
You likely already know how this investment in leads is impacting your ROI. But to paint a clearer picture for you, think about all of the resources being invested and all of the challenges you face with manually managing lead data, or even automating sales processes, but never really knowing whether you're getting the best results.
Or even worse, the lead data you're collecting is static and you're struggling to make sense of how to score, distribute, work, nurture, and convert the leads that come in.
Automation alone might seem like a huge game changer, simplifying repeatable daily tasks for the sales team. But the same problems arise — you could be dumping more effort into a tool that's only as good as your best guess for what converts leads.
With artificial intelligence tools, you get AI sales automations that are intelligent and predictive. Not only are they automatically applied to the data but they also do the analytical work for you, avoiding all guesswork and bias.
They give you precise and calculated decision support so that your sales agents know exactly what actions to take and increase the possibility of converting leads.
Need to get up to speed on automations? Check out these ​​12 Essential Sales Automations for Sales Operations Success in 2022
AI automated solutions for lead management
Production-ready, AI lead management systems are more available now than they've ever been. This gives sales teams who adopt them as soon as possible a competitive advantage.
Let's dig into some of the specific areas of lead management where AI/ML sales automations can be applied for the biggest impact on lead conversions and your ROI.
Increase conversions from the start with AI lead assignment. Download our free guide to learn more.
The challenge and solution for lead scoring and evaluating lead sources
Over time we've learned tricks and shortcuts for how to score leads manually and assess how qualified they are. But at their best, these methods evaluate lead data qualitatively, not quantitatively.
This leads to missing the full picture. It's just not possible for someone to manage all data points and predict outcomes in a statically accurate way.
Many organizations run into the same problems, missing errors that are happening right at the outset, like buying from a bad lead source, or lead generation that isn't targeted well. Leads like that can be doomed from the start.
Even if lots of resources are poured into scoring leads after they come into your CRM, these efforts have to be re-evaluated and adjusted often, making it difficult to measure and act on the data.
ProPair Rank: Know exactly which leads to focus on and when
With intelligent lead scoring, you'll know and can act on each lead's statistical probability of closing.
Certain lead characteristics and behaviors are chosen automatically by AI as the criteria for leads that are most likely to close. As leads come in and they're automatically scored, your sales team gets instant insight into how to prioritize leads.
It all happens without having to manually determine how to score them or guess at the perfect criteria for accurate evaluation.
As leads are scored, AI/ML tools also reveal which lead sources are giving you qualified leads, informing you on the effectiveness of how you're buying or generating leads.
With a lead management system tool like ProPair RANK you no longer need to wonder which leads and lead sources have the highest probability of converting, you will know.
ProPair RANK helps you qualify leads, providing the following benefits:
Analyzes a multitude of lead attributes at scale and without bias
Calculates the likelihood of converting leads
Prioritizes lead assignments and focuses on the right leads
Optimizes nurturing and follow-up activities
Customized to your team
Read more: How to Develop a Lead Scoring Model, and Why it Matters
The challenge and solution for sales agent scoring
The challenges of navigating office politics, ego, and even just plain time management issues have plagued efforts to understand optimizing each salesperson's performance.
Ultimately this makes it difficult to know if the sales agent getting the lead is qualified to convert that lead to a closed sale. Instead of knowing how sales agents perform based on data points and proven patterns, many organizations run into common issues. Sales agents struggling to close may burn through leads looking for a win. Top producers may be handed too many or may be confident in closing most leads they take so they work fewer of them.
In any case, there are missed opportunities to sell to leads because they're not getting into the right hands.
​​ProPair MATCH: Know exactly what sales agents to assign leads to
With AI/ML data analysis, certain sales metrics can be interpreted to evaluate a history of sales agent performance, related to lead attributes. This allows for predictions about which different types of leads are most likely to be converted by which salespeople.
With AI/ML decision support, you get automated guidance for what leads should be assigned to what sales agent to have the highest probability of closing a deal.
Removing the guesswork and difficulties navigating team politics about who is the top producer or who needs more leads, ProPair MATCH is a lead management system tool that distributes leads to sales agents equitably. This empowers every salesperson with data-driven lead assignments to maximize conversion.
And with machine learning, these decision support tools continuously analyze changes with sales agents, always with the goal of predicting and recommending outcomes that drive higher conversion rates.
ProPair MATCH recommends agents most likely to convert each lead, providing benefits including:
Confidence in which sales agents to assign leads to
Optimization of the sales team you have
Elimination of bias and static workflows
Quantifying and acting on agent strengths
Ability to scale easily with quick data analysis
The challenge and solution for lead distribution
Working leads starts with getting them into the right hands. This involves some technical setup and systems to make sure leads flow in efficiently and are smoothly moved to each next step — like receiving that first phone call or email. Much of this can be automated.
But what rules are part of these systems? After a lead is generated, how is it distributed? Is data analyzed to understand what actions will most likely help this lead convert to a sale?
In many cases no. Instead, solutions for equitable methods of distributing leads have provided structure to make decisions easier. But methods like Round Robin, Cherry Picking, Shot Gun, and Shark Tank aren't based on data.
And this often means sales opportunities are left on the table.
ProPair MIX: Optimize your entire sales operation by maximizing the potential of every lead and every sales agent
After evaluating leads and sales agents, how do you take the next step to distribute the right leads to the best salesperson for each lead?
Intelligent lead management system tools like ProPair MIX help you optimize how leads enter your sales team, setting up the entire team for success and maximizing their production.
No more guesswork or randomized systems. ProPair's machine learning makes data-driven decisions and learns from these to continuously optimize positive outcomes for how leads are distributed.
ProPair MIX allows you to maximize the potential of every lead and every sales agent, providing benefits including:
Maximizing yield from the highest value leads
Ensuring top performers spend their limited time with the highest value opportunities
Equitably distributing leads from top to bottom performers
Growing the skills of sales agents at all levels
Reducing the need and expense of churning your salesforce
How to get started using automated AI lead management solutions
By now you likely feel more confident in the benefits of AI/ML in sales operations and know that it's no longer a choice of the future.
So what can you do to incorporate AI lead management automations into your business now?
ProPair makes it easy. Add one simple production-ready integration to your system. ProPair's machine learning tools will run in the background as leads enter your CRM. This provides automated intelligent insights that your sales operations can act on immediately to manage leads.
Our clients who have implemented our tools without making any other changes to their system see an easy 10-15% lift in conversion rates. As our models analyze historical data and new data flowing into your system this has the potential to increase. The first step? See how your current system is performing.
Schedule a free demo with ProPair to get started.
We use machine learning to analyze your current leads and their performance to help you see missing sales opportunities. We then advise on how to improve lead management with predictive sales automation.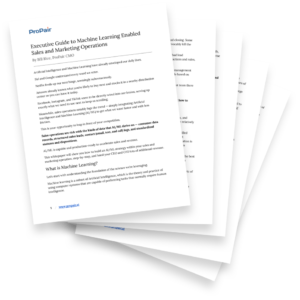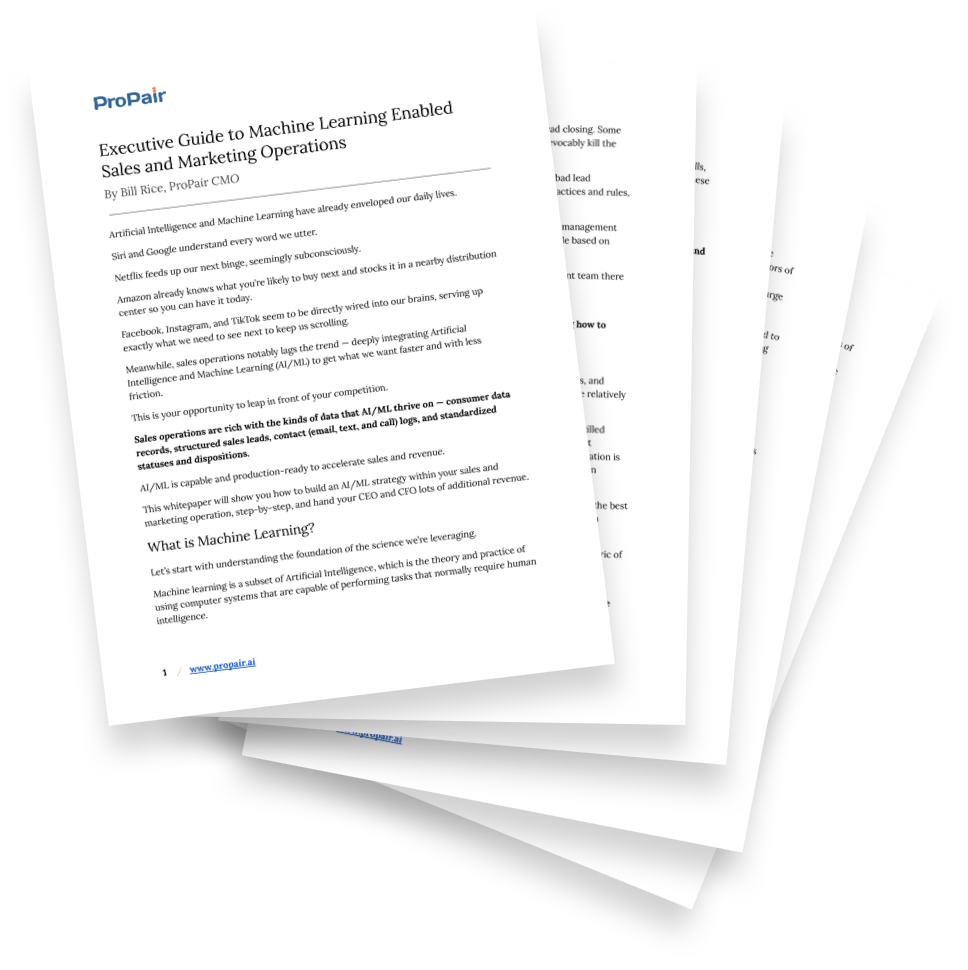 How does AI increase sales?
Download our executive guide to understand the current state of AI and machine learning. We'll show you how innovative sales and marketing organizations use it to get ahead of their competition.