Demand for better tools and a need for improved systems has led to a brighter future for lead management that boosts business.
You've likely heard the buzz around new lead management trends and technologies. We're digging in to show why you should take these seriously.
By embracing these trends, marketing directors unlock opportunities for growth, improve collaboration between marketing and sales teams, and stay ahead in the dynamic, changing landscape of lead management.
Schedule a demo with ProPair to integrate AI into your current system now.
7 emerging lead management trends and technologies for marketing directors
Along with the top trends, we also share tools and solutions as a starting point to reap the benefits of these emerging lead management trends.
From robust incumbents like major CRM systems that are more complex, to solutions that seamlessly integrate with your current system, there are a range of places to start.
1. AI-driven lead scoring
Artificial intelligence (AI) is being used to score leads based on various factors like engagement, behavior, and demographics — among other data points — with the capability of analyzing many more dimensions than has previously been possible manually.
This simplifies lead scoring, providing predictions that help businesses prioritize leads and focus on those with the highest potential to convert.
Tools and solutions
ProPair: Add a simple AI lead scoring solution to your current system, with a tool that seamlessly plugs into most existing systems to provide predictive AI-driven lead scoring values.
HubSpot and Salesforce: These major CRM systems have added AI lead scoring capabilities you can use if you're already set up on these platforms and have the support to add the capabilities.
Read more: Why AI Lead Scoring is Essential for Raising Conversion Rates
2. Lead Distribution
Once leads are scored, they must be distributed intelligently to make the most of them.
No more random assignments to the sales team. New lead distribution tools provide the important capability of matching the right leads to the right sales agents, at the right times.
Tools and solutions
ProPair and Databowl: Add simple lead distribution solutions that integrate into your current lead management system. These both provide multiple on-trend capabilities, including tools to support lead distribution and lead nurturing using predictive AI.
HubSpot and Salesforce: Tap into robust and sometimes complex lead distribution capabilities that are ever-improving as a part of these long-trusted CRM systems.
Increase conversions from the start with AI lead assignment. Download our free guide to learn more.
3. Personalized marketing automation
Marketing automation tools have become more advanced, allowing for personalized communication at scale.
Segment leads based on behavior, preferences, and several additional data points and behaviors, to deliver tailored content and offers that nurture leads effectively.
Tools and solutions
Each of the following tools pair lead scoring with customizable marketing automation to personalize each lead's journey through the sales funnel. These tools are keeping up with personalization trends, as they have the customer bases and capabilities to continue enhancing personalization with leads:
Get more from each lead with AI-powered lead nurturing. Download our free guide here.
4. Omnichannel communication
Businesses increasingly need to engage leads across multiple channels, including email, social media, live chat, and text messages.
This ensures customers receive a consistent and seamless experience, regardless of the platform they use — and it's more likely you'll reach them successfully where they already are.
Tools and solutions
Each of these tools offers a range of omnichannel communication features to support strategic and data-driven marketing efforts, including AI and automation capabilities.
Use direct mail to reach leads? See how AI guides your campaigns to get results with our free download.
5. Predictive analytics
By analyzing historical data and trends, predictive analytics helps businesses anticipate customer needs and preferences.
This allows for developing proactive marketing and communication strategies, increasing the likelihood of conversion. And it's easier than ever before with AI and machine learning tools.
Tools and solutions
ProPair: Using AI and machine learning, ProPair predicts the future driven by your historical and incoming lead data. This provides intelligent decision support to spot opportunities for improvement and pinpoint the best lead management strategies.
Read more – Lead Management Metrics: 10 KPIs Every Marketing Director Should Track
6. Enhanced CRM integration
Customer relationship management (CRM) systems are becoming more advanced, integrating with other tools and platforms to meet growing demand for new technologies.
Various integrations provide a more comprehensive view of each lead. This is enabling businesses to better understand and target their leads based on their unique customer journey, without having to overhaul their entire lead management system.
Tools and solutions
The incumbents that offer robust capabilities are the most likely to keep trends moving forward for their users. They offer integrations with the most tools and software. And they're also adding and improving their own capabilities for AI and other trends.
Learn the simplest way to add new tools – Integrating AI and Automation in Lead Management: Game Changer for Marketing Directors
7. Virtual sales assistants and chatbots
AI-powered chatbots and virtual assistants are being used to engage leads in real time, answering their questions and providing personalized recommendations.
This helps to maintain engagement and guide leads through the sales funnel, all without having to do repetitive tasks before even knowing if a lead is qualified.
Tools and solutions
Using chatbots with additional automation capabilities and predictive tools makes marketing and sales easier. These tools help you solve problems intelligently and more effectively engage customers, making it easy to craft sequences, emails, texts, and sales scripts.
Keep up with all trends impacting lead management. Read: Top 10 Emerging Trends in Sales Lead Management Systems for 2023
How lead management trends are impacting marketing
More opportunities to learn and improve
These trends and technologies provide the opportunity, as well as the need, to continuously learn and improve processes that impact marketing and sales. Businesses need to regularly analyze and optimize lead management strategies, using data-driven insights to drive improvements.
Better alignment between marketing and sales
Through these efforts, marketing and sales teams will need to work together to share insights and align efforts. By collaborating on testing, measuring, and assessing strategies businesses ensure that leads are worked effectively throughout the customer journey, increasing conversion rates and revenue.
A stronger foundation of data privacy and security
By managing and relying on data more than ever before, there are growing concerns around data protection. Businesses need to ensure that lead management practices are compliant with ever-changing regulations. This includes being transparent about data usage and providing leads with control over their personal information.
Get our free download to learn the top 5 ways to boost sales with AI.
Read more: Automate Moving MQLs to Sales Qualified Leads with AI/ML Solutions
Where to start when adopting new trends
How could these trends and technologies help your marketing and sales teams?
Start with a simple solution that hits the mark for many of the trends above, including AI lead scoring and lead distribution, predictive analytics, and overall lead nurturing.
Schedule a free demo with ProPair.
See how easy it is to plug AI into your current lead management system to get the full value of each lead you've invested in.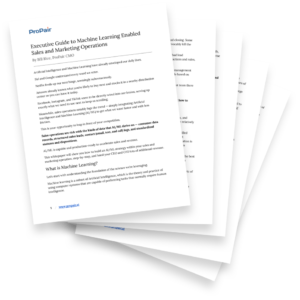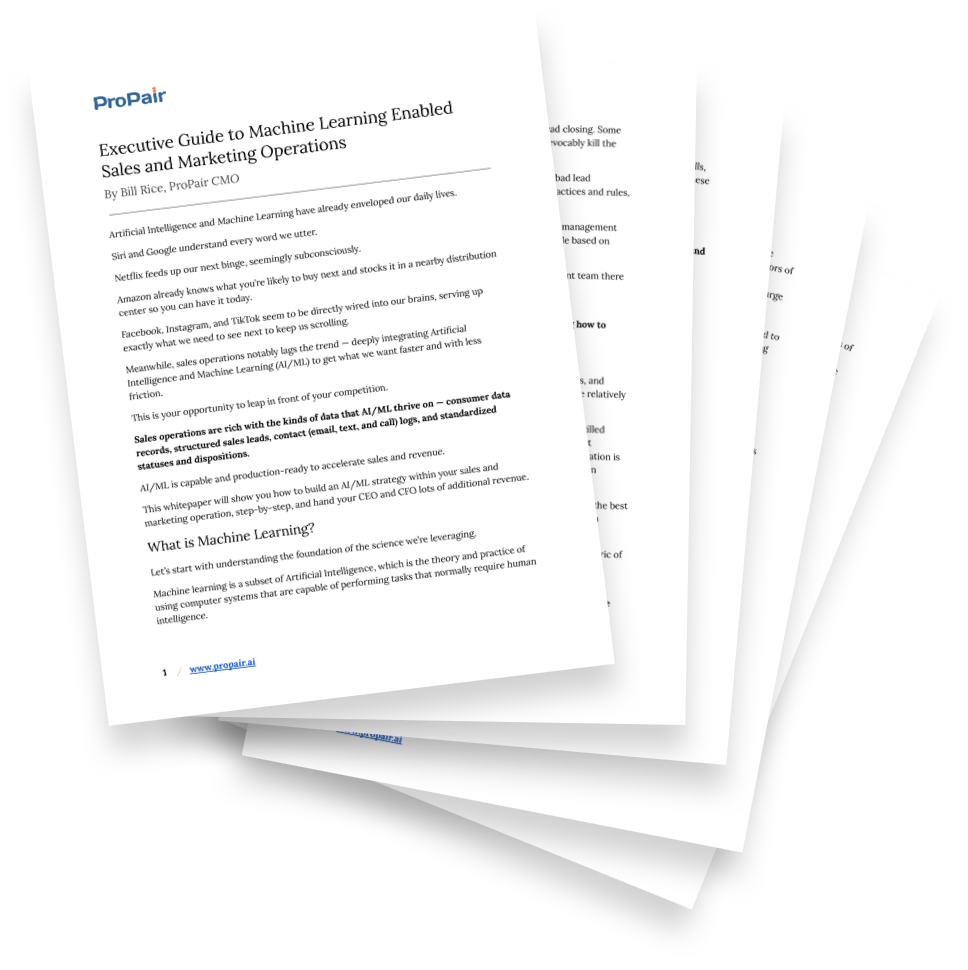 How does AI increase sales?
Download our executive guide to understand the current state of AI and machine learning. We'll show you how innovative sales and marketing organizations use it to get ahead of their competition.