Lead management is critical to running any sales strategy, yet its many moving pieces make it difficult to optimize.
The sales funnel is one tool that helps sales teams make sense of overall lead management. You can now maximize its value and improve ROI with production-ready artificial intelligence and machine learning applications.
See how AI and machine learning maximizes leads. Schedule a free demo with ProPair now.
What is a sales funnel in lead management?
A sales funnel is a representation of the steps a lead moves through on its way to converting to a customer. Sales funnels are made up of stages that represent different parts of the lead journey. These can include brand or product awareness, consumer interest, product or service consideration, purchase intent, deeper evaluation, and finally a closed sale.
Identifying what stage a lead is at within a sales funnel is important to ensuring sales teams can tailor their approach based on the lead's journey, increasing the likelihood of aligning with the consumer and improving conversion rates.
Why is the sales funnel important for sales directors when managing leads?
Lead management comes with many challenges, from generating and collecting leads to scoring and distributing them, making initial contact, nurturing leads, and more. If the beginning of the process is rocky, it impacts the entire lead journey.
Lead management challenges include:
Identifying and qualifying leads
Prioritizing leads with the highest potential
Tracking leads and personalizing outreach
Smart use of a sales funnel can help. By tracking leads through each stage of the funnel, sales operations identify where leads are in the sales cycle and use this to guide sales activities.
Bringing artificial intelligence and machine learning into the mix makes tracking and working leads as they move through the funnel even more efficient and effective.
AI is being used by competitive sales teams to:
Automate repetitive tasks
Track and analyze large amounts of lead data in real time
Provide intelligent decision support to increase conversions
Get our free download to learn the top 5 ways to boost sales with AI.
Improve results from sales funnel lead management using AI
With the right tools and technologies, managing leads goes from complex and overwhelming to a revenue generator that positively impacts ROI.
With artificial intelligence and machine learning applications, sales teams see improved lead management processes, including how they maximize the use of sales funnels.
At the top of the funnel, artificial intelligence helps to track and analyze lead behavior as leads engage with your website and marketing campaigns.
As you collect leads that have gained interest and engaged directly with your business, AI and machine learning help in real-time to automate lead scoring and lead assignment backed by intelligent use of lead and sales performance data.
As sales teams begin to interact with leads, AI and ML tracks lead behavior to provide the sales team with predictive values as leads become more or less qualified. This guides sales activities and even lead nurturing, while freeing up salespeople to focus on relationship building.
AI and machine learning also provide deeper analytics to reveal opportunities that are otherwise buried in data.
You can see why 2022 statistics show that 83% of companies claim AI is a top priority in their business (compared to only 10% back in 2015).
See how AI/ML maximizes lead assignment. Score, route, and prioritize leads based on what actually makes them most likely to convert
How to implement AI in your sales funnel for better lead management
With artificial intelligence and machine learning, sales directors can identify trends, predict lead and customer behavior as they move through the sales funnel, and see areas for sales and lead management improvement.
Use machine learning models to predict how your current sales strategies will perform or try adjusting strategies to improve possible outcomes.
To implement AI and machine learning, take the following steps.
Research your options for AI/ML applications. Do you want something that is production-ready or do you want to spend the time and money to build your own models? There are more options available than ever.
When you find the right AI/ML solution, invest some time upfront to make sure the applications are applied within the sales process where they'll make the biggest impact. Start by looking at the stages of your sales funnel. The right AI provider can help.
Once AI/ML tools are in place and integrated with your system, make sure your sales team is trained on how to optimize the tools to improve how you manage leads at every stage of the funnel.
Dig deeper: Your step-by-step guide to implementing AI/ML tools to impact sales
Get started with AI and machine learning
ProPair offers production-ready AI/ML applications with models built to optimize lead management as well as sales agent performance. If you need customized models, we also partner with businesses to build new models as needed.
See what you could do with your existing data to improve sales funnel lead management.
Schedule a free ProPair demo here to get started.
We'll analyze your lead and sales data to find opportunities for improvement and see how AI and machine learning can maximize your sales operations.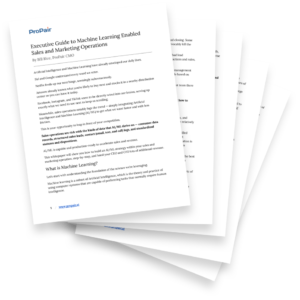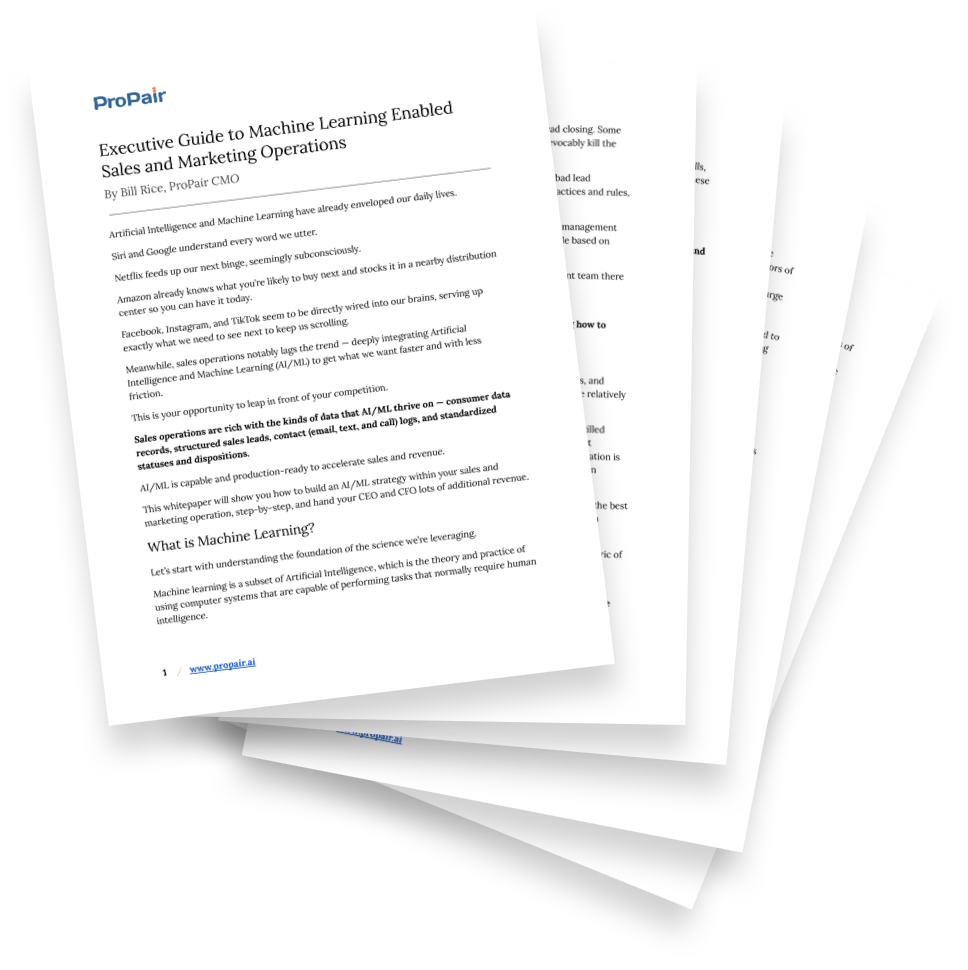 How does AI increase sales?
Download our executive guide to understand the current state of AI and machine learning. We'll show you how innovative sales and marketing organizations use it to get ahead of their competition.