As an executive, you have so many decisions to make and oversee. Your ability to make those decisions, backed by your experience, is the reason teams rely on you day in and day out.
In one day, you might be asked to make hundreds of decisions, and every decision makes an impact on your organization. But expertise can only get you so far when combatting decision fatigue.
You need a system to help you make smart decisions efficiently and make the most effective impact within your organization.
Decision support for executives has evolved into intelligent software that provides a system for leveraging data to improve business.
With the addition of artificial intelligence and machine learning (AI/ML), data-driven decision support is not only more reliable than ever but actually far more accurate and informative than decision-making ever was before.
Let's dig in to learn why sales and marketing executives will want to adopt AI decision support systems using machine learning to gain actionable insights that directly impact your organization's bottom line.
Do you have the decision support you need to make the most of your data? Find out with our free ProPair Challenge.
What is decision support for executives?
Decision support systems are used by executives and other key team members across industries to provide guidance on next steps and other judgment calls needed to lead a business.
They use a computerized information system to break down insights so that executives can more easily digest the details within the big picture and make an informed decision about how to proceed.
Decision support system software does this by measuring various data for the organization, such as sales figures, revenue, performance and product or service data, to consider and illustrate points like targeted revenue goals, etc.
Using an intelligent decision support system, it's crucial to have data that is accurate and up-to-date. Combined historical and live data is presented in a format that is easy to understand such as through dashboards and reports.
Using decision support for executives, data can be worked and interacted with to help predict various outcomes, providing data-driven decision support.
Why decision support for executives is necessary to improve business
Decision support system software is used to pull together data from every part of a business to ensure visibility into performance.
This is not only essential for tracking performance but also for spotting opportunities for improvement or catching serious missteps.
Because executives make so many decisions within businesses every day, they can't waste time digging into data to hunt for insights. And they certainly can't afford to make assumptions as an alternative.
Sales and marketing executives need data insights at their fingertips so that their expertise can instead be used to make decisions that lead the organization and impact how strategic business goals are achieved.
Why now is the time for AI decision support systems within sales and marketing
Businesses rely on various types of decision support system software. Of the various options available, artificial intelligence (AI) decision support systems using machine learning are becoming table stakes.
AI for sales and marketing executives provides accuracy and intelligent predictions better than any experienced data expert could manage manually.
That makes it the perfect solution for organizations navigating copious amounts of data.
If you're looking for a simple solution to flip from data overwhelm to data optimization, AI tools are production-ready and could likely be your competitive advantage when used as decision support for executives.
How does AI apply to decision support for executives? Read about this sought-after solution — MQL vs SQL: How they're different and how AI helps us decide.
Mismanaged data is costing you
Sales and marketing teams are inundated with data, from tracking the performance of marketing efforts to evaluating leads and engaging existing customers.
Unfortunately, many sales and marketing teams are mismanaging their data, making it extremely difficult to use that data to inform decision-making.
Instead, mismanaged data is likely performing in ways such as this:
Bogging down your sales and marketing tactics
Limiting your sales opportunities
Hindering customer experience
Wearing down the morale of your teams
Rather than pour over reports and spreadsheets to interpret and maintain data, sales and marketing executives can get decision support backed by AI, which intelligently automates much of this work for them.
With one AI solution, the challenges of data management are resolved so you can make the most of your data to raise your sales production and grow your revenue.
Are you aware of how your data is managed? Read 10 Ways Mismanaged Lead Data Hurts Your Sales Conversions + the ONE Solution You Need to Fix it.
Production-ready AI decision support software is your competitive advantage
AI decision support software uses complex models to predict statistically probable outcomes. But that doesn't mean it's complicated to use. Actually, the whole point is that AI technology does the difficult work for us and provides actionable insights.
With the right software partner, AI solutions can be customized to bring the exact decision support for executives that they need.
For sales and marketing teams, ProPair applies AI/ML tools to your existing lead management system, as it stands today, to impact how you engage and sell to leads — a major data set.
Our sales and data experts analyze and prepare your data to work with our tested machine learning models while ensuring our tools fit into your daily operations to get AI up and running quickly. 
Once the model is running, it automatically provides decision support to help you manage your lead data and impact sales and marketing outcomes.
We provide ongoing maintenance to ensure your data is accurate and that any changes to your operations are incorporated into our machine learning models. Over time, the models become more intelligent, learning what makes a sale most likely to close.
ProPair's solutions simply make every system better, from lead management and sales systems to marketing automation and more.
Get started with Your step-by-step guide to implementing AI/ML tools to impact sales.
Examples of AI decision support applications for sales and marketing
For both sales and marketing teams, your organization's lead management system has a major impact on reaching your overall goals.
Lead management impacts everything from running effective campaigns to build audiences and attract prospective customers, to working with those customers and leading them to close sales so you can reach sales goals.
With decision support systems focused on lead management, you can apply artificial intelligence and machine learning to get predictive actionable insights.
Predictive lead management applications
As an example of AI decision support applications, ProPair's intelligent lead management solutions inform decisions related to qualifying leads, evaluating sales agent performance and optimizing how leads are distributed to the right salespeople.
Let's look at how these applications provide decision support for executives that directly impact your organization's sales and revenue performance.
Lead scoring
Rank and score leads with precision through predictive AI/ML software that evaluates leads based on how statistically probable it is that they will close a sale.
ProPair's machine learning models provide lead scoring decision support for sales and marketing teams such as how to:
Prioritize leads
Guide follow-up activities
Revisit abandoned opportunities
Sales agent scoring
Assessing sales agent data through ProPair helps you understand performance and the right way to optimize working leads. Get the most from your current sales team by revealing data-proven strengths:
Leverage historical sales team performance data with AI/ML
Apply unbiased, data-driven and predictive benefits of machine learning
Get leads to sales agents most likely to convert them at optimal times
Lead distribution
AI/ML predictions guide lead distribution by comparing lead criteria to various sales agent criteria and providing an optimized combination of the two. The best lead is distributed to the right salesperson, bringing you decision support from ProPair that helps you do the following:
Equitably distribute leads from top to bottom performers
Maximize sales production
Reduce the need and expense of a churning salesforce
Work smarter with AI/ML decision support for executives
We've created our Executive Guide to Machine Learning Enabled Sales and Marketing to help you further understand the current state of AI and ML on business performance.
In this guide, you'll learn how innovative sales and marketing organizations are using AI/ML software to get the edge on their competition. Download it to learn more about:
Why sales and marketing are a rich environment for AI/ML
The most promising applications in sales and marketing
Why implementing it now will give you a competitive advantage
How our AI/ML support tools supercharge sales and marketing decisions
Also, check out our Guide to Implementing AI/ML for Executives in Sales Operations.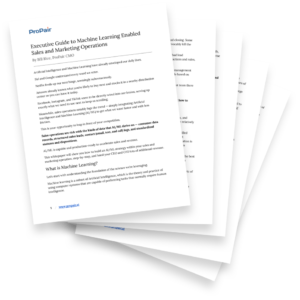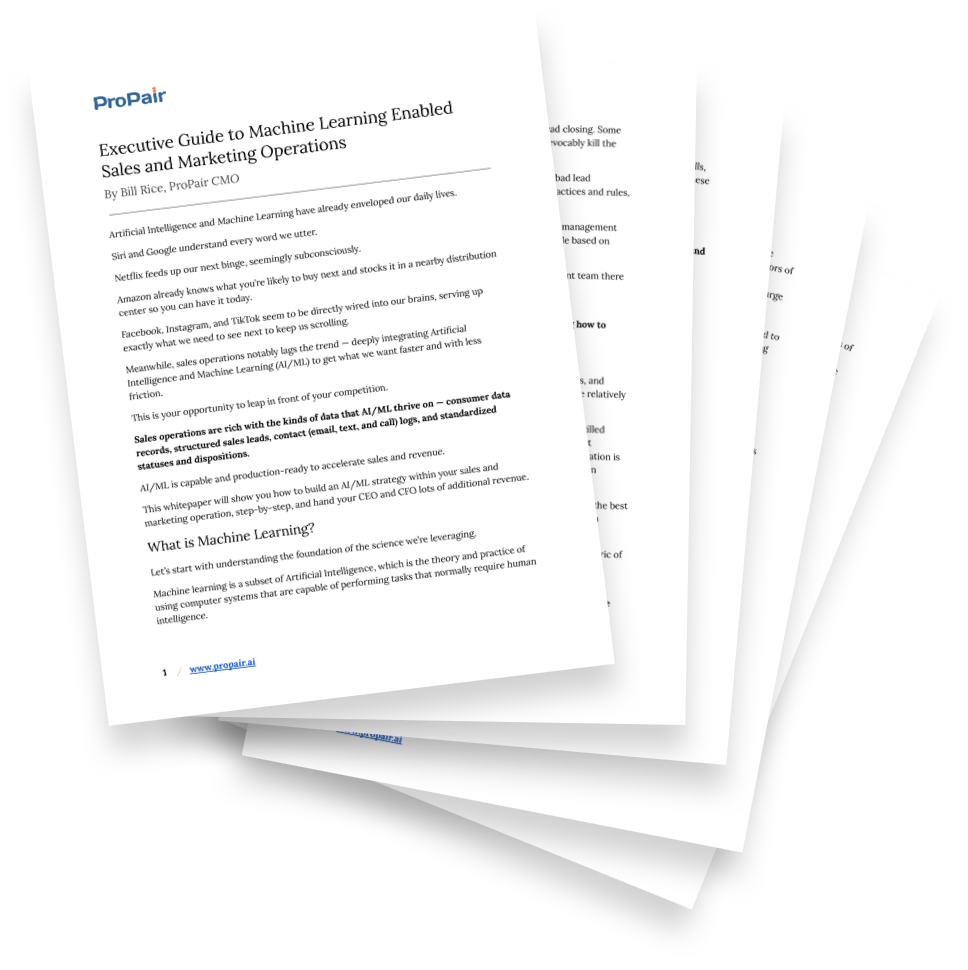 How does AI increase sales?
Download our executive guide to understand the current state of AI and machine learning. We'll show you how innovative sales and marketing organizations use it to get ahead of their competition.
Ready to get started?
If you manage data for your organization at any scale, AI/ML decision support system software is a necessity.
Grow your business by simply adding AI/ML tools to your current systems for more intelligent data management, increased conversions and decision support for executives.
We'll show you what's possible with our free 48-hour ProPair Challenge data analysis.
We'll pull your lead management data and show you opportunities to improve lead management.