Are you keeping up with the ever-evolving sales lead management systems available? If you said no, you're not alone. Technologies are constantly being updated and consumer behavior is always changing.
That's why we've summarized the 10 emerging trends in sales management systems to keep you updated and encourage you to evaluate how these trends impact your business.
We also highlight some popular CRM systems that are working to offer features and capabilities to meet the demand created by these trends.
Learn how adding the number one trend — AI and machine learning — is simpler than you might think, using one AI-powered platform, rather than having to overhaul your CRM.
Schedule a free demo with ProPair to start using AI features and boost sales.
10 emerging trends in sales lead management systems
This year's emerging trends in lead management software are continuously evolving to help sales agents be more effective at closing leads. Let's dig into the trends and the impact they're making on sales operations.
1. AI and machine learning
Artificial intelligence is now available to measure complex data automatically and in real-time to provide predictive values that sales operations can act on strategically. AI often relies on machine learning to continuously improve its predictions as well, without requiring manual maintenance.
By integrating advanced AI algorithms and models into lead management software, sales teams are improving lead scoring, lead distribution, prioritization, and nurturing by predicting lead behavior and providing personalized content to engage prospects. This creates a better experience for both the sales team and its leads.
Learn more — Integrating AI and Automation in Lead Management: Game Changer for Marketing Directors
2. Automation and workflow optimization
Repeatable tasks are being automated and workflows are being made more efficient so that sales teams can spend more time selling and less time getting organized.
Lead management software is increasingly incorporating automation features to streamline sales processes. This includes automating lead qualification, initial outreach, follow-ups, task management, and lead nurturing flows, which helps sales agents save time and focus on high-priority leads.
Get our free download to learn the top 5 ways to boost sales with AI.
3. Mobile-first approach
Consumers and businesses alike are moving toward more mobile usage. Lead management software is adapting. Many systems have adopted a mobile-first approach with optimized user interfaces and functionalities for mobile devices to provide a seamless experience across devices.
Sales operations that embrace this approach are meeting the needs of their customers and sales agents, as more people work on-the-go. Sales teams can then more efficiently connect with leads or complete other sales activities with simplicity.
4. Omnichannel approach
By simplifying how sales teams manage multiple channels at once, lead management systems have boosted sales teams' ability to embrace an omnichannel approach.
Sales agents can interact with leads across various communication channels, including email, text, live chat, voice mails, calls, social media, and more, all through one system that makes the flow of communication simple and efficient.
This allows sales teams to meet consumers where they are and stay top-of-mind more easily.
5. Advanced analytics and reporting
With improved data management and insights, enhanced analytics and reporting features are being built into lead management systems software to provide sales agents with actionable insights, helping them make data-driven decisions and improve sales strategies.
As AI and machine learning continue to be built in, these decision support tools become more accurate, able to predict outcomes based on data that wasn't previously accessible with manual reporting.
Analyzing the right data points? Read: Lead Management KPIs Every Sales Director Needs to Track + How to Do it Simply Using AI
6. Integration with social media and messaging apps
To continue with an omnichannel approach, many lead management software systems are increasingly integrating with social media platforms and messaging apps.
Connecting with apps like WhatsApp and Facebook Messenger enables sales agents to connect with leads via their preferred communication channels, increasing engagement and ultimately conversion rates.
7. Conversational AI and chatbots
Another popular area where AI usage is growing is conversational AI. Chatbots are being integrated into lead management software to help with initial outreach, including lead qualification, appointment scheduling, and answering frequently asked questions.
This saves sales agents from spending a lot of time on leads that haven't been qualified yet, allowing them to focus on more valuable tasks and leads with a higher prioritization level.
Increase conversions from the start with AI lead assignment. Download our free guide to learn more.
8. Customer-centric personalization
With better data tracking and management, software is focusing on creating personalized experiences for leads. Data-driven insights help to automatically deliver relevant content and offers, targeted more specifically to leads' behaviors. As lead behavior and engagement are tracked, their journey is also customized to meet their personal needs.
This helps sales agents engage leads more effectively, more quickly, and more often without adding tons of manual effort.
9. Collaborative selling
Again by being able to track lead data and behaviors more thoroughly and efficiently, lead management systems software has opened the door to allow sales teams to collaborate when working leads. This could mean collaborating with other sales agents or even other departments, which helps with alignment between business, marketing, and sales goals.
Teams can coordinate efforts more strategically, share expertise more openly, and improve overall sales performance by no longer working in isolation. Leads also have a better experience because they receive better engagement from a sales team that has improved accountability.
10. Enhanced data privacy and security
As data management becomes more complex, and consumers increasingly rely on online services, data privacy and security are now a crucial priority.
With stricter data privacy regulations and an increasing focus on data protection, lead management software is incorporating advanced security measures and compliance features to protect sensitive customer information, maintain user trust, and prevent liabilities for businesses.
Make the most of the leads you already have. Download our free guide to maximize aged leads with AI.
What software is adapting to trends in sales lead management systems?
As demand for the trends above continues to grow, many lead management systems are working to improve their features and capabilities. Those that do innovate will leap forward and gain market share in a very fragmented space.
With so many options for CRMs, and what can seem like endless features (that are often underutilized), you'll want to look at how your current CRM can help you adopt these trends or whether another CRM might offer better capabilities.
Adding an AI platform like ProPair to any lead management system instantly moves your integrated CRM solution forward, regardless of whether it's keeping up with the trends.
The list below is not exhaustive of course, but it highlights some of the popular platforms that are incorporating new features and capabilities.
Ready to try adding AI? Read: Your step-by-step guide to implementing AI/ML tools to impact sales
How could these trends impact your business?
Keeping an eye on trends in sales lead management systems is important to see how you can innovate your own systems and processes.
Although your business may not need to jump on all of these trends, being aware of them might spark ideas that help you improve sales.
As you consider the possibilities, look for simple solutions and tools that don't require you to overhaul your system every time trends shift.
Regardless of your current CRM or other system software, you can get the benefits of the top trend in lead management that is here to stay — using artificial intelligence.
Schedule a free demo with ProPair now to get started.
See how our production-ready AI plugs into your current system to keep you on the cutting edge of these trends, help you stay ahead of the competition, and boost sales.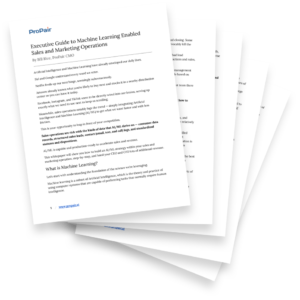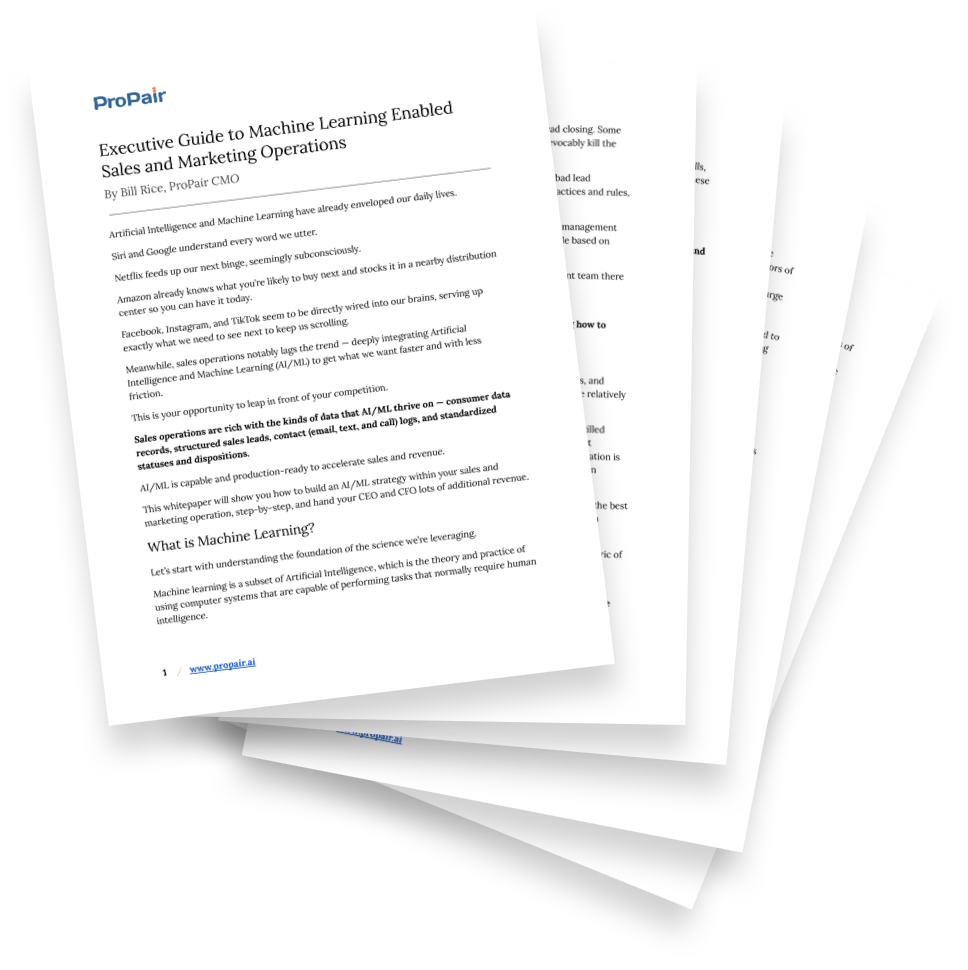 How does AI increase sales?
Download our executive guide to understand the current state of AI and machine learning. We'll show you how innovative sales and marketing organizations use it to get ahead of their competition.