To not only keep up with your lead flow but also drive sales success, you need a toolkit of lead management software to support your sales team.
Lead management software is the foundation for maximizing your sales strategies. It helps sales directors track and manage the journeys of prospective customers, as well as how internal performance impacts conversions.
We're giving you the top tools all sales directors need to keep up in this competitive landscape, along with examples of the software providers available as a starting point.
Schedule a free demo with ProPair to see how one AI tool enhances entire lead management systems.
Top 10 lead management software and tools for sales directors
Sales agents can use a variety of tools and software to be more effective at closing deals. Let's dig into the top 10 we recommend to optimize sales operations.
1. Customer relationship management (CRM) systems
This is the starting point — the foundation — of your lead management software. It serves as the hub for all lead and sales data. It also integrates with or provides capabilities for all other tools that are used to support sales and marketing.
Your CRM should be set up to allow every step of the lead management process to flow through it, allowing you to track leads and optimize how they're managed to drive success.
You must start with a solid database and one that is used and understood by the sales team as well as maintained.
Popular CRM system examples
Get our free download to learn the top 5 ways to boost sales with AI.
2. AI lead management tools
AI and lead management software allow sales teams to leverage the power of machine learning to enhance how leads are worked to optimize sales strategies.
These innovative tools offer capabilities that significantly improve sales performance, while increasing ROI with data-driven predictions.
ProPair for AI lead management
Tools like ProPair provide intelligent and predictive capabilities that enhance lead scoring, lead distribution, and lead nurturing — which is necessary if you want to maximize the value of every lead you work.
ProPair also provides predictive decision support so that you can make informed decisions to improve sales strategies.
3. Sales enablement platforms
Sales enablement software is built to streamline the sales process, which improves the sales team's performance and enhances communication between sales and marketing.
Its key features include content management, sales training and playbooks, analytics, and communication and collaboration.
Platforms and AI enhancements
These content management systems and libraries or repositories will be increasingly important as we layer ChatGPT on top of them. We can then use generative AI to solve sales problems and support sales agents to perform and close better.
Added capabilities from ChatGPT to sales enablement software like Seismic, Showpad, or Highspot can be an important resource to innovate how sales teams drive success.
Read more: 12 Essential Sales Automations for Sales Operations Success in 2022
4. Sales intelligence tools
Sales intelligence tools provide accurate data and insights about potential leads to help with lead qualifying. This includes providing information about prospects, such as their job titles, company details, and contact information, which helps sales teams understand more about each lead and then customize their approach to lead conversion.
Some examples of tools like this include LinkedIn Sales Navigator, ZoomInfo, and DiscoverOrg.
Increase conversions from the start with AI lead assignment. Download our free guide to learn more.
5. Email tracking and automation
From email marketing to sales sequences, these tools streamline communication with prospects and leads.
Key features include automation capabilities to send personalized and timely emails based on various pre-defined triggers or actions taken by prospects. Email tracking then allows sales and marketing teams to see and analyze how users engage with each email campaign.
Popular email and marketing tools
Both MailChimp and Outreach offer marketing automation and features that make managing omnichannel communication with prospects easier including email for marketing purposes and sales outreach.
Get more from each lead with AI-powered lead nurturing. Download our free guide here.
Stay in the know, read: Top 10 Emerging Trends in Sales Lead Management Systems for 2023
6. Proposal and quote management software
Using lead management software to make business easier is important to building your tech stack. This type of software allows sales directors to create and manage proposals and quotes efficiently.
Although these tools aren't innovative, they're straightforward and necessary tools.
Common software options
Software like PandaDoc, Proposify, QuoteWerks, and Qwilr provide templates, digital signatures capabilities, and collaboration tools that streamline the creation, delivery, and approval of proposals and quotes — all of which saves you time and effort, while standardizing a common process.
7. Contract management and e-signature tools
These lead management software tools handle the documentation for steps in the sales process that lead to a conversion. Contract management and e-signature tools simplify this process to get signatures securely, as well as reduce paperwork and manual processes.
Common software options
Tools like DocuSign, Acrobat Sign, and Dropbox Sign (formerly HelloSign) allow sales directors to manage contracts digitally and automate workflows. With digital tools, this also accelerates contract management processes so you can close deals faster and reduce overhead.
8. Call analytics and sales dialers
These tools provide insights into sales conversions, allowing sales directors to analyze and improve team performance.
A range of software tools available
Tools like Chorus, RingCentral, and Dialpad provide sales directors with more visibility into sales conversations to improve coaching that supports sales success.
Gong is an especially interesting tool as it uses AI to analyze sales conversions and meetings to train, spot opportunities, and establish best practices — approaches that move deals forward — all from audio and video recordings of sales conversations with prospects.
9. Meeting scheduling tools
This might seem like a simple step in the sales process but scheduling a first interaction with a lead often gets bogged down with coordination. Instead, scheduler apps like Calendly, Doodle, and Acuity Scheduling make this step simple.
The common choice
Calendly is a widely-used tool. It integrates with your calendars and offers customizable scheduling options so that leads can simply schedule an appointment at the available times you provide through a link to Calendly.
Focus on the conversation you're going to have with a prospect, not getting the conversation scheduled.
10. Video conferencing software
Once you've gotten to the point of setting a meeting with a lead, you need video conferencing software to remotely host the conversation. Video conferencing software is also a crucial tool for sales teams to use internally to communicate from anywhere in the world.
Beyond standard phone calls, these allow for conducting virtual sales presentations and product demos using real-time interaction, collaboration, and visual tools.
The top choices
The most commonly used software tools are Zoom, Google Meet, and Microsoft Teams.
Where can you start? Check out our Guide to Implementing AI/ML for Executives in Sales Operations
Prevent customer churn and optimize relationships with AI portfolio retention. Learn more with our free download.
Boost lead management without overhauling your software
From the foundational need for an optimized CRM system to the necessary innovations of AI enhancements, the lead management software you choose for your sales teams can mean the difference between treading water and scaling conversions for increased revenue.
As you continuously shape your tech stack, learn how AI can plug seamlessly into any system.
Schedule a free demo with ProPair.
We'll show you where you're missing winnable deals using our lead management AI platform that enhances everything from lead scoring, lead distribution, lead nurturing, and conversions.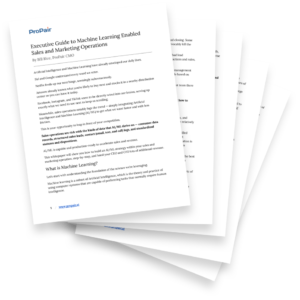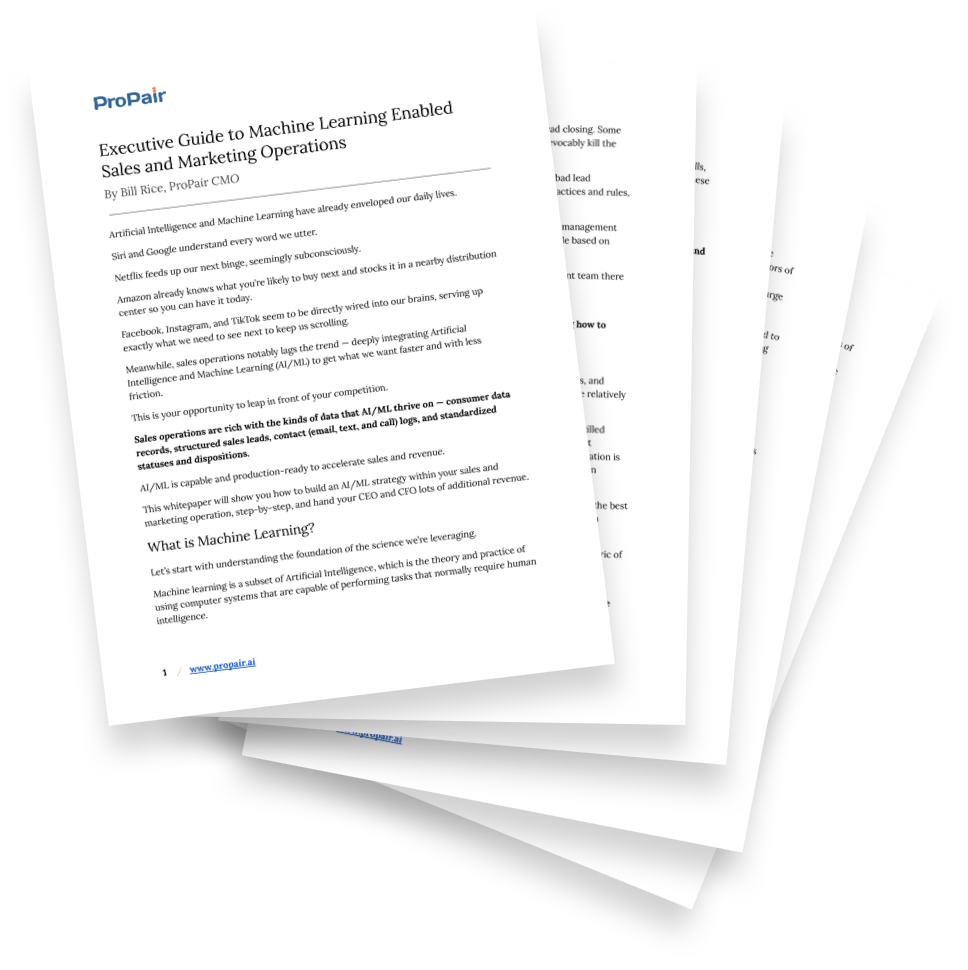 How does AI increase sales?
Download our executive guide to understand the current state of AI and machine learning. We'll show you how innovative sales and marketing organizations use it to get ahead of their competition.