Many sales directors are faced with this challenge: They need to increase conversions to make more revenue for their company.
That might sound like a big goal but reaching it doesn't have to be complicated. By breaking down how conversions are made, you'll see where there's room for improvement at each of the important points of your overall sales process.
Lead routing is a crucial starting point that impacts whether a lead will convert in the end.
Schedule a demo to see how lead routing can support, rather than hinder conversions.
What is lead routing?
Lead routing is the often automated process of assigning and distributing new, incoming leads to the sales team so that each lead can be paired with a sales agent that will prioritize working the lead with the goal of converting it to a customer.
Dive deeper with our Guide to Lead Distribution: Getting the Right Leads to the Right Sales Agents.
How does lead routing impact conversions?
It's an important step in the sales process as it ensures each lead is visible to the sales team so that they can maximize the likeliness of conversion by clearly prioritizing incoming leads and moving them to each next step of the sales process, through an organized and efficient process.
Without it, all of the time, money, and resources that go into buying and generating leads get wasted as leads are lost, overlooked, or mismanaged and don't ultimately convert.
Increase conversions from the start with AI lead assignment. Download our free guide to learn more.
The 10 key elements of strategic lead routing
With the above essentials in mind, let's dig further into why it's worth investing in smart lead routing strategies to improve conversions and generate more revenue.
These 10 key elements show what is required for strategic lead routing that can maximize conversions:
Measure the right lead qualification criteria
Allow for visibility of all new leads flowing into the system
Create clarity on how leads will be assigned
Shorten the sales cycle, from becoming a lead to moving through the sales process
Have effective communication channels to route leads through
Prioritize the leads that are most likely to close a sale
Improve productivity and efficiency of the sales team
Improve each lead's experience
Increase the number of leads that convert to customers
Track and assess how lead routing is impacting sales and marketing objectives
Read more: Lead Management KPIs Every Sales Director Needs to Track + How to Do it Simply Using AI
How to analyze and prioritize leads to maximize conversions
If you're struggling with any of the above key elements, you're not alone. These age-old sales challenges have plagued sales teams for years.
Past challenges
Maybe you've tried manually assigning leads, which is difficult to keep track of and sustain. Or maybe you've relied on setting common lead routing models like Cherry Picking, Round Robin, Shark Tank, or Shotgun. Unfortunately, these rely on stagnant rules.
Either way, you're not optimizing how leads get assigned and you're missing winnable deals.
New solutions
Intelligent lead routing works differently, finally providing a better solution to these common challenges.
By using artificial intelligence to provide data-backed decision support, AI automatically routes leads based on several complex data points that aren't possible to measure manually — and all with the purpose of matching the best leads to the right salespeople, at the right time.
This is possible because machine learning models continuously learn and improve without human intervention, ensuring the accuracy of lead routing even as markets shifts and other changes arise.
Get our free download to learn the top 5 ways to boost sales with AI.
Go further, read our 2023 Perspective on Harnessing the Power of AI for Lead Distribution.
Intelligent lead routing solutions
If you currently use a CRM or lead management system, it likely has some sort of solution for lead routing. Whether that solution is AI-powered and allows you to maximize conversions is something you'll want to find out.
Some CRM systems offer built-in AI capabilities to enhance lead management, including tools to help assign leads. This includes robust software like Salesforce and HubSpot.
Software solutions such as ProPair or Databowl provide simple lead routing capabilities that can be added to your current lead management system through integration, and without having to overhaul your CRM system.
Options like this use predictive AI to plug into your current system and measure several complex dimensions of each lead, including multiple data points related to:
The source of the lead
The lead's behaviors and engagement with marketing campaigns
The lead's demographics
At the same time, AI also measures several data points related to sales performance:
Sales agent availability
Sales agent areas of expertise
Previous sales performance
Then by combining this data, AI provides predictive values about which lead is the best to assign and which salesperson will be the right one to work the lead, all while offering prioritization to provide insight into the best timing for managing each lead.
Read more — Leveraging AI for Enhanced Lead Distribution: A Comprehensive Review
Start maximizing conversions now with smart lead routing
Production-ready solutions are available to help you increase conversions and fuel revenue growth through smarter lead routing.
Schedule a free demo with ProPair to see how we can help you win more deals.
Our AI platform plugs into your current system so that you can intelligently route leads, improve your sales operations, and maximize conversions.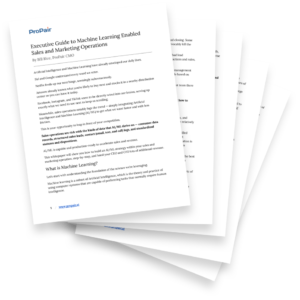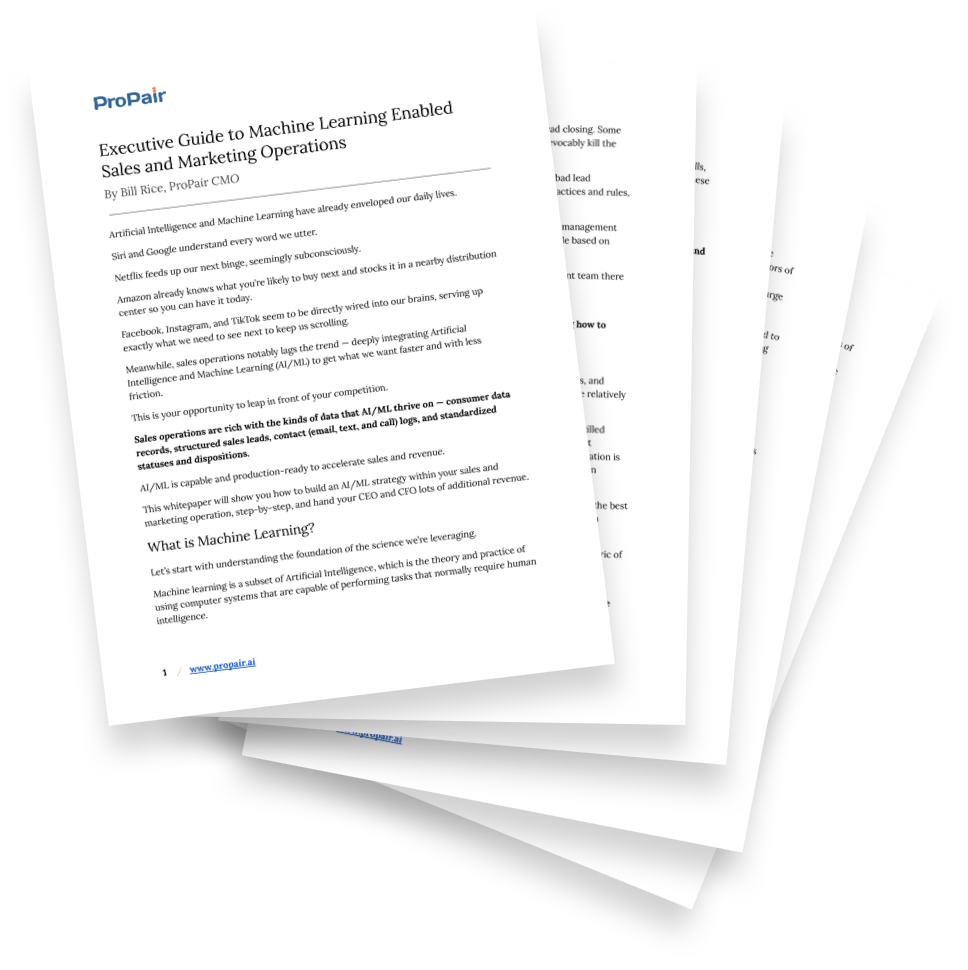 How does AI increase sales?
Download our executive guide to understand the current state of AI and machine learning. We'll show you how innovative sales and marketing organizations use it to get ahead of their competition.