AI-based technologies are making a major impact on lead distribution and with good reason.
We no longer have to settle for manual lead management with stagnant rules where leads fall through the cracks.
With tools like machine learning and predictive analytics, we finally have the resources to optimize sales and make the most of each lead.
Businesses that are adopting these trends create better customer experiences, are more competitive, and see an increase in conversion rates, ultimately building revenue.
Let's dig into the top lead distribution trends, how they're implemented, and the disadvantages of delaying or ignoring them.
Schedule a demo now to see how ProPair's AI platform plugs into your current system.
The top 7 lead distribution trends impacting sales operations
AI is definitely trending up. According to Grand View Research, The global market size for AI in 2022 was estimated at $136.6 billion and is expected to grow to $196.6 billion this year. It's also expected to have an annual growth rate of 37.3% from 2023 to 2030 to reach $1,811.8 billion by 2030.
We're sharing the top lead distribution trends that have emerged because of AI's machine learning and predictive analytics. See the benefits each of these brings to lead management and see the possibilities for how they can improve your sales operations to grow your business.
Increase conversions from the start with AI lead assignment. Download our free guide to learn more.
1. Improved forecasting
If only sales forecasting was an exact science. Well with AI and machine learning, it's getting pretty close.
Predictive analytics create more accurate assessments of your sales funnel so that you can better anticipate when deals will close and how much revenue you'll earn through sales. With this information, you can more intelligently adjust your sales strategy.
Read more: Lead Management KPIs Every Sales Director Needs to Track + How to Do it Simply Using AI
2. Tailored lead scoring
Traditional lead scoring comes with stagnant rules and limited data points. Machine learning goes beyond this. It uses vast amounts of historical lead and sales performance data to predict which leads are most likely to close a sale.
This makes it possible to identify complex patterns among your leads that otherwise weren't apparent, even with the best non-predictive lead scoring tools.
3. Personalized outreach
Consumers expect more and more that they will have a customized experience when making a purchase decision. With AI and machine learning, sales teams can now more closely analyze customer behavior, all with more automation and paired with intelligent predictive analytics.
We can now predict each lead's preferences, behavior, and readiness to buy to then tailor how we communicate with them and maximize sales efforts.
4. Automated follow-ups
With this new lead distribution trend, you'll no longer need to make excuses for leads that fall through the cracks. Because no leads will get left behind.
Machine learning algorithms automate follow-ups based on each lead's behavior. This not only boosts efficiency but also gives the lead a better experience, which ultimately creates higher conversion rates.
5. More accurate lead and customer segmentation
We no longer have to narrow our options for how we communicate with leads and customers based on the types of outreach we can manage manually.
Instead, predictive analytics provides hyper-accurate customer segmentation, ensuring the right leads reach the best-suited sales reps at the right time. This can be based on the rep's past performance, expertise, and a wide range of other sales performance factors.
6. Churn prediction
Losing customers that you've invested in and previously converted has a major negative impact. Retaining those customers, however, can be key to growing your business.
Predictive analytics makes it possible to identify customers that are most likely to jump ship. This brings new visibility to the sales team and allows you to proactively address any issues or patterns that prevent customers from being satisfied.
7. Upselling and cross-selling
Rather than see increasing customer churn, you can reveal more opportunities to upsell and cross-sell to existing customers and leads alike, using machine learning.
Machine learning models can now analyze customer behavior and purchase history to provide insights that help you upsell and cross-sell more successfully, which is an efficient way to increase revenue.
Keep up with all the trends impacting sales and marketing: Top 10 Emerging Trends in Sales Lead Management Systems for 2023
How are these trends changing the lead management tech stack?
Let's look at how these trends can become a reality for your business.
It starts by assessing your current software and tools. The software categories below are most impacted by machine learning and predictive analytics. Evaluate whether you can add new technologies, within your current range of software or whether you need to make some bigger changes to fully benefit.
Get our free download to learn the top 5 ways to boost sales with AI.
Sales analytics software
Current tools create a snapshot of your lead data that you can use for reporting and to manually recognize patterns that guide sales activities, etc.
But new technologies make it possible to take that historical data — as well as new incoming lead and sales performance data — and automatically get predictive insights using machine learning models.
If your current sales analytics software doesn't have AI and machine learning capabilities, you'll want to consider your options for adapting to these new trends and the benefits they bring.
Production-ready software is available that integrates with your current system. Or this might prompt you to switch the current software you use.
CRM Integrations
Any machine learning and predictive analytics features of your sales process need to tightly integrate with your CRM system to ensure that the new insights generated are readily available to the sales team and can be actively applied to the sales process.
The best AI software providers make it possible for their tools to integrate with a range of CRM systems, also providing their guidance to ensure you get the most out of the tools.
Data management and preparation tools
With the expanded use of lead and sales performance data, it becomes apparent that this data needs to be clean and well-structured to function most effectively. This doesn't have to be a barrier to entry, holding you back from using AI, though.
AI software providers like ProPair help to clean your existing data to make sure it can be used with production-ready machine learning models.
There are various options for finding tools or support to maintain clean data, whether you choose to integrate something into your current system, hire full-time support, or switch to tools and providers that manage this for you.
Data privacy and security solutions
As we store and actively use more lead and sales performance data, optimizing it for personalization, etc. we also need to manage it responsibly. Data privacy and security solutions are becoming increasingly necessary.
This helps to protect your business and keep you up-to-date on the latest regulations, while also keeping your business data secure. It also helps to protect consumers, providing them with a better experience so that you can continue building trust with them.
Related articles
Don't ignore or delay implementation of machine learning and predictive analytics
AI is no longer optional because it's a helpful tool that's revolutionizing sales operations. Businesses that implement it now will likely see business growth. Those that don't might struggle to catch up because of the below disadvantages.
Competitive disadvantage
In a recent Infosys study, the main driving force for using AI in business was a competitive advantage. Failing to adopt machine learning and predictive analytics technologies will put you at a competitive disadvantage.
As other companies jump on board with these trends, they'll reach the same leads that might connect with you, but they'll also have an optimized system for converting more of them, faster.
Inefficiency
These new tools are a game-changer that makes sales operations simpler and more efficient. If you choose to ignore these new solutions or delay trying them, you're only hurting yourself. Without AI, lead distribution is less effective and opportunities are missed.
Decreased customer satisfaction
Intelligently personalizing each potential customer's experience offers improved opportunities for conversions because the customer will not only increase their sales-readiness but they'll also build loyalty to the positive experience they have with you. If you don't adopt new solutions, customers might look for a better experience elsewhere.
Lost revenue
When you miss sales opportunities because you're not accessing the best tools available, you risk losing potential revenue. Predictive analytics and machine learning can reveal many opportunities to increase sales and revenue through retention, upselling, cross-selling, and improved customer experience.
Inaccurate use of resources
By intelligently managing lead data and sales performance data, you gain insights into how to optimize your entire lead management system. Without this, you can't know what lead sources are best, what makes leads most likely to convert, and which salesperson is best to handle each lead as they flow in, among several other insights.
Go deeper. Read: 2023 Perspective on Harnessing the Power of AI for Lead Distribution
Ready to get on board with these lead distribution trends?
Try one AI platform that plugs into your current lead management system to provide machine learning and predictive analytics.
ProPair provides predictive values using production-ready machine learning models that integrate with many CRM and lead management systems.
We can help you reveal opportunities, showing you which leads are most likely to convert with the best salesperson, at the right time.
Schedule a demo to see how ProPair can help you make the most of AI trends.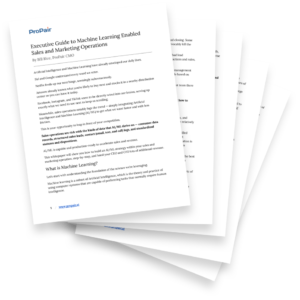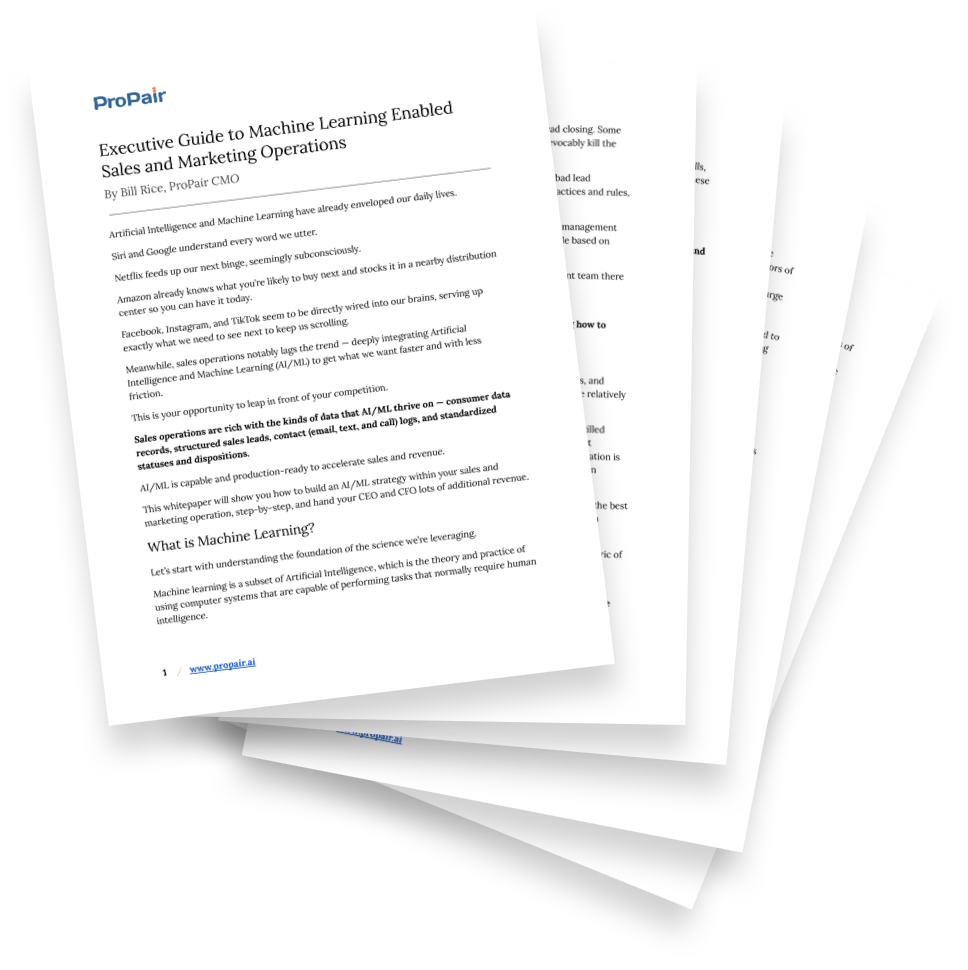 How does AI increase sales?
Download our executive guide to understand the current state of AI and machine learning. We'll show you how innovative sales and marketing organizations use it to get ahead of their competition.