We're here to provide an up-to-date perspective on how businesses are harnessing the power of AI for lead distribution, an important part of your overall sales operation.
Lead distribution in 2023 is changing for the better. Technology is available to grow sales like never before in a way that makes life easier for your sales teams, while also improving the experiences of your leads and customers.
Read more for an updated perspective on how artificial intelligence in sales and marketing is changing the game and how the biggest obstacle to growing sales might just be a fear of change.
Schedule a demo to see how AI for lead distribution can enhance your business.
How AI is changing the future of sales and marketing
Before we dig into lead distribution specifically, let's look at how AI is working within the overall landscape of sales and marketing.
AI is no longer reserved for certain industries like sophisticated healthcare applications, extravagant retail experiences, or even just the specific needs of streaming services.
It now has practical applications that increasingly apply to many people's day-to-day jobs and lifestyles.
According to HubSpot's latest State of AI Report, about 62% of business leaders have already invested in AI for their employees to use. Of those, 71% report a positive ROI, and 72% say it makes employees more productive.
For now, 64% say AI/automation tools will make a significant impact on how they do their jobs this year.
Learn more — The Future of Lead Management: Emerging Trends and Technologies for Marketing Directors
The realm of sales and marketing is ripe for AI enhancements
Within the sales and marketing world specifically, AI has permanently changed how we manage the thousands of data points that constantly flow into businesses.
Enhanced data management means we can uncover marketing and sales opportunities that were previously hidden and improve upon hindrances to overall performance.
This level of intelligent — and predictive — data management has never been possible before. It has expanded our sales and marketing capabilities to improve the customer experience and ultimately convert more leads.
AI is particularly fast-growing in sales and marketing. It has seen a 76% increase in usage since 2018. Sales organizations that are considered high performers, rather than underperformers, are almost three times more likely to use AI.
With these benefits in mind at this point in 2023, we think AI is not only here to stay, but also here to enhance the future of sales and marketing. 
Increase conversions from the start with AI lead assignment. Download our free guide to learn more.
How AI sales tools help businesses stay competitive
For businesses that thrive by converting leads and making revenue, improved data management optimizes how you manage leads, and ultimately how efficiently you can gain that revenue.
As leads flow into your business, you already know you need to act fast to make a connection and guide the lead through your sales process, starting with solid lead distribution.
The nature of AI and machine learning is that it provides customized predictions that apply only to your business and your prospective customers. With these tools, you gain speed, efficiency, intelligence, and personalization that boosts conversions by creating a better experience for your leads and your sales team.
These highly tailored improvements help your business remain unique in your market, regardless of what your competition is doing — especially if they haven't adopted AI yet.
Check out our Guide to Using Decision Support for Executives in Sales and Marketing.
Past obstacles for adopting AI for lead distribution
Now let's dig into how this all impacts lead distribution.
Beyond, or perhaps because of, the basic challenges of successfully managing lead distribution, many businesses feel stuck. They've struggled to take the leap and apply new AI tools to their marketing and sales operations.
Past obstacles for adopting AI for a process as important as lead distribution include the following:
Cost concerns for new advanced technologies
Data, privacy, and security concerns for leads, customers, and the business
Challenges of integrating new software without interrupting lead flow
Resistance to change from leadership and internal teams
Lack of familiarity and expertise with available solutions
And even a fear that AI might impair or interfere with human interactions and workflows
Get our free download to learn the top 5 ways to boost sales with AI.
Overcoming obstacles for lead distribution in 2023
Here's the thing, these obstacles are dissolving in 2023. AI software providers have met the needs of their customers to eliminate many common challenges and concerns that would impact lead distribution:
Production-ready AI software is accessible and simple to integrate.
Costs are lower with standardized options available so businesses don't have to develop expensive custom AI models.
AI software providers incorporate data, privacy, and security needs.
As you see, the hardest obstacle to overcome may be our own reticence to adopt new technology because we fear the change it can bring on.
You're not alone if you've felt hesitant to jump on board. With technology constantly evolving, we never know what will stick. It can be risky to go all in early on.
But that time has passed for AI. This is your wake-up call — we've moved past beta testing and experimentation. Artificial intelligence in sales and marketing is here to stay.
It's become the new norm because it's affordable, accessible, and it makes our jobs easier.
AI for lead distribution is becoming a common use case.
Dive deeper with our Guide to Implementing AI/ML for Executives in Sales Operations.
Revolutionizing sales across industries with AI for lead distribution
Still need more proof? Let's focus in on AI lead distribution and look at the various ways it's improving business across industries.
Industries including mortgage, insurance, home services, or even solar installation, to be more specific, require a large investment in finding and managing leads.
The process of lead distribution bridges the gap between leads that flow into the business and leads that are then passed to salespeople to ideally convert to a sale.
How AI is applied to lead distribution to maximize conversions
By using AI for lead distribution, marketing and sales teams gain the following capabilities that revolutionize how they work, manage, and convert leads.
Act on thousands of data points in real-time
Machine learning models automatically measure several data points for both leads and sales agents.
It uses thousands of historical and incoming data points to then, in real-time, assign the best leads to the right sales agents, at the right time.
Eliminate human error and time-consuming processes
Leads are distributed based on data-driven predictions that hone in on what makes each lead most likely to close a sale, rather than manual or stagnant rules that are often susceptible to human error.
This allows your team to focus on more valuable skills and tasks.
Maximize the value of every lead from start to finish
Predictive data reveals opportunities and challenges at various points of working leads that relate to and impact lead distribution.
For example, it provides predictive decision support that allows you to assess and predict optimized outcomes for the following:
What lead sources you use
The quality of leads
Initial outreach efforts
Follow-up efforts
Ongoing lead nurturing
Adapt quickly and grow sales
The models continuously learn and improve without human intervention so they automatically adapt to changing markets, offers, etc.
This also makes it easier to increase the lead volumes you manage, set and achieve business goals, and ultimately scale your business.
Read more — Leveraging AI for Enhanced Lead Distribution: A Comprehensive Review
Where to start to integrate AI for lead distribution in 2023
If you're ready to harness the power of AI for lead distribution, explore the latest options for AI software.
Some CRM systems provide built-in AI capabilities or they integrate with software that specializes in AI lead management.
ProPair's production-ready AI platform is built specifically for AI lead distribution and seamless integration.
Schedule a free demo to see where you're missing winnable deals and how AI can help.
ProPair can take your lead distribution to the next level. Easily and intelligently assign the best leads to the right salespeople, at the right time to boost overall conversions.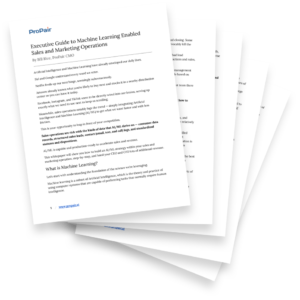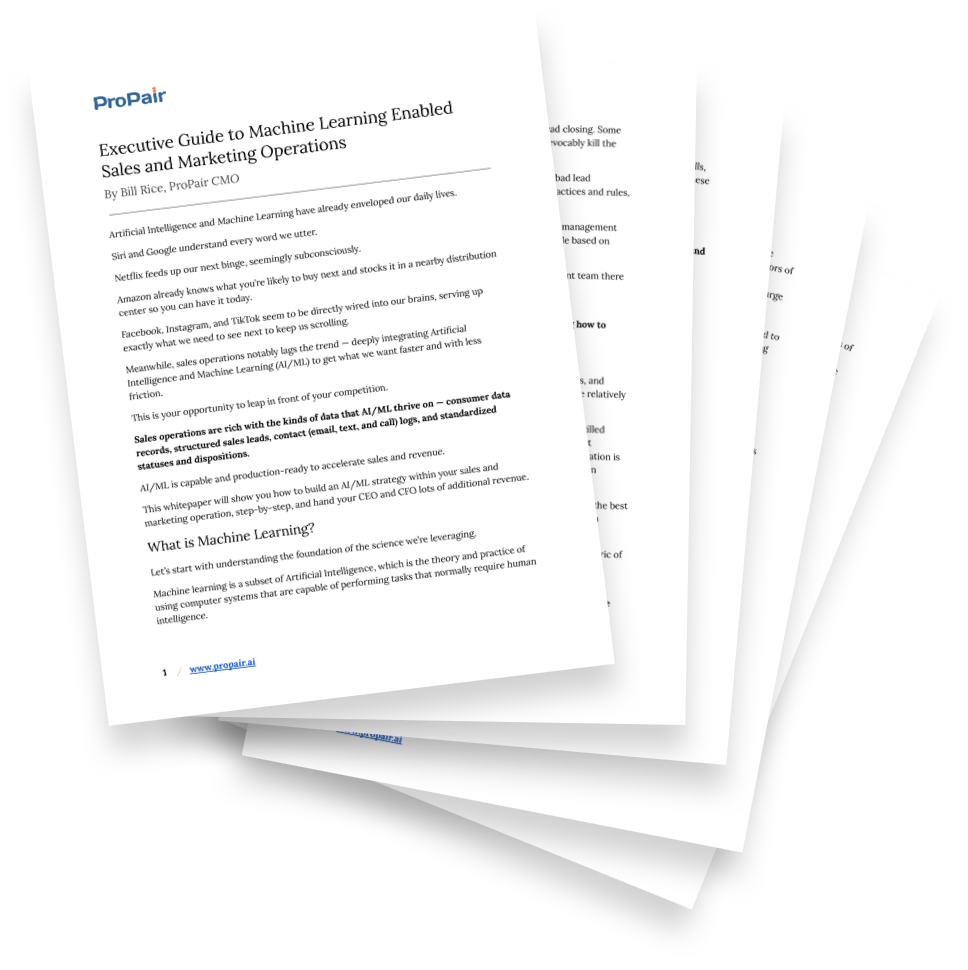 How does AI increase sales?
Download our executive guide to understand the current state of AI and machine learning. We'll show you how innovative sales and marketing organizations use it to get ahead of their competition.