Sales process fundamentals are more important than ever. As businesses navigate today's competitive market, changing consumer behaviors, and ever-evolving technologies (including AI) they need to remain grounded in an effective sales process.
Whether you're building your sales operations from the ground up, looking to make adjustments to your current process, or want a complete overhaul, you need a full understanding of the sales process to maximize its impact on your business.
In this in-depth guide, we share ways to shape your unique sales process and then use it to empower your sales and marketing teams, intelligently qualify leads, match leads to sales agents, and establish foundational best practices with business-wide buy-in — all with the ultimate goal of selling more to increase conversion rates and revenue.
Maximizing your sales process isn't a luxury, it's a necessity. Building your sales process and sales cycle propels business growth and differentiates your offerings. Leverage the latest strategies and technologies to outperform your competitors.
Now let's dive into the fundamentals, strategies, technologies, and tactics you need to get started.
Schedule a free demo with ProPair to see how AI boosts the sales process for fast results.
What is the sales process?
The sales process is more than just a list of steps needed to close a deal. It encompasses the essential sales activities that allow teams to attract, engage, and build relationships with prospects, while also guiding them to make a purchase decision. Through developing a repeatable and effective sales life cycle, you optimize how leads flow through your business, close deals, and contribute to revenue.
Why is the sales process important to your business?
Through the sales process, you build a framework that guides sales and marketing teams while also helping prospective customers move smoothly through your sales funnel and closer to a purchase.
This ensures that these three core elements of the sales life cycle — sales, marketing, and prospects — are aligned. It also allows you to simplify repetitive tasks and optimize important steps along the way to maximize your resources.
With a well-tested sales process you increase conversion rates and ROI while streamlining the steps and time it takes to close a deal.
Sales Director Guide: The 5 Core Lead Management Strategies You Need to Build a High-Performing Sales System
The 7 steps within the sales process + bonus steps that close more deals
Structuring sales operations with the common 7 steps of the sales process creates a standard roadmap to follow that simplifies the lead journey and sales activities.
Leads' journeys to becoming customers are not always linear. However understanding how leads need to be found, engaged, educated, and persuaded before being sold offers your sales and marketing teams a foundation for navigating the many variables that arise within the sales process.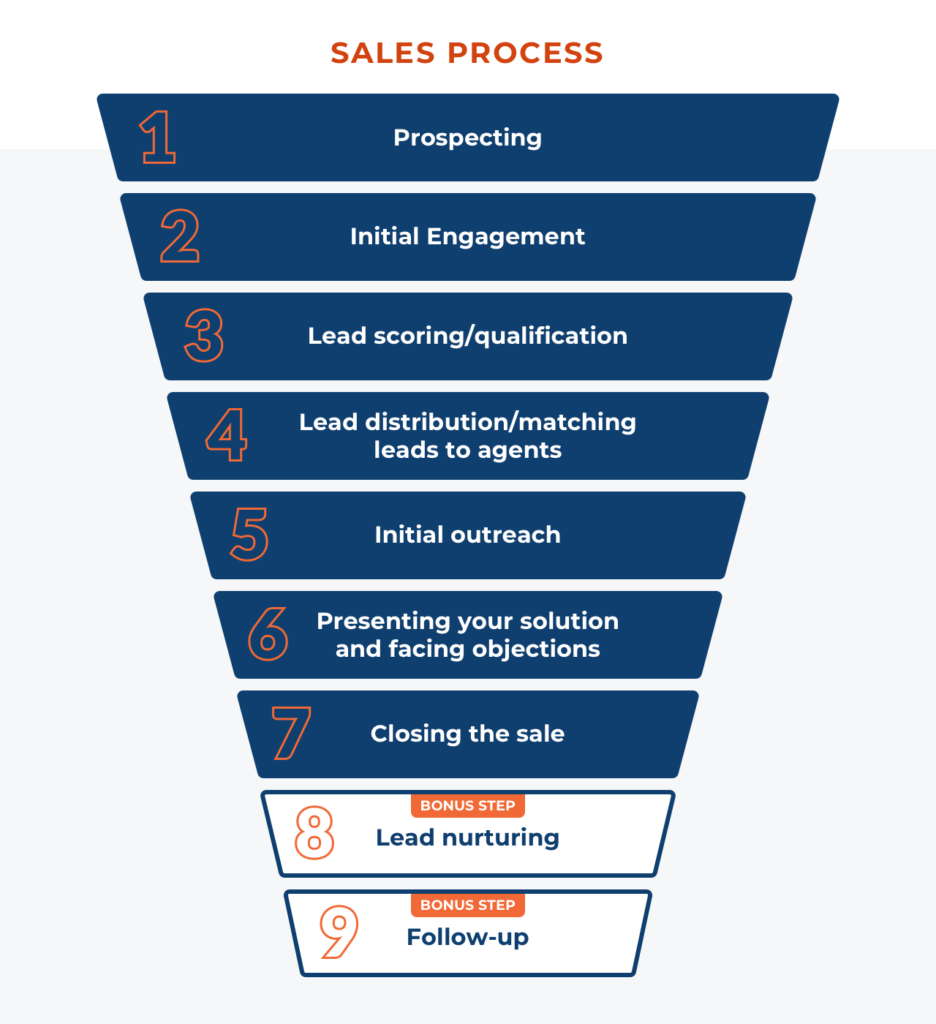 1. Prospecting
Prospective customers need to be made aware of your product or services and you need to show up where and when they're looking for the solutions you offer.
This step in the process requires sales and marketing to align to reach the right audience and get in front of leads that need the solutions your business has to sell them using marketing campaigns and outreach that pulls them into the top of the sales funnel.
2. Initial engagement
Once prospective customers find your product or service, this step allows them to take action on exploring your business as a possible solution to their needs. Again, sales and marketing align here to ensure leads are enticed to request more information, reach out for a conversation, sign up for an email newsletter, follow you on social media, etc.
Through these engagements, you gather data on each lead that informs the next steps to take with them in the sales process.
3. Lead scoring/qualification
Once a lead has engaged, use this step to understand how sales-ready they are. When scoring or qualifying leads, you'll need to use lead data and match it against a list of criteria that make a lead most likely to convert.
This has been made more efficient and effective with AI lead scoring tools that use historical and incoming data to predict how likely each lead is to convert using several complex dimensions of data for each lead.
Dig deeper — Lead Scoring: The Ultimate Guide to Understanding and Implementing it for Sales and Marketing
4. Lead distribution/matching leads to agents
As you filter for qualified leads, this next step is crucial for ensuring the maximum value of each lead. Qualified leads need to be distributed or matched to the right salesperson so that they can further engage with your business and sales process.
This is another step where AI automations have streamlined efforts. Just as AI can measure and provide predictions about leads, it can do the same for sales agents using sales performance data. Automatically know which salesperson is best to handle each lead as they flow in to maximize a positive experience for both prospects and your sales team.
Avoid losing leads to competitors with quick and effective initial contact.
Read more — Guide to Lead Distribution: Getting the Right Leads to the Right Sales Agents
5. Initial outreach
Using segmentation, personalization, and automation, qualified leads get customized interactions that are largely automated. This saves time and effort for your sales team while ensuring each lead is engaged in a relevant way.
Initial outreach encompasses the first text, email, or phone call you make to an engaged lead, as well as scheduling further discussion with them. As simple as this step may seem, it's important for making a solid first impression.
6. Presenting your solution and facing objections
At this point in the sales stages, you're in conversation with the prospect and have the opportunity to present your product or service. Use this time to learn more about your prospect's needs and concerns. This is also the point where you'll need to work through any objections that prevent leads from being sales-ready.
Assert yourself to build the relationship and keep it moving forward toward a sale. Use your CRM system and other tools to keep track of each prospect's current situation and stay in communication with them.
7. Closing the sale
Making it to this step of the sales process means you've taken the earlier steps seriously and have successfully qualified, worked, and guided a lead to become a customer.
The process doesn't stop here though. Maximize closing the sale by providing up-sells or cross-sells. Stay on top of the engagement and don't get too comfortable. This isn't the end of the relationship with a lead, it's the beginning of the relationship with a new customer or client.
8. Bonus Step: Lead nurturing
Beyond the core 7 step sales process, lead nurturing comes into play when leads don't take the clear path through your sales funnel to closing a deal. They might drop off after initially engaging or at any other point in the process. But this doesn't mean they're a lost cause.
Consider your prospective customers' experiences. They're likely weighing multiple options, while also juggling several other responsibilities.
You serve them and your business well by finding ways to stay top of mind through engaging, relevant, and resourceful content that helps them move closer to making a decision and closing.
Learn more — The Art of Follow-up: Sales Directors' Best Practices for Lead Nurturing and Deal Closing
9. Bonus Step: Follow-up
Whether you close a deal with a lead or are in the nurturing phase, follow-ups help you continue to build the relationship. If they're a customer, engage them again to see how things are working out with your product or service. Ask them to review your business or give them an incentive to refer you to their friends, family, and colleagues. Share special offers for additional business with them.
If they haven't closed a sale, continue to nurture them with helpful content but also use personalized follow-ups to check in on their purchase decision and where they stand as well as what they might still need help with.
Get more from each lead with AI-powered lead nurturing. Download our free guide here.
How to improve your sales process to increase revenue and maximize sales operations
Beyond awareness of the basic steps within the sales process, there are many tactics and strategies that will set your sales life cycle apart from the competition and maximize its effectiveness within your industry, and through market shifts.
We've broken down the three areas that maximize sales operations to increase revenue.
Track, measure, and adjust
It really is as simple as this. You can't guess or assume your way to an optimized sales process. Build a framework based on the actual data that reveals opportunities for improvement and proves what's working.
Track the journeys of your leads, the sales performance of your team, and the results of marketing campaigns. As you measure the effectiveness in each of these areas, you'll see whether they're hitting the standards you expect and need to hit larger business goals. If they don't measure up, use predictive analytics and decision support to see what adjustments would be most beneficial.
Read more: Guide to Using Decision Support for Executives in Sales and Marketing
Know what moves a lead to each next phase
Hone in on this one specific metric that impacts each phase of the sales process: what successfully moves a lead to the next step. This will vary depending on many factors, but it's a measurement you need to hit consistently for sales success.
This could relate to sales activities or lead behavior. For a sales process example, does a triggered email that includes a link to a scheduling app work well to set up your first conversation with a lead, or is scheduling that conversation more effective through text messages?
How do sales activities and lead behaviors coincide to make the journey through the sales stages successful or unsuccessful?
Read more: Simple Guide to Optimizing AI/ML for Business Operations
Get the right tools to support
As you measure, make decisions, and structure the next steps, new software and tools are available to not only automate many of these steps but also improve them through data-backed support. And out-of-the-box, cloud-based solutions make these technologies accessible and affordable.
AI and machine learning are heavy lifters providing predictive analytics, marketing and sales automation, personalization, and more using intelligent and complex models that run without requiring human intervention to predict and inform what makes each lead most likely to convert.
Maximize tools within your CRM and lead management systems, as well as additional technologies we'll dive into next.
The Full Sales Process Tech Stack You Need to Close More Deals with Inbound Leads
The latest innovations in sales process support (hint: they revolve around AI)
To meet the widespread needs of sales operations, lead management software and sales support have evolved to offer new technologies that enhance sales operations.
Between Artificial Intelligence (AI), machine learning, and automation, many sales tasks that were once cumbersome and complicated to manage manually now have automated, data-backed solutions.
Let's dig into the tools available and how integrating them into your sales process supports your business.
Predictive lead scoring: AI machine learning models automatically measure complex historical and incoming data sets, including lead demographics and behaviors, to predict in real-time how likely each lead is to convert, helping sales teams prioritize and qualify leads.
Predictive sales agent matching: AI machine learning models also measure complex sales performance data to predict in real-time which sales agents are most likely to convert each lead, providing data-backed insights on how to best assign qualified leads for optimized outcomes.
Segmentation and personalization: AI can essentially measure infinite data points for each lead. This informs how you categorize leads to reach them with the most personalized, relevant content and sales activities, while still doing so efficiently rather than one-by-one. It helps you segment leads by categories like browsing behavior, location, purchase history, engagement, etc., and reach them with further personalized content that helps them connect with your business.
Chatbots and virtual assistants: As leads flow in, often even before they're matched with a salesperson, AI-powered chatbots and virtual assistants answer leads' initial questions and concerns as well as begin to qualify them. By operating 24/7, they respond to leads instantly and even pass leads to sales agents at the right times.
Sentiment analysis: Even with the above automations in place, your sales team is still able to get a feel for the leads' experiences. Sentiment analysis uses AI to measure the sentiment of communications with leads, looking both at sales performance and lead experience. It can deduce whether your leads are having a positive, negative, or neutral experience to gauge their interest and guide sales activities and prioritization.
Advanced CRM systems: Robust CRM systems offer advanced capabilities, while simpler CRM systems are often able to integrate with other tools as needed to advance your lead management. Advanced systems include features like predictive analytics, lead scoring, lead distribution, and more to optimize both sales and marketing processes.
Data visualization tools: AI reveals opportunities within your data. New data visualization tools make these insights more accessible. Explore your data more thoroughly, predict outcomes with AI, and make insights simple to manage and act on.
Automation for data entry: Repetitive tasks that are consistently required within the sales process can be automated with AI tools. This reduces human error, saves time, and allows the sales team to focus on higher-skill tasks when working leads.
Ready to try these new tools, learn more about the providers and options available:
How to improve sales agent performance to positively impact the sales process
New technologies and a well-developed sales process make a significant impact on how your sales team performs. In addition to new technologies, there are a handful of concrete steps you can take to improve overall sales performance within your organization.
We break down five ways to implement these changes to support each team member, maximize the performance of your sales process, convert more leads, and ultimately increase ROI and revenue.
Essential Sales Process Troubleshooting to Improve Your Sales Operation from Top to Bottom
1. Automatically qualify leads intelligently with AI and machine learning
The more efficiently you can identify qualified leads, the faster you can prioritize them. This prevents salespeople from wasting time on unqualified leads and allows them to have a clear understanding of which leads need their attention and when.
AI-powered predictive analytics and lead scoring uses machine learning models to measure several complex dimensions of historic and incoming lead data to then automatically predict which leads are most likely to convert, as they flow in.
Machine learning also continuously learns and improves its models, with no need for human intervention. Your sales stages start strong with data-backed, predictive lead scoring.
Get our free download to learn the top 5 ways to boost sales with AI.
2. Match the best leads to the right sales agents with predictive lead assignment
Once leads are qualified, your sales team needs a clear understanding of how to take action with them. Quickly align your team and eliminate any confusion around who should work what leads by matching leads to sales agents intelligently.
Predictive lead distribution uses AI to measure historic and incoming lead data AND sales performance data.
Using this data, AI models automatically predict which sales agent is most likely to close a sale with each qualified lead at each specific moment by considering several factors such as availability, expertise, past performance, region, etc.
By taking the guessing game out of lead distribution, leads and sales agents get a smoother experience overall.
Read more:
3. Establish best practices and train your sales team
Be intentional about the best practices and expectations that you set for your sales operations. Consider the sales methodologies, the sales life cycle details, and the overall work culture you want to create.
After thoughtfully crafting these guideposts, it's crucial to get everyone on the same page. Train your sales and marketing teams with clear and consistent best practices, a concrete sales process, and any other tools they need to be empowered to do the best work possible.
Just as shaping your sales process isn't a one-and-done task, neither is training. Build in time for ongoing training, which allows you to adjust course, stay on track toward goals, and communicate wins and opportunities for improvements.
AI coaching tools are available to offer in-depth training to each employee. These can track performance and provide direct feedback and ideas for improvement to each team member.
Read more — Improve Sales Performance: 12 Strategies for a Winning Sales Culture + 5 AI Tools for Proactive Lead Management
4. Encourage cross-departmental performance
Open communication between departments allows businesses to make the most of all of their resources. Encourage opportunities for sales and marketing teams to work together, assess and set goals, and look for ways to support one another.
Consider other departments that can impact the sales process. Are accounting, IT, data science, or product/service development departments encouraged to offer insights that can improve the sales process? Although this may take more time and communication, it's often a beneficial investment that leads to increased revenue and operational optimizations.
5. Monitor and measure performance
You can't improve your sales process, or even know if it's working, if you aren't measuring its performance. Ensure that you not only have tools in place to track and measure various data but that you've also established Key Performance Indicators (KPIs) to compare that data against.
AI decision support systems help you plan and assess changes based on data you've collected and AI-powered predictions. These help you forecast more intelligently and make data-backed decisions about how to adjust your sales process based on the performance you're seeing and the goals you want to hit.
Read more:
How to tailor the sales process to your industry
The basics of the sales process are universal, however, there are many nuances that likely need to be customized to best meet the needs of your prospects within your specific industry.
Because sales and marketing can vary widely from company to company, it helps to understand the differences of your business, your industry, and your prospective customers' experiences.
Whether you're a B2C or B2B company, enterprise business, non-profit organization, startup company, agency, entrepreneur, or any other sales-driven organization, you can benefit from tailoring the sales process to your industry. Let's dig into the key areas to focus on.
Create personas that match your ideal customer profiles
First, define your ideal customer profile. Which of your current customers do the following?:
Are easiest to sell to with the shortest sales cycle
Have the highest retention rates
Provide the highest number of referrals
Creating personas then requires you to expand on the whole picture of who these customers are:
What pain points and challenges are they facing?
What factors are they considering to make a purchase decision?
What is their day-to-day like?
How does your product or service fit into their day-to-day?
How many different personas are there that fit into your ideal customer profile?
These personas set guidelines for lead qualification criteria, empathizing with leads, and building relationships with ease.
Download our free aged leads AI guide to maximize the leads you've already invested in.
Get familiar with the competitive landscape
When your consumers search for a solution like your product or service, what do they find? Within your industry, you'll likely discover experiences that seem universal among you and your competitors, such as a website and social media presence.
In addition to competitor brands, messaging, and channels, consider these factors:
How do your competitors offer/package their products or services?
What resources do they provide to consumers?
How do they engage consumers directly and collect consumer information?
Now think about what you can do better to improve this experience so that your consumers are more willing to choose your business over competitors, while also nurturing the relationship to help you stay top of mind as they consider their options ahead of a purchase decision.
Know what makes you unique within your industry
Once you define your ideal customer and gain an understanding of the competitive landscape, you're likely getting a clearer picture of what makes your business unique within your industry.
Don't just sit on this information. Use it to communicate to your prospects why you provide the most value to them.
Highlight what you have to offer that stands out. Consider one or more differentiators like the following:
Are you specialized in certain client scenarios?
Have you built a reputation for trust?
Do you have open and accessible communication?
Is your product or service unique from competitors?
Is your product or service widely favored among certain consumers?
Know the necessary regulations and compliance requirements
This is an extremely important one that you're likely well aware of. Of course, you need to remain compliant with all sales and marketing regulations, especially those specific to your industry.
However, have you thought about how these rules can be more than a nuisance and instead be used to inform and guide your sales stages? Rules and regulations are often set in place to protect consumers from being inundated with sales and marketing, as well as to protect them from things like discrimination, conflict, and more.
Use these guidelines to inform how you respectfully and effectively work with prospects to more smoothly and positively guide them to closing sales through the sales process.
Set reasonable and measurable goals that your sales process will support
Understanding sales within your industry informs you about the current market and consumer landscape. This helps you set reasonable and relevant sales goals.
Use your sales process to ensure these goals are measurable and that each step of the process works toward supporting reaching these goals.
As you put the sales process into action, track and measure whether your ongoing steps and strategies are leading you to the industry-specific goals you want to meet.
Get more industry-specific insights — Shorter Mortgage Sales Cycle: Smart Sales Director Strategies, Upgrades, and Tools
How to create your own sales process flowchart
A flow chart is a great way to structure an actionable sales process example that your salespeople can follow while working leads.
The customer journey can take many paths, whether it's done through the sales funnel or a less linear experience.
As there are many different scenarios for how a lead will convert to a customer, a sales process flow chart guides sales activities in a clear path while still allowing for multiple ways to reach the end goal.
Leads are never forgotten in the sales process flow chart, they are simply moved to a different phase until they're ready to make a purchase decision.
With AI and decision support systems, you can build a sales process flow chart based in data, trends, patterns, and predictions about what path makes leads most likely to close a sale.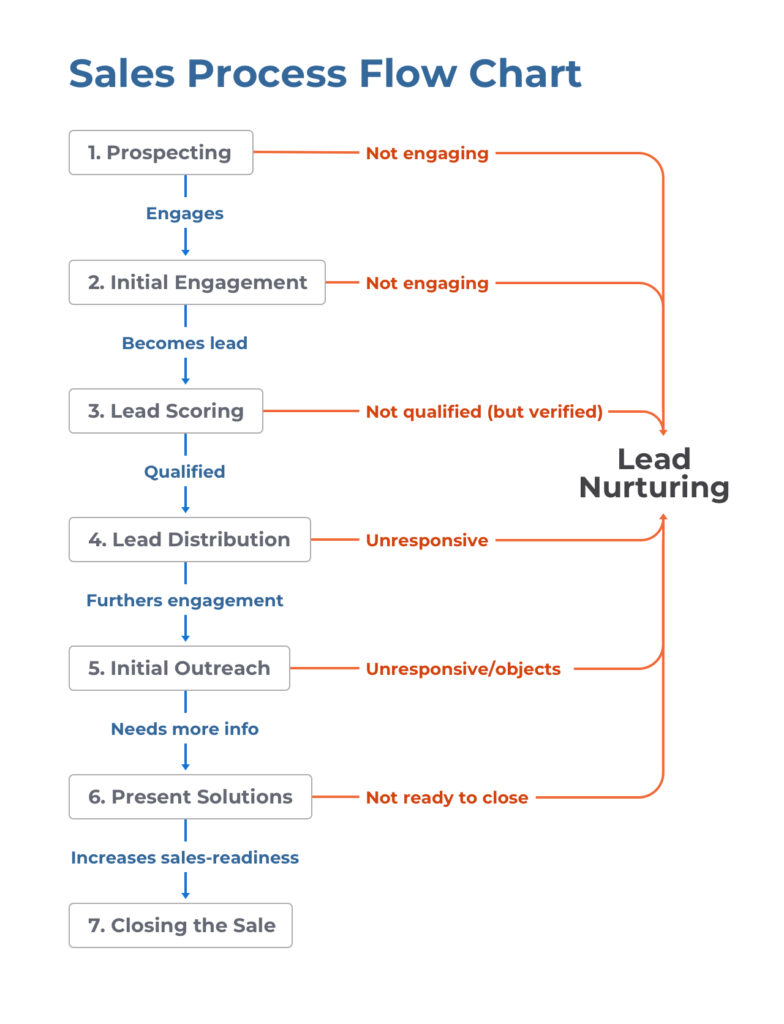 15 common sales process mistakes and challenges to avoid
When developing your sales operations and building a sales process, it helps to understand the common mistakes and challenges that other organizations have run into. Look for these challenging sales process examples as red flags in your current system.
If you're unsure how to navigate these challenges, we've provided solutions that simplify the sales process to ensure it runs smoothly once put into action.
COMMON CHALLENGES & MISTAKES
SIMPLIFIED SOLUTIONS
Weak first impression
1. Working leads before qualifying them
2. Poor preparation
3. No initial outreach process
Build your sales process to include automated AI lead scoring to qualify leads then automatically distribute them to the right sales agents for a clear initial outreach flow.
Misguided engagement
4. Focus on product features not values
5. Talking too much and long sales calls
6. Unprepared for objections
7. Lack of empathy
Determine your sales methodologies and train sales agents to use them confidently with the ultimate goal of personalizing the sales experience for each qualified lead. AI tools automate repetitive tasks so sales agents can focus on improving their conversations with leads.
Untailored sales activities
8. Focusing on closing rather than relationship building
9. Unclear communications and next steps
10. Waiting too long to follow up
Outlining a clear sales process helps sales agents follow a roadmap to closing, which guides how to communicate next steps, when to follow up, and what steps to take on the way to closing a sale. AI and automation tools simplify alerts for each sales activity.
Lack of strategic thinking
11. Relying too heavily on one sales methodology
12. Letting the sales process go stagnant
Support sales agents in building their own authority to confidently use the sales process and methodologies. This requires a constant evolution of the sales life cycle, with regular check-ins and adjustments to optimize performance.
Big picture issues
13. Team not aligned with sales process
14. Sales and marketing aren't aligned with one another
15. Not measuring the right KPIs
Maximize internal alignment with regular meetings, communications, and universal tools that provide transparent data, documented goals, and the ability to track changes over time, all from the same page, so to speak.
Read more:
What is the difference between a sales process and a sales methodology?
As we differentiate the meaning of essential terms related to sales operations, it helps to know the difference between a sales methodology and a sales process.
The difference is of course in the name.
Sales process vs sales methodology
Sales process is the actionable steps taken to guide a lead to purchase and close a lead, as we've discussed. It serves as a roadmap.
Sales methodology is more like your sales philosophy. It guides the foundation of your sales process through overall approaches that sales and marketing teams can use to engage leads.
6 sales methodology examples
Your sales methodology might focus on one of these 6 approaches or a variety of other philosophies:
Trigger-based selling: Using data to pinpoint signs of customer needs and then knowing the right timing to make an offering depending on tracked behaviors and engagement
Consultative selling: Consulting potential clients as an authoritative and trusted advisor and building a solid relationship
Challenger selling: Educating leads and learning about their needs to provide a tailored offering as a positive solution
Value-based selling: Like The Sandler Selling System, involves partnering with leads, saving time with an efficient process, and making sure the sale is mutually beneficial
Inbound selling: Attracting leads with targeted marketing and content that engages leads and builds interest ahead of selling
Solution selling: Helping leads solve problems with your product or service
In either case, the sales methodology sets the tone for how to run the steps of the sales process.
Ok so where does the sales cycle come into your sales process and sales methodology? Let's explore that next.
Sales Process Secretes: 12 Insider Tips to Create a High-Performing Sales Operation
What is a sales cycle?
Within the sales process, the sales cycle encompasses the journey a lead takes to become a customer. The flow of the sales cycle is directed by the overall sales process from initial lead sourcing through to closing deals.
Through awareness of the sales cycle, businesses can measure the overall success of sales processes and strategies. For example, the shorter the sales cycle length, the faster leads get converted, and more revenue is generated.
Context: How a lead's journey through the sales cycle stages begins
By digging into the sales cycle stages that leads flow through, we'll get a deeper understanding of why the sales process is so important for guiding leads through each step.
Here we'll focus more on how they initially engage with your business to provide background on where they've come from and how to meet them where they are for the highest likelihood of conversion.
Initial need: A consumer is looking for an answer to their question or solution to their problem. They do an internet search and maybe even ask some friends, family, or colleagues for recommendations.
Discovering resources: They find a link to your website in their search results or they're referred to your site or social media pages. Now they might also begin to see your ads in their browser or hear about your brand elsewhere.
Exploring offerings: Once on your website, the consumer begins to interact directly with your brand. They browse your product/service pages, company information, and any resources you have like a blog or FAQs.
Deciding to connect: Best case scenario, the consumer engages on a deeper level so that you can collect more information from them. They could fill out a form looking for help with their problem or answers to their questions. Maybe they sign up for your newsletter for more information.
First personal impression: Once you've collected their information as a true lead, you can begin moving deeper into the sales life cycle by further engaging them to guide them to a purchase decision. They're contacted by your business, which is your chance to make a more personal connection.
Comparisons and considerations: As the sales process begins, the consumer-turned-lead is now weighing their decisions, comparing options, and likely even exploring your competitors.
Reliable resource and best solution: Through this process, they'll keep you top of mind if you continue to provide relevant and helpful information at the right times, as well as guide them to a purchase decision they feel confident about. Ensure that they know throughout the sales cycle that you're available to help.
Increase conversions from the start with AI lead assignment. Download our free guide to learn more.
Common purchase scenarios your leads face + tips for working the sales cycle with each of them
Considering the above path leads take through the sales cycle stages shows the concrete steps they might follow to connect with you. Now let's take this a little deeper to understand why they've started this journey in the first place.
What scenarios have led them to awareness of their problem and the goal to seek a solution? How can understanding these scenarios help you boost your sales process?
We've broken down common lead scenarios and added sales tips for managing them. Of course, these are just a few common scenarios possible within the wide-ranging world of leads.
The decision-maker
The purchase decision directly impacts this person and/or others they're responsible for.
They have all of the resources they need to make the decision.
They may be able to pull the trigger on closing faster but their lone wolf status could also mean no clear deadline and a lack of resources that help them commit.
They may be in an early research phase or they might be ready to close quickly.
Sales tip: Direct decision-makers are often busy juggling many responsibilities. Help them stay on track with their options and the overall sales process. Ask directly for the best way to check in, and don't be afraid to state clear next steps, while ensuring you follow through on your end of the process.
The researcher
This could be someone who was assigned to compare options and bring recommendations back to a group or decision-maker.
They likely are comparing competitors and weighing options.
They may be looking for a wider range of options and information to bring back to the decision maker(s) to answer various questions and concerns.
They could be at varying stages of ready-to-buy depending on how quickly a solution is needed.
Sales tip: Don't overlook this scenario because of a fear of losing them to competitors or a lack of sales-readiness. Provide information to help them make confident recommendations to the decision maker. Once they choose your offer, they'll likely move through the rest of the sales cycle more smoothly.
Read more: Maximize aged leads with prioritization and data using AI lead nurturing to dissolve challenges
The representative
This is likely someone trusted to explore options and bring potential solutions back to a group of people who need to align on the purchase decision.
This may mean the group is eager to get started with a solution so they've dedicated a resource to finding it.
Great minds don't always think alike, however, so they might need more information to get everyone onboard, which can then slow the sales process.
Sales tip: Help them help themselves. Get on the representative's side to support the work they need to do within the group. What questions can you ask them and what resources can you provide from the start that can help to guide the entire group to a confident purchase decision in the sales cycle?
Top 20 Ideas for Improving the Sales Process to Spark Change and Growth Within Your Business
How to know when a lead is qualified and ready to flow through the sales cycle
Based on various considerations surrounding leads, marketing and sales teams can turn these scenarios and circumstances into measurable criteria that are used to strategically work and convert leads.
Moving leads into your actual sales cycle starts by determining what makes a lead qualified so that marketing can focus on attracting and generating the right types of leads and sales can focus on working these targeted leads for successful closings.
MQL vs SQL
The ultimate goal of both sales and marketing teams is to determine whether a lead can be driven to conversion.
To prioritize leads and filter for those most likely to convert, marketing teams identify MQLs, which then move through the sales process to ideally be deemed SQLs by the sales team.
Marketing Qualified Lead (MQL)
When a lead is qualified based on criteria set by the marketing team, this helps to guide further marketing campaigns and strategies.
For example, if a lead begins to show signs that they're interested in your product or service, they likely become an MQL by entering the top of the sales funnel. They will then be further engaged with targeted marketing efforts to increase their engagement.
Use direct mail to reach leads? See how AI guides your campaigns to get results with our free download.
Sales Qualified Lead (SQL)
As the lead moves deeper through the sales funnel, sales and marketing will look for indications that a lead is sales-qualified.
To be an SQL, a lead will show clear signs that they're now ready to make a purchase decision. They've likely made it through one or more qualification filters indicating they're willing to connect directly with a salesperson to move forward through the sales process, to closing.
Read more — MQL vs SQL: How they're different and how AI helps us decide
5 steps to align the sales process with the marketing process
These thresholds that leads need to pass through show a clear picture of why sales and marketing teams need to not only work together but also align their goals for a successful sales cycle.
The two teams need to be in regular communication to determine how marketing campaigns filter leads and guide leads to the solution your business offers.
Marketing campaigns need to target appropriate consumers based on predetermined personas that the marketing and sales teams agree on.
When an MQL transitions to an SQL, it needs to truly be a lead that shows promise to the sales team.
From there, the sales team must take responsibility for the sales cycle and build upon the work done by marketing to continue to move toward conversion.
Throughout the entire sales process, marketing and sales need to agree on what metrics to measure and assess to ensure goals are being met efficiently.
Read more:
How to get started successfully: Structure your sales process management
To implement the relevant strategies and tactics that we've discussed and boost your sales operations, you need to implement a structure that will create the foundation of your sales funnel.
Do you currently use these technologies and software to support your sales and marketing teams?
The Actionable 90-Day Plan to Improve Your Sales Process + Getting Help from AI for Sales
CRM systems
The true starting point for a modern and successful sales process is a Customer Relationship Management (CRM) system. It serves as the hub for all lead and sales data and interactions.
It provides wide-reaching functionality by providing advanced capabilities or integrating with outside software that supports sales and marketing.
As it is essential for lead management, every step of the sales process should flow through your CRM system. This allows your teams to track and measure lead, sales, and marketing data within one consistent platform.
It provides a solid database that can be built upon to drive sales success.
Robust CRM systems:
Salesforce, HubSpot, and Zoho are some of the leading players in this space offering advanced and customizable capabilities. Other platforms like Pipedrive and Microsoft Dynamics 365 offer more targeted out-of-the-box solutions that fit certain business needs.
AI lead management technologies
You've heard about Chat GPT and AI being used by more and more wide-ranging organizations. As we've discussed above, AI also has production-ready uses for lead management that allow businesses to leverage the power of machine learning to enhance and predict the best ways to work leads.
Innovative AI tools offer advanced capabilities that significantly improve sales performance, inform your sales process, and increase ROI with data-driven predictions.
Some growing AI tools you can implement include:
Predictive analytics, lead scoring, and sales agency matching
Chatbots and virtual assistants
Sentiment analysis
Segmentation
Personalization
Automation
Read more: Guide to Implementing AI/ML for Executives in Sales Operations
Integrate AI into your system with ProPair: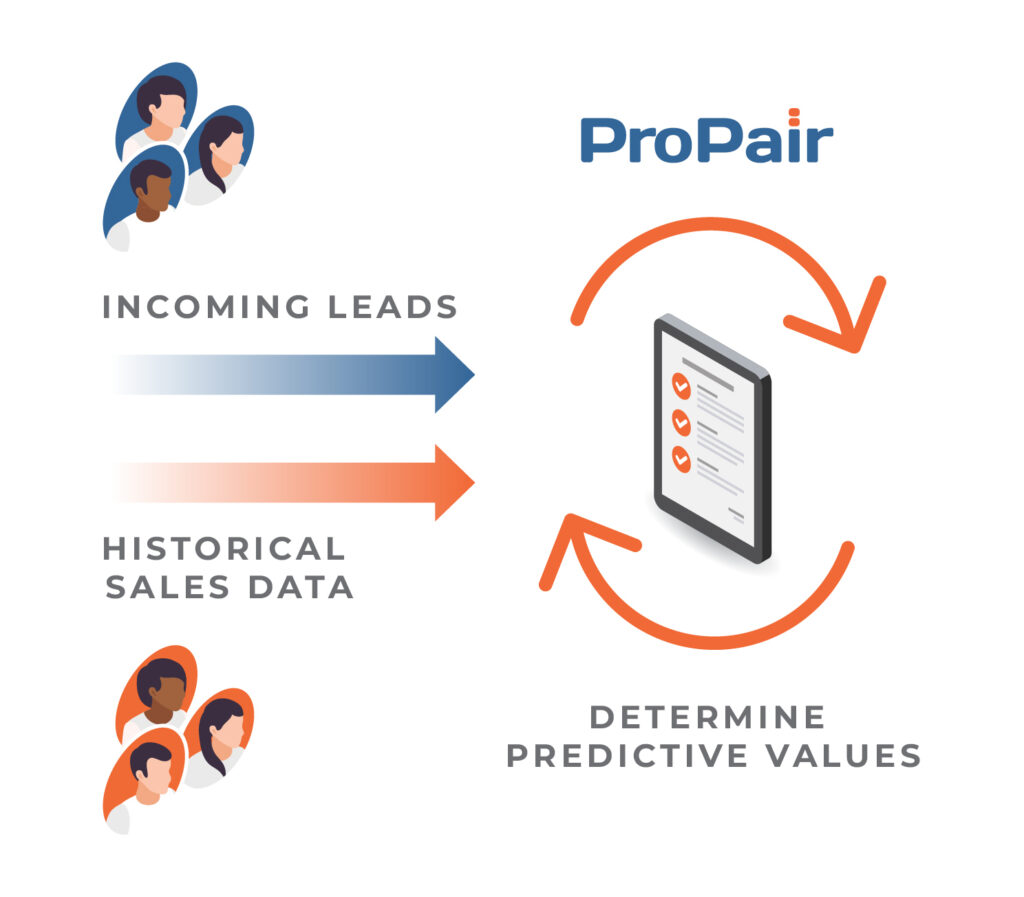 ProPair's AI application provides intelligent and predictive capabilities that enhance lead scoring, lead distribution, and lead nurturing — all important parts of the sales process and sales cycle.
Maximize the value of every lead and every salesperson by knowing which leads and sales agents are most likely to convert using data-backed predictions we've otherwise never had access to before.
ProPair also provides predictive decision support to help you make informed decisions that improve the sales stages overall by predicting likely outcomes in various areas of the sales process.
ProPair's production-ready machine learning models are also customizable. And they continuously learn and improve accuracy on their own, without requiring human intervention and heavy maintenance, unlike many other data management tools.
Read more: Your step-by-step guide to implementing AI/ML tools to impact sales
Marketing automation systems
To build on your CRM system and sales process, integrating a marketing automation platform helps you streamline communications and engagement with leads by more easily managing your marketing efforts, including email, social media, and other channels, in one platform.
Marketing automation systems also connect to your CRM systems to provide deeper records of each lead's engagement and behaviors with your company. By connecting these tools, you support marketing and sales teams in aligning strategies and goals through more visibility and access to data.
It also provides analytics and insights into how campaigns are performing and how leads are engaging to help you find opportunities for improvement.
Popular marketing automation platforms:
Major players like HubSpot and Adobe's Marketo Engage offer marketing automation complemented by predictive capabilities so you can maximize every interaction with leads. These allow you to trigger communications and engage leads automatically and more often, in strategic ways.
Read more — Integrating Powerful AI and Automation in Lead Management: Game Changer for Marketing Directors
Implement and run a sales process that outperforms your competitors
Now that you've gotten a deep understanding of the sales process and sales cycle stages, it's time to run with this knowledge and use it to optimize your own sales operations.
As complex as all of this may seem, it really breaks down into only five steps that we'll walk you through.
By taking this clear path to success, you outdo your competitors who don't know where to start or won't invest the time to evolve and maximize their sales process.
1. Outline your current process and note any gaps and frustrations
You can't improve upon what you already have if you don't know much about it. Start by bringing awareness to your current sales process. Note how a lead commonly flows through your process and systems. How does the experience go for your marketing team and sales team?
As you document and become more aware of the details of your current process, note any gaps where more support is needed to better support conversions. Also, note any frustrations or confusion that your teams run into throughout the sales life cycle.
This gives you a foundation to build from. It's your baseline that you can evolve.
2. Map journeys for customers that convert
Beyond just looking at what is common practice for your current sales process, it's time to look at what's working within the process. Look at your current customers and assess how they initially converted and how they've been retained.
Using insights from this analysis, you use actual lead and customer data to inform what the ideal sales process can look like, rather than guess at improvements.
Of these successful customer journeys, notice any areas that could have been improved, as well as what areas are working really well for your business.
This also helps you bring awareness to any conversion goals you've set or want to strive for. Does your current success rate show a process that will help you reach further goals or is it limiting growth?
Optimize relationships with AI portfolio retention. Learn more with our free download.
3. Get team and leadership buy-in for improvements
By investing time and effort into the first two steps, you've built a strong case for any limitations and frustrations of your current system and can begin to show the possibilities of making improvements to the sales process.
Be open to sharing all of this insight with anyone who will need to buy into the process of making improvements. Whether it's leadership, your employees, and even your current customers, you'll want to get everyone on board so that any changes you make will have the highest likelihood of succeeding.
Without collaboration and cooperation, evolving your sales process can get cumbersome and stunted. Not everyone has to agree 100% of the time. In fact, this is the chance to explore dialogues around any concerns, disagreements, or confusion. From there, open communication leads to better alignment between everyone involved so that you can maximize your efforts.
4. Implement supportive methodologies, processes, and software
Now that you know the gaps, limitations, and confusions around your current sales process, and have company buy-in to move forward, begin to shape the concrete solutions that will help you optimize your sales and marketing operations.
Based on the needs you have, seek and establish what sales methodologies best suit your business's culture or where you want it to head. What processes most support your teams? And what software will empower your sales process to grow revenue?
This will require some exploration and discernment. Test software and ask questions. Look for inspiration from other successful businesses. Find ways to improve upon the methods your competitors are using.
10 Common Underperforming Sales Process Problems + How to Solve Them with A
5. Track, measure, and adjust
The sales process includes many variables and will need to be shaped to your specific needs. This requires some trial and error. So it's essential that you establish what metrics you want to measure and then implement concrete ways to track them.
From there, you'll need to assess the measurements collected. There are many tools available to support decision support, performance assessment, trends, forecasting, and more. This includes data visualization tools and predictive analytics. Analyzing the overall performance is not something you want to overlook.
Investing in the right tools can help you automate much of this process and provide you with more intelligent insights to act from. Again, something your competitors likely haven't figured out yet.
Read more: These 10 Machine Learning Applications are Making a Big Impact on the Modern Lead Distribution System
Get started: Build and maximize your sales process with one simple AI solution
As you can see, building and maximizing your sales process is about more than just knowing the basic steps a lead takes to convert.
Investing in your sales process is about adapting and leveraging innovations that grow your business, empower your teams, improve customer experience, and create a competitive advantage.
As the market and consumer behaviors continue to evolve, so too must your business.
Start by assessing your current sales operations. If you haven't felt the urgency yet to explore new technologies, hopefully, this article has shown you the expansive possibilities that are available to maximize your sales process, grow revenue, and increase ROI.
There's one simple place to start. Connect with us at ProPair to see how our production-ready AI fits into your current system as it stands today and can be customized to your specific needs based on your business, industry, products/services, and more.
Schedule a free demo with ProPair to get started with this one smart sales process solution.
With our proven machine learning models, we help you automatically know which leads are most likely to convert, along with how to match each lead with the right salesperson at the right time.
We even help you clean and configure your current data to optimize it for machine learning.
Let us help you maximize your entire sales process with the help of AI.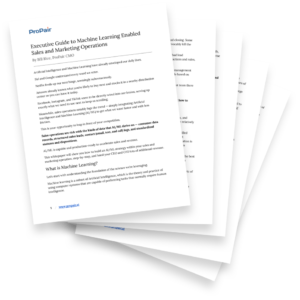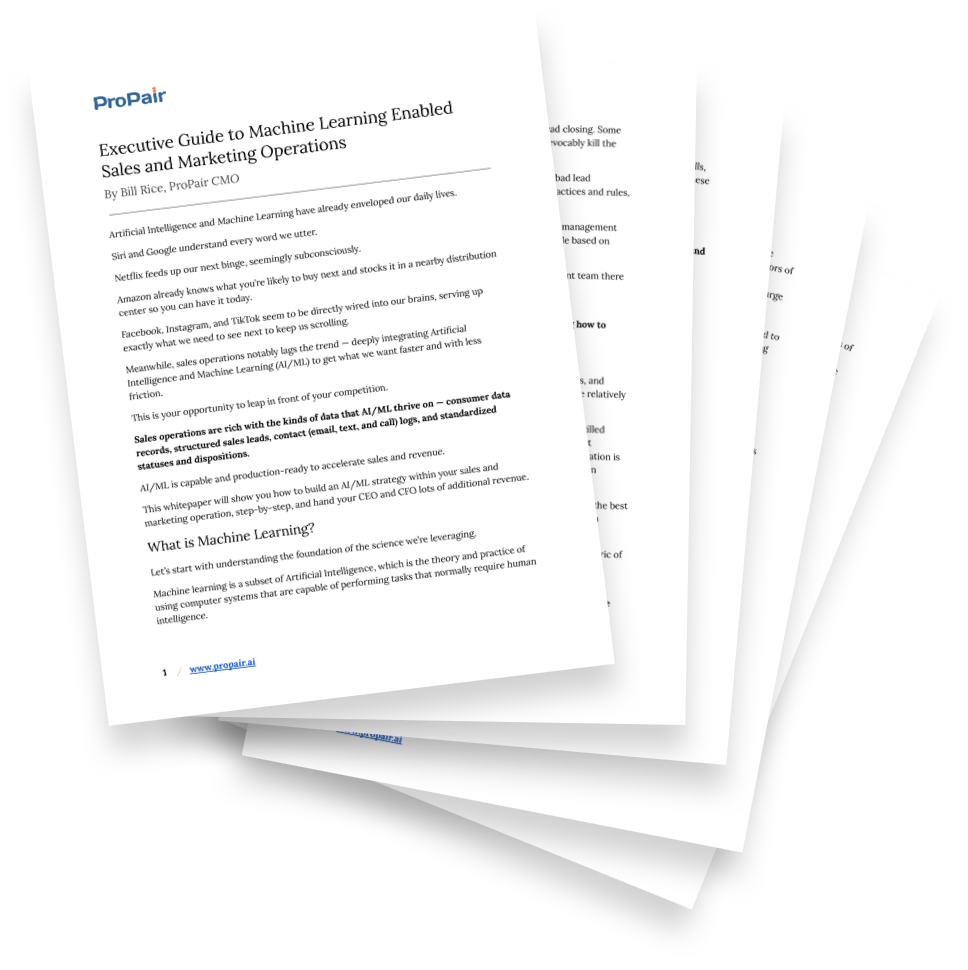 How does AI increase sales?
Download our executive guide to understand the current state of AI and machine learning. We'll show you how innovative sales and marketing organizations use it to get ahead of their competition.