By leveraging the latest AI strategies for sales directors, you can supercharge your lead management processes and scale sales to new heights.
You might be surprised to learn how many of the latest AI applications are available and ready to be added to your current CRM system through simple integrations.
We share the top AI strategies for sales directors and help you understand how integrating the latest technologies can boost your lead management processes.
Schedule a demo with ProPair to integrate AI tools now.
AI is changing sales processes
This year we've really seen AI become mainstream. More than 50% of high-performing sales organizations are leveraging AI.
And although it might feel overwhelming to keep up with the constant changes in technology, AI is more accessible and essential than you might realize.
It has also garnered so much enthusiasm because it solves age-old problems that sales operations have wrestled with for years. As more businesses realize the capabilities, AI will become the norm.
Using AI is no longer only for innovators. Those who don't adopt at least some of its features will likely find themselves falling behind the competition.
Stay informed with the Top 10 Emerging Trends in Sales Lead Management Systems for 2023
Top AI strategies for sales directors to integrate into your CRM system
So let's get real about how AI can optimize lead management processes through the latest CRM integrations.
We're sharing the top AI strategies for sales directors to prioritize and explain the impact they have on raising conversions and ultimately increasing revenue.
Get our free download to learn the top 5 ways to boost sales with AI.
Access and analyze all lead data in real-time
Predictive analytics — powered by AI — continuously assess and learn from lead data to forecast consumer behavior, sales trends, and even market changes.
This helps sales directors anticipate customer behavior and trends to guide strategic decisions about positioning, pricing, offers, and more.
Leverage historical lead data to predict which new leads are most likely to convert
AI uses predictive lead scoring to analyze several dimensions of each lead. AI-powered machine learning models then assign a more accurate score that is based on a data-backed prediction of how likely each lead is to close a sale.
Sales teams can prioritize the best leads as they flow in and measure lead quality as their behavior changes over time.
Learn more: Guide to Predictive Lead Scoring and Why Most Lead Scoring Models are NOT Predictive
Automatically assign leads to the most suitable salesperson
AI-powered lead assignment uses a similar process to predictive lead scoring, but instead of measuring lead data, it measures sales performance data.
This allows machine learning models to predict which salesperson is most likely to convert each lead, based on a combination of factors including their expertise, location, availability, etc.
Learn more: Maximize Conversions with Smart Lead Routing Strategies and Solutions for Sales Directors
Reduce the risk of human error with data entry and lead management
AI automates repetitive and routine tasks to free up the sales team's time and energy. This allows each salesperson to focus on more high-value tasks while AI helps to avoid issues with manual data entry like common human errors. In situations where manual entries are needed,
AI tools like voice and speech recognition make it easier for sales representatives to update records and perform tasks quickly and even on the go.
Prevent churn among existing customers
AI tracks lead and customer behavior as it changes and predicts when they become more or less of a priority to manage. This includes identifying existing customers that are likely losing interest in working with you.
AI's predictions of customer behavior allows sales teams to proactively address these customers' needs to improve retention and prevent churn, which preserves the effort you already spent working these leads.
Prevent customer churn and optimize relationships with AI portfolio retention. Learn more with our free download.
Improve lead interactions with NLP, segmentation, and personalization
With NLP capabilities and improved segmentation, sales operations can provide leads with a more personalized sales experience.
NLP analyzes communications from leads to identify how they're experience is going. It can even help qualify leads through conversations with AI-powered chatbots or virtual assistants.
Based on various lead data, intelligent segmentation allows for a more nuanced approach to working leads with targeted campaigns. All of the above are topped off with the ability to automatically personalize more interactions with leads through the use of AI as well.
Learn more: 10 Ways Mismanaged Lead Data Hurts Your Sales Conversions + the ONE Solution You Need to Fix it
The AIM roadmap for integrating the latest AI technologies into your CRM system
Use the AIM roadmap to make these AI strategies for sales directors a reality by analyzing, implementing, and measuring:
Analyze your current processes: Understand where your operation is lacking and where AI and machine learning can plug those gaps. From predictive analytics to prioritizing and maximizing the value of every lead, AI can help you identify trends, qualify and route leads, and forecast sales with a level of accuracy we haven't experienced before. Which of these areas will benefit your business the most?
Implement the right software: Research and choose the right software and solutions that meet the needs of your business. Request demos, speak with your current CRM system support, and reach out to partners and AI software providers to explore the support available for implementing the latest technologies.
Measure your results and adjust as needed: Once you've integrated new AI technologies into your current lead management system, assess how it's impacting your results. Measure the right KPIs and look for areas of improvement. When you invest time and resources into new software, you want to ensure you're getting the most from it.
Increase conversions from the start with AI lead assignment. Download our free guide to learn more.
Check out our Sales Directors' Toolkit: Top 10 Lead Management Software and Tools to Drive Success
Get started with ProPair's predictive analytics
We can help you start the process. ProPair's AI platform provides predictive analytics that support optimized lead scoring, lead assignment, lead nurturing, and sales performance.
Our production-ready AI applications plug seamlessly into most CRM systems. Our expert team has experience both in sales and in AI to help you make the most of your data and our software.
Schedule a free demo with us to learn more.
See how we can help you access the latest AI tools to improve lead management.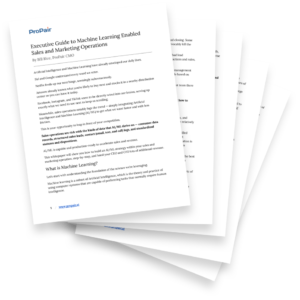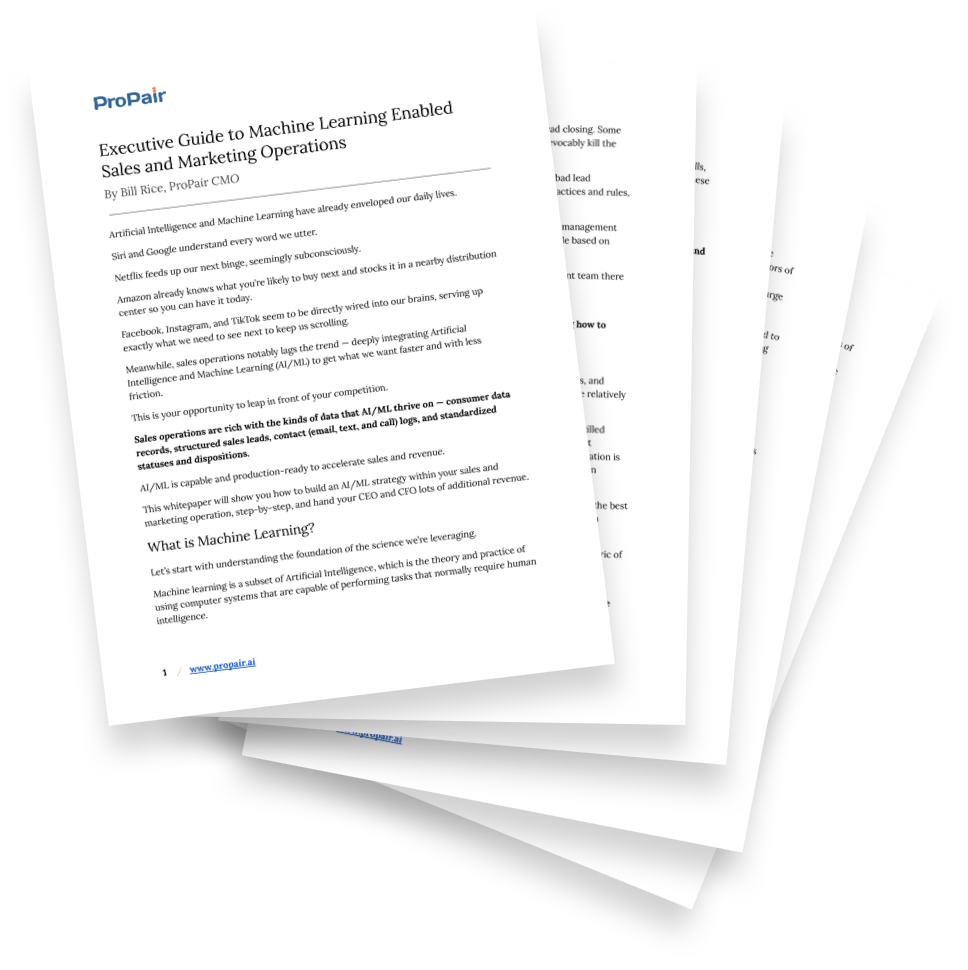 How does AI increase sales?
Download our executive guide to understand the current state of AI and machine learning. We'll show you how innovative sales and marketing organizations use it to get ahead of their competition.