You want to increase sales for your business, so where do you start? You have much to gain by optimizing lead management and distribution, but it can be daunting, especially at an enterprise level.
There are countless methods, rules, and theories for how to evaluate and adjust lead scoring, lead distribution, and lead prioritization. It can feel like there are infinite problems to solve before you find that sweet spot — getting the right leads to the right sales agents.
But sales operations is transitioning. There are more advanced ways of operating that answer this slew of questions. With Artificial Intelligence and Machine Learning, comes software that not only solves these problems but also innovates how we distribute leads and close more sales.
Rather than make gut-based decisions about how to manage leads, use data-backed machine learning, know what steps to take to sell more and strengthen your sales force.
See how AI can reveal opportunities hiding within your sales data with a free data analysis.
What is lead distribution?
Lead distribution isn't as simple as giving leads to salespeople. It's a term that involves a deliberate strategy for optimizing lead conversion, and ultimately closing sales.
Lead distribution is a method of deliberately taking leads that come into your CRM, analyzing them, and then either creating a set of rules and automations or relying on software to analyze and distribute those leads to the right salesperson, after considering how likely the sale is to close.
This can be done manually but it's increasingly being done automatically with the use of Artificial Intelligence and Machine Learning (AI/ML) tools.
How sales lead distribution works
If you're buying leads, relying on ping post lead distribution, or generating leads through your website and other marketing channels, then you likely have leads flowing into your CRM, waiting to connect with a salesperson.
This is where a lead distribution system provides a path for the leads to flow through. Combining data you've just collected about the lead, with ongoing data you track for your sales team, lead distribution tools will automatically assign the leads to the salesperson who is most likely to close that particular sale. It's all done through connections between your CRM, like Salesforce or Zendesk, and other lead distribution tools.
Some organizations use a more manual approach, setting lead distribution rules based on factors such as salesperson availability, region, or area of expertise. Some distribute the majority of leads to top performers to keep them well stocked. But these theoretical or gut-based decisions don't always get the best results. They need to be re-evaluated repeatedly and there is a lot of room for human error.
Automated distribution uses lead distribution software to analyze lead and salesperson data in a split second and then automatically distribute and prioritize leads as soon as they come in, based on data models that predict how to optimize conversions.
What are the benefits of a considered lead distribution strategy
Optimizing lead distribution starts the sales process off right, allowing efficiency and a targeted strategy to flow through the entire sales cycle.
Better consumer or prospect experience: It gives your sales team the ability to follow up with each lead as quickly as possible, avoiding office politics around who gets what leads or any other unclear expectations. Each lead is then matched with the sales agent who is the best fit to help them. They won't be passed between salespeople and are set up to have the most positive experience.
Higher conversion rates: One primary purpose of distributing leads strategically is to make the most of each lead that comes in. Leads are targeted more accurately, landing the right leads in the right spot so they can purchase the solution they need from your sales agent.
Sales team spends most of its time on the best leads: As lead data is analyzed, they're qualified before passing them to the right sales agent, and they're scored or graded based on several data points. This allows for efficiency in prioritizing what leads are sales-ready, allowing salespeople to spend their time with leads who are most likely to close.
Lead scoring and screening
There are three areas of a sales lead distribution system to manage — the leads themselves, what sales agents they go to, and the decisions about how to pair the two in a way that prioritizes closing sales.
In each of these areas, there are growing ways to optimize the process and performance. Let's start by looking at lead scoring and screening.
Old way: Qualified and perceived quality
The norm for a long time was that lead data was looked at qualitatively, using theories and gut-based decisions to determine what makes a lead qualified and then assigning a scale to the level of how sales-ready they were.
These lead scoring and screening rules are often set based on intuition, patterns observed over time, and personal experiences with what makes a good lead. They need to be manually re-evaluated and adjusted often and can quickly become difficult to measure.
New way: Statistical probability of closing
With access to more data, tools, and technology, lead scoring and screening is no longer a guessing game.
Lead distribution software is built to analyze each lead as it comes in, assessing lead characteristics and activities that are predictive of a lead moving toward closing. Through analysis of large amounts of data, this way of lead scoring uses predictive models to then make certain decisions about how best to manage the lead.
Lead distribution and routing strategies
Once a lead is scored and screened, the next step is to determine which salesperson it will be distributed to.
Old way: Push v. pull
Sales teams in the past have relied on lead assignment methods like Round Robin, Cherry Picking, Shotgun and Shark Tank. These systems were created to make lead distribution and routing more equitable and efficient. But rather than optimizing multiple data points based on proven patterns, they rely on theories that can be limiting.
For example, Round Robin focuses only on distributing the volume of leads evenly. Cherry Picking leaves it up to the sales agents to choose leads. The other methods consider more factors, but the framework is still established using gut-based decision making and they often only push leads toward a limited pool of salespeople.
New way: Statistical probability of closing
Again technology has made this so much more strategic than just attempting to efficiently distribute leads. And with this use of data brings a truly equitable lead distribution platform.
AI/ML tools analyze all sales agent data including their capacities, skill sets, and performance histories to determine the statistical probability of them closing each lead. Within a split second, the software assigns the best lead to the right salesperson, efficiently using concrete data. And it considers all of the sales team, not just the top performers, because the data allows for multi-faceted strategies.
Sales activity prioritization and alerting
Leads are distributed to sales agents but then the sales agents need to be alerted of new leads and they need a clear understanding of how to prioritize the leads.
Old way: Reminders and task trackers
Most of the common ways of doing this in the past were really based on alerting salespeople of a lead's availability. Reminders and tickler files would keep them in the know, and tasks or time-based check-ins would keep track of the status of the lead, relying on CRM lead distribution tools. These often put pressure on salespeople and without clear evidence of whether this helps them perform.
These methods also leave it up to the sales managers or each salesperson to guess the best method for working leads. Leaving questions like should it be first come, first serve or should I just pick a lead I think sounds ready?
New way: Statistical probability of a lead moving
Data and AI/ML tools have improved this piece of the process too. Beyond the basics of scoring and distributing leads, machine learning uses statistical probability to help prioritize which leads to work first.
A lead distribution platform will analyze and make decisions based on the statistical probability of a lead moving, based on data like timing, activity, and other characteristics.
This allows for a nuanced and more intelligent look at what leads are most ready to close and makes it clear to salespeople by prioritizing leads for them as they're alerted of leads coming in.
Learn what it takes to empower your sales team. Read our Guide to Optimizing Your Sales Operations.
Trusting lead distribution decisions
There is a transformation happening with the way leads are managed, distributed, and worked. Sales teams are shifting away from the rules and theoretical or gut-based decisions that initially helped them wrangle leads but often become confusing or just don't perform.
Lead management has advanced, and your sales operations can too. With machine learning-based decisions, you will know what leads to work, who should work them, and when. No more guessing.
ProPair's tools help to convert more leads into sales. With data-driven decisions, your sales operations can equitably distribute leads from top to bottom performers, maximize your total sales production, and reduce the need and expense of churning your salesforce.
Learn more about what might be right for your sales team. We offer RANK and MATCH or the optimal combination of both with MIX:
RANK: Know exactly which leads to focus on and when.
MATCH: Know exactly what sales agents to assign leads to.
MIX: Optimize your entire sales operation by maximizing the potential of every lead and every sales agent.
Want to see if machine learning can help you increase sales?
Get ProPair's free data analysis.
We'll analyze your leads and their performance to help you see whether you're missing opportunities to sell more, and how our AI/ML tools can help.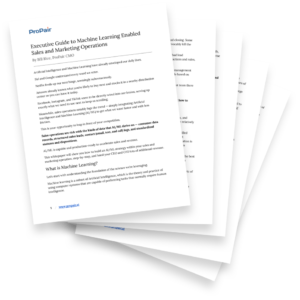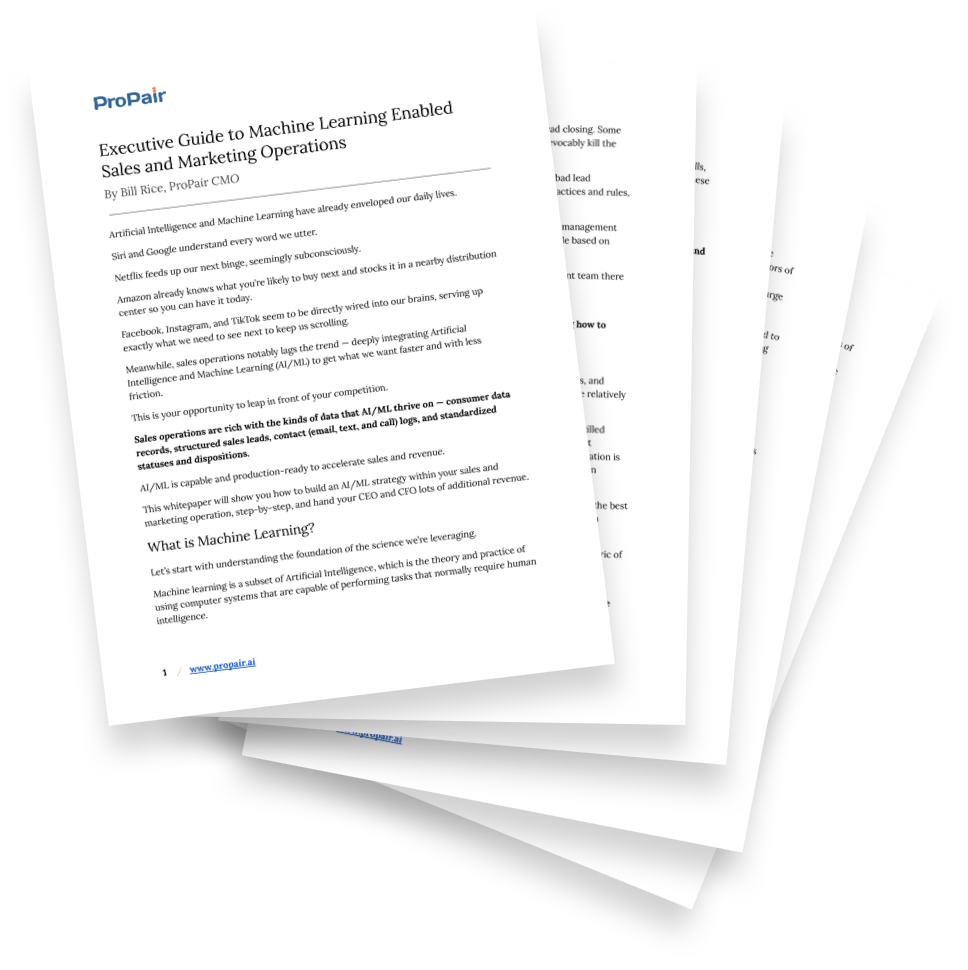 How does AI increase sales?
Download our executive guide to understand the current state of AI and machine learning. We'll show you how innovative sales and marketing organizations use it to get ahead of their competition.