Optimizing AI/ML for business is happening now. It's no longer a concept of the future, far off and too abstract to implement.
The number of businesses that have adopted it grew by 270% over the past four years, and more than 9 in 10 leading businesses have ongoing investments in AI.
That's because the organizations that are already using it are optimizing their metrics and seeing a positive impact on their bottom line.
Ignoring the benefits of AI/ML will land you behind your competition. We've created this simple guide to help business operations understand how to use AI and ML in business.
Start with a free data analysis to see what sales opportunities you might be missing.
What is artificial intelligence?
Artificial Intelligence (AI) has become a bit of a buzzword in business — and for good reason. But it's a simple concept, backed by complex technology. AI is the technology that mimics human behavior, typically in the form of computer software.
You see AI at work when you use streaming apps like Netflix or any social media platform, as these use algorithms to recommend programming and advertisements to you.
AI has many subsets like machine learning and deep learning. It can analyze and interact through text, visuals, and other functions.
In the context of business, AI supports tasks like automation, engagement, and quick data analysis. All of these simplify many repeatable processes we use, making them more efficient than ever.
What is machine learning?
As mentioned, Machine Learning (ML) is a type of artificial intelligence — the most common type used in business.
Like AI, the meaning is in the name: machine learning is a machine's ability to learn. And it doesn't require human intervention, so we don't even need to program code to make it perform.
When you feed data into machine learning software, it learns from the data on its own and quickly uses it to make decisions.
Over time, as more data is analyzed, machine learning begins to get smarter based on the patterns it sees, creating models for prediction that lead to decision making. And it's far more accurate than anything we could do by hand.
Without the power of ML for business, we get bogged down by manually analyzing data and trying to form decisions, all of which are likely flawed and biased.
How does AI/ML work together?
AI and ML innovation in business go hand-in-hand. Artificial intelligence covers a huge area of exploration in what technology is capable of, and it's always evolving.
This means there are many theoretical applications of AI that are still being developed. Over time, these explorations lead to practical applications like ML.
Machine learning is one of the most practical applications of AI in business because it's fairly straightforward in how it performs. It uses algorithms that allow for input of data (analysis) and output of data (prediction and decision making).
Why is AI/ML for business important?
AI and ML in business are extremely important. Most businesses collect tons of data. This is especially true in the world of generating customers, where businesses likely collect, use, and track several data points for thousands of leads — quickly becoming super challenging to manage manually.
AI/ML makes sense of that data so that you can finally see the full benefits of not only collecting it but also analyzing it, acting on it, and automating it quickly. This allows for ease when measuring and reaching goals like:
Increased closed sales rates
Reduced costs
Improved ROI
Optimized performance
Overall efficiency
AI/ML for business supports our human behavior so that we can perform better. Ignoring these opportunities puts businesses behind their competition as AI/ML increasingly help businesses grow. 
Get our free download to learn the top 5 ways to boost sales with AI.
AI/ML examples and use cases?
The use of AI and ML for business leaders across many industries is increasingly becoming the norm.
Healthcare
AI and ML innovation in business can be applied to many aspects of healthcare, from administrative processes to direct health services and patient care. Studies are showing that AI performs as well or better than humans at key tasks, including spotting signs of disease and making diagnoses.
One core use of AI/ML in the healthcare industry is precision medicine. As machine learning can analyze and predict patterns, one of its healthcare uses, in particular, is to predict what treatment protocols are likely to succeed for a patient based on their attributes and other treatment context.
Financial Services
The use of AI/ML in financial services continues to grow as demand shifts to more online and mobile services rather than traditional institutions. The financial services industry is increasing its resources for IT and artificial intelligence in business to support this.
Financial services companies implement AI/ML for automating tasks, delivering personalized recommendations, and detecting fraud.
Financial services AI/ML is used for tasks as simple as alerting customers of changes to their bank or credit card accounts and increases in ongoing prices they pay. Or it can be more complex: It's being used to predict and assess loan risks and improve loan underwriting, as well as to use algorithms that analyze all transactions to monitor and detect fraud patterns.
Marketing
We've all experienced AI/ML in marketing, whether we know it or not.
By monitoring consumer behavior and applying algorithms to respond to it, AI/ML for marketing helps push people toward buying decisions by customizing their path and staying top of mind.
It's commonly used for customer segmentation, personalization of individual channel experiences, and demand sensing to predict buying patterns and inventory needs.
AI/ML for business helps marketers make the most of the millions of data points they collect, translating them into actionable insights that can then trigger automations for increased customer engagement.
And its use for marketing continues to grow as it drives results enterprise-wide, including lifting sales revenue and customer retention rates.
Sales Operations
The use of AI/ML for sales operations directly applies the benefits of this technology to what is one of the top revenue generators for many organizations.
AI/ML allows sales operations to quickly and intelligently analyze more data within their CRM systems than they've ever been able to interpret. Those insights are strategically used to increase the performance of sales teams and ultimately increase closed sales.
Tasks and decision-making are automated using AI/ML, making lead scoring and disbursement efficient and more targeted.
Read More: Guide to Optimizing Your Sales Operations
How to get started using AI/ML in your organization
Knowing how to start using AI and ML for business leaders can feel a little daunting, especially within enterprise organizations.
Looking at the various functions within your organization, what areas could quickly show the best results by incorporating AI/ML in business? What applications are available that can help?
Use proven AI/ML applications
Proven AI/ML applications exist and are ready for you to implement.
Current AI/ML applications are already being used by businesses in almost every industry. It's not considered new technology anymore. And so there are proven applications that ensure real results rather than feeling like a science experiment.
Providers of proven AI/ML applications should be able to show you evidence of improvements to ROI where their software has been tested and used previously.
You want to trust that the results of AI/ML tools are accurate. You may even be able to sample how the software runs and analyzes your data to see for yourself the impact it could make before implementation.
Proven applications should also be implemented into your processes and functions in an optimized way that doesn't interfere with your business. Often, machine learning runs in the background of your processes, analyzing data and predicting outcomes within seconds.
Start as close to revenue generation as possible, like in Sales Operations
To track the effect of AI/ML for business, you'll need to apply it to an area that would create a measurable impact. Many of your goals are tied to revenue, which is why we recommend using applications that directly enhance the source of revenue.
Your Sales Operations team is on the front lines of bringing in new customers, which directly leads to revenue generation.
It's a natural place to get started with AI/ML in business because it's rich in data. That data has a significant impact on how leads are managed, scored and distributed, as well as how they move through and engage with the overall sales process to become customers.
Are you ready to see what AI/ML for business can do? Try our free data analysis.
Optimize business operations with ProPair's proven AI/ML applications
ProPair has developed artificial intelligence machine learning models to increase sales close rates because we know this directly impacts revenue generation for organizations.
We offer ProPair RANK and MATCH or the optimal combination of both with MIX:
RANK: Know exactly which leads to focus on and when.
MATCH: Know exactly what sales agents to assign leads to.
MIX: Optimize your entire sales operation by maximizing the potential of every lead and every sales agent.
If you want to feel confident that AI/ML will increase sales, contribute to revenue, and improve your ROI, we'll show you without any risk or obligation.
Schedule a free demo with ProPair to get started.
We analyze your leads and their performance to help you see whether you're missing opportunities to sell more, and how our AI/ML tools can help.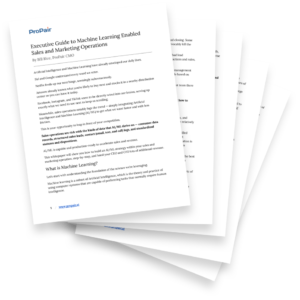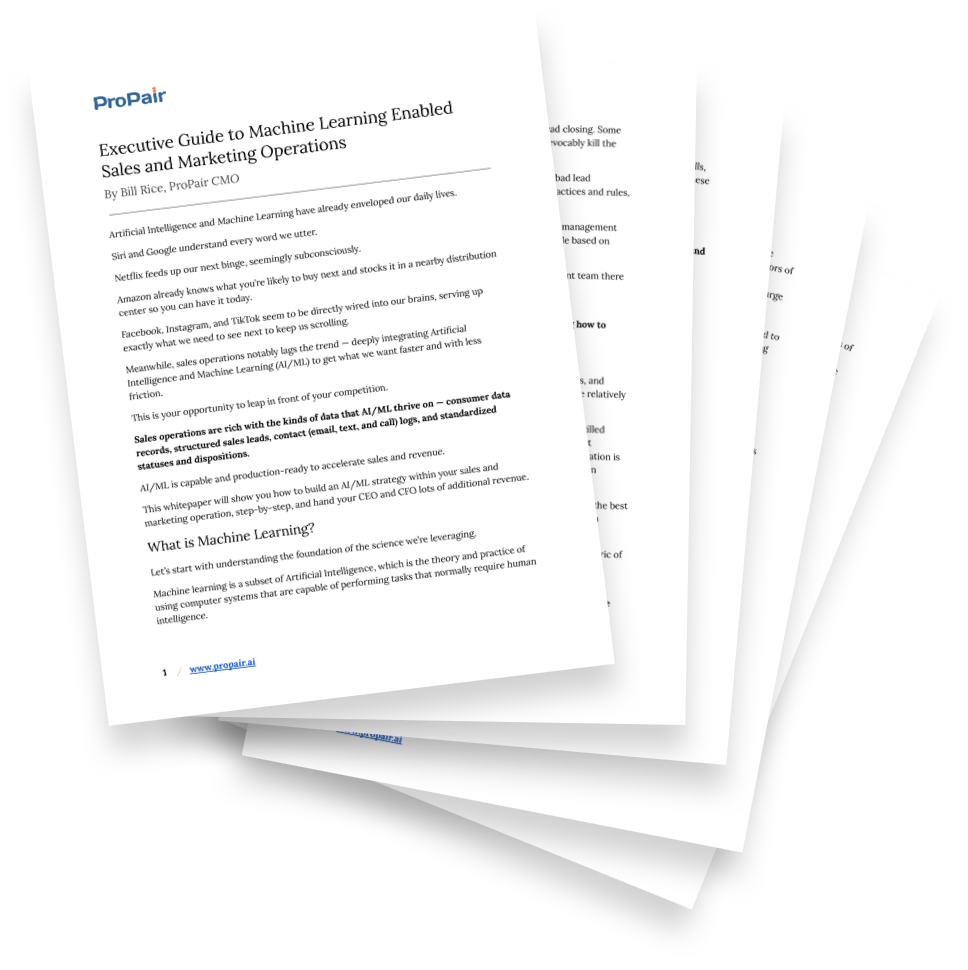 How does AI increase sales?
Download our executive guide to understand the current state of AI and machine learning. We'll show you how innovative sales and marketing organizations use it to get ahead of their competition.