Artificial intelligence and machine learning (AI/ML) tools have moved beyond science fiction into the mainstream.
In the business world, AI/ML for executives supports tasks including automation, engagement, and quick data analysis, making it a natural tool for environments like sales operations.
In its common form for business — computer software that mimics human behavior — it has grown to include subsets including machine learning and deep learning, with the capability to analyze and interact through text, visuals, and more.
As the technology continues to evolve it will become the norm, giving businesses capabilities that weren't possible before and making it crucial for businesses to embrace AI now for the best competitive advantage.
AI/ML tools are not replacing the work we do, they're enhancing it, helping to fill in gaps otherwise difficult or expensive to fill. And these tools allow businesses to intelligently optimize the role of each employee without having to be an expert in the technology.
Let's dig into this guide to artificial intelligence for executives to learn more about implementing AI/ML in sales operations for your business.
How could your ROI improve with intelligent sales tools? Schedule a free ProPair demo to find out.
Why embrace AI now?
AI applications are now available and in use across industries and even among the average consumer.
2022 statistics show that 83% of companies claim AI is a top priority in their business. While back in 2015, only 10% of organizations used or planned to implement AI.
Its growing popularity has of course been fueled by the excitement of developing new technologies and the simplicity of AI/ML toolkits. But these technologies have become increasingly necessary as businesses work to compete in our data-driven world.
Executives managing areas like sales operations, lead generation, and marketing know they have thousands of data points that need to be collected, tracked, and acted on in an ongoing cycle. This is almost impossible to manage, let alone optimize — and the data often underperforms — without the use of smart tools that are now available.
This is where artificial intelligence and machine learning software is being embraced by more and more businesses to stay ahead of their competition.
Get our free download to learn the top 5 ways to boost sales with AI.
How to improve business with AI/ML for executives in sales operations
AI/ML applications are increasingly used for areas like sales operations because it's a space that directly impacts revenue and it's measurable.
Sales teams bring in and work with new prospects, directly converting them to customers, which impacts revenue generation. This naturally produces rich data that can be optimized using AI/ML tools.
Most marketers are not yet confident in using the data they have available to reach business goals. That said, as things progress, marketing and sales departments are found to prioritize AI technology and machine learning to gain success more than any other departments.
When the data is managed to create the best outcome, it has a positive impact on how leads are generated, managed, and converted, which ultimately fuels revenue growth.
How does it impact revenue operations? Read our Guide to Optimizing Your Revenue Operations.
Where to start with AI/ML for executives
Artificial intelligence has many practical applications that executives are starting to implement to improve business.
This includes improving a range of operations that are as complex as shaping the customer experience or setting up a full system of sales automations, to simple tasks like data entry and reporting. These sales operations can be improved through the ability of AI/ML tools to quickly assess and provide decision support on thousands of data points within seconds.
How to implement AI/ML applications
Software that uses artificial intelligence and machine learning analyzes large amounts of data, beyond what is possible manually, and it can do it within seconds, automatically. From there it makes predictions about what actions with that data will create the best outcomes.
Over time, machine learning software gets smarter. In the context of sales operations, it learns from the outcomes and gets a clearelear picture of what makes the most qualified lead, how to get it to the right salesperson, and track, score, and influence that lead through to converting to a customer.
This allows for ease when measuring and reaching lead management goals like:
Increased closed sales rates
Reduced costs
Improved ROI
Optimized performance
Overall efficiency
Ignoring these opportunities puts businesses behind their competition as AI/ML increasingly helps businesses grow.
Get the AI competitive advantage. Start with a free, no-risk data analysis.
How to trust proven AI/ML applications
Production-ready AI/ML software exists today and businesses can easily implement it to see proven results.
Before you get started you need to know that the predictions and insights from AI/ML tools are as accurate as possible. And you need to understand whether they will function well when added to your current systems. In most cases, the software runs in the background, analyzing and predicting outcomes within seconds.
To trust this software, look for tools that can show you evidence that the software has seen from past use cases. This might include proof of improvements to ROI and other ways the software has been tested and used. It could also involve demoing how the software runs.
In-depth insights on getting ahead of your competitors
We've created our Executive Guide to Machine Learning Enabled Sales and Marketing to help you further understand the current state of AI's subset, machine learning.
In our guide to artificial intelligence for executives, we'll show you how innovative sales and marketing organizations are using AI/ML software to get the edge on their competition. Download it to learn more about:
Why sales operations is a rich environment for AI/ML
The most promising applications in sales and marketing
Why implementing it now will give you a competitive advantage
How our AI/ML support tools supercharge sales and marketing decisions
Increase conversions from the start with AI lead assignment. Download our free guide to learn more.
How to implement production-ready AI tools now
Implementing AI/ML for executives in sales operations can start right now. The tools are waiting for you to show that software can grow your business.
ProPair's decision support tools are production-ready. They consistently provide 10% increases in close rates with leads by allowing you to equitably distribute leads from top to bottom performers, maximize your total sales production, and reduce the need and expense of churning your salesforce.
With one simple integration into your system, you can begin running the software in the background. As leads come into your CRM system, ProPair provides automatic insights and decision support.
ProPair's decision support tools — RANK, MATCH, and MIX
RANK: Know exactly which leads to focus on and when — Get a predictive lead value ranking system designed to help sales teams prioritize leads, guide follow-up activities, and revisit abandoned opportunities.
MATCH: Know exactly what sales agents to assign leads to — Use our turnkey solution that leverages historical sales team performance data and machine learning technology to get the right leads to the right sales agents.
MIX: Maximize the potential of every lead and every sales agent — Optimize your entire sales operation and equitably distribute leads from top to bottom performers, maximize sales production, and reduce the need and expense of churning your salesforce.
Want to test the software to see how it can impact your business and raise conversion rates?
Schedule a free ProPair demo to learn more.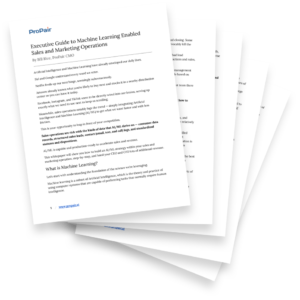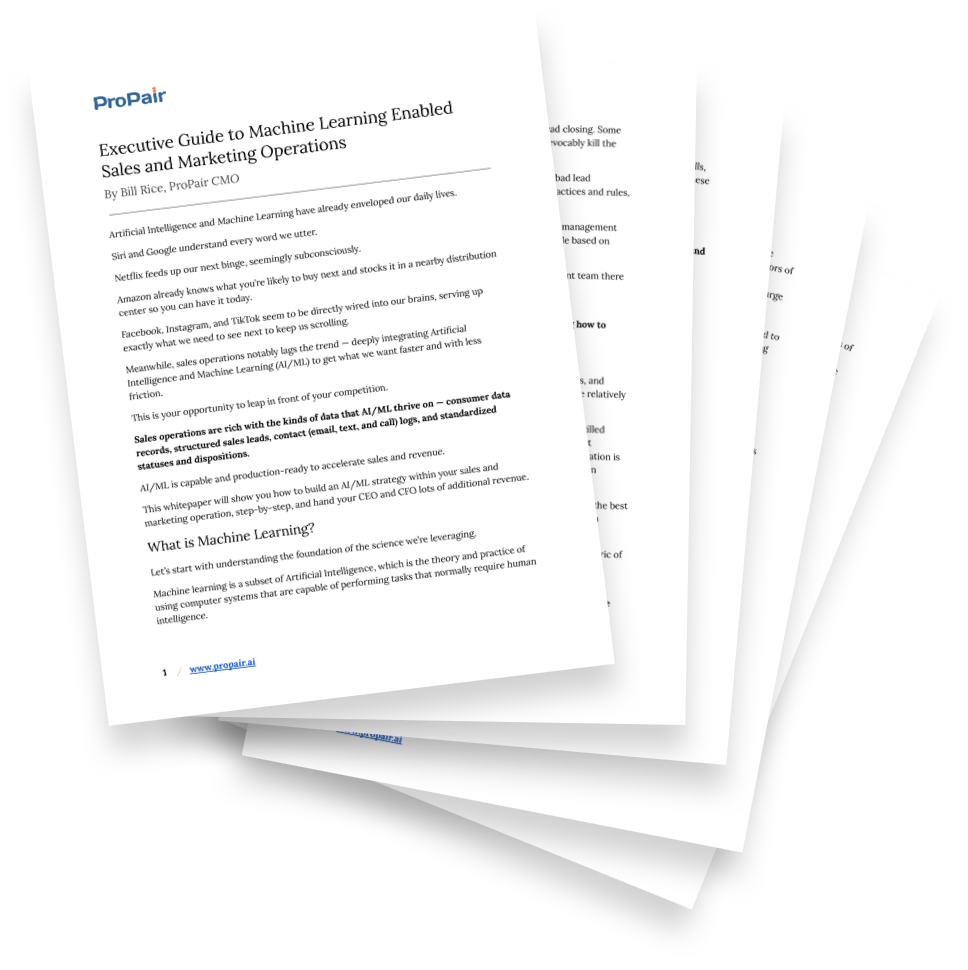 How does AI increase sales?
Download our executive guide to understand the current state of AI and machine learning. We'll show you how innovative sales and marketing organizations use it to get ahead of their competition.