Understanding the difference between an MQL vs SQL is a good step toward optimizing your lead conversion.
Unfortunately, those of us who rely on qualifying leads have probably experienced tension around misaligned conversion goals between sales and marketing teams. These teams often run into disagreements and struggle to find clarity when deciding what makes a lead marketing qualified and what moves it to become sales qualified.
Qualifying leads doesn't have to be this complicated. The basic idea is simple — a lead with the right characteristics has a higher probability of being sales qualified.
Determining whether each lead is a Marketing Qualified Lead vs Sales Qualified Lead is made easier with artificial intelligence (AI) tools that automate these decisions.
Marketing brings the leads in and AI defines what makes leads SQLs. This dissolves any tension, providing both marketing and sales with clear, actionable, data-driven decision support.
Need help qualifying leads? Schedule a free ProPair demo to see how AI helps distinguish what makes a lead an MQL vs SQL.
MQL vs SQL: What is the difference?
An MQL vs SQL differs in that each one identifies a prospective customer at various stages of their readiness to buy.
Let's look at what each type of lead is and how a lead moves through the sales funnel, starting as an MQL from the marketing team and moving to an SQL for the sales team to work with.
Marketing Qualified Lead (MQL)
Marketing teams work to bring in prospective customers or leads. As they run various campaigns and strategies to attract leads, they'll evaluate the leads that are generated.
Marketing determines a lead is qualified, becoming a Marketing Qualified Lead, when the prospect begins to show signs that they're interested in the organization's product or service.
An MQL enters the top of the sales funnel and will be further engaged with strategic marketing efforts. As they begin to show more engaging behaviors and meet certain criteria, the lead will then progress through the sales funnel with the ultimate goal of driving them to a conversion.
Sales Qualified Lead (SQL)
After being deemed marketing qualified, the next significant phase of the sales funnel that a lead will move into is becoming a Sales Qualified Lead.
What makes a lead an SQL? The lead will have shown clear signs that they're now ready to buy. After having gone through one or more qualification filters, they're more likely willing to connect directly with a salesperson and take steps forward, toward closing a sale.
Learn more in our Guide to Optimizing Your Sales Operations.
How does an MQL become an SQL?: Lead scoring with lead behavior, lead actions and lead demographics
Leads' behaviors, actions and demographics are tracked and measured to assess what makes an MQL and then how it moves on to become an SQL using lead scoring.
To become an SQL, a lead moves beyond simply interacting with your organization's marketing efforts and begins to reach out, provide information about themself and their needs, and actively show they're ready to buy your product or service.
Below, we look at the challenges marketing and sales teams face with setting the criteria needed for measuring whether a lead is an MQL vs SQL or not qualified at all.
Get more from each lead with AI-powered lead nurturing. Download our free guide here.
A lead may be considered an MQL when taking actions like these lead behaviors:
Repeatedly visiting your website
Clicking CTAs
Downloading whitepapers, ebooks, or other content
Signing up for newsletters or emails
Engaging with social media posts
Clicking on ads
As leads engage further with marketing materials and campaigns, they'll progress through the sales funnel, such as when they:
Fill out website forms
Sign up for a trial or demo
Request more information
When that behavior reveals signs like the following, leads often move from MQLs to SQLs:
Show repeated interest in your organization and what you offer
Have expressed a need for what you offer
Are ready to commit to a solution for their problems or pain points
Show they're the purchase decision-maker
Have an available budget to spend on your product or service
Alignment between sales and marketing teams
Marketing and sales teams work together to convert leads to sales, so they need to be aligned on the criteria that are used to measure what makes a lead a Marketing Qualified Lead vs Sales Qualified Lead.
Purpose of moving MQLs to SQLs
Setting the criteria that establish whether a lead is MQL vs SQL helps to structure how organizations make the most of leads flowing in and how they make sense of how to prioritize them.
This is why many organizations rely on lead scoring models to provide a system and the set criteria that are used to rank leads.
Is your lead scoring predictive? Learn why it should be with our Guide to Predictive Lead Scoring and Why Most Lead Scoring Models are NOT Predictive.
Challenges of navigating what makes an MQL vs SQL
When lead data is mismanaged, evaluating leads becomes challenging and sometimes even impossible. And whether they're aware of it or not, mismanaged lead data is a common problem across various industries and organizations.
First, as lead data is collected, measured and worked, it needs to be accurate and up-to-date with the necessary fields filled in and issues avoided like duplicate or outdated data.
Even if the data is pristine and up-to-date, marketing and sales teams need tools to help them analyze the enormous amounts of data to reach actionable insights.
Often without the proper support, insights are made that can't be relied on or even agreed upon between both marketing and sales teams.
If criteria are at least set and agreed upon, qualifying leads is still hindered by issues because of human error, assumptions and bias when interpreting the data using methods that, at best, rely on trial and error.
These challenges are amplified as more data flows into your CRM system and marketing and sales teams get overwhelmed trying to manage it effectively, let alone decide whether a lead is MQL vs SQL.
But artificial intelligence offers complex technologies to provide simple solutions to these challenges.
Use direct mail to reach leads? See how AI guides your campaigns to get results with our free download.
AI automates qualifying leads to simplify what makes a lead an MQL vs SQL
Because of the challenges that sales and marketing teams face across industries, technologies have evolved to provide better, more effective solutions for qualifying leads.
Rather than rely on old-school lead scoring methods that use arbitrary criteria to rank how qualified a lead is, AI uses complex machine learning models to predict what leads are most likely to convert to customers.
Machine learning models do this using decision trees that make predictions based on analysis of various criteria set by data scientists. This provides clear, statistically accurate outcomes that show, for example, which leads are most likely to convert.
Artificial intelligence helps us decide what makes a lead an MQL vs SQL with data-driven decision support that improves overall lead management.
With an AI/ML software partner like ProPair, you also get sales and data science experts who start by cleaning up your mismanaged data and ensuring the data is optimized to run smoothly through ML models to produce the results you need.
We don't just focus on the data, we connect the dots between what the data is showing and your day-to-day sales and marketing processes to ensure our AI solutions not only fit your business but also optimize it.
Setting up AI/ML tools is a lot simpler than you might think. Here's your step-by-step guide to implementing AI/ML tools to impact sales.
Clarify what makes a lead an MQL vs SQL with data-driven decisions
With AI/ML lead management software like ProPair, marketing and sales teams have access to ongoing decision support they can trust.
Our ML models provide recommendations instantaneously each time a lead flows into your system. And we implement the models without having to make any changes to your existing lead management system.
This filters leads so that they can be evaluated and worked efficiently at each phase of the sales process. It makes sales teams happy with the leads they receive from marketing teams and helps marketing teams ensure their efforts are effectively optimized from start to finish.
Make the most of your lead data and support marketing and sales efforts with AI.
Schedule a free ProPair demo. Get started to reveal the missed sales opportunities AI helps you close.
We'll pull your lead management data and show you opportunities to improve lead scoring, distribution and conversion.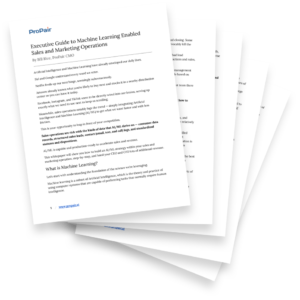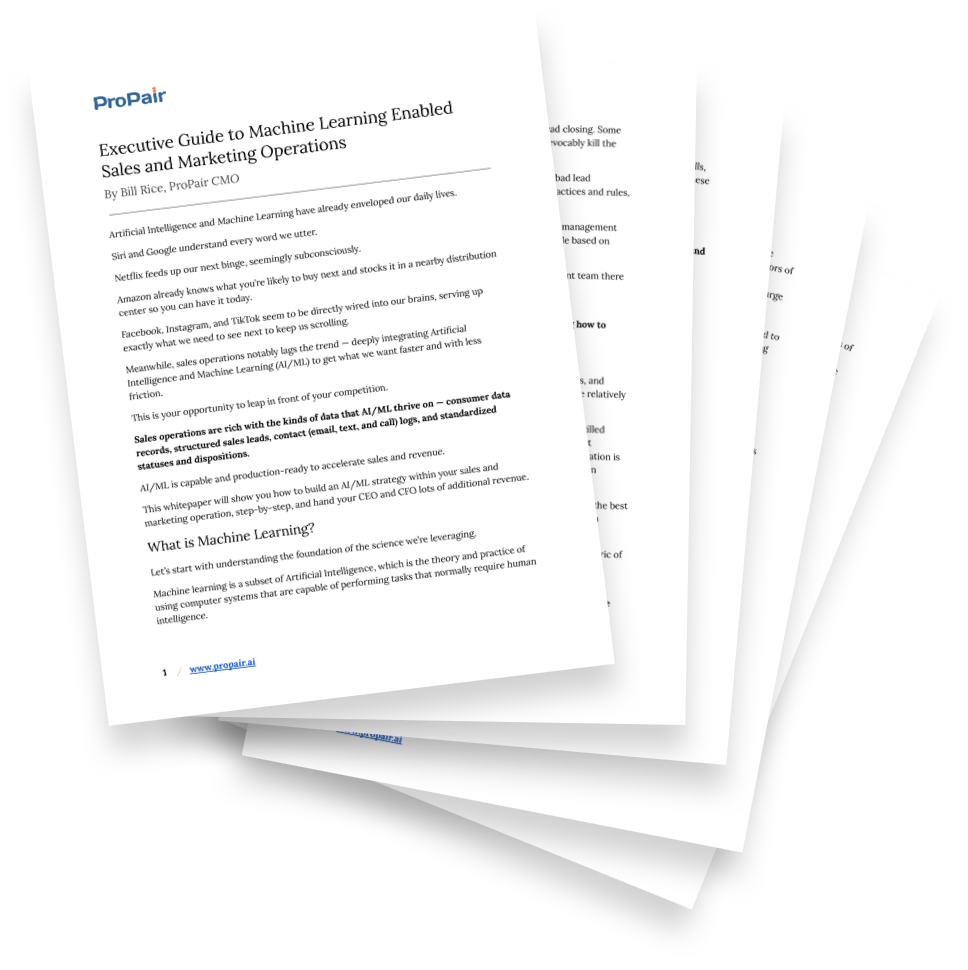 How does AI increase sales?
Download our executive guide to understand the current state of AI and machine learning. We'll show you how innovative sales and marketing organizations use it to get ahead of their competition.