Like many sales operations, you've likely faced frustrations with the structures your sales and marketing teams work within.
You may think you have the wrong CRM system in place or you can't effectively use whichever tools you've invested in. And it may seem like implementing AI/ML tools to help isn't even possible.
This frustration is common. It's difficult to navigate not only which tools to invest in but also how to implement and optimize them to produce the results you need quickly.
Although you might want to, you likely don't have to overhaul your entire lead management system to improve things.
What if you added one new tool that could optimize your system overall, as it stands today?
Artificial intelligence and machine learning (AI/ML) tools provide complex technologies that weren't accessible with previous sales tools. With the right partner, implementing AI/ML's complex technologies has become simple.
See how AI/ML tools provide the data-driven decision support that is necessary for managing leads and your sales team to positively impact your entire lead management system.
Are you ready to see real results? Start by scheduling a free demo with ProPair.
Advanced AI/ML uses complex technology to get results
Let's break down how complex AI/ML tools are used to impact sales.
The primary tool at work for optimizing AI lead management solutions is a subset of artificial intelligence, called machine learning.
Machine learning analyzes both historical and new incoming data related to leads and sales agents to create a model that predicts how each will perform. This involves analyzing thousands of data points at once and using complex combinations of criteria to identify patterns that inform predictions about lead and sales agent behaviors.
So for example, rather than your sales team having to manually choose key attributes and behaviors to guess at the best outcomes for lead scoring, machine learning creates an accurate and predictive lead scoring model using scoring algorithms machine learning applies.
Lead scoring machine learning and other models are capable of learning from ongoing incoming data to continuously adapt and provide the most accurate prediction possible, allowing for AI/ML lead management that produces positive results.
To impact sales, we apply AI/ML technologies directly to lead data and sales agent data as these are the two major players in converting a sale. This allows us to predict certain behaviors to get results such as these AI lead management examples:
Which leads are most likely to convert
How to prioritize which leads to work
How to distribute leads equitably and effectively to sales agents
How to get the best lead to the right salesperson at the right time
Dive deeper into AI lead scoring: Guide to Predictive Lead Scoring and Why Most Lead Scoring Models are NOT Predictive
Implementing AI/ML tools is simple and impactful for sales ops
Now, let's look not only at why implementing AI/ML tools is worth it to increase sales for your organization, but also at how the right AI/ML software and partner makes the process of implementing these tools a no-brainer.
Get our free download to learn the top 5 ways to boost sales with AI.
How AI/ML implementation positively impacts sales
Innovative production-ready AI/ML tools have made managing sales and marketing data more effective than was ever previously possible.
By relying on implementing AI/ML tools, you no longer need to manually monitor, clean and maintain lead data or the models you measure it by. Previously, this could be a full-time job for someone on your sales ops team, quickly becoming impossible depending on how many leads flow through your system.
Beyond monitoring that data, sales and marketing teams need to strategically interpret and act on the data, looking for ways to increase customer conversions.
Without AI/ML solutions, they may spend countless hours looking for patterns and trends within the data. Even if they discover insights that seem effective, the data shifts and these insights become irrelevant as markets change and other factors evolve within the sales and marketing processes.
More likely than not, those insights are also riddled with human error, bias and assumptions because, well, we're human.
With machine learning, on the other hand, a deep analysis of true data predicts outcomes that are most likely to close a sale.
There's an easier way for sales and marketing teams to work together. Read: Automate Moving MQLs to Sales Qualified Leads with AI/ML Solutions.
How to implement AI/ML tools simply with the right process and expertise
ProPair works with your data to optimize implementing AI/ML tools within your lead management system as it stands today.
Rely on our team to prepare your data to work with our tested machine learning models. We'll ensure AI/ML tools accurately fit into your sales process to have them up and running quickly.
Once the model is up and running, it will automatically provide you with decision support to help you rank leads, distribute leads, and rank sales agents automatically and intelligently.
We take these steps to implement AI/ML tools for you, so you don't have to
Clarifying your data: Once you provide access to your historical and growing lead data and sales agent data within your CRM system, we process it, clean up data fields and duplicates and ensure we're measuring the right criteria to get the results you need.
Training and testing ML models: We break the data into a training set and a testing set to train the ML model and test and validate its accuracy. Our data scientists work with what is known as "random forest" in the AI world, which applies decision trees that make predictions based on analysis of various criteria. This gives you clear, statistically accurate outcomes that show, for example, which leads are most likely to convert.
Ongoing maintenance and optimization: The models learn over time and update continuously as they gather more data to accurately predict what criteria need to come together to get the result you're looking for. We also monitor the data flowing into the models and how ML is performing to catch any changes to the data or your sales process that might impact these results.
After this initial AI/ML work is implemented into your lead management system, you'll have ongoing decision support. Our ML models provide recommendations instantaneously each time a lead flows into your system.
See what ProPair can do for your organization. Click here to connect with us and start implementing AI/ML tools.
Optimize results from AI/ML tools to improve your entire lead management system
Beyond the technical steps to implementing AI/ML tools, let's look at how you can act on the predictions provided to increase conversions and optimize other results.
Prevent customer churn and optimize relationships with AI portfolio retention. Learn more with our free download.
Implement AI lead scoring and AI lead distribution
When you implement AI lead scoring with our ML models, you see instant, ongoing predictions that evaluate leads to help sales agents prioritize them, based on how likely each lead is to close a sale using lead scoring machine learning.
Predictions can also guide lead distribution by comparing lead criteria to various sales agent criteria and providing an optimized combination of the two. With these results, the best lead is distributed to the right salesperson with the goal of increasing the likelihood of converting a sale.
These ML tools from ProPair help you get results in the following areas:
Prioritizing leads
Getting guidance on follow-up activities
Revisiting abandoned opportunities
Equitably distributing leads from top to bottom performers
Maximizing sales production
Reducing the need and expense of a churning salesforce
Check out our guides on lead scoring and distribution:
Implement AI sales agent scoring
To optimize your current sales team, we can also assess sales agent data to better understand how each salesperson can most effectively close sales when you implement AI sales agent ranking.
Get the most from your current sales team by revealing data-proven strengths:
Leverage historical sales team performance data
Apply unbiased, data-driven and predictive benefits of machine learning
Get leads to sales agents most likely to convert them at optimal times
Customized to the results you want to see, using your existing data
To ensure you see the results you need, we work with you by customizing our approach to working your data.
When looking at your data, we gain visibility and clarity into daily sales operations that you wouldn't have been able to see so clearly before.
To reveal and make sense of what the data is showing, we'll work with you to connect the dots between the numbers and your daily processes.
As processes change, markets shift, products and services evolve, etc. we're here to ensure your data and ML models run smoothly.
Are you following best practices for sales ops? Check out our Guide to Optimizing Your Sales Operations.
Start benefiting from AI/ML insights with actionable decision support
Assessing and valuing leads with AI/ML software is a necessity if you're buying or otherwise investing in leads at any scale.
By implementing AI/ML tools, these complex technologies are no longer out of reach. In fact, they might be exactly what you need to optimize your lead management system and stay ahead of your competitors.
Raise your sales production and grow your revenue by simply adding AI/ML tools to your current lead management system.
Connect with us to schedule a free demo now.
We'll pull your lead management data and show you opportunities to improve lead scoring, distribution and conversion. Try it for free with no obligation to see how truly simple it is to work with ProPair.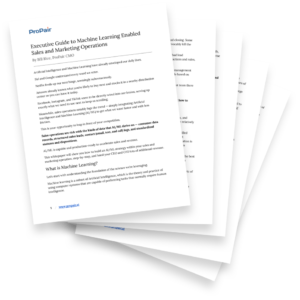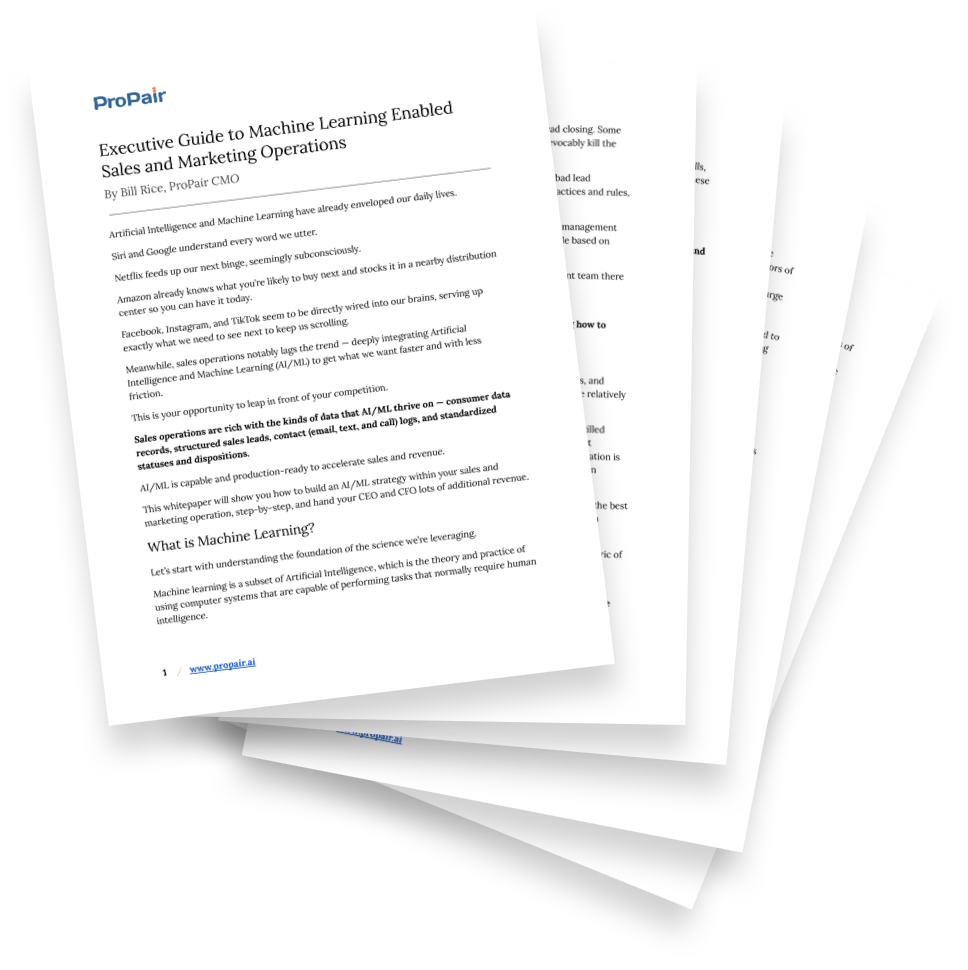 How does AI increase sales?
Download our executive guide to understand the current state of AI and machine learning. We'll show you how innovative sales and marketing organizations use it to get ahead of their competition.