If you struggle to hit sales goals and don't know how to wrangle the metrics that could get you there, you're not alone.
With thousands of data points collected and endless metrics to measure, many sales directors are looking for a better way.
Lead management KPIs help you measure the metrics that matter most so you can maximize sales strategies and ultimately improve ROI.
With a growing demand for simplicity and effectiveness, AI tools have made measuring lead management KPIs simpler than ever.
We'll dig into the 6 KPIs you need to track, why they're important, and how to track them simply to increase sales and grow revenue.
Schedule a demo with ProPair to reach your sales goals using AI.
What are lead management KPIs?
Lead management KPIs (or Key Performance Indicators) are measurements that help your team assess how your current sales funnel and activities impact whether a lead will convert to a closed deal. Using your lead and sales data, KPIs allow you to measure key metrics to know what lead sources, communication channels, sales agents, resources, and overall strategies make your sales team most successful so you can optimize spend and ROI.
Learn more — The Sales Funnel: How to Optimize Lead Management and Improve ROI using AI
The 6 lead management KPIs sales directors need to track and how AI does it better
Tracking these 6 important lead management KPIs with the help of AI allows sales directors to gain valuable insights into the effectiveness of sales strategies and to make data-driven decisions that drive revenue growth.
Get our free download to learn the top 5 ways to boost sales with AI.
1. Conversion rate
What it means: This measures the percentage of leads that become paying customers, converting from a lead to a closed deal.
Why it matters: Having a high conversion rate is the goal. It shows that your team effectively closes deals, which also generates revenue.
How AI helps: AI tracks lead behavior and engagement to predict which leads are most likely to convert so that you can prioritize the highly qualified ones. It also helps you see what sales activities perform the best.
2. Lead response time
What it means: This measures the time it takes for the sales team to respond to a lead.
Why it matters: A fast lead response time can increase engagement with leads. This KPI also may reveal issues with how leads are prioritized and distributed if sales struggles to respond efficiently.
How AI helps: With AI, you ensure no qualified leads get overlooked. Leads are assessed automatically in real-time as they flow in and as their behavior changes. AI also alerts sales of any changes in lead prioritization.
Increase conversions from the start with AI lead assignment. Download our free guide to learn more.
3. Sales agent time/activities
What it means: This measures how much time and effort sales agents spend working each lead.
Why it matters: This will help you determine if your lead sources are bringing in qualified leads. If too much effort is being spent to work leads or leads are completely unresponsive, you may be getting unqualified leads from bad sources that are wasting sales agent time.
How AI helps: AI can predict what makes a lead most likely to ultimately convert. As leads flow in, AI automatically helps sales agents prioritize only the most qualified leads from the best sources, which also reveals weaknesses among lead sources.
4. Pipeline velocity
What it means: This measures the speed at which leads move through your sales pipeline.
Why it matters: Having a high pipeline velocity shows that your sales team efficiently moves leads through the sales process, which allows for faster revenue growth.
How AI helps: AI reveals bottlenecks and issues within the sales process, like long response times, and provides predictive values to help sales find more effective ways to move leads forward.
5. Customer acquisition cost (CAC)
What it means: This measures the overall cost of acquiring and converting a new customer, including all related sales and marketing expenses.
Why it matters: A low CAC shows that a sales team is working efficiently, optimizing the sales process to help increase profitability.
How AI helps: AI helps to reveal the most effective sales strategies, lead sources, communication channels, etc. to help you maximize resources while minimizing spend.
Prevent customer churn and optimize relationships with AI portfolio retention. Learn more with our free download.
6. Sales forecast accuracy
What it means: This measures the accuracy of your sales forecasts.
Why it matters: With accurate sales forecasting, sales directors make informed decisions about how to allocate resources, adjust strategies, and reset goals to grow revenue.
How AI helps: AI analyzes historical lead and sales data to identify trends and patterns and then predict more accurate sales forecasts going forward for intelligent decision support.
Schedule a free demo with ProPair to see how AI-powered KPIs boost sales ops.
How does tracking lead management KPIs improve sales?
Many sales teams collect thousands of data points, which is excellent to have. However, this data quickly becomes overwhelming. Sales operations lose track of how to maximize the value of that data.
Tracking KPIs helps you keep your data in check and make sense of it so that you can reference accurate data to identify trends, patterns, and even opportunities for improvement.
New tools, including artificial intelligence, allows sales directors to gain real-time insights from this data without having to manually manage it.
Dive deeper — Lead Scoring: The Ultimate Guide to Understanding and Implementing it for Sales and Marketing
Track performance simply with new AI tools
You've heard the hype around AI, and you've experienced it yourself as a consumer. But are you aware of how it can positively impact your business?
97% of sales leaders and sales operations pros say AI gives reps more time to sell.
AI solves many of the complex and time-consuming challenges that come with manual data management and measuring KPIs in sales.
With AI, machine learning models automatically analyze data in real-time and provide predictive values to give sales teams intelligent, ongoing support.
It manages complex data sets, allowing you to assess countless dimensions for each lead to predict how valuable each lead is and when to prioritize them for the highest likelihood of conversion. This improves lead generation, scoring, distribution, and nurturing, all the way through to conversion.
AI platforms like ProPair even provide predictive decision support so that as you assess lead management KPIs, you can test sales strategies to see what tactics will improve the sales team's performance and each lead's experience to help you reach your goals.
Make the most of the leads you already have. Download our free guide to maximize aged leads with AI.
Read more: Guide to Predictive Lead Scoring and Why Most Lead Scoring Models are NOT Predictive
Measure performance intelligently to increase conversions
As a sales director, measuring the right lead management KPIs guides your entire sales operations, helps you maximize the value of all sales activities, and puts you on track to meet revenue goals.
You don't have to be a data scientist to measure lead and sales data effectively. That's where we can help.
ProPair's production-ready AI platform simply plugs into your current system, integrating with your CRM system to boost lead management quickly.
Schedule a free demo with ProPair. We'll help you track KPIs simply and intelligently.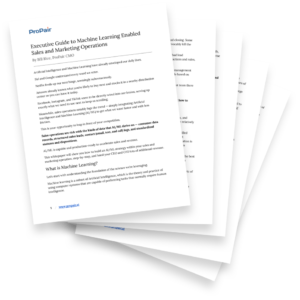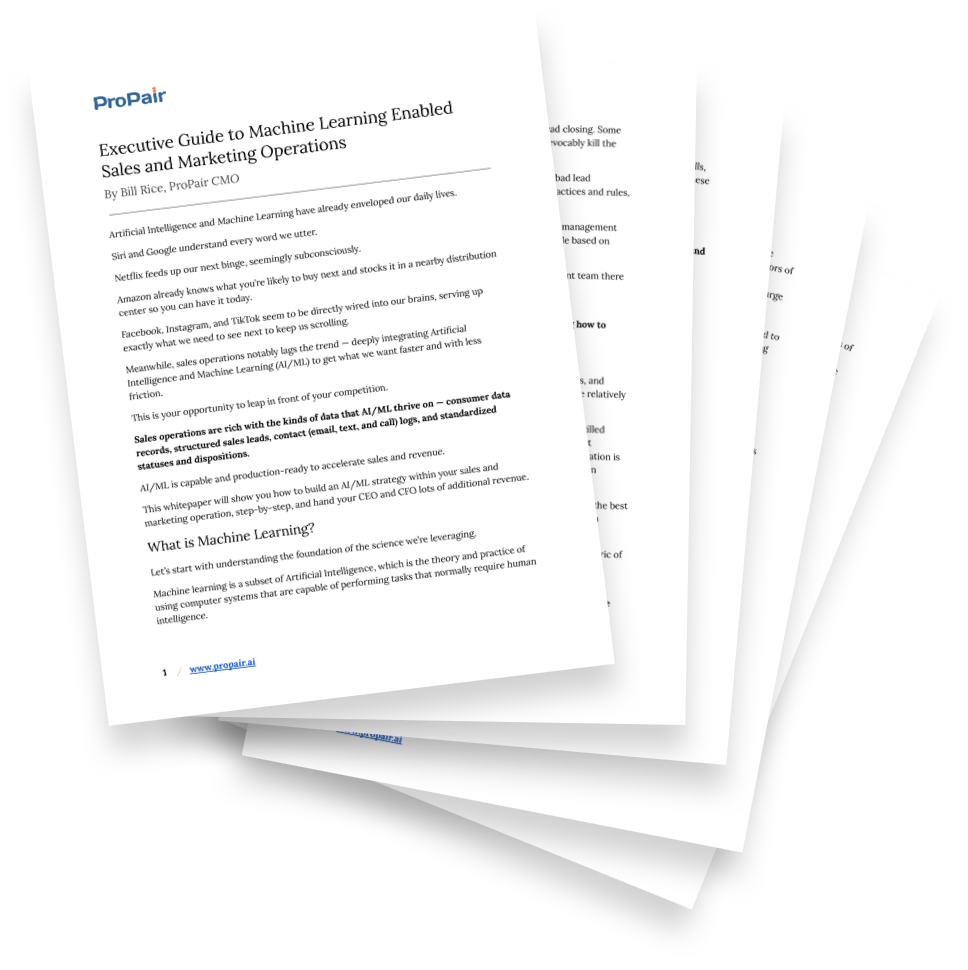 How does AI increase sales?
Download our executive guide to understand the current state of AI and machine learning. We'll show you how innovative sales and marketing organizations use it to get ahead of their competition.