Lead assignment has a crucial impact on how leads flow to your sales team and ultimately convert. It either plugs up your sales funnel or keeps it flowing.
As a common pain point, many businesses struggle to optimize lead distribution, dealing with manual management or stagnant (and sometimes arbitrary) routing rules.
Finally, there are production-ready AI tools that streamline lead assignment by helping sales operations automatically predict which leads are most qualified and which salespeople are most likely to close each sale.
This software is now widely accessible and growing in popularity. Businesses that don't adopt these new tools could fall behind the competition and miss out on an obvious, yet game-changing solution. Keep reading to learn more.
Schedule a demo with ProPair to see how AI lead assignment impacts your conversions.
Why is lead assignment so important to overall sales success?
First, let's get on the same page about why lead assignment is so crucial to the success of your sales team and how common challenges can hinder sales.
What is lead assignment?
Lead assignment is the process used in sales operations to distribute leads to salespeople as those leads flow into the lead management system. Leads are routed to the person or next step that is most likely to move the lead closer to conversion.
It's an important step in ensuring that qualified leads get the attention they require, rather than getting overlooked or lost early in the process of converting a sale.
Increase conversions from the start with AI lead assignment. Download our free guide to learn more.
What are common lead assignment challenges?
In the past, lead assignment has fallen somewhere between these two strategies:
It either required having someone manually assign leads as they came in
Or — when trying to automate the process — stagnant rules would be set that determined how leads were distributed
Either method is time-consuming, often causing missed sales opportunities because of errors in assigning and prioritizing leads. It's been difficult to find the ideal way to automate the process.
This makes working leads more difficult, decreasing productivity and, over time, even ruining morale. It also means that the leads a business invests in generating or buying aren't being maximized. All of these can cause businesses to fall behind the competition and miss out on sales.
Read more: 10 Ways Mismanaged Lead Data Hurts Your Sales Conversions + the ONE Solution You Need to Fix it
How intelligent software streamlines lead assignment
New AI tools for lead assignment finally eliminate these common challenges, providing a streamlined, automatic, and predictive way for sales teams to assign leads by relying on intelligent software.
Get our free download to learn the top 5 ways to boost sales with AI.
Top 5 benefits of using AI for lead distribution
Machine learning models measure multiple data points of both leads and sales agents to assign the best leads to the right sales agents, at the right time. This includes assessing and weighing the lead source, quality, behavior, and demographics, as well as each salesperson's availability, expertise, and previous performance.
By eliminating human errors, leads are assigned based on data and predictive values, making each lead more likely to close as they're accurately matched to the right salesperson for their circumstances.
Team efficiency is improved overall with the automation of a process that can otherwise become complicated, time-consuming, and even frustrating.
Sales can be scaled. Large lead volumes are automatically managed and assigned intelligently in a way that isn't possible with manual lead routing.
Machine learning models continuously learn and improve without human intervention, which allows the models to automatically adapt to and optimize changing circumstances, like market shifts, new offerings, etc.
Read more — The Sales Funnel: How to Optimize Lead Management and Improve ROI using AI
Why intelligent lead assignment is so important right now
By making the most of intelligent lead assignment using AI, you can personalize your sales approach and run more targeted sales strategies that prioritize the most qualified leads, raising conversion rates, and ultimately increasing revenue.
AI has become so much more accessible. You no longer need to build your own machine learning models to have these predictive capabilities.
Instead, explore your options for production-ready intelligent lead distribution AI software that fits your current system. This is becoming the norm. Those that get on board now gain a competitive advantage.
Keep up with the latest technologies to boost sales: Top 10 Emerging Trends in Sales Lead Management Systems for 2023
Choosing the right lead assignment software for your business
Intelligent lead assignment software needs to not only fit your business but it also needs to fit into your current software toolkit.
When deciding what software to choose, start by noting the basics like your company size, number of team members that need access to the software, lead volume, budget, and goals.
From there, take note of what software you currently use. Consider these questions:
Do you have lead management software or a CRM system like Salesforce, HubSpot, Zoho, or something else?
What capabilities within that software are you using to manage lead assignment now?
Does your current system allow for integrations?
Can the current software integrate with an AI tool that will be a fit for your business?
What AI tools are available that fit your needs?
Does your software need an overhaul? Read our Sales Directors' Toolkit: Top 10 Lead Management Software and Tools to Drive Success
Get started with ProPair
Our AI platform provides intelligent models that improve lead assignment to increase conversions by plugging into your current system through a simple integration.
By measuring 30+ dimensions of lead and sales performance data as leads flow in, ProPair automatically provides predictive values for lead assignment so that top priority leads are distributed to the right salespeople, at the right time.
If you're looking for a starting point, schedule a free demo with us at ProPair.
We'll show you where you're missing winnable deals using our lead management AI platform that enhances everything from lead scoring, lead distribution, lead nurturing, and conversions.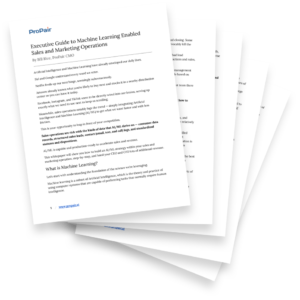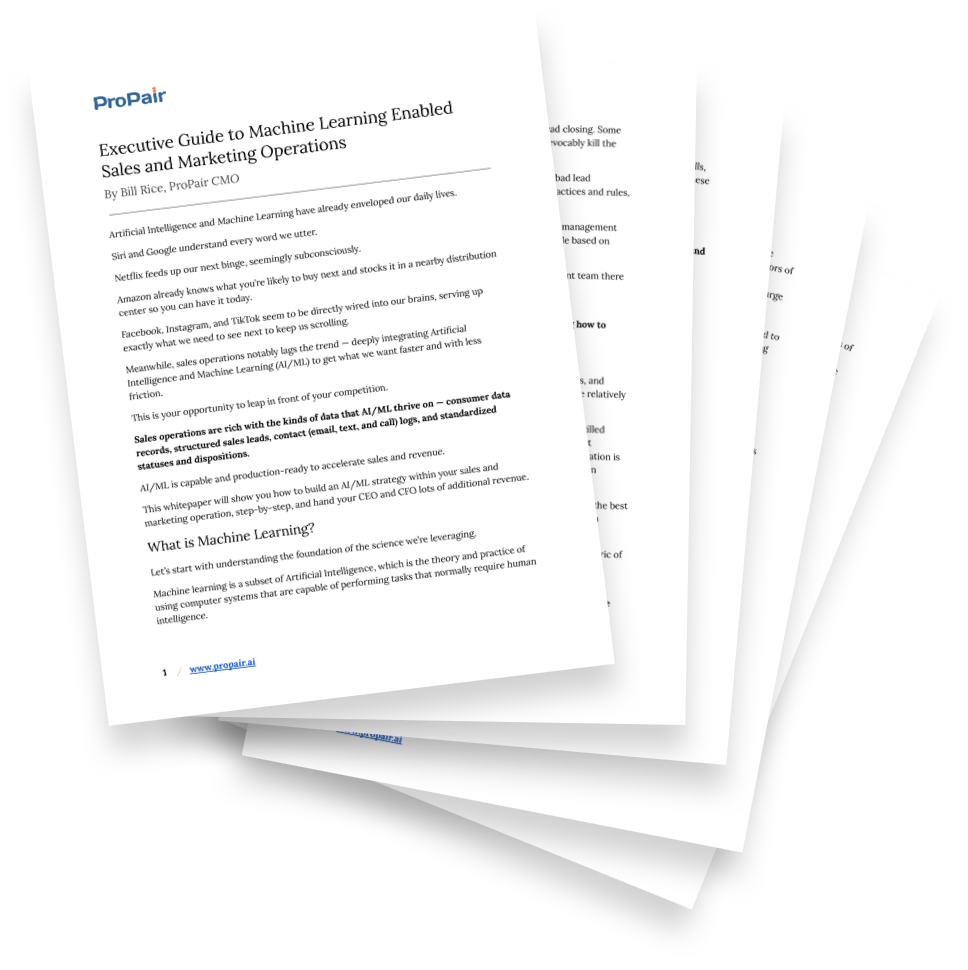 How does AI increase sales?
Download our executive guide to understand the current state of AI and machine learning. We'll show you how innovative sales and marketing organizations use it to get ahead of their competition.