Like many sales operations, you likely face daily frustrations and limitations around managing leads.
One crucial yet perplexing step in the process is assigning or distributing leads to each salesperson.
Fortunately, machine learning applications are here to not only dissolve these common challenges but also innovate how we navigate them so we can focus on converting more sales.
We'll share the 10 machine learning applications that are changing lead distribution systems as we know it.
Schedule a demo with ProPair to see how machine learning can work for you.
What is a lead distribution system?
A lead distribution system is a set of processes that sales-driven businesses use to best assess whether a lead is qualified and then move it to the next appropriate step, whether that be to speak with the right salesperson or to engage the lead with other strategic tactics. It's used to optimize sales productivity and maximize the number of leads that are converted into sales.
Read more: Maximize Conversions with Smart Lead Routing Strategies and Solutions for Sales Directors
10 machine learning applications making a major impact on modern lead distribution systems
Lead distribution systems are evolving with new AI technologies.
You may be used to the common frustrations and limitations of lead distribution systems that we list in the next section. But did you know many of these limitations are being dissolved by the addition of machine learning to lead distribution systems?
Let's explore the top 10 machine learning applications that are improving lead distribution for sales teams.
Get our free download to learn the top 5 ways to boost sales with AI.
1. Improved lead scoring
Lead scoring is made more precise with machine learning.
It uses large, complex datasets with lead demographics, behaviors, engagements, and more to predict in real-time how likely each lead is to convert. This allows for data-driven lead prioritization and qualification.
2. Predictive analytics
Predictive analytics models continuously assess and learn from lead data to forecast consumer behavior, sales trends, market changes, and more so that you can stay ahead of these important shifts.
It informs sales teams of essential factors that guide which leads to focus on and when, based on the intelligent use of existing and incoming data.
3. Enhanced segmentation
AI allows for much more complex and highly customizable segmentation as it can analyze virtually infinite data points for each lead.
Leads can then be categorized in various ways, by factors like their browsing behavior, purchase history, engagement with marketing campaigns, etc.
All of this allows for more personalized communication with each lead as well, improving their experience overall.
4. Sales forecasting
Using historical lead and sales data, machine learning can predict future sales trends based on a more complex analysis of your data than was ever previously possible.
Rather than simply summarizing past data, machine learning learns from it to make predictions about future outcomes.
This helps sales operations plan with intelligent decision support and prioritize leads that are most likely to help reach specific sales goals.
5. Chatbots and virtual assistants
Before leads even get assigned, chatbots and virtual assistants backed by AI help to qualify leads during initial interactions by asking about the specific needs and interests of each lead.
They operate around the clock and respond instantly to engage leads. All of these features allow for more qualified leads to be passed to sales representatives at the right time.
6. Natural Language Processing (NLP)
NLP is an AI tool used to interpret lead interactions like emails, text messages, social media comments, and other written forms of communication.
Using this information, NLP automatically determines the relevance and quality of each lead. Automation like this drastically reduces the time spent on sorting and prioritizing leads.
7. Sentiment analysis
Machine learning isn't just for dry data, it can be used to analyze the sentiment of communications with leads.
This can measure both the interest of leads, as well as the performance of sales agents. It provides valuable insights into each lead's attitude toward your products or services, which helps to gauge their interest and readiness to buy.
8. Intent analysis
Beyond a lead's language used and attitude, machine learning can also analyze overall behaviors to determine buying intent. It can alert sales teams when a lead is more or less likely to convert to make prioritization more effective.
9. Anomaly detection
All of this behavior monitoring means AI can also detect whether a lead is legitimate, helping sales teams to verify actual leads and avoid dealing with fraudulent or bot activity.
This saves time, money, and resources by preventing unnecessary, and frustrating, interactions.
10. Automated data entry
Among the many other automations, AI can automate repetitive tasks that are both time-consuming and prone to human error.
This saves time, improves the accuracy of data stored in a CRM, and allows sales representatives to focus on working leads rather than tracking information.
Learn more: 2023 Perspective on Harnessing the Power of AI for Lead Distribution
Previous lead distribution limitations
Machine learning is revolutionizing lead distribution systems to eliminate the previous frustrations that have plagued many sales operations.
We no longer have to settle for the below lead distribution limitations.
If you're still navigating these limitations, consider how new advancements in lead distribution systems could improve your sales efforts and grow your business.
Increase conversions from the start with AI lead assignment. Download our free guide to learn more.
Time-consuming and inefficient processes
Manual data management and lead assignment that goes stagnant
Lack of automation
No ability to adapt in real-time
Overly complicated routing rules
Difficulty managing leads among sales teams
Inefficient and uninformed prioritization of leads
Inefficient passing of leads among sales team
Leads that fall through the cracks
Misuse of lead data
Lack of visibility into lead data
Lack of data-driven insights
Missed sales opportunities
Limitations from lead distribution systems software
Limited customization and flexibility
Oversimplified reporting
Limited integration with CRMs
How could new tools improve your business? Check out Sales Directors' Toolkit: Top 10 Lead Management Software and Tools to Drive Success
Ready to improve your lead distribution system?
Have you considered what AI and machine learning advancements can do to improve your lead distribution systems?
It might seem like a big leap but AI isn't just a fad. Its uses are growing because they make our work easier.
And production-ready machine learning applications make it possible to add these new capabilities to your current lead distribution system without making major changes.
Schedule a demo with ProPair to see how machine learning can improve your sales.
With our AI platform and expertise, ProPair provides predictive values for intelligent lead distribution.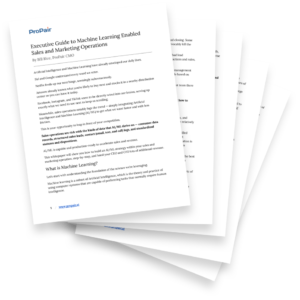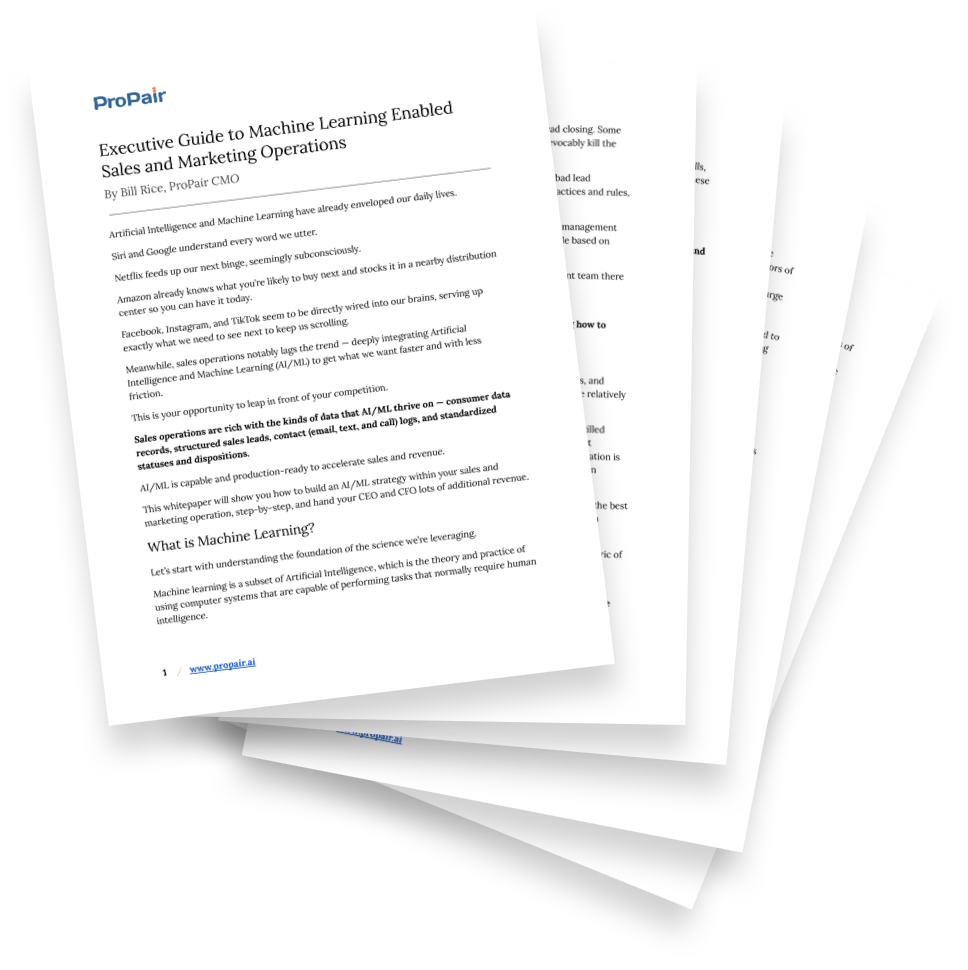 How does AI increase sales?
Download our executive guide to understand the current state of AI and machine learning. We'll show you how innovative sales and marketing organizations use it to get ahead of their competition.