The sales funnel doesn't start when a salesperson contacts a lead. It begins as soon as a prospective customer first interacts with your organization.
As someone engages with your website, marketing campaigns, and maybe even provides you with their information or a request to contact them, decisions need to be made to lead the prospect closer to a sale.
Getting this timing right is a challenge for many marketing and sales teams. Beyond timing, it's been difficult to manually choose the best criteria leads should meet and objectives for those leads.
Artificial intelligence and machine learning tools provide solutions for automating how you identify and move MQLs to SQLs.
Are you qualifying leads intelligently and strategically? Stop guessing, know with a free ProPair demo.
Sales Qualified Lead (SQL) vs Marketing Qualified Lead (MQL)
Leads are qualified at different levels based on how ready to buy they may be. They're often first identified as Marketing Qualified Leads and then they move along to become Sales Qualified Leads, once they take certain actions that indicate they're almost ready to close a deal.
What is a Sales Qualified Lead?
More specifically, a Sales Qualified Lead (SQL) is a lead that has shown they are ready to buy. They've likely already gone through a few levels of qualification making them more willing to communicate directly with a salesperson.
This could mean they've demonstrated behaviors like this:
Show repeated interest in your organization and what you offer
Have a need for what you offer
Are ready to commit to a solution for their problems or pain points
Are the purchase decision-maker
Have an available budget to spend on your product or service
Once a lead is determined to have met Sales Qualified Lead criteria, it's almost like the sales team gets a warm lead because they now have access to basic lead data and behaviors that will inform how to prioritize and work the lead to move them through the remainder of the sales cycle.
Get more from each lead with AI-powered lead nurturing. Download our free guide here.
What is a Marketing Qualified Lead?
A Marketing Qualfieid Lead (MQL) is often where a Sales Qualified Lead starts. Marketing efforts and campaigns are meant to attract leads. As prospects begin to show curiosity or interest in an organization, this behavior will show through various marketing campaigns that are being tracked.
As certain behaviors are tracked from a new lead, it will become an MQL.
In many cases, organizations will then adjust what campaigns the lead is shown and how the lead is communicated with to engage them further and continue moving them toward a purchase. The overall performance of these leads can also inform future marketing campaigns.
Leads deemed as MQLs might take actions like this:
Repeatedly visit the website
Click CTAs
Fill out forms
Sign up for a trial or demo
Request more information
Download whitepapers, ebooks, or other content
Signup for newsletters or emails
Engage with social media posts
Click on ads
What is the difference and how do they work together?
As you can see, these differ in that they each identify leads at different stages of readiness to buy.
They work together in that both types of qualified leads must meet certain criteria before they're deemed sales or marketing qualified. Setting these criteria helps to structure how organizations make the most of leads flowing in and how they make sense of how to prioritize them.
When they work together well, leads move from Marketing Qualified Leads, to Sales Qualified Leads, to closed deals.
Read MQL vs SQL: How they're different and how AI helps us decide.
THE PROPAIR CHALLENGE
Are you closing all the sales you can?
See exactly what you're missing and why.
Challenges with moving MQLs to SQLs
Ideally, sales and marketing teams would be aligned. The criteria they set for both MQLs and SQLs would complement each other, and it would be clear what marketing efforts best attract leads and how they help to warm them before they transition to SQLs. From there, all SQLs would clearly be ready for purchase.
As anyone who has worked in sales and marketing knows, it is not that simple. And lead behavior is not that easy to predict.
Marketing and sales operations have faced many challenges with both the logistics of tracking MQLs and SQLs and the accuracy of how lead data is interpreted and acted on.
Many teams don't have full-time data experts who can deeply analyze lead behavior to predict positive outcomes. And even if they did, it's likely not possible to manually process this much data and provide accurate, actionable insights.
Beyond the technical limitations, there may be communication issues between marketing and sales teams. Goals may differ and the criteria set for MQLs and SQLs may not really translate to qualified leads.
Check out 10 Ways Mismanaged Lead Data Hurts Your Sales Conversions + the ONE Solution You Need to Fix it.
The solution: Artificial intelligence and machine learning tools
Seeing this as a consistent problem for marketing and sales teams across industries, tools have emerged to make qualifying leads and automating the process easier than ever.
This is made possible because of advancements in artificial intelligence and machine learning (AI/ML), which are now augmenting the efforts of sales and marketing teams.
Automations for moving MQLs to SQLs
Beyond basic sales automations like data entry and activity logging, technology has made it easier to communicate and manage leads. AI/ML has optimized the performance of these tasks.
This helps marketing and sales teams avoid inefficiencies. As leads begin to engage, marketing teams automate steps like sending emails and tracking lead behaviors.
As leads become SQLs, sales teams automate scheduling calls, leaving voicemails, and sending emails to each of them.
Reporting for both teams can be done automatically, making it easier to see accurate insights.
When it comes to insights, AI/ML provides the most advanced applications for direct lead management. Intelligent and predictive tools can automatically score, distribute, prioritize, and communicate with leads as they flow in as MQLs and move to SQLs.
Learn more about automations with these 12 Essential Sales Automations for Sales Operations Success in 2022.
Managing the transition from MQL to SQL
It's been challenging for marketing and sales teams to manage reaching each of their primary objectives, while also coming together to align these objectives across all of their combined efforts.
This makes the exact point of transition for leads from MQLs to SQLs one of the trickiest points to master. But with AI/ML tools, many of those challenges are erased.
There are no more limitations because of manual work, lack of resources, and mismanaged or static data. AI/ML tools do the work for you that simply wasn't possible without them.
Lead scoring — ProPair RANK
Sales teams and marketing teams no longer have to agree on that pivotal decision — what makes an MQL become an SQL (which often leads to guessing at what efforts and outcomes will bring positive results). Artificial intelligence can do much of the lead scoring heavy lifting for you.
AI tools like ProPair RANK use machine learning to automatically assess thousands of historic lead data points, along with new incoming lead data.
As a lead flows into your CRM, within an instant, machine learning analyzes that data and provides actionable insights. It scores leads based on its ability to rank them by predicting what data points to a lead being most likely to convert.
It's called machine learning because it continuously learns from the data. The more data put into the tool, the more accurate its predictions get, providing you with unmatched decision support that updates continuously.
Dig deeper into lead scoring with these resources:
Sales agent scoring — ProPair MATCH
Once a lead has been deemed an SQL, you may also need help assessing how sales agents' performance impacts qualified leads' conversion rates.
AI/ML tools like ProPair MATCH do a similar assessment of sales agents as it does with leads. It can look at performance history and data sets to help identify patterns with sales agents and provide insights about what is and isn't working among the sales team.
Lead distribution — ProPair MIX
Once leads and sales agents are evaluated, it's time to start working Sales Qualified Leads. AI/ML tools like ProPair MIX can help get leads into the right hands, equitably distributing leads throughout the sales team to enhance overall performance and support lead conversion.
Through data that ProPair's machine learning tools provide, we see interesting overarching distribution information. For example, in the mortgage industry, on average, loan officers' performance declines with each new lead they take in a day, and individual loan officer performance varies greatly by time of day.
Without this insight, these are details that might otherwise be overlooked in how leads get distributed.
Learn more about AI/ML with our Simple Guide to Optimizing AI/ML for Business Operations.
Get started, automate moving MQLs to SQLs
ProPair provides AI/ML decision support tools that are helping organizations automate moving Marketing Qualified Leads to Sales Qualified Leads. This ultimately increases conversion rates, positively impacting revenue operations and ROI.
For ProPair's RANK, MATCH, and MIX tools, we add one simple production-ready integration to your system. It runs in the background as leads come into your CRM and provides you with automatic insights and optimized lead management.
Are you missing out on sales because you're struggling to accurately qualify and work leads? See what challenges are hindering sales and how you can get more support in those areas.
Schedule a free ProPair demo here to get started.
We use machine learning to analyze your current leads and their performance to help you see where you're missing opportunities. From there we'll help you make improvements to optimize predictive sales automation.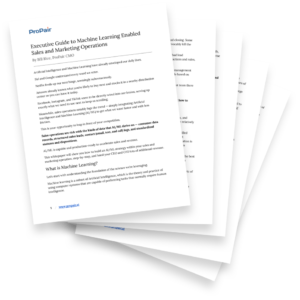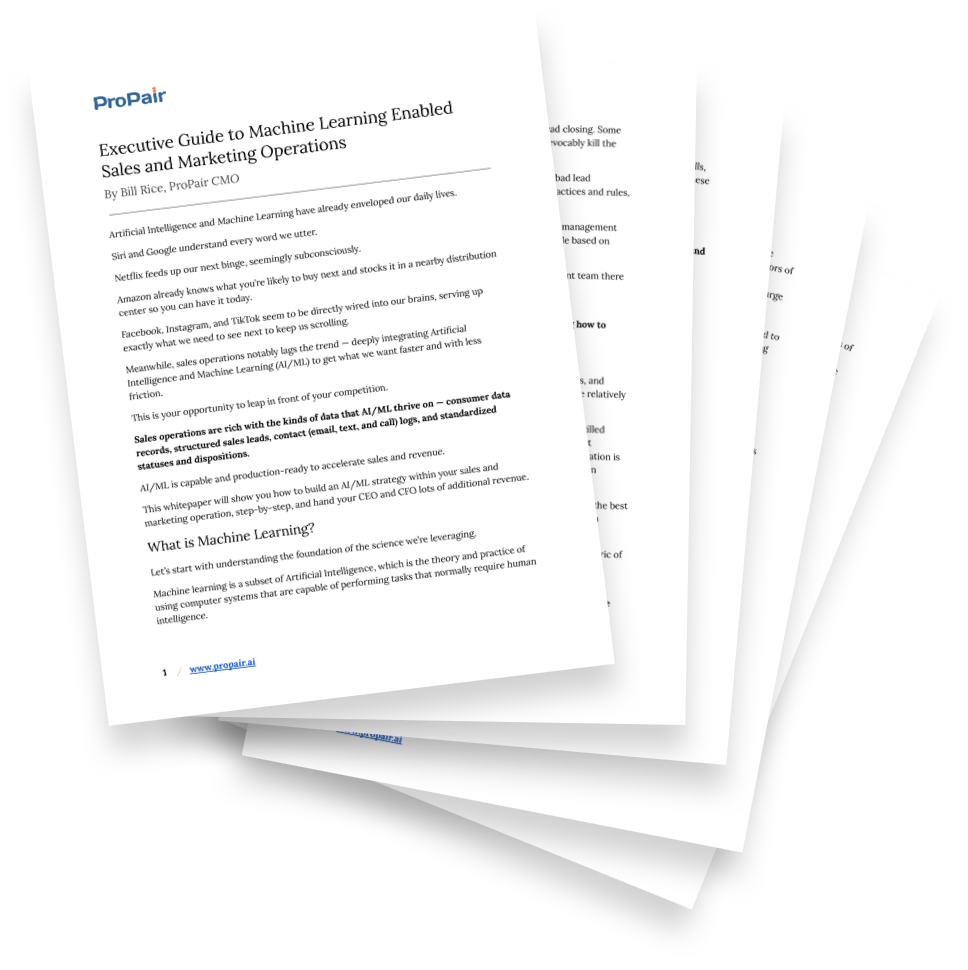 How does AI increase sales?
Download our executive guide to understand the current state of AI and machine learning. We'll show you how innovative sales and marketing organizations use it to get ahead of their competition.