Have you heard the buzz about various AI tools for business? Many organizations are wrapping their heads around what artificial intelligence is and how it can create predictive outcomes that benefit business. But it's not as complicated as it sounds.
Actually, these tools are meant to make work easier. And the software is designed to be smoothly integrated into your current systems.
When it comes to sales operations, AI has become a competitive advantage that businesses are increasingly adopting because of its direct impact on optimizing efforts that generate sales, which in turn generate revenue.
If you've got leads flowing into your business, artificial intelligence and machine learning (AI/ML) applications can optimize lead management with AI lead scoring.
Let's dig into how predictive lead scoring works and why it's essential for raising conversion rates.
See for yourself. Schedule a free demo with us to discover opportunities within your lead data.
What is predictive lead scoring?
First, let's get on the same page about some traditional lead scoring basics. Lead scoring involves establishing criteria by which to rank leads as they come into your CRM, based on the probability of each lead converting to a sale.
Values or points are assigned to each lead that help to rank how qualified they are. They're typically evaluated based on information from basic facts to specific behaviors.
Lead scoring helps sales operations teams evaluate how good each lead is, based on whichever objective they want to reach, which in most cases, ultimately is to convert as many leads as possible to closed deals.
How does artificial intelligence apply to lead scoring?
AI provides predictive lead scoring with the ability to analyze large lead scoring data sets within seconds, using complex algorithms to predict what mix of key lead attributes and behaviors will identify leads that are most likely to be sales-ready.
With this data-driven analysis comes more than just an assigned value or score for each lead. The best predictive lead scoring vendors offer tools that predict actionable insights. These help sales teams prioritize leads and understand what next steps to take to begin working them.
Learn more. Read our Simple Guide to Optimizing AI/ML for Business Operations.
The work AI does for you and how it impacts conversions
The primary tool at work with predictive lead scoring is a subset of AI, called machine learning (ML).
Machine learning analyzes both historical and new incoming data to create a lead scoring model that predicts how new leads will perform.
Rather than your sales team having to manually choose key attributes and behaviors to guess at the best outcomes, machine learning creates an accurate and predictive lead scoring model with AI.
The model never needs to be updated or maintained through human intervention. ML is capable of learning from lead performance and ongoing incoming data to continuously adapt and provide the most accurate prediction possible, allowing for lead scoring that actually produces positive results as the model analyzes trends and patterns across thousands of data points.
Increase conversions from the start with AI lead assignment. Download our free guide to learn more.
7 benefits of AI lead scoring
With intelligent lead scoring innovations, organizations can benefit from the following AI lead scoring benefits:
Leads are analyzed and scored in real-time as they enter the CRM.
Conversion rates lift as leads are prioritized using data and intelligent modeling.
Lead management is made more efficient so it's easier to scale it, including lead scoring and lead distribution efforts.
Alignment between marketing and sales teams improves because of accurate data that supports efforts behind tracking and working leads.
A clear path is presented with decision support so that reaching KPIs is more straightforward, leading to improved ROI.
Predictive lead scoring models are continuously updated and optimized automatically and without human error.
Leads who are sales-ready are identified quickly to give sales teams the best possible chance at closing a sale.
Want to dig deeper into lead scoring? See The Ultimate Guide to Optimizing Lead Scoring and Growing Business.
How to use AI lead scoring within your lead management system
To make the most of AI lead scoring, you need to be generating or buying leads and have them flow into a CRM system.
As these leads are created, they need to have various data points assigned to them for machine learning to use its lead scoring algorithms against to analyze.
Using these lead scoring data sets, ML will provide predictive lead scoring with actionable insights for how to best convert leads.
Collecting and tracking the following lead data sets are recommended for AI lead scoring:
Basic lead attributes such as name, location, age, job title, etc.
Leads' interactions with your organization, like website visits, purchase history, etc.
Leads' engagement with marketing campaigns like email opens, downloads, social media interaction, etc.
Beyond collecting leads and their data, you need a sales team and funnel for leads to flow into so that once they are scored using AI lead scoring, they can be managed by the team. This could include working leads who are sales-ready or nurturing leads who aren't quite there yet.
If you have these foundational lead management areas covered, implementing AI/ML tools is the easy part — and it makes each of the above processes simpler as well.
With the increasing use and implementation of AI/ML tools across various organizations, there are production-ready tools that can be added to your system with one simple integration allowing for helpful automations.
ProPair's RANK, MATCH, and MIX tools, for example, are integrated into systems at the point leads flow into a CRM. Working in the background, AI/ML instantly analyzes lead data to provide actionable predictive insights, including lead scoring.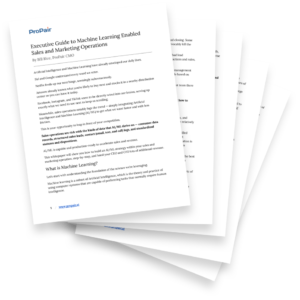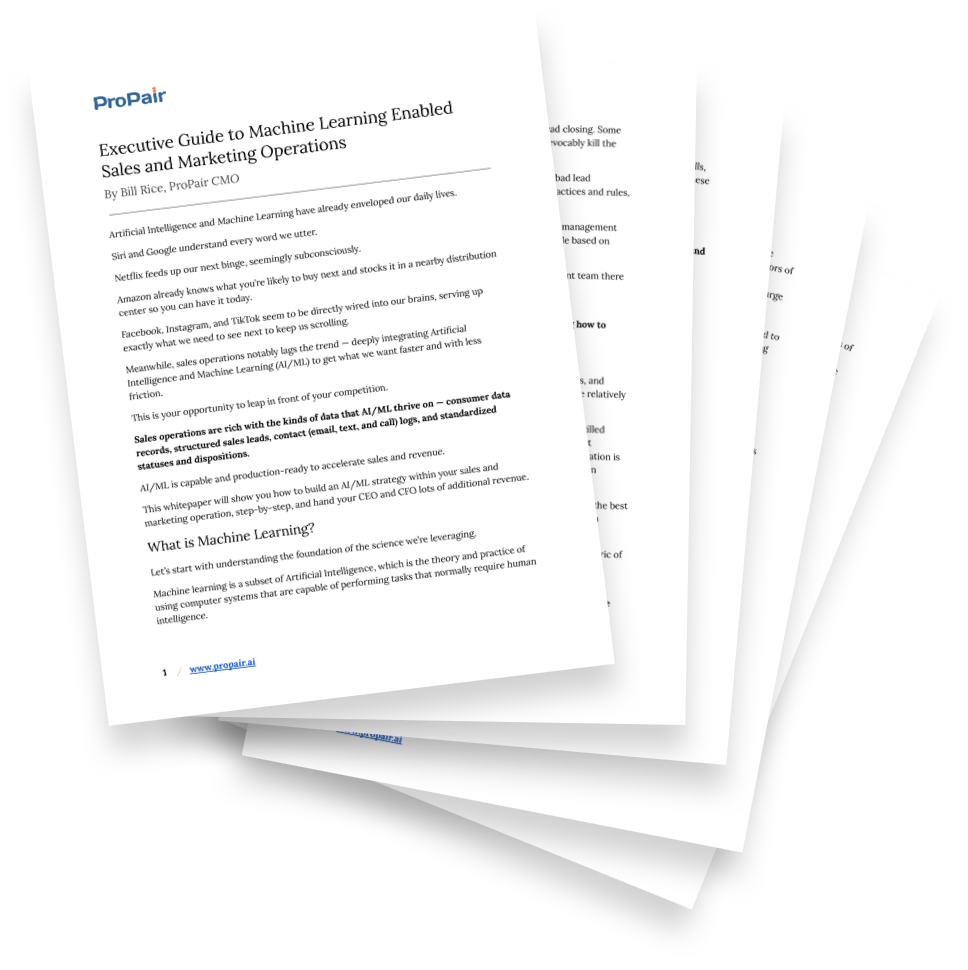 How does AI increase sales?
Download our executive guide to understand the current state of AI and machine learning. We'll show you how innovative sales and marketing organizations use it to get ahead of their competition.
Production-ready predictive lead scoring tools
With AI lead scoring, not only is this one lead management process optimized, but it also has a snowball effect, positively impacting the rest of the sales cycle.
Get our free download to learn the top 5 ways to boost sales with AI.
Intelligent lead scoring with ProPair RANK
Specifically, predictive lead scoring vendor ProPair offers its tool RANK to show you exactly which leads to focus on and when. It provides an intelligent lead value ranking system designed to help sales teams prioritize leads, guide follow-up activities, and revisit abandoned opportunities.
Beyond lead scoring, ProPair also supports other aspects of lead management, with AI/ML tools for sales agent scoring and lead distribution:
ProPair MATCH shows you exactly what sales agents to assign leads to. Use our turnkey solution that leverages historical sales team performance data and machine learning technology to get the right leads to the right sales agents.
ProPair MIX maximizes the potential of every lead and every sales agent. Optimize your entire sales operation and equitably distribute leads from top to bottom performers, maximize sales production, and reduce the need and expense of churning your salesforce.
Are you ready to lift conversion rates?
Find out how you can grow your business using intelligent lead scoring.
Schedule a free ProPair demo to get started. ​
Using machine learning to analyze your current leads and their performance, we'll help you see where you're missing sales opportunities. We'll offer up solutions to convert more leads as well.
Clients who have integrated ProPair's AI lead management tools without changing their current system saw a lift in conversion rates of 10-15%. Find out what ProPair could do to optimize your sales operations now.