Run data-driven marketing strategies that actually bring results by measuring the right lead management metrics, using the most efficient tools.
This will inform your campaigns and tactics, as well as optimize spend, and boost conversion rates.
Let's dig into the 10 essential KPIs for lead management and the growing importance of AI in measuring these metrics.
Schedule a demo to improve your marketing strategies with AI.
What are KPIs for lead management?
Key Performance Indicators (KPIs) for lead management are metrics that help marketing and sales teams more clearly understand how their efforts and campaigns perform in relation to reaching goals like increasing conversions. KPIs help you measure how valuable leads are to determine what marketing and sales strategies best attract and retain high-quality leads.
The importance of tracking the right lead management metrics
Without tracking and measuring the right lead management metrics, all of your marketing and sales efforts lose value.
If you're running strategies based on assumptions or efforts that aren't unified among sales and marketing teams, you end up spinning your wheels.
True data needs to be measured to see trends and patterns that reveal strengths and weaknesses in your current strategies and tactics.
Increase conversions from the start with AI lead assignment. Download our free guide to learn more.
The growing importance of AI lead management
Over 80% of industry experts are integrating some form of artificial intelligence technology into their online marketing activities.
AI has become increasingly popular among business leaders, as it solves the many complex and time-consuming challenges of previously managing data manually.
Instead, AI uses your sales and marketing data to measure several dimensions for each lead, salesperson, and marketing campaign. It then informs businesses automatically and in real-time when leads become more or less valuable as their behaviors and data change.
Between tracking the right lead management metrics and using the most intelligent tools to do so, your marketing efforts become data-driven, leading to accurate insights into what converts leads most efficiently.
Learn more, read — Integrating AI and Automation in Lead Management: Game Changer for Marketing Directors
The 10 Key Performance Indicators every marketing director should track
The following top 10 KPIs in lead management provide a wide range of information and advantages, especially when considered in relation to one another.
Cost per lead: The cost to acquire each lead, based on the marketing and sales expenses related to generating and converting each lead
Engagement: How leads interact with various marketing channels including your website, CTAs, emails, social media, ads, etc.
Lead source: The source that leads are bought or generated from, such as email campaigns, social media, digital advertising, or lead aggregators
Lead response time: The time it takes for a sales or marketing representative to respond to a lead's inquiry or request
Marketing qualified leads (MQLs): How many leads meet your defined criteria for being qualified for continued or further marketing outreach
Sales qualified leads (SQLs): How many leads meet the sales team's defined criteria for being qualified for sales outreach, which usually happens further into the sales funnel after a lead is already an MQL
Lead velocity: The rate at which leads move through the sales funnel to inform whether they get stuck at any certain points
Lead conversion rate: The percentage of leads that are successfully converted into paying customers
Time to close: The average time it takes to convert a lead into a paying customer
Customer acquisition cost: The overall cost of acquiring and converting a paying customer, including all marketing and sales expenses related to lead conversion
Read more about metrics — MQL vs SQL: How they're different and how AI helps us decide
Advantages of measuring these KPIs for lead management
These KPIs help your business do the following:
Evaluate the effectiveness of various marketing channels and campaigns
Evaluate response times of sales and marketing teams
Optimize marketing spend overall
Determine how to improve lead generation and nurturing
Understand how resources are being used
Focus marketing and sales efforts on the most promising leads
Identify opportunities for sales and marketing improvements
Get more from each lead with AI-powered lead nurturing. Download our free guide here.
How AI improves tracking KPIs for lead management metrics
Production-ready AI platforms are now available to help marketing teams measure the most important lead management metrics and optimize marketing strategies with efficient data processing.
With AI decision support, predict outcomes based on exploring various tactics before even putting them into action.
On a daily basis, AI also runs automatically and in real-time to improve the following areas of lead management:
Identify the most valuable lead sources that generate qualified leads with optimized spend.
Identify the most effective marketing channels and campaigns to target your efforts, optimize spend, and reduce costs.
Score and qualify leads to help your business distribute and prioritize the most valuable leads and reduce time to close with predictive AI.
Inform and automate lead nurturing for improved personalization and response times, leading to increased conversions.
Use direct mail to reach leads? See how AI guides your campaigns to get results with our free download.
What could you do with AI lead management metrics?
As a marketing director, using these essential KPIs will help you understand how your business engages, manages, and converts leads so that you can run effective marketing strategies, spending only what's needed, and ultimately improving ROI.
Do you have the necessary AI tools to help you do this quickly and simply?
ProPair offers a production-ready AI platform that seamlessly plugs into your current marketing and sales systems to enhance overall performance.
Schedule a free demo with ProPair to see what AI can do for you.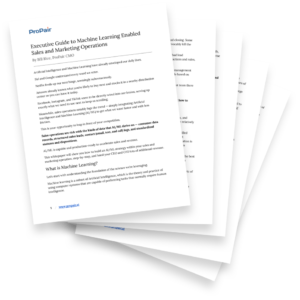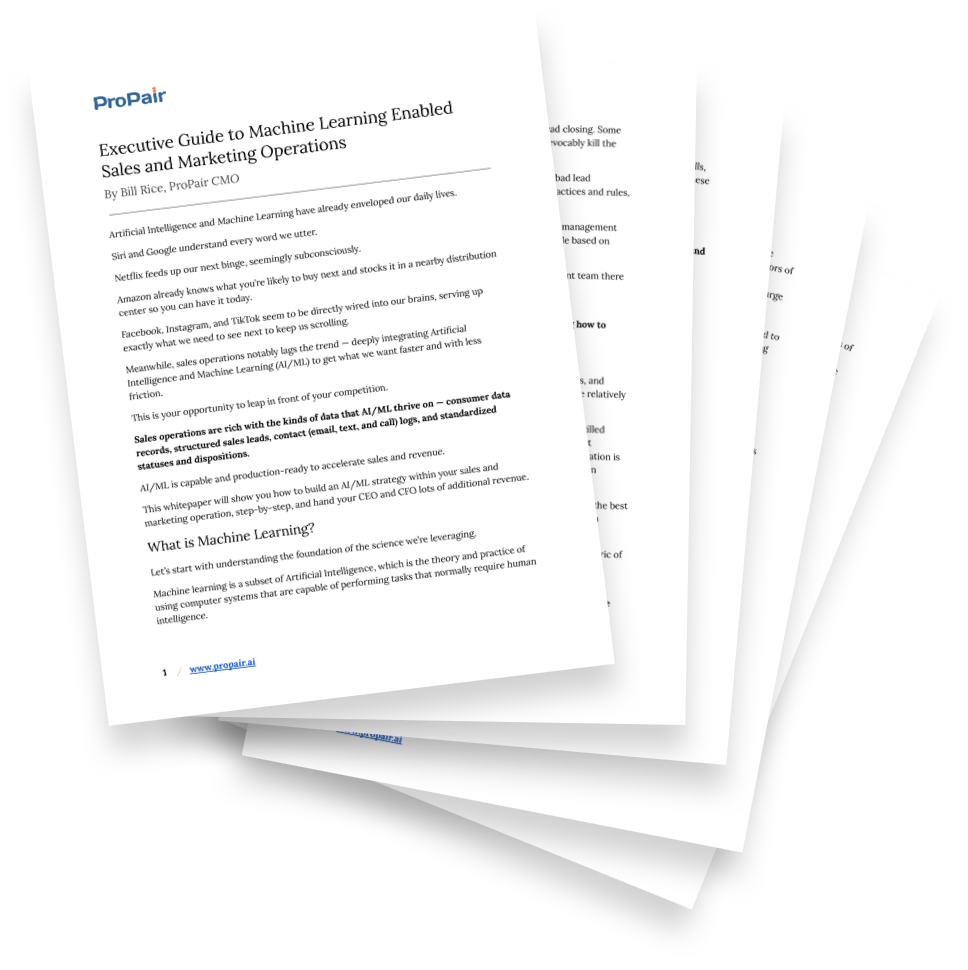 How does AI increase sales?
Download our executive guide to understand the current state of AI and machine learning. We'll show you how innovative sales and marketing organizations use it to get ahead of their competition.