What's the secret to maximizing marketing and sales collaboration?
We'll give you a hint: it's less about navigating office politics and more about creating opportunities for alignment.
Both teams want to convert customers and increase revenue. Your lead management system provides the structure and support to reach these goals. And that's why lead management is the key to aligning marketing and sales.
With a strategic lead management system shared by both teams, cross-department collaboration becomes a natural part of the process with more opportunities for alignment.
Let's explore the benefits of marketing and sales collaboration as well as ways to build a structure for cross-department collaboration into your current lead management system.
AI enhances lead management and boosts revenue. Schedule a demo to learn more.
Why marketing and sales collaboration is key to business growth
When there's little to no cross-departmental collaboration, employees work within a vacuum making it difficult to grow beyond their own ideas and resources.
To create a culture of cross-collaboration, your lead management system serves as a central point for sales and marketing teams to work together and track sales performance.
Top benefits of marketing and sales collaboration that improve lead management
Businesses that align marketing and sales see higher conversion rates, increased revenue, and better ROI and ROAS.
Building cross-departmental collaboration expands each team member's perspective and resources, which allows for the following benefits:
Boosted lead quality and conversion rates
Maximized efficiency and aligned efforts
Awareness of opportunities for improvement
Better planning and accuracy
Improved communications
Clarified expectations
Enhanced customer experience
Read more — The Future of Lead Management: Emerging Trends and Technologies for Marketing Directors
10 steps to build marketing and sales collaboration into your lead management system
So how do you use your lead management system to align marketing and sales teams? We've broken down 10 steps to build collaboration into your lead management system and support your business objectives.
1. Set shared goals and KPIs
Start with setting and agreeing on common objectives and Key Performance Indicators (KPIs). Facilitate regular strategy sessions with marketing and sales team leaders to establish shared goals.
Document and communicate goals to each team member to begin the work to reach these goals. Track and adjust strategies and goals as time goes on to reach business objectives.
Read more — Lead Management Metrics: 10 KPIs Every Marketing Director Should Track
2. Create a sales enablement plan
Create a sales enablement plan to map out the support that marketing can provide to the sales team to reach shared goals. This could include a plan to create sales resources like a competitor analysis to reference and scripts, sales collateral, and content to use with prospects.
Marketing can also gather customer testimonials and produce messaging and campaigns that attract and connect with leads online to motivate sales readiness.
Ensure that all of these resources are readily available within your lead management system as a simple way to access them AND measure their effectiveness.
3. Map customer journeys
Dig into your lead management system with marketing and sales teams to assess leads' current customer journeys through your sales process. Look for areas of friction that interfere with the current sales process — where leads drop off, where they get lost, etc.
Map a new journey from initial contact to closing a sale with built-in improvements through marketing and sales collaboration. Allow both teams to offer perspectives and resources for what can improve the journey.
This might include building in new content or resources, sales activities, and even automations to ensure that the sales team has what it needs to move the customer through the sales funnel and that prospects have a great customer experience. 
Increase conversions from the start with AI lead assignment. Download our free guide to learn more.
4. Unify lead scoring
As leads flow into your lead management system, marketing and sales need to agree on what makes a lead qualified. This helps marketing adjust its strategies to reach the right audience. And it sets the sales team up for success, preventing frustration when working leads that aren't actually qualified.
By agreeing on how leads are scored, there is no more blame game or endless debates between marketing and sales teams.
Rely on data-backed lead scoring to get on the same page. Predictive lead scoring powered by AI measures several complex dimensions for each lead and prioritizes which leads are most likely to close a sale based on your historical and incoming lead and sales data.
Read more:
5. Leverage technology
Speaking of AI, put your cross-departmental heads together to assess your current software and toolkit. Are there areas of frustration or concern that could be improved by implementing advancing technologies?
Artificial intelligence has introduced a wide range of accessible tools that boost sales and marketing:
Chatbots
Predictive analytics
Sentiment analysis
Tools like ProPair plug right into your current lead management system to help you manage leads using predictive analytics. Many major CRM systems like Salesforce, HubSpot, Zoho, and Pipedrive are also building in AI capabilities if you haven't explored them yet.
See how ProPair helps you distribute the best leads to the right salesperson at the right time.
6. Collaborate on content creation
As the marketing team creates content both for its own campaigns and to support sales through the lead management process, avoid getting caught in that vacuum we mentioned earlier.
Regularly collaborate with sales to gain insights into the conversations and reactions they're experiencing with leads and customers. This encourages ongoing collaboration and ensures the content not only serves a purpose but also performs.
The sales team should also ensure they're using marketing content and provide feedback on what works and what doesn't. 
Get more from each lead with AI-powered lead nurturing. Download our free guide here.
7. Open communication channels
Beyond regular meetings and opportunities for conversations, use your lead management system to open communication channels between marketing and sales departments.
Make sure each team member has access to your system to view universal analytics and track performance. Maintaining documentation and open access to notes about customers, visibility into lead journeys, and metrics about campaign performance gives both sales and marketing the opportunity to know whether things are on track to reach overall goals.
Automations can help here, making data entry and repetitive tasks simpler. And predictive analytics can automatically simplify complex data while providing predictions for future planning.
8. Structure a feedback loop
Related to the two points above, simplify communications by allowing for easy documentation and reference using a structured feedback loop. Sales and marketing can make notes in designated areas of your CRM system, create alerts or assignments for other departments, and easily access shared information.
This dissolves obstacles to shared communication and builds on a culture of open feedback for improved performance overall.
Use direct mail to reach leads? See how AI guides your campaigns to get results with our free download.
9. Schedule regular cross-departmental meetings
When it comes to true marketing and sales collaboration, nothing beats an actual conversation. Show both teams that cross-department communication is important by scheduling and holding regular, ongoing meetings between the two departments, maybe bi-weekly or monthly.
Set an agenda for mutual feedback, problem-solving, brainstorming, measuring goals, and discussing leads/performance.
10. Host joint training sessions
Your lead management system and goals are only effective if your teams are on board with them.
By providing joint training, both marketing and sales departments can learn the same information at the same time when it comes to new processes or reaching business objectives, maintaining a collaborative discussion.
Joint training should also include cross-departmental training to learn about one another's processes, best practices, concerns, goals, etc.
Leadership or individual team members can host these training sessions or they can be facilitated by outside experts.
Read more — Integrating AI and Automation in Lead Management: Game Changer for Marketing Directors
Make the most of your lead management system to align marketing and sales
As you can see, there are multiple processes you can put in place to encourage marketing and sales collaboration. This doesn't have to be a daunting task. Various tools and software are available to support these efforts.
Many of the steps above can be automated and optimized with the many applications of AI.
For example, ProPair's AI platform plugs into your lead management system to enhance its capabilities. We offer standard machine learning models for simple and affordable lead management. We can also build custom models for more complex marketing and sales needs.
Schedule a demo with ProPair. We'll help you align marketing and sales using AI.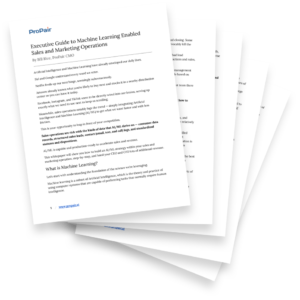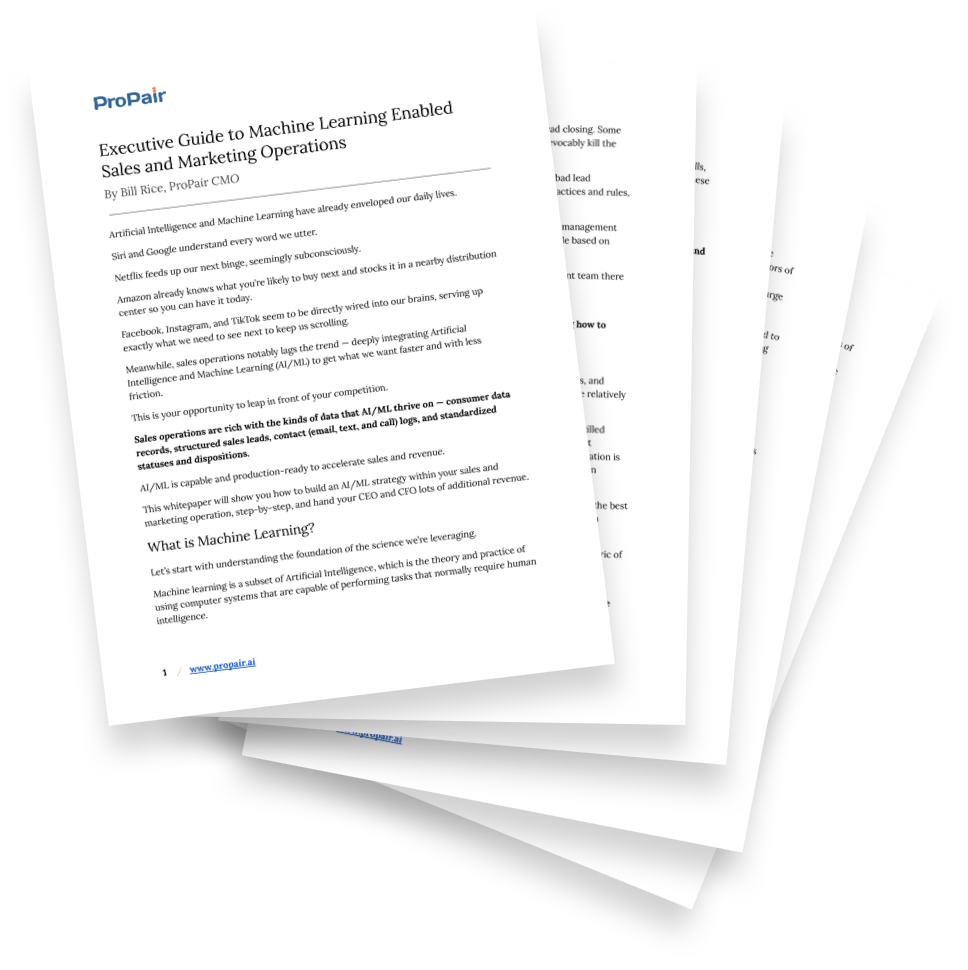 How does AI increase sales?
Download our executive guide to understand the current state of AI and machine learning. We'll show you how innovative sales and marketing organizations use it to get ahead of their competition.