The mortgage sales cycle of course has standard steps that a prospective borrower must reach before closing a loan. But are the details in between these standard steps hurting or helping the overall process?
Are there areas where your sales operations could improve to fuel a shorter sales cycle? Are there any obstacles or hiccups in the process that might even cause you to lose leads?
We're providing the sales director strategies, upgrades, and tools needed to shorten the mortgage sales cycle, increase conversion rates, and boost revenue — particularly through the use of new, widely accessible AI technologies.
Schedule a demo with ProPair to see how AI can enhance your current sales cycle.
10 strategies for a shorter mortgage sales cycle + how to upgrade your current system
Assess each of the following areas within your sales operations. Could these sales director strategies and upgrades help you shorten the mortgage sales cycle and close more loans with your internet leads, more efficiently?
Get our free download to learn the top 5 ways to boost sales with AI.
1. Improve lead qualification
Before you even begin the mortgage sales cycle with a lead, consider whether that lead is qualified and likely to convert. The more quickly you can identify qualified leads, the faster you can prioritize them, and the less time you'll waste working with unqualified leads.
Upgrade: Use AI-powered predictive analytics, lead scoring, and lead distribution to automatically predict the likelihood of each lead closing as they flow in.
Read more: Perfect Your Mortgage Lead Scoring and Sales Process with Intelligence Technology
2. Develop efficient onboarding
For the benefit of your customers and your sales team, provide a clear onboarding process that outlines each step needed to move a prospect from their initial inquiry to closing a loan. This reduces confusion for loan officers so they know exactly what steps to take and prepares borrowers for a clear path to closing.
Upgrade: Lead distribution backed by machine learning helps to route the best leads to the right salespeople at the right times. This kicks things off smoothly and efficiently.
Increase conversions from the start with AI lead assignment. Download our free guide to learn more.
3. Offer personalized customer service
Meet leads where they are by customizing their experience. Based on their data and behavior, you can guide them down a personalized path while also providing information ad resources that most closely match their needs. This helps them make a purchase decision faster.
Upgrade: Use personalization and segmentation to intelligently sort leads and give them a more tailored experience.
4. Educate consumers
Outlining the path for consumers and providing them with relevant resources, content, and communications educates leads about your product or service, as well as your process and how it meets their needs. This helps them feel confident as they approach the chance to close the deal.
Upgrade: Use an automated marketing platform and other tools to send customized emails, texts, and content that educates and informs leads, personalized to whatever point they're at in the mortgage sales cycle.
Get more from each lead with AI-powered lead nurturing. Download our free guide here.
5. Be transparent with fees and costs
Don't let a lack of communication slow down the sales process. Be upfront about what fees and costs are included in closing a deal so that each lead can not only build trust in you but also confidently handle the fees and costs without objection or difficulty.
Upgrade: Provide opportunities for leads to understand fees and costs. Use chatbots or virtual assistants to share the details early on. Create clear content explaining these details that can be automatically shared with leads at certain points in the mortgage sales cycle.
6. Regularly follow-up
Don't leave leads hanging. Be proactive in communicating so that you can keep the sales process moving forward. Stay on their mind and let them know what is coming next and what is needed from them so there are clear expectations. This ensures you don't lose momentum.
Upgrade: Use AI-powered automations in your CRM system and with marketing tools to trigger follow-ups based on changes to lead behavior or certain points you want to set in the sales process.
Read more — The Art of Follow-up: Sales Directors' Best Practices for Lead Nurturing and Deal Closing
7. Speed up the approval process
Step back from the sales process and look for ways to simplify the actual steps used to approve a lead for a loan. Is there a way to offer streamlined approvals to more simply meet leads' needs? Or are there ways to make approvals go more smoothly to avoid any hiccups or confusion as you move closer to closing?
Upgrade: Use AI-powered predictive analytics to assess historical sales performance data. This provides insights into where leads and loan officers are getting stunted in the process and reveals opportunities for improvement.
8. Educate and train your team
Your mortgage sales cycle and approval process are only as efficient as those managing it. Take time to provide training for loan officers and anyone involved in sales or marketing. Ensure they have buy-in for the tools and processes so that they're empowered to maximize how they work each lead.
Upgrade: AI coaching tools provide in-depth training to each sales team member by making it easier to assess sales performance and spot opportunities where more training is needed.
9. Incentivize efficient decision making
Creating a sense of urgency can work for both your sales team and your prospects. Offer limited-time special offers for borrowers that act within a certain timeframe. Offer a bonus or additional commission for loan officers that can shorten their mortgage sales cycles to a certain point.
Upgrade: Use personalization and segmentation to make the right offers to the best leads. Predictive analytics can help you determine what offers might work best to incentivize both your leads and your internal teams.
10. Rely on automation and other technologies
Don't expect to take on all of these solutions by creating a bigger to-do list for your sales team. Look for software that helps you tackle repetitive tasks and streamline new additions to your shorter sales cycle.
Upgrade: Implement technologies that provide automated and predictive tools to more efficiently and intelligently complete tasks with decision support backed by actual data, rather than manual management.
Want more? AI Strategies for Sales Directors: Optimize Lead Management Processes with the Latest CRM Integrations
Practical applications of AI that support shorter sales cycle strategies
Now let's dive a little deeper into the upgrades you can make to your sales operations to shorten the mortgage sales cycle. As you could see above, many of the upgrades are possible because of AI technologies that are now more accessible than they ever have been.
Below are the practical AI applications you'll want to start with to close more deals more quickly.
AI lead scoring
AI measures several complex dimensions for each lead — including demographics and changing behaviors — to score leads intelligently. AI lead scoring alerts sales teams about which leads are most likely to close a sale so they can prioritize leads and start the sales process efficiently.
Providers: ProPair, Infer, and Leadscape are a few providers of predictive lead scoring that can work within your lead management system.
Chatbots and virtual assistants
AI chatbots and virtual assistants are available to interact with consumers 24/7. They use Natural Language Processing (NLP) to have initial conversations with leads to answer common questions and gather basic information. As they engage qualified leads, they can also automatically pass them to the sales team or even schedule a conversation with a loan officer.
Providers: Tools like Botsplash, Drift, and Intercom offer services like this that integrate with lead management systems.
Advanced CRM systems
Beyond integrating software into your current CRM system, you could switch to an advanced CRM system that offers more sophisticated features or ensure you're using the AI capabilities within your current system. These CRM systems include features like predictive analytics, lead scoring, and lead distribution to optimize the sales process.
Providers: Salesforce, Zoho, and Pipedrive are well known for their robust capabilities and customizable features.
Dive deeper into AI capabilities. Read our Sales Directors' Toolkit: Top 10 Lead Management Software and Tools to Drive Success
Automated marketing platforms
These tools help you streamline communications and engagement with leads by more easily managing your email, social media, and other marketing efforts, while also providing analytics and insights that help you optimize campaigns and strategies.
Providers: Major players like HubSpot and Adobe's Marketo Engage offer predictive capabilities that help you maximize each interaction with leads.
Data visualization tools
As you begin to make better use of your data with insights from AI, you can use data visualization tools to help you simplify complex data so that it can be used to make data-backed decisions.
Providers: Tableau and Google's Looker Studio offer capabilities that help you explore your data more thoroughly while making insights simple to manage and act on.
For more of the latest with AI, read our 2023 Perspective on Harnessing the Power of AI for Lead Distribution
Make closing deals more efficient with AI
By optimizing processes like lead scoring, customer interactions, and team training you can take simple steps that will likely improve the experience for both your loan officers and prospective borrowers.
When you add the power of AI technologies, you have the opportunity to drastically improve sales operations and intelligently enhance the entire mortgage sales cycle.
ProPair's AI platform integrates seamlessly with your current CRM or lead management system. Our predictive analytics help you know which leads are most likely to convert, with which salespeople, and at the best possible times.
Schedule a free demo. We'll discover opportunities to maximize your sales cycle using AI.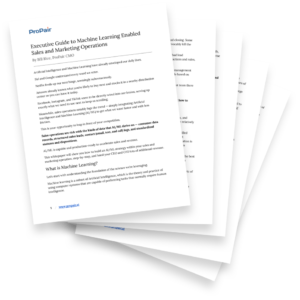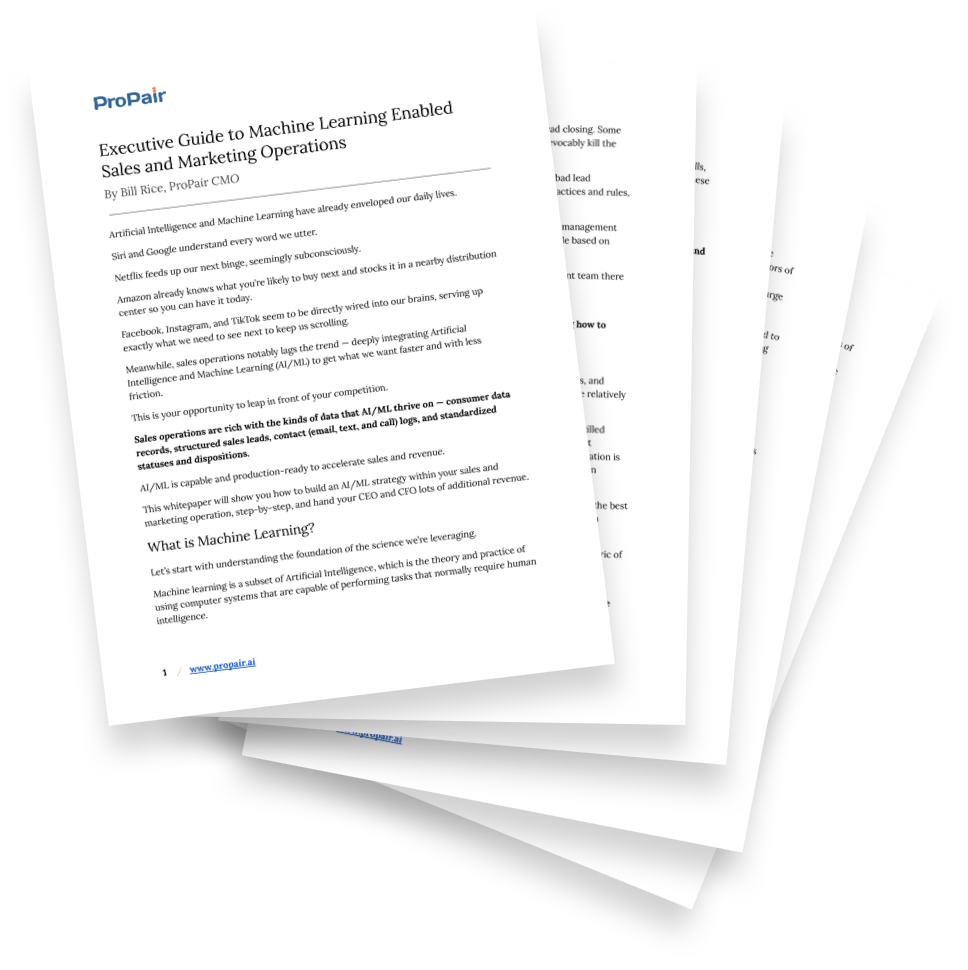 How does AI increase sales?
Download our executive guide to understand the current state of AI and machine learning. We'll show you how innovative sales and marketing organizations use it to get ahead of their competition.