If you're in the position of leading any one of the departments within your organization that touch revenue generation, you've likely run into the common challenges around increasing revenue and scaling the business.
Revenue may be stunted because departments are misaligned or disconnected, metrics and data tracking can be complicated, and often, processes need to be updated.
These challenges and the solutions that are increasingly available to solve them are why many businesses are looking to optimize an emerging role — revenue operations.
Of companies surveyed who are implementing revenue operations and team alignment, the majority say they're confident they'll far exceed their revenue goals.
To gain an understanding of the opportunities available when you optimize revenue operations, dig into our definitive guide.
Learn the roles revenue operations can play to improve your business, as well as the tools to do so efficiently, with the goal of converting more customers and increasing revenue.
Intelligent lead management increases sales and revenue, and it's made easy with AI tools. Try our free data analysis to see what's possible.
What is revenue operations?
Revenue operations, or RevOps, is a function within a business that focuses on how revenue is generated and measured, helping to connect the efforts of all departments that impact revenue. This likely includes sales and marketing teams, as well as finance and customer service.
The RevOps team helps bring visibility and efficiency to all aspects that relate to revenue. It makes generating revenue more of a data science rather than a hoped-for goal — using predictive models that are proven to help reach certain revenue goals.
This is why revenue operations is becoming more popular within large organizations. The technology to support it is also more readily available, with decision support systems fueled by Artificial Intelligence and Machine Learning.
Revenue operations vs sales operations
Increasing revenue is also a goal of the sales team so how does RevOps differ from sales operations?
Well, sales ops is focused primarily on supporting an organization's salespeople. This includes focusing on the technology, tools, team structure, and overall sales processes that sales agents need to sell effectively and efficiently to close more deals.
Sales operations and revenue operations will work closely together, as sales is a critical piece of RevOps. The difference here is that RevOps will also support other departments that affect revenue.
Revenue operations will help to connect concepts and processes across each team, providing the broader support and alignment needed to improve the entire revenue cycle, from marketing to sales, and through customer support.
Do you need a better support system for your sales team? Check out our Guide to Optimizing Your Sales Operations.
Why is revenue operations important?
Generating and even increasing revenue is a top objective for many organizations. That's one reason revenue operations has emerged and continues to grow as an important part of businesses.
Previously, it was common for each team that impacted revenue to set individual goals and strategies for improving revenue. For example, marketing teams and sales teams may not be as aligned as they could be to optimize how leads are generated from marketing efforts and then how they become qualified leads who are ready to buy, all by moving through one cohesive sales funnel.
Revenue operations dedicates its time and resources to stepping out of the specific details needed to execute sales, marketing, and customer support, or even to manage finances. It is meant to see how each of these areas could be impacting the others.
You can understand how important this is for setting cohesive goals, filling gaps, and tracking data to inform better strategies, supporting the organization overall.
Roles and responsibilities of revenue operations
Each of these areas of responsibility that we explore below ties to a few main areas of expertise that revenue operations requires and that should be applied to all departments it interacts with.
From a high level, this role involves the following skills:
Teamwork and communication across the organization
Problem-solving and the ability to breakdown and rebuild processes
Optimizing data using the right tools, training, and targets
Let's dig deeper into the specific purpose of a revenue operations role or team.
Improve communication, transparency, and accountability
This involves a mix of skills and responsibilities from the revenue operations team. It may start with listening to each of the other departments that impact revenue to hear their pain points and then initiate problem-solving.
It also involves creating visibility and transparency around various business objectives, processes, and even how each department or employee is incentivized.
Opening up communication for broader conversations across an entire organization helps all departments buy into a more aligned strategy that allows teams to work alongside each other, rather than feel like they're working against one another. This is an important area where revenue operations can take the lead.
As processes and goals begin to change with the guidance of revenue operations, RevOps also is responsible for providing clear communication and training opportunities for employees. This should be ongoing as RevOps works to continually improve processes and efficiency.
Clean up existing processes
Beyond communication, revenue operations will dig into the structures and tactics needed to assess and improve existing processes, including data collection and analysis.
Revenue operations will assess existing processes, policies, and goals and find ways to improve performance throughout the organization. The goal is to make it easier for each department to act on their primary roles, enhancing what they're able to do for the business.
As processes, the use of data, and the roles of each department are made more efficient, you can see how revenue operations would help an organization scale its efforts, reach more customers, and close more sales.
With this in mind, revenue operations helps to make the most out of opportunities with leads, rather than missing chances to convert them to customers.
Optimize the customer experience
The journey to becoming a customer can vary widely, especially if there isn't a well-established structure for bringing customers into your organization.
Depending on what you offer, how you share it with an audience, and how that audience engages with you, this can become a mess and lead to tons of missed opportunities.
Revenue operations sits outside of the marketing and sales execution, allowing RevOps to see the whole picture and even incorporate other efforts across the organization that could support each department.
RevOps is responsible for helping everyone align on what makes a good customer experience, in the context of generating revenue, and how to execute the experience efficiently, to hit agreed-upon goals.
With this strategy, leads are captured much earlier, moving them through from the top of the funnel, rather than only catching those who are ready to buy right now.
Integrate AI technology to generate accurate insights
Dedicating resources to finding and integrating new AI tools and technologies may be one of the biggest responsibilities of revenue operations and its most impactful contribution to optimizing processes overall.
Tools such as data tracking, Artificial Intelligence (AI), and Machine Learning (ML) allow organizations to analyze more data than they've ever had access to. RevOps can strategically use those insights to increase performance and ultimately increase revenue.
This often starts with optimizing your CRM, which is one of the most important tools that needs to be integrated with all other tools for all to be effective.
AI software integrates with your CRM to track and provide metrics automatically. Data managed this way is accessible for all teams to report on, analyze, use for process improvement, and make the most of AI/ML tools that analyze data and adjust strategies for your organization.
Learn more about integrating artificial intelligence tools. Check out our Simple Guide to Optimizing AI/ML for Business Operations.
Revenue operations metrics
Acting on the roles and responsibilities of revenue operations needs to be backed by certain data points that reveal a clear picture of what is happening within the process of converting customers and generating revenue.
There are several tools that help track and analyze these data points to provide actionable insights. Measuring the following revenue operations metrics is the first step in understanding performance, gaps, needs, and wins:
Customer-related metrics
Length of the sales cycle
Lead conversion rates
Customer Acquisition Cost (CAC)
Customer Lifetime Value (CLV)
Upsells/renewals/return customers
Customer churn
Revenue-related metrics
Revenue forecasting accuracy
Average deal size
Average profit margin
Average revenue per customer
Annual recurring revenue
To make the most of these metrics, many revenue operations teams rely on AI/ML tools, which can learn from the data collected and create predictive models that help employees decide how to act on these metrics to reach certain targets.
The value of revenue operations strategies and tools
Just as your customers are looking for your product or service to solve their pain points, you may be considering whether revenue operations can do the same for you to improve your organization.
So what problems does RevOps solve exactly? As we mentioned it helps align all teams that impact revenue. More specifically, it helps organizations that have been looking to scale as it drives the transparency, processes, data tracking, and accountability needed to do so.
If your organization's metrics are confusing, goals differ across departments, office politics get in the way of teams working well together, sales aren't where you'd like them to be, and ROI is off-kilter, revenue operations may have the strategies to refocus, allowing for better alignment, measurement, understanding, and execution of revenue goals.
Are you building revenue through optimized sales? See what opportunities you might be missing with our free data analysis.
Predictions and decisions powered by AI/ML
Revenue operations has become more widely used because it's now simpler than ever to implement with the support of certain tools that help to track and measure RevOps metrics.
Artificial intelligence and machine learning software create automated processes for not only tracking thousands of data points but analyzing them too. This removes manual labor, guesswork, and using incorrect strategies from the equation.
Revenue operations needs tools such as the following to work well across an organization:
Revenue analytics and forecasting
Lead tracking that collects and interprets metrics for each lead
Integration of all data within a CRM to be accessed by all teams
These functions no longer require organizations to have data experts who spend hours diving deep to make metrics actionable. AI/ML does this work for you so that your teams can focus on operations and act on the metrics being automatically analyzed by software.
ProPair's AI/ML decision support tools for lead management
Optimizing revenue operations and technology is often a valuable investment for organizations that juggle a large pool of resources while being expected to hit targeted, strategic goals. And all while staying within budget to positively impact ROI.
The source of revenue starts with your new customers who become leads, making lead management a natural place to begin implementing tools that improve revenue operations.
Lead management is also rich with data that AI/ML software can sink its teeth into and impact how leads are managed, scored, and distributed using predictive models.
ProPair has developed artificial intelligence machine learning models to increase sales close rates because this directly impacts revenue generation.
Options depend on where you're ready to start and where you need revenue generation to go. ProPair offers RANK and MATCH or the optimal combination of both with MIX:
RANK: Know exactly which leads to focus on and when.
MATCH: Know exactly what sales agents to assign leads to.
MIX: Optimize your entire sales operation by maximizing the potential of every lead and every sales agent.
Grow your business with the right RevOps tools
Businesses are transforming every aspect of how they sell to customers and close more deals — and much of this work stems from incorporating revenue operations.
With improved resources, processes, tools, and insights organizations are putting a stop to having siloed departments that compete to perform. Aligning all teams that generate revenue is one simple solution that solves many complex problems.
And it allows businesses to increase their sales opportunities beyond the rules and theoretical or gut-based decisions that initially helped them wrangle leads but often become confusing or just don't perform.
Lead management is an important aspect of revenue operations. Do you know how your leads are performing? How do your marketing and sales teams feel about the leads they work with?
Find out whether you're missing revenue-generating opportunities with ProPair's free 48-hour data analysis.
We'll analyze your leads and their performance to help you see whether you're missing opportunities to sell more, and how our AI/ML tools can help.
You may have a full-fledged revenue operations team or maybe you're just dipping your toes into the water to see what opportunities it could bring. Either way, using the AI tools that RevOps teams trust to improve data-based decision-making can make generating revenue more efficient while improving your overall ROI.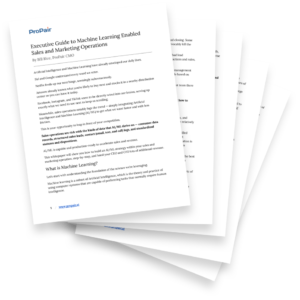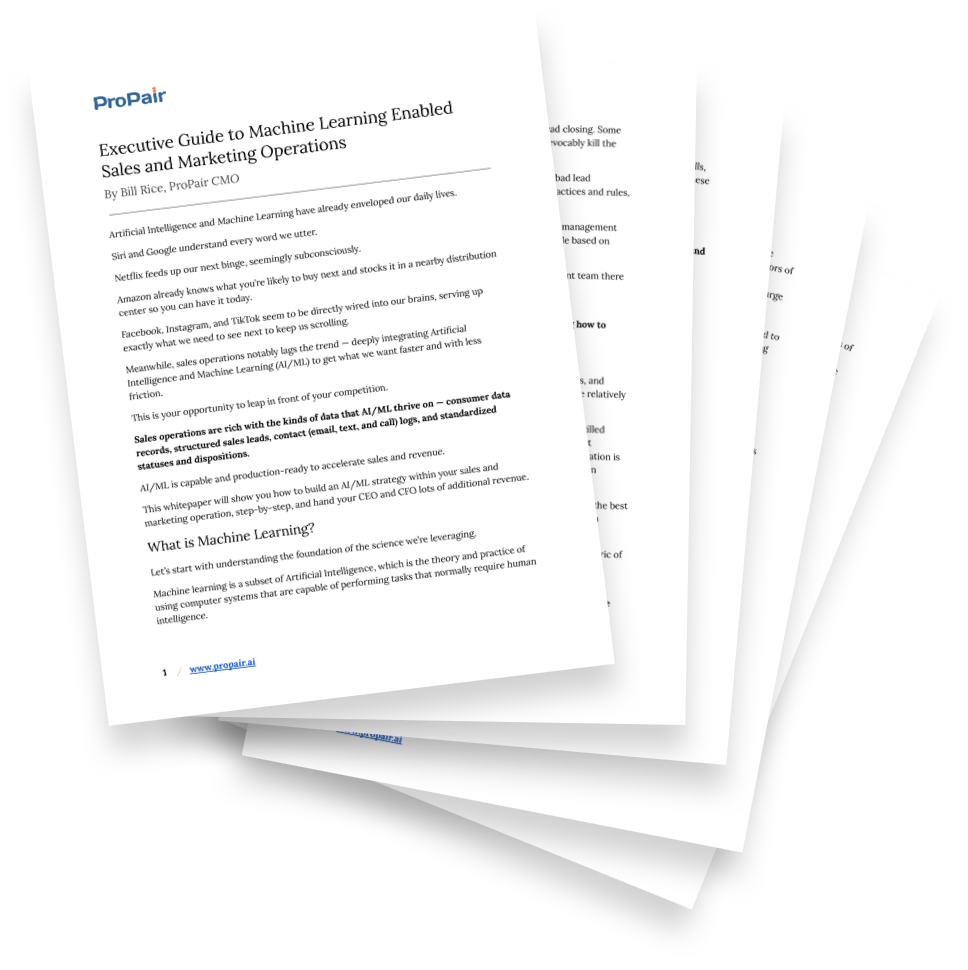 How does AI increase sales?
Download our executive guide to understand the current state of AI and machine learning. We'll show you how innovative sales and marketing organizations use it to get ahead of their competition.