Leads are extremely important to your sales pipeline.
If you're lucky, you haven't had to experience what it's like for salespeople to be on the hook for selling to leads who just aren't ready to buy. It not only reveals issues within the overall sales process, but it's also likely to cause issues with generating revenue and causing sales team turnover.
Enter lead qualification. Adding strategic considerations to whether a lead is ready to speak with a salesperson creates so much opportunity for organizations.
Learn more about why Sales Qualified Leads are important and how to manage them to get the most out of your sales and marketing efforts.
AI can automatically prioritize qualified leads for your sales team. See what's possible with a free ProPair demo.
What is a sales qualified lead?
Ideally, all leads would be generated, collected, and converted to customers. But not all leads are ready to buy.
To help sales teams prioritize which leads are most likely to convert, leads are first qualified. A Sales Qualified Lead (SQL) is a lead that is a prospective customer who has shown they're ready to buy or close.
Sales Qualified Leads typically have gone through a few levels of qualification before reaching the sales team. They're likely first deemed Marketing Qualified Leads (MQLs) after various engagements with marketing efforts.
Once a lead is considered an SQL, the sales team has more information about the already engaged lead and can prioritize working these qualified leads to close more sales.
Example actions
A Sales Qualified Lead may meet the following qualifications to demonstrate that they are sales-ready:
Show interest in your organization and what you have to offer
Have a need for what you have to offer
Are ready to commit to a solution for their problems or pain points
Are the purchase decision-maker
Have an available budget to spend on your product or service
THE PROPAIR CHALLENGE
Are you closing all the sales you can?
See exactly what you're missing and why.
How to identify, score and incorporate sales qualified leads into your sales process
Determining whether a lead is qualified will depend on many factors that are unique to your organization. This requires additional considerations, including lead scoring, analytics, and an understanding of the goals and capabilities of your marketing and sales teams — all of which are known as lead management.
The first step to qualifying leads is to establish the basic criteria that are used to measure how likely a lead is to make a purchase or close a deal. This involves identifying and scoring leads.
The criteria can then help the sales team gauge how sales-ready leads are, helping to inform sales tactics.
Learn how to improve sales processes with our Guide to Optimizing Your Sales Operations.
Identify SQLs
The best way to identify Sales Qualified Leads is often to establish an understanding between sales and marketing departments.
In many cases, marketing efforts attract leads and the marketing team will then track how leads continue to engage with your organization. Once they see a lead engage to a certain point, they will identify the lead as sales-ready and pass it to the sales team. At this point, it is identified as a Sales Qualified Lead.
Whether your sales and marketing teams work with a similar structure or not, leads often flow in at the top of the sales funnel — they're looking for more information and need to be warmed up to convert. As they move through the sales funnel, they become more and more sales-ready. At a certain point, you decide when they're considered sales qualified and ready to be directly sold to.
Read more: Automate Moving MQLs to Sales Qualified Leads with AI/ML Solutions.
Score SQLs
Scoring leads involves assigning a certain weight to various criteria that you collect and track for each lead. By giving different levels of points for different sets of data, you begin to prioritize how qualified a lead really is.
Some factors that might obviously up a lead's score include a lead's job title, industry, company size, and other basic demographics.
Other factors may make less of a direct impact on whether they will convert. But these do provide more insight into each lead's situation. This might include how they've engaged with your emails, whether they've signed up for a free demo or trial, filled out forms on your website, or downloaded content you've offered.
Predicting how leads will perform doesn't have to feel like a guessing game. Artificial Intelligence and Machine Learning software can analyze and qualify leads for you.
Read more: Simple Guide to Optimizing AI/ML for Business Operations. 
Sales qualified lead (SQL) vs. Marketing Qualified Lead (MQL)
As we've mentioned, it's common for leads to start as MQLs by first engaging with an organization's marketing. As they further engage, they show signs they're more ready to buy, and so are then passed to the sales team, becoming SQLs.
So an SQL vs an MQL can show the difference between how engaged a lead is and how sales-ready they are.
Qualifying leads can be automated, intelligent and simple. Read MQL vs SQL: How they're different and how AI helps us decide.
Who is responsible for each lead qualification
Depending on your organization's structure, this may differ. Ultimately it comes down to who needs the leads to be qualified.
For MQLs: Whoever is creating marketing materials and tracking engagement with those materials needs to understand how effective their work is at attracting customers.
For SQLs: Whoever needs to close sales, needs to understand how sales-ready leads are.
Get more from each lead with AI-powered lead nurturing. Download our free guide here.
Why is the Sales Qualified Lead stage important for both sales and marketing
Within an organization, all departments responsible for marketing and sales need to have an understanding of the importance of SQLs because the ultimate goal to grow revenue is to attract customers who will make purchases or close deals.
When a lead becomes an SQL, it meets all of the ideal criteria, making it the exact type of customer you want to attract and engage further to convert. SQLs have moved from simply browsing to being ready to make a purchase decision.
Don't stress over qualifying leads. Get a tool that intelligently decides for you. Try our free data analysis to see what's possible.
Create sales opportunities with qualified leads
Sales operations need to focus on just that — selling. So although leads are extremely important for fueling sales, it can be difficult to manage the many data points needed to qualify them.
How can your team know what criteria are best for leads to meet and then track and analyze each lead to see if it qualifies (which will help lead to optimized sales)?
Artificial Intelligence and Machine Learning (AI/ML) software make this easier and more efficient for both sales and marketing teams. It becomes a simple step, working behind the scenes within the sales process to analyze thousands of data points within seconds and identify, score, qualify, and distribute leads.
Go beyond setting and analyzing rules manually. Instead, AI/ML software learns from the patterns it sees over thousands of lead data points collected — creating predictive models for deciding what makes a Sales Qualified Lead.
Can improved data analysis create more sales opportunities for your organization?
See for yourself. Schedule a free ProPair demo here.
We'll use machine learning to analyze your current leads and their performance to help you see where there are missed opportunities.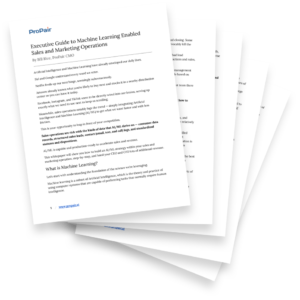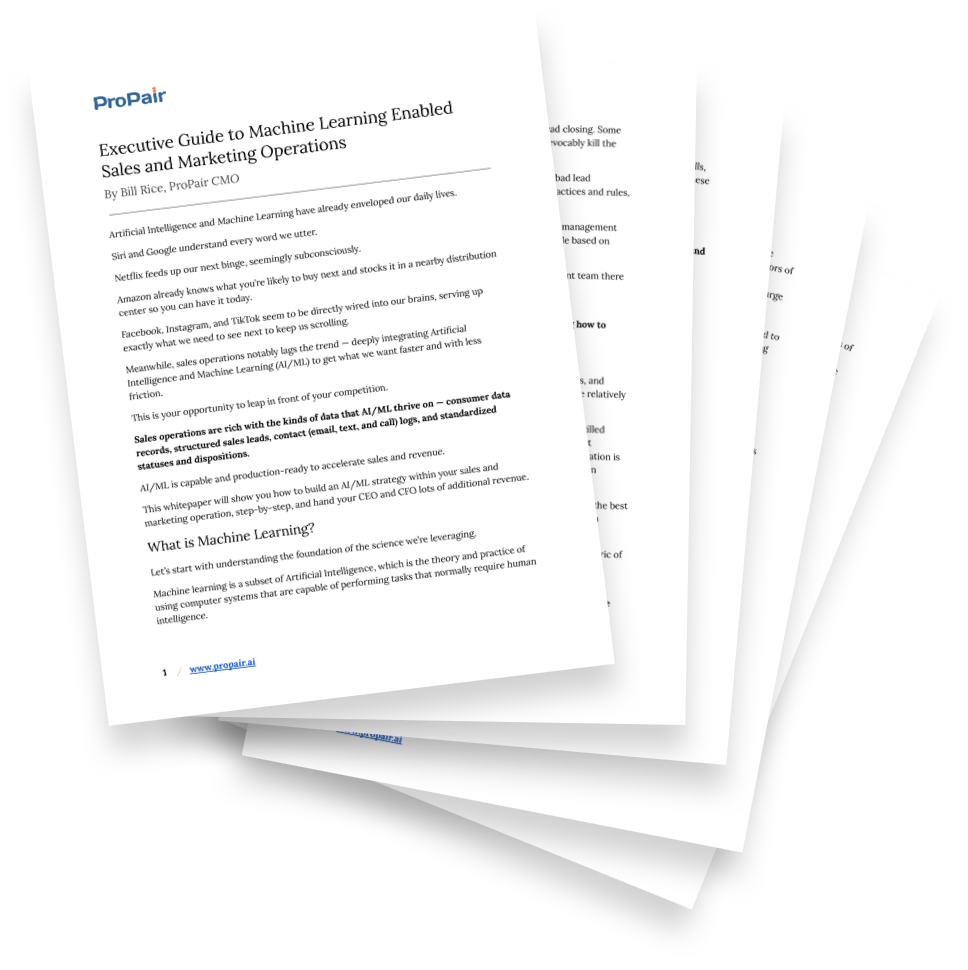 How does AI increase sales?
Download our executive guide to understand the current state of AI and machine learning. We'll show you how innovative sales and marketing organizations use it to get ahead of their competition.