Marketing creates excellent opportunities to build and engage an audience, introducing potential customers to your business.
But how do you track and influence potential customers to move them from curious and browsing to sales-ready?
When potential customers engage with you, they become leads. Managing these leads and moving them through the sales funnel becomes strategic when you begin to qualify them.
Often, lead generation, collection, and management start with the marketing team. As marketing and sales collaborate, your business more efficiently engages to deem leads as Marketing Qualified Leads (MQLs).
Let's dig into understanding MQLs and how they impact both marketing and sales.
Are you getting the most from your lead data? Schedule a demo with ProPair to find out.
What is a Marketing Qualified Lead?
Generating and managing leads can involve a slew of strategies, decisions, and actions. Getting leads flowing into your business is of course a great first step. But converting those leads into customers makes all the difference. This is where lead qualification comes into play.
Leads may come in but if they aren't qualified they can be difficult to work with, taking more time and resources to close deals or leading to no closed deals at all.
A Marketing Qualified Lead (MQL) is someone who has shown curiosity in an organization's product or service as seen through their engagement with various marketing efforts. The marketing team considers leads based on certain criteria. Once a lead is qualified, it gets passed along to the sales team to engage further.
There are many factors that may qualify a lead, requiring additional considerations including lead scoring and deeper analytics, as well as an understanding of the marketing and sales team's goals, capabilities, and capacity.
Many qualified leads start as MQLs as this is often the first step in gauging how likely the lead is to commit to buying.
Example actions of an MQL
A Marketing Qualified Lead may take the following types of actions to engage with your organization's digital marketing efforts:
Visit certain website pages
Repeatedly visit the website
Click CTAs
Fill out forms
Sign up for a trial or demo
Request more information
Download whitepapers, ebooks, or other content offered
Signup for newsletters or emails
Engage with social media posts
Click on ads
How to identify and score Marketing Qualified Leads
Tracking how leads come into your organization, where their engagement begins, how it continues, and how they perform with your sales team fuels both your marketing and sales efforts.
As we mentioned, determining whether a lead is qualified will depend on many factors that are unique to your organization. The first step to making the most of MQLs is to establish the basic criteria that are used to measure how likely a lead is to make a purchase or close a deal.
The criteria then also inform marketing efforts, like what materials to create and use to attract more qualified leads and measure engagement.
Read more: Automate Moving MQLs to Sales Qualified Leads with AI/ML Solutions.
Identifying an MQL
Identifying MQLs starts by establishing, understanding, and re-evaluating over time what type of user is likely to engage with your organization and then hopefully follow through to convert to a customer.
This is often done by working with the sales team to analyze what patterns you see for leads who have already become customers. Consider things like their demographics, the marketing they engaged with, sales readiness, the length of the sales cycle, etc.
Artificial Intelligence and Machine Learning (AI/ML) software makes it easy to optimize leads. Learn more: Simple Guide to Optimizing AI/ML for Business Operations
Scoring an MQL
After defining the criteria, adding weight to each consideration helps score MQLs.
If location is a requirement to work with a particular region of your sales team, that is a simple but necessary requirement that should be weighted heavily when qualifying a lead that comes in.
Other lead data points that may be less impactful but still informative to collect could be weighted with less importance. Did the lead download one ebook? Add a certain number of points. Do they regularly interact with your social media posts? Add more points.
These scores help marketing and sales teams prioritize how to further engage each lead.
Get more from each lead with AI-powered lead nurturing. Download our free guide here.
Marketing Qualified Lead vs Sales Qualified Lead
MQLs and SQLs differ just like marketing teams differ from sales teams.
Based on the marketing team's expertise and resources, they produce materials and other efforts that attract leads, which they then determine to be qualified based on engagement with the organization's brand, website, or other marketing efforts.
When everything aligns, MQLs are moved forward, becoming Sales Qualified Leads (SQLs), meaning they're qualified beyond engagement and onto how likely they are to make a purchase.
An MQL might be curious, researching, comparing, and browsing their options — wanting more content and other marketing materials to inform them.
An SQL is more likely to want a solution sooner, wants to discuss specific options, and is ready to close a deal, making them more prepared to work with a salesperson.
Rather than softer engagement like signing up for emails, an SQL is likely to directly request a quote or demo.
AI tools make qualifying leads easier. Read MQL vs SQL: How they're different and how AI helps us decide.
Why is the sales qualified lead stage important for both sales and marketing?
A lead can start as an SQL, but it's common for leads to have engaged with marketing before being completely sales-ready. The hard part is tracking where their sales journey begins. And that's why efforts to track and manage MQLs can be so beneficial.
Making sales is often a top goal for many organizations, with 74% of companies saying that converting leads into customers is their top priority.
Knowing a lead is sales qualified means they're more likely to make a purchase. Generating SQLs should be a goal for both marketing and sales teams.
Marketing begins to warm leads and collects users at the earliest stages of the sales funnel. As those leads are informed and persuaded, they hopefully become more sales-ready.
At one point, MQLs may transition from browsing to being ready to buy — making them SQLs.
AI can determine when you've got MQLs vs SQLs. See how with our free data analysis.
How do you create more opportunities with qualified leads?
Managing the many data points associated with leads, including how to analyze that data to qualify them is a common challenge for many organizations.
There are tools that make this easier for marketing and sales teams. Adding Artificial Intelligence and Machine Learning (AI/ML) software to your process for collecting leads makes it easy to analyze thousands of data points within seconds to identify, score, qualify, and distribute leads.
The technology enhances marketing and sales teams, going beyond the rules we set and track manually and intuitively (which often miss important data points and can even be biased).
Instead, AI/ML software learns from the patterns it sees over the thousands of lead data points it collects — creating predictive models for what makes a qualified lead.
Learn how this level of data analysis and strategy could create more opportunities with qualified leads.
Schedule a free demo with ProPair now to get started.
We use machine learning to analyze your current leads and their performance to help you see where there are missed opportunities.
Make it easier to understand and manage MQLs and SQLs. Increase sales while improving ROI with the simplicity of AI/ML software.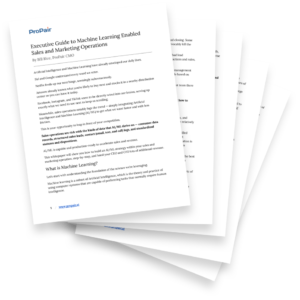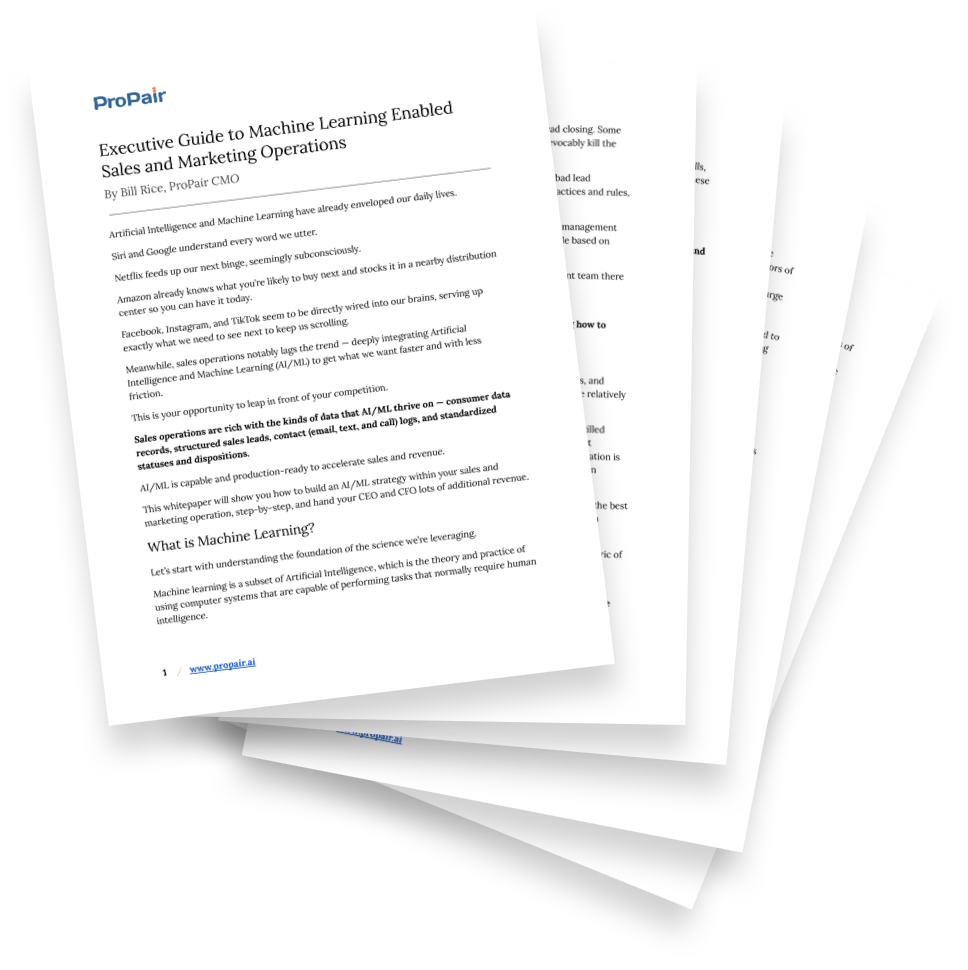 How does AI increase sales?
Download our executive guide to understand the current state of AI and machine learning. We'll show you how innovative sales and marketing organizations use it to get ahead of their competition.