Lead management strategies are often either overlooked, underestimated, or over-complicated.
Like many sales directors, you want your sales operations to bring real results. Without addressing the heart of sales, many sales teams struggle to know where to start to build a successful system.
That's why we've broken down the 5 core lead management strategies and how they can impact your sales system, along with tips about the latest tools for implementing these strategies.
Schedule a demo with ProPair to optimize your sales using the latest AI applications.
Why are lead management strategies important for sales?
Closing sales relies on generating and working leads with the goal of converting them to customers that will ideally do repeat business with you.
Without well-developed lead management strategies, sales teams struggle to prioritize leads. They lack clear expectations and useful resources that would allow them to optimize day-to-day workflow and productivity.
Implementing essential lead management strategies increases the productivity of sales and marketing teams, positively impacts revenue with more closed sales, and improves your customer's experiences to keep them coming back.
Read more: Top 10 Emerging Trends in Sales Lead Management Systems for 2023
5 core lead management strategies that boost sales operations
We've provided this sales director guide so you can either start from scratch to build a high-performing sales system or hone in on the areas that need improvement within your current system.
These 5 lead management strategies touch on sales essentials, new technologies, streamlined processes, effective engagement, and reliable compliance. Let's dig in.
Get our free download for more on the top 5 ways to boost sales with AI.
1. Establish the sales essentials
Identify your target market
Knowing your audience is key to attracting and engaging qualified leads. Determining what demographics and behaviors shape your ideal customer will help you target the right strategies for reaching those prospects.
Create a sales funnel
Structure your sales system as if it were a funnel. Leads flow in from the top where they need to be engaged more broadly to reach more prospects. As they flow through the sales funnel, establish the phases they'll move through. This could include awareness, interest, engagement, sales readiness, decision or application, and action stages to close the deal.
Value all prospects – fresh and aged leads + existing customers
Fresh leads are a great source of new sales but don't forget about leads that aren't immediately responsive. Aged leads can be nurtured to become sales-ready. Existing customers can close repeat sales building loyalty to your business. Your sales system can engage all of these prospects.
2. Maximize available new technologies
Implement a CRM system
A Customer Relationship Management (CRM) system is crucial for lead management. It helps you keep track of all lead data and customer interactions. It is the central tool used by sales teams to capture information about each lead, generate reports, and integrate other tools to both improve processes and provide data-backed insights.
Choose a lead scoring model
Within your CRM system, you want to choose a lead scoring model that will help you qualify leads. New predictive lead scoring models measure complex lead data to score leads based on how likely they are to convert. Lead scoring helps the sales team prioritize which leads to work and when.
Automate where possible
Between your CRM system's capabilities and the tools that can integrate with it, there are many opportunities to automate repetitive tasks. Avoid human error with automated data entry. Free up your sales agent's time to focus on higher-value tasks. And reach leads more seamlessly with automated communications.
Integrate with other systems
Don't assume you're limited by the capabilities of your CRM system. Most common CRM software is meant to integrate with other systems to create a robust and customizable lead management system.
Learn more — Sales Directors' Toolkit: Top 10 Lead Management Software and Tools to Drive Success
Where to start:
Consider what tools your team needs most to streamline processes and boost performance.
AI and machine learning are the latest tools that high-performing sales organizations are using.
As an example, you might have seen AI tools like Chat GPT being added to various software or CRM providers. Popular CRM Salesforce has even added its own GPT capabilities.
3. Focus on improved engagement with prospects
Continually nurture leads
You want to be in consistent communication with prospects so they'll remember you when they're ready to make a purchase decision. Establish touch points for continuing to engage with them. This includes scheduled check-ins through text, email, or voicemail, as well as marketing content like blogs, social media, and email newsletters or promotions.
Create compelling content
Speaking of content, investing in more than just sales processes is an important piece of engaging and converting leads. Creating compelling content and having a streamlined way to share it with prospects adds value by not only engaging leads but also educating them about your business and products. This moves them closer to a purchase decision with you.
Provide personalized customer experiences
When engaging prospects, use tools that help you automate how you segment audiences and provide them with personalized customer experiences. Based on lead behaviors and demographics tools like machine learning can help you push targeted content to leads at the right time to encourage sales-readiness. This meets each lead where they are, providing a smoother and more customized sales experience.
Implement A/B testing
As you create content and share it with prospects, you'll get the most from it by measuring its performance. When sending emails, for example, you can run an A/B test within one campaign that tests various aspects of the campaign. See which wording and format for a CTA gets the best response and use that to improve engagement.
Get more from each lead with AI-powered lead nurturing. Download our free guide here.
4. Refine internal processes and expectations
Train your sales team
As you implement lead management strategies, ensure you have buy-in from your internal teams to maximize the benefits of building a sales system. There are AI tools that make this easier through tracking performance and providing coaching and insights on where there are opportunities for improvement and what successfully gets results. Make sure your team knows how to use all of the tools and strategies at their disposal.
Encourage cross-functional collaboration
As internal teams explore lead management strategies, encourage collaboration to optimize processes and improve tactics across disciplines. This is often highly beneficial between sales and marketing teams, for example, where both have the goal of building revenue but need coordinating strategies to support one another. This also applies to departments including IT, finance, data science, product/service development, and more.
Monitor and measure performance
Building a sales system isn't a one-and-done deal. It requires ongoing monitoring to optimize processes, increase productivity, raise conversion rates, and grow your business. CRM systems and AI tools provide automated measuring capabilities along with predictive analytics to provide decision support to form data-backed strategies. Determine your KPIs and see what adjustments need to be made to hit them. 
Increase conversions from the start with AI lead assignment. Download our free guide to learn more.
5. Maintain the structures and rules that support sales efforts
Maintain compliance
Behind every successful sales system is respect for the rules and regulations that protect both your business and consumers. Implement tools and resources that ensure your sales system can keep up with the latest industry compliance requirements. Many tools help to automate rules, permissions, and more to ensure this runs smoothly.
Secure your data
As you get more advanced with tracking lead data, interacting with prospects, and measuring sales performance, you'll need to make sure your data security keeps up to protect this information. Understand the built-in security features of your CRM system and other integrations to see if you have this covered or need to add additional technologies to verify leads and protect your data.
Prevent customer churn and optimize relationships with AI portfolio retention. Learn more with our free download.
Strengthen your sales system with the latest predictive technologies
Curious about the technologies that can simplify many of these core lead management strategies?
ProPair's AI platform supports many of these sales essentials by providing predictive analytics. Know which leads are most likely to close when sent to the right salesperson at the right time. And all through a simple integration with your CRM system.
Our production-ready AI machine learning models help you gain intelligent insights from your historical and incoming data. And our team of sales and data experts helps you make the most of your current assets.
Schedule a demo with ProPair to see how we support high-performing sales systems.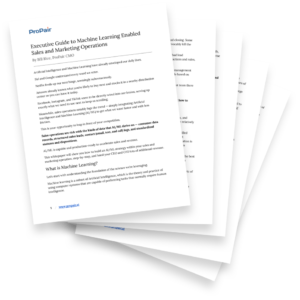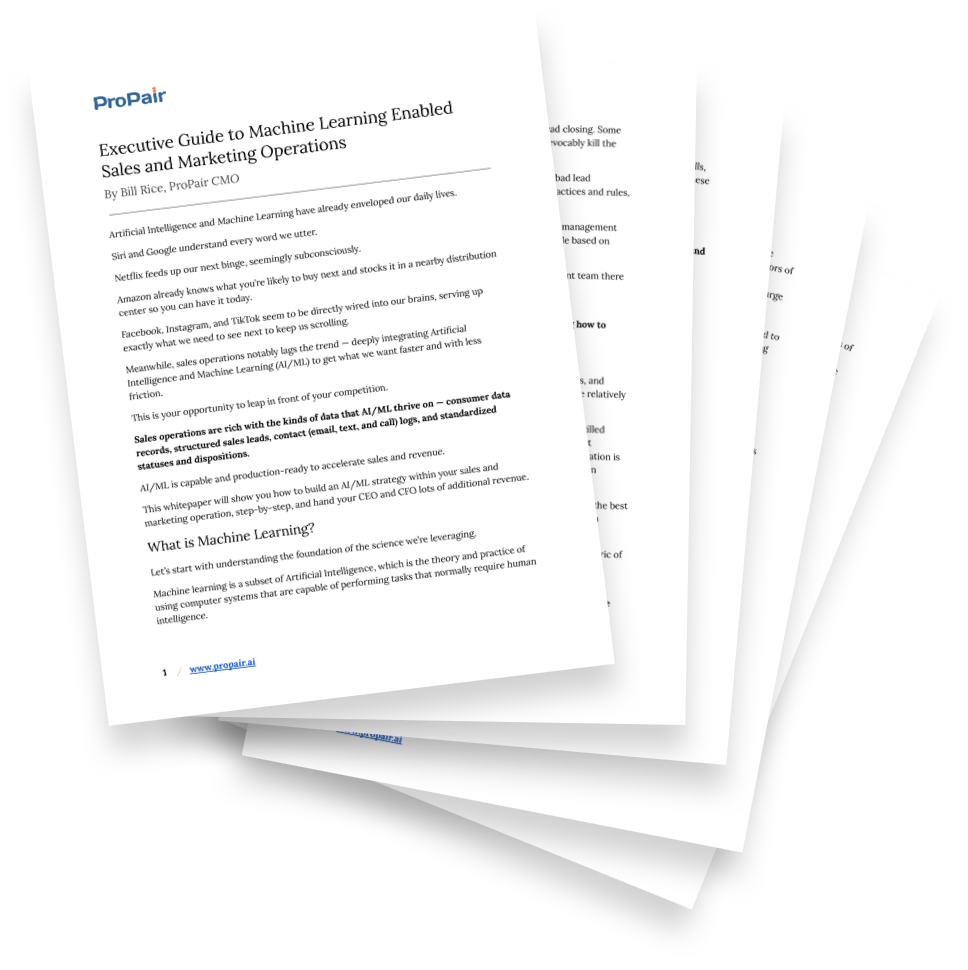 How does AI increase sales?
Download our executive guide to understand the current state of AI and machine learning. We'll show you how innovative sales and marketing organizations use it to get ahead of their competition.