With the increasing use of data in sales and marketing, managing large amounts of ever-flowing data becomes more essential through lead verification.
The more clean and accurate your data, the better it can serve your business.
This is particularly important when it comes to managing data from prospective customers, or leads. You likely spend a significant amount of resources on sourcing leads, whether you generate them through various marketing campaigns or buy them from lead aggregators.
You want to ensure that all the data you collect from leads is accurate and that they're legitimate prospects. Working leads that haven't been verified wastes the time and resources of your sales and marketing operations.
That said, verifying leads doesn't have to bog you down, not anymore. With advancements in artificial intelligence and machine learning, lead verification has gotten easier to manage while also being far more reliable.
Schedule a ProPair demo to see how AI enhances the lead verification process.
What is the lead verification process?
Lead verification is a process used in sales-driven businesses to confirm whether a lead is legitimate and qualified by assessing whether the lead's data is accurate.
This includes validating each lead's basic demographics like their name, email, and phone number to ensure they are who they say they are. It also involves tracking and verifying each lead's behavior, like interactions with marketing campaigns and other outreach efforts, to assess whether they're genuinely interested in the product or service.
Why is it important?
With lead verification, businesses can filter out the leads that either aren't legitimate or aren't interested in closing a sale. This helps the sales team focus on only the most qualified leads that are most likely to convert. Ultimately this improves efficiency and maximizes ROI.
Read about the Sales Directors' Toolkit: Top 10 Lead Management Software and Tools to Drive Success
How AI and machine learning are game changers for lead verification
Now let's dig into how lead verification has advanced with the growing use of AI and machine learning technologies.
We've broken down the four most important areas of lead verification that have improved exponentially since the evolution of AI.
Get our free download to learn the top 5 ways to boost sales with AI.
Data management
Read more: 10 Ways Mismanaged Lead Data Hurts Your Sales Conversions + the ONE Solution You Need to Fix it
Filtering for initial outreach
Natural Language Processing (NLP): AI uses NLP to interpret written forms of communication from leads like their emails, texts, and social media interactions. Through NLP, AI can help to determine how qualified a lead is based on how they communicate, helping to prioritize the lead before an initial salesperson's interaction.
Chatbots: AI-powered chatbots and virtual assistants incorporate NLP while serving as a filter for the sales team. Chatbots can have initial conversations with leads to ask basic questions and address initial needs and interests, moving qualified leads to the sales team around the clock.
Personalized segmentation: As more lead data is intelligently collected and tracked, AI can use this data to automatically segment leads based on a combination of factors, including their engagement with marketing, previous purchases or interactions with your company, basic demographics, and more. This sets the sales team up for success and creates a more personalized customer experience for leads.
Increase conversions from the start with AI lead assignment. Download our free guide to learn more.
Informing sales activities
Predictive lead scoring: Machine learning models provide more precise lead scoring than was ever possible. Using vast amounts of lead and sales performance data (including demographics, behavior, past interactions, etc.) its models predict the likelihood of each lead converting into a sale, scoring them to show exactly which leads to prioritize. Machine learning continuously learns from the data to improve the accuracy of its predictions as it sees more lead data and sales conversions over time.
Predictive lead assignment: In much the same way as lead scoring, machine learning can also continuously assess sales performance data to predict which sales agent is the best person to close each verified lead at the right time. Using several dimensions of sales agent data like location, expertise, average sales cycle, and more, machine learning can intelligently assign leads to the sales agent most likely to close them.
Predictive analytics: On a broader scale, AI and machine learning provide predictive analytics to help businesses assess verified leads and use this information to forecast customer behavior, sales trends, and even market changes. Intelligent decision support like this helps sales teams know where to focus their efforts to reach the most profitable leads at the best times, using the right strategies.
Read our Guide to Predictive Lead Scoring and Why Most Lead Scoring Models are NOT Predictive
Do you have the right lead verification tools to grow your business?
Among businesses that haven't yet adopted AI and machine learning technologies, there seems to be fear associated with data and the lead verification process.
You might feel hesitant that it's not secure to plug AI tools into your data and existing system or you might think your data needs significant clean-up and restructuring before it can benefit from the use of AI. Some think AI is still out of reach, requiring custom models and expensive solutions.
With production-ready AI platforms like ProPair, we can show you that it doesn't have to be this complicated.
Our expert team is here to address all of your questions to ensure that your business can thrive using the latest technology.
Schedule a free demo to see how ProPair uses AI for lead verification.
We'll show you how our pre-developed models simply provide predictive values that integrate with your current system as it stands today. And how our expert team helps to prepare your data to work with our models successfully.
Read more: 2023 Perspective on Harnessing the Power of AI for Lead Distribution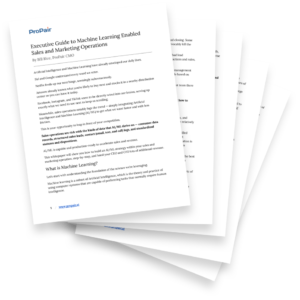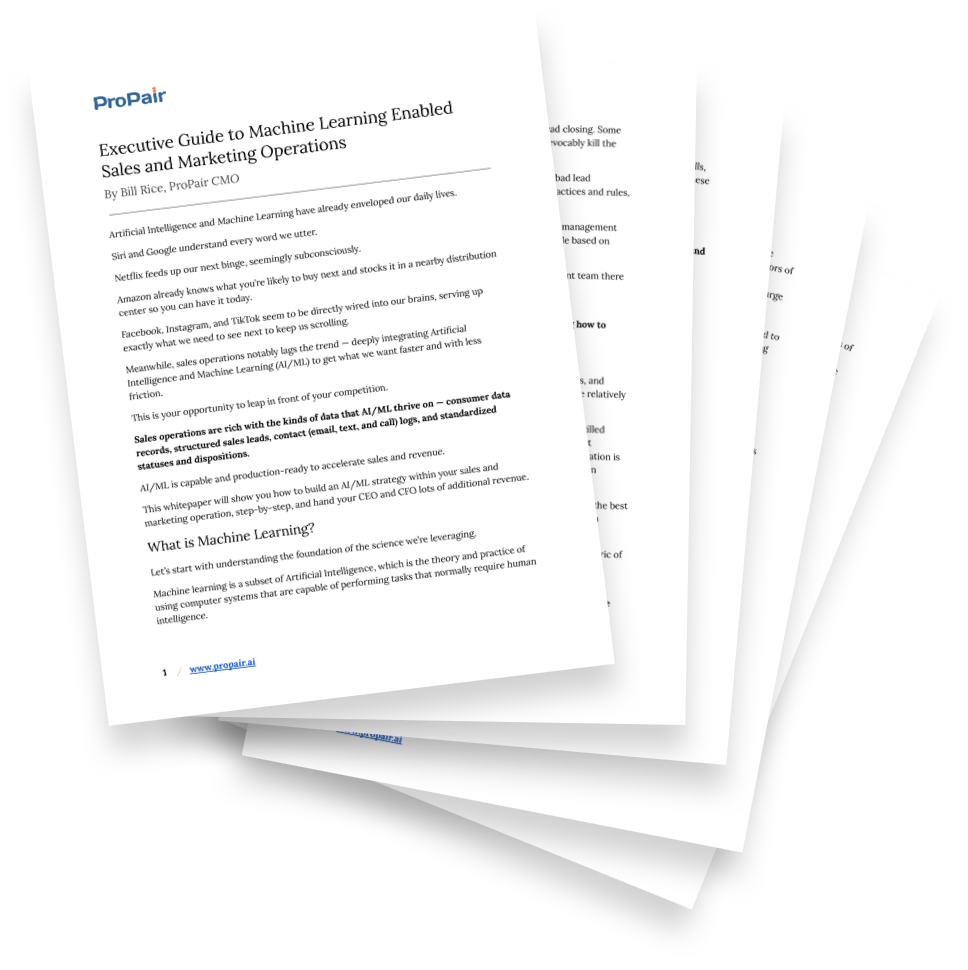 How does AI increase sales?
Download our executive guide to understand the current state of AI and machine learning. We'll show you how innovative sales and marketing organizations use it to get ahead of their competition.