Lead generation and lead conversion may be your main focus when it comes to filling your sales pipeline, increasing sales, and ultimately growing your business.
But if you're missing the steps between generating a lead and converting one, you're likely not optimizing lead management or your sales operations.
Enter lead scoring. What is lead scoring? It helps inform your organization on how to convert leads. In the past, lead scoring wasn't necessarily a reliable tool because it was implemented poorly, and difficult to guess what rules made for successful lead conversion.
Now, however, there are intelligent technology tools that not only automate lead scoring but also use machine learning to analyze lead data and predict what actions will make a lead most likely to convert. This optimizes lead scoring ROI and informs the sales team how to rank and assign leads.
See how intelligent lead scoring can be applied to your current sales data. Schedule a free demo with ProPair.
Whether you're already using lead scoring or not, we'll guide you from the basics of its benefits to how it's optimized through intelligence technology, and even how it applies to specific industries that are increasingly benefiting from AI/ML tools.
What is lead scoring?
As part of an overall lead management system, lead scoring helps sales and marketing teams optimize how they work with leads.
Lead scoring involves ranking leads as they come in, based on the probability of each one turning into a sale. Through lead scoring, you assign values or points to each lead that shows how qualified they are, based on various criteria.
This not only helps you determine which leads are most likely to be qualified, but it also gives you insight into how to prioritize, distribute, and work each lead.
To do this, you need to collect the right data from your leads and then interpret and use that data to score each lead as they're generated and as they continue to interact with your business.
Why is lead scoring important?
As mentioned, lead scoring is an important part of any organization's overall lead management system.
First, of course, you need to have leads to work. Whether you buy thousands of leads or invest in marketing to generate them, you're paying for sales opportunities and receiving thousands of rich data points.
Sounds like you're on the right track. However, if all of that lead data is left static, it's going to underperform. You'll close fewer sales than expected.
Many organizations try to set and manage lead scoring rules to avoid these pitfalls. Doing this manually and maintaining updates to rules as the market, your campaigns, and products or services evolve is usually flawed without some kind of intelligence support.
This is why CRM and lead management systems that are driven by static rules and reports are quickly becoming obsolete and creating challenges for organizations that need improved lead scoring and the ROI that comes from quality lead management.
With an integrated, intelligent decision-support platform, predictive lead scoring makes a much bigger impact on your lead management system to optimize lead data.
What lead information is considered to score leads?
Before we explore the new tools that enhance lead scoring, let's dig a little deeper into the types of lead data that can be collected and tracked to support successful lead scoring.
To consider how lead data could impact how likely a lead is to close a sale, you first need to have opportunities to collect data. From there, you have various ways to manage and analyze that data to use it to optimize how you score and work leads.
Lead demographics
This is the most basic information you collect for each lead, including things like name and contact information. But the pieces that might impact how qualified each lead is, relate more to how their personal information applies to your product or service.
You might want to consider things like their occupation, the company they work for, their address (location), age, and any other basics that might help you determine whether they make a qualified lead.
Lead engagement
Most importantly, once you've collected a lead's basic information, you can begin to track their behavior with your business to gain even more insight into whether they're ready to make a purchase decision. Engagement insights that help with lead scoring include the following areas:
Website: What pages do they visit and for how long, what links do they click, what videos do they watch, do they download anything?
Emails: What emails do they open, what do they click on, what actions does this lead to?
Social media: Do they follow your business' accounts, do they click through on posts, do they share posts or interact with them in any other ways?
Other touchpoints: Have they called before, or responded to texts or voicemails from your company? Have they requested information or to be contacted?
The old way: Manual lead scoring
To track and use lead data, many organizations use CRM systems to collect and track leads automatically as they're generated, which has made lead scoring easier.
But the rules you set up in your CRM to qualify leads are often based on qualitative insights, not actual data. Deciding what those rules should be can make or break lead management efforts.
These lead scoring rules may be based on what your team perceives as information that points to a qualified lead. But the rules are often somewhat subjective, based on past experiences, can become static quickly, and can even be biased or just overlook important patterns in what makes a great lead.
Setting rules requires spending manual time and effort to sort through data, and trying to create meaningful insights. Unfortunately, this comes down to scoring leads in ways that can miss the mark.
Lead-scoring models traditionally focus on demographics and other static attributes, instead of more in-depth behaviors that indicate buying intent.
Lenders need lead scoring without the work involved in establishing how to score the leads. And that's exactly the type of tools that many lenders are now beginning to take advantage of
The new way: Intelligent, predictive lead scoring with AI/ML
Artificial intelligence and machine learning (AI/ML) tools help you get the best leads to the right salespeople and produce more sales.
These tools measure the statistical probability of a sale closing, including each lead's characteristics and activities that are predictive of a lead moving toward a purchase. As more data is collected and analyzed, machine learning tools do what's in their name — they use lead scoring models to learn and improve predictions for what makes a highly qualified lead.
Using enhanced data sets these decision support tools provide specific and personalized insights into each lead, in real-time, helping lead buyers understand their potential customers better and improve their performance with each lead.
Decision-support tools like what ProPair offers then also make it easy to integrate that enhanced lead data into an automated decision-making process, removing these challenges from your sales team so that they can do what they do best — sell.
Want to know more about managing leads? Check out our Guide to Lead Distribution: Getting the Right Leads to the Right Sales Agents.
How intelligent lead scoring grows business
Intelligent lead scoring using artificial intelligence and machine learning tools as a competitive advantage that many organizations are increasingly relying on to grow business.
Solutions like ProPair's production-ready decision support technology allow you to innovate how you've managed leads, providing benefits like the following:
Optimize your leads in ways you couldn't possibly analyze and act on manually
Make decisions based on data rather than theories, best guesses, gut checks, or bias
Redirect your time back into supporting sales ops and selling
Use production-ready tools that are ready for your business
Beyond managing lead data, it allows you to understand lead behavior by qualifying leads. This means sales teams can work top priority leads and the leads who need attention now get a better customer experience as they get service from someone quickly.
With these efficiencies, lead scoring models make it easier to scale how many leads are worked and how many will buy or close.
Get our free download to learn the top 5 ways to boost sales with AI.
Lead scoring examples and use cases
Lead scoring isn't just for experts in sales and marketing (although it's hugely impactful for those teams, as we'll dig into). Anyone looking to grow their organization through increased sales can benefit from new opportunities available with lead scoring.
Let's take a look at a handful of industries that are using and benefitting from intelligent lead scoring currently.
Health insurance lead scoring
The health insurance marketplace is growing rapidly and becoming a competitive landscape for those selling Medicare to people 65 and up.
To stay competitive in this market many insurance sales organizations work to attract high-quality brokers, generate leads, and grow the markets they service.
Intelligent insurance lead scoring hits on supporting all three of these priorities.
Sales operations teams need to focus on supplying their agents with qualified leads and sales opportunities. Insurance agents need support to compete against other companies that offer similar services while also navigating which leads to prioritize.
Tracking and scoring leads not only helps sales teams comply with necessary lead management regulations (like the TCPA) but also helps them see which leads are best to work with, by what agents, and when.
Financial services lead scoring
Financial services organizations benefit from intelligent lead scoring.
Consumers looking for financial services are now, more often than ever, looking to consumer direct lenders where they can quickly request a quote online or even apply for a loan directly. This makes the landscape more competitive for lenders who may feel they need to respond quickly to beat other lenders in response to each lead.
This includes people looking for a mortgage, reverse mortgage, or Home Equity Line of Credit (HELOC) to finance a home, or even auto and student loan services. Now that interest rates are no longer making refinance loans the popular offering, many people are also looking for loans to settle or manage their debt and repair credit. All of these standard loan offerings are becoming easier to automate and manage through the use of AI/ML.
On the B2B side of things, we've seen how financial services lead scoring works for specific niches that are growing, like solar financing.
But beyond acting quickly, intelligent lead scoring is actually more effective at winning leads in these competitive spaces. Setting leads up to have the best experience when they connect to a lender means you'll gain their loyalty right from the start. All because lead scoring matches the best leads to the right salespeople and optimizes the experience for all involved.
Read more about mortgage lead scoring: Perfect Your Mortgage Lead Scoring and Sales Process with Intelligence Technology
Legal services lead scoring
In the past, law firms may have found it challenging to find cases that fit their expertise and allow them to serve their clients well.
Legal services lead scoring allows for more intelligent, efficient, and effective handling of case inquiries and potential case leads.
Unlike other industries where organizations have dedicated sales teams, many law firms don't use these resources and so need lead management to better automate and simplify this important step. This allows attorneys to focus on what they do best, serving their clients.
It's also important that each client's potential case is qualified for the law firm to take on, which requires a certain level of vetting for each lead.
Analyzing lead data from the beginning, and using predictive insights, means law firms are matched with leads who are most likely to become qualified clients. And they learn over time what helps to attract more qualified case inquiries.
Sales Operations lead scoring
Of all the industries and areas of business that involve working leads, sales operations teams may be the clearest example of how predictive lead scoring can directly impact how your business grows.
Sales operations lead scoring optimizes a sales team's impact. With it being a sales operations' responsibility to set the sales team up for success, it's becoming increasingly normal for sales leaders to incorporate tools like AI/ML.
Intelligent lead scoring takes the guesswork out of how to prioritize and assign leads and only gets smarter with time as AI/ML tools track, learn, and apply rules around what makes a sales qualified lead most likely to convert.
Read More: Guide to Optimizing Your Sales Operations
Marketing lead scoring
Lead management roles for marketing teams can apply across a wide range of industries.
In all cases, lead scoring allows marketing teams to collaborate with sales teams to gain direct insight into how marketing campaigns are influencing a lead's path to becoming a customer.
Marketing teams give opportunities for leads to engage with an organization. All of these engagements can be tracked as data points that help to score leads. As mentioned, this includes points like tracking how leads interact with resources marketing teams build like website pages, email campaigns, social media, etc.
From there, intelligent marketing lead scoring helps to inform the marketing team about what campaigns and marketing resources are most effective at helping leads convert to customers or clients.
This is likely one reason an analysis by McKinsey showed over 400 advanced use cases of how AI would contribute the greatest value to marketing.
How to get started using intelligent lead scoring
You have access to production-ready tools for predictive lead scoring. Get the best leads to the right salespeople and produce more sales now.
Predict which leads and sales agents have the highest probability of closing using ProPair's machine learning tools. We add one simple integration to your current system, which runs in the background as leads come into your CRM and provides you with actionable insights and optimized lead scoring ROI.
ProPair's decision support tools — RANK, MATCH, and MIX
RANK: Know exactly which leads to focus on and when — Get a predictive lead value ranking system designed to help sales teams prioritize leads, guide follow-up activities, and revisit abandoned opportunities.
MATCH: Know exactly what sales agents to assign leads to — Use our turnkey solution that leverages historical sales team performance data and machine learning technology to get the right leads to the right sales agents.
MIX: Maximize the potential of every lead and every sales agent — Optimize your entire sales operation and equitably distribute leads from top to bottom performers, maximize sales production, and reduce the need and expense of churning your salesforce.
Find out how you can grow your business using intelligent lead scoring.
Schedule a free demo with ProPair now. ​
Using machine learning to analyze your current leads and their performance, we'll help you see where you're missing sales opportunities.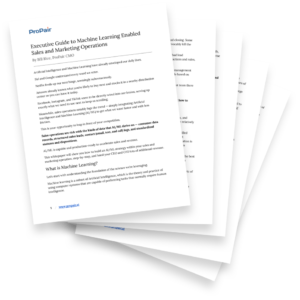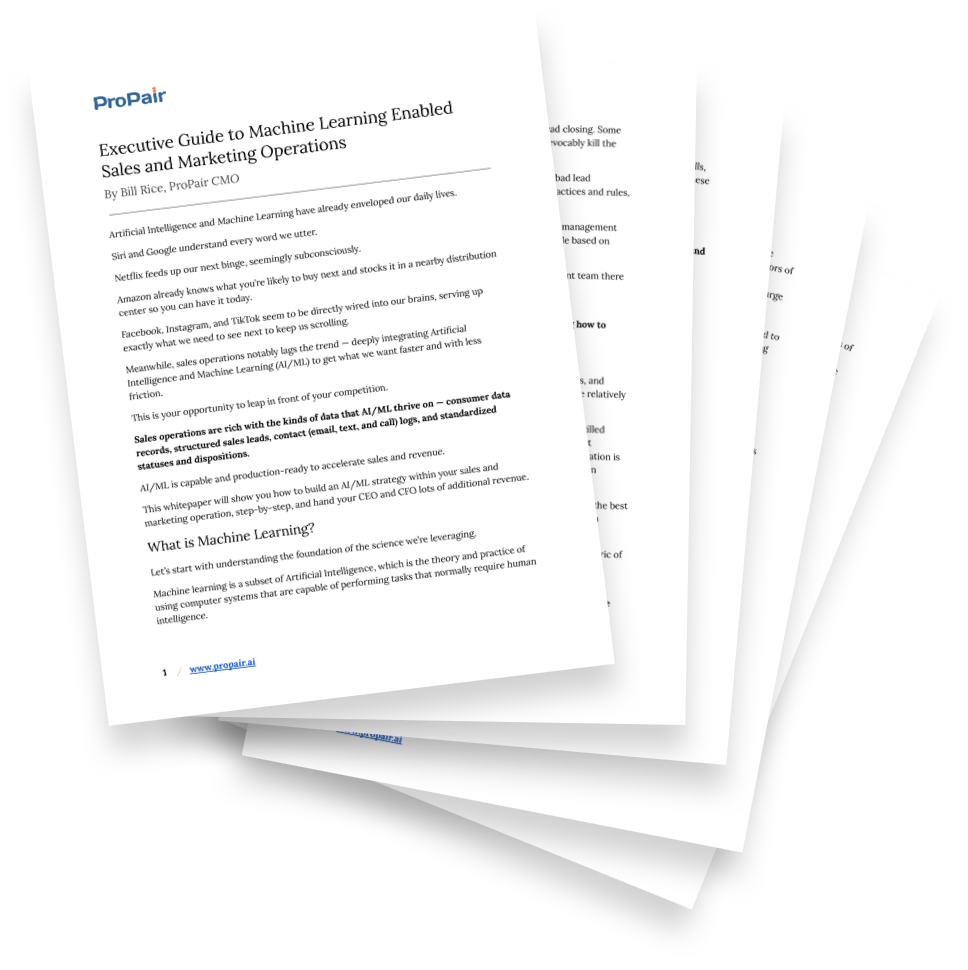 How does AI increase sales?
Download our executive guide to understand the current state of AI and machine learning. We'll show you how innovative sales and marketing organizations use it to get ahead of their competition.