All leads are not created equal, especially in the mortgage industry. After mortgage lead generation comes lead management. Inefficient lead management practices waste time, energy, and resources.
Mortgage leads are most valuable when they convert to closed deals. Optimizing lead conversion starts with better intelligence from the outset and continues with ongoing data-driven process improvement.
Working the highest-converting mortgage leads can be done by enhancing your technology with data-driven tools to address the entire lead lifecycle.
Let's explore the basics of mortgage lead scoring as well as how it's improving and the benefits of doing it the right way, using tools that are becoming increasingly popular among smart sales teams.
See how your lead data could be optimized with AI. Try our free data analysis.
What is mortgage lead scoring?
Mortgage lead scoring is one aspect of effective overall lead management that is used by sales and marketing teams.
It involves ranking leads as they come in, based on the probability of each one turning into a closed loan. This then tells you which are most likely to be qualified mortgage leads.
To do this, you need to collect the right data from your leads and then interpret and use that data to score each lead as they're generated
Data points to collect include information like a lead's:
Credit score
Income
Debt
Home value
Down payment amount
Beyond the basics of what loan product they might need, you'll also want to gauge how ready they are to buy. This could include considering:
Their general demographics
The source of the lead
Their pain points
When they want to secure financing
Learn the importance of qualifying leads: What is a Sales Qualified Lead and How to Manage Them
The benefits of lead scoring
Not knowing enough about the leads that you are buying creates pitfalls from the start. Too often, mortgage lead buyers lack insight into the quality and behavior of purchased leads. The key to breaking this cycle lies in behavioral intelligence.
Lead scoring allows you to understand lead behavior by qualifying leads. This means loan officers can work top priority leads rather than waste time on leads who don't qualify for your loans or aren't ready to move forward with financing.
It also means the leads who need attention now get a better customer experience as they get service from someone quickly.
With these efficiencies, mortgage lead scoring makes it easier to scale how many leads are worked and how many will close.
How does lead scoring fit into your organization's operations? Read our guides to optimizing your Revenue Operations and Sales Operations.
The current challenges many lenders face with lead scoring
Many mortgage lenders are using CRM systems to collect and track leads automatically as they're generated, which has made lead scoring easier to do. But the rules you set up in your CRM to qualify leads are often based on qualitative insights, not actual data. Deciding what those rules should be can make or break your lead management efforts.
You may set lead scoring rules based on what your team perceives makes them qualified mortgage leads. These rules you set take manual time and effort to sort through data to try to create meaningful insights. Unfortunately this comes down to scoring leads in ways that can miss the mark and even be biased.
Lead-scoring models traditionally focus on demographics and other static attributes, instead of behaviors that indicate buying intent.
Lenders need lead scoring without the work involved in establishing how to score the leads. And that's exactly the type of tools that many lenders are now beginning to take advantage of.
How to do mortgage lead scoring better
To manage mortgage leads, teams can now rely on solutions that apply predictive scoring models that incorporate behavioral data, which indicates the likelihood of each lead converting.
Knowing that probability significantly increases the chances sales teams will be successful. For example, Jornaya's lead analysis technology provides detailed intelligence on customers' real-time behavior.
With tools like Artificial Intelligence and Machine Learning (AI/ML), lenders can turn on software that automatically analyzes leads as they come in and predicts how to score them to then inform your team about which ones are qualified mortgage leads and how to prioritize them.
Improve how you work qualified mortgage leads. Try our free data analysis to uncover opportunities within your sales data.
How it works
These tools measure the statistical probability of a lead closing, including each lead's characteristics and activities that are predictive of a lead moving toward closing.
With enhanced data sets that provide specific and personalized insights into each lead — and in real-time – lead buyers can understand their potential customers better and improve their performance with each lead.
Once those leads are gathered, the next key to success is about the ability to effectively integrate those enhanced data sets into an automated decision-making process.
Make smarter, data-driven lead management decisions
Once you've gained better lead data insights, you can then apply the science of machine learning to improve results.
Relying on enhanced, real-time lead data insights establishes a system to continually help sales teams refine their lead handling decision-making processes. Instead of wasting time chasing down bad leads, or manually analyzing which leads perform better than the rest, relying on technologies rooted in hard data science streamlines workflows to achieve more robust outcomes during each stage of the lead lifecycle.
With ProPair's decision support tools, sales teams establish automated, repeatable processes to know how, why, and when a specific lead should be contacted or nurtured — and by which loan officer.
By using machine learning to automate and optimize every aspect of data-driven lead management decisions — including how to assign, re-assign, and prioritize lead activities — sales teams focus their efforts on the leads most likely to convert.
The right technology can deliver actionable insights to remove internal inefficiencies and help teams achieve and stretch their key performance goals.
Achieving these goals starts with having the right technology in place to empower your sales teams to understand how to strategically approach leads with a data-driven mindset.Find out how you can make the most of mortgage lead scoring.
Try ProPair's free 48-hour data analysis. ​
Using machine learning to analyze your current leads and their performance, we'll help you see where you're missing sales opportunities.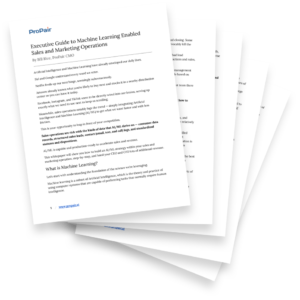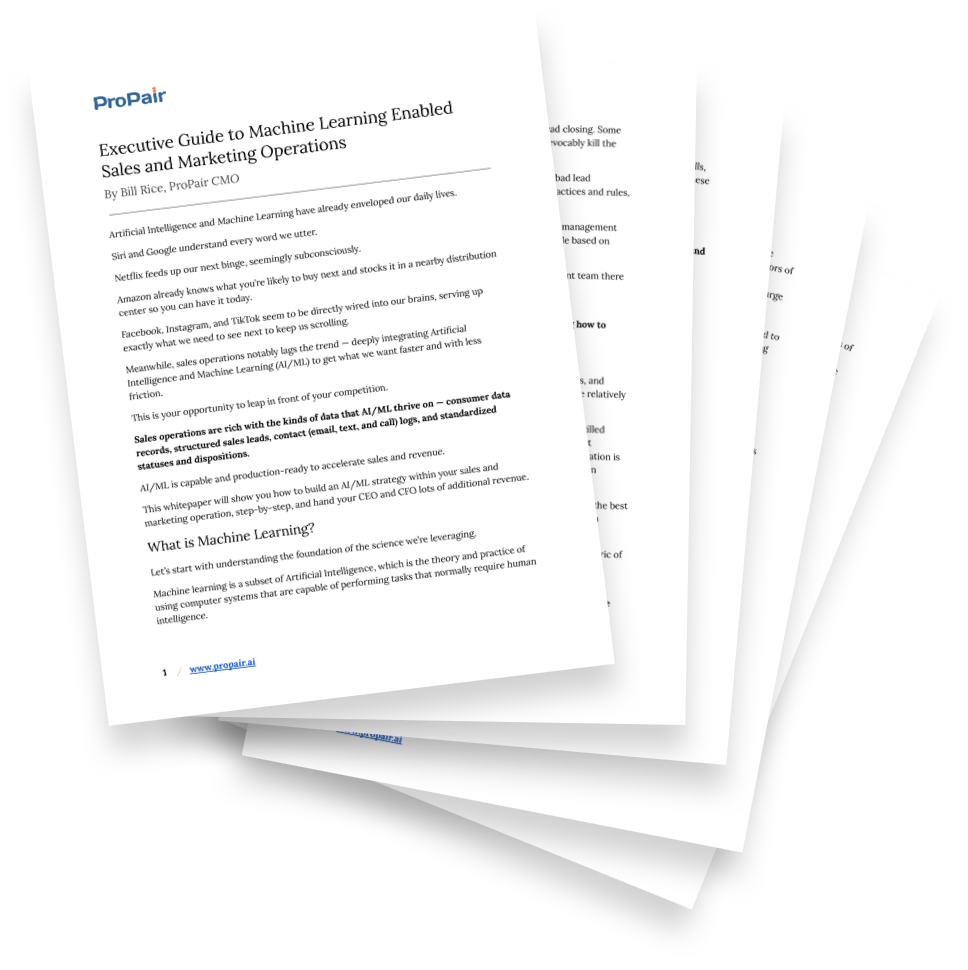 How does AI increase sales?
Download our executive guide to understand the current state of AI and machine learning. We'll show you how innovative sales and marketing organizations use it to get ahead of their competition.