Improving sales processes is key to growth for sales-driven businesses. Every business experiences an underperforming sales process at one time or another, and it has likely created challenges for growth.
Although sales process problems are common, you don't have to accept them as the norm. Instead, we share practical and effective solutions to optimize your sales processes quickly and efficiently — many of which are possible because of AI.
Let's dig into the common problems you might face and how to solve them with new technologies like AI for a smoother, more successful sales process.
Schedule a demo with ProPair to see how our AI models plug into your sales process to solve common problems.
Why improving your sales process is essential to your business
Imagine a situation where your sales team is constantly chasing leads that don't convert, while potential high-value clients continue to slip through the cracks.
This is a real issue many businesses face, and it's why having an efficient sales process is vital. It's not just about making sales. It's about making the right sales and maximizing every opportunity.
Here's why optimizing your sales process is critical for your business:
Increased revenue: More efficient sales equals 28% higher revenue. This means better lead management and effective sales strategies are key to business growth.
Optimized resource use: When you improve the sales process, you prevent wasting time and effort on leads that are unlikely to convert, ensuring resources are used effectively. Did you know that roughly 60% of a salesperson's time is spent on prospect research?
Enhanced team performance: A streamlined sales process cultivates a focused and high-performing team, improving morale and productivity while also maximizing your team's resources.
Stronger customer relationships: Clear and responsive communication fostered by an efficient sales process leads to more satisfied and loyal customers.
Dive deeper with The Ultimate Guide to Building and Maximizing Your Sales Process + How AI Will Help
How relying on phone calls is hurting your sales process
In our current landscape where robocalls run rampant, relying solely on phone calls for sales is increasingly risky. Unfortunately, this is a common cornerstone of many businesses' sales processes.
Below are some important points on why over-reliance on phone calls within your sales process could damage your sales:
Blocked communications: The increased prevalence of spam and telemarketing flags blocks crucial communications, reducing the effectiveness of phone calls for outbound and even inbound follow-up sales activities.
Changing legislation: New laws and regulations limit spam and robocalling, further constraining the use of phone calls as a reliable sales tool, especially for high-volume callers.
Lost opportunities: Every flagged or blocked call represents a potential lost opportunity to secure a new client or make a sale, directly impacting revenue and growth.
AI helps you form a smarter sales approach by making sure the calls your team makes are more targeted, reducing the chances of them being marked as spam or ignored.
You don't have to completely avoid phone calls, but you need to make every call more effective by reaching out to the right leads with the right approach. 
The Actionable 90-Day Plan to Improve Your Sales Process + Getting Help from AI for Sales
10 common sales process problems, challenges, and mistakes for underperforming sales + how to solve them
If you're finding your sales team bogged down, missing quotas, and your business losing revenue, then it's time to identify the common mistakes that are holding you back.
We'll walk you through the typical pitfalls encountered in the sales process and show you how AI-driven solutions transform these challenges into opportunities for enhanced productivity and increased sales.
1. Lack of a defined sales strategy
Operating without a solid sales strategy means running the risk of a disorganized and aimless team, which leads to missed potential sales.
For example, a sales agent might waste time on leads that were never likely to convert, causing a loss in potential revenue.
AI-powered sales process solution
AI platforms like ProPair use AI and machine learning tools to efficiently match the most suitable leads with the right sales agents, ensuring systematic and productive outreach.
For instance, a well-matched and well-scored lead can significantly shorten the sales cycle and increase conversion probabilities, leading to improved revenue.
Get our free download to learn the top 5 ways to boost sales with AI.
2. Inadequate lead qualification
Many businesses struggle to qualify leads with certainty. But pursuing improperly qualified leads is like pouring resources down the drain.
Your agents could be chasing leads with a low probability of conversion and missing out on better opportunities. This translates to a lower return on investment for your sales efforts.
For example, if your agents spend their time pursuing leads that have little interest or budget, it leaves less time to engage with leads that are ready and willing to purchase, resulting in lost opportunities and decreased ROI.
AI-powered sales process solution
ProPair utilizes AI to precisely qualify leads, focusing efforts on promising prospects. This data-driven lead qualification predicts which leads are most likely to convert as they flow into your system. It prevents the waste of valuable resources on unlikely conversions.
Top 20 Ideas for Improving the Sales Process to Spark Change and Growth Within Your Business
3. Poor communication among sales teams
When sales teams aren't communicating well, it can lead to missed information and a lack of unity in approach, potentially leading to lost deals. A disjointed team results in a disjointed customer experience, impacting client retention and acquisition.
For example, if one team member is unaware of a prior interaction between a colleague and a prospect, they might present redundant or conflicting information, leading to a frustrated customer and a potentially lost sale.
AI-powered sales process solution
AI technologies promote enhanced communication regarding lead assignment and nurturing strategies among team members by creating one cohesive approach that is informed by your historic and incoming lead and sales data.
With an AI-powered sales process, strategies are clarified and communication becomes more unified. Your team has the visibility and support needed to provide a more consistent and pleasant customer experience, fostering long-term relationships with clients.
Increase conversions from the start with AI lead assignment. Download our free guide to learn more.
4. Ineffective use of technology
Relying on outdated technology, misusing your CRM system, and missing out on more robust capabilities leads to mismanaged client data and lost sales opportunities.
For instance, an ineffective CRM system might not properly prioritize leads, causing your team to waste time on unqualified prospects and overlook potential deals.
AI-powered sales process solution
ProPair has production-ready AI capabilities that integrate with your current system to make the most of your sales process. Establish proper lead scoring and assignment by optimizing your CRM system with predictive AI technologies. Maximize sales outcomes by ensuring no potential lead is overlooked and every interaction is prioritized correctly.
The Full Sales Process Tech Stack You Need to Close More Deals with Inbound Leads
5. Lack of training and development
A lack of continuous learning and development reduces the sales team's efficiency and ability to work and nurture leads effectively. Training works best when it's integrated as a regular piece of the sales operation.
AI-powered sales process solution
AI technologies help you track sales team performance by measuring complex lead and sales data automatically, without requiring manual management. AI coaching even provides tailored, automated training to those who are underperforming.
6. Inconsistent sales messaging
Inconsistent messaging confuses and deters potential customers. Plus it impacts morale as it causes uncertainty among sales and marketing team members.
For example, if one sales agent says the product is user-friendly and requires no technical knowledge, and another says it's advanced and customizable, customers may feel unsure and choose a competitor with clearer messaging.
AI-powered sales process solution
Use AI and machine learning to automate repetitive daily tasks that free sales and marketing teams up for more high-skill tasks like defining strategic sales messaging. Predictive analytics and decision support also inform strategies by making sales data more easily accessible and even allowing for data-based predictions of how strategies will perform.
7. Failure to adapt to market changes
Failing to update sales strategies with evolving market trends leads to lost opportunities.
For example, a company still focusing on outbound sales in a market shifting toward inbound marketing may find its client base shrinking.
AI-powered sales process solution
Use predictive analytics to more accurately forecast future sales and trends that impact your sales strategy. Prevent sales process problems by staying ahead of where the market is so that you can clearly define adaptable strategies.
AI platforms like ProPair also allow for quick adaptability, ensuring important aspects like lead scoring and assignment are always in sync with current market demands, making your approach relevant and impactful. 
Sales Process Secrets: 12 Insider Tips to Create a High-Performing Sales Operation
8. Neglecting customer retention
Ignoring existing customers while acquiring new ones can diminish loyalty and brand reputation. It also casts aside the resources you've already invested in your existing customers.
For example, neglecting after-sale services or failing to address recurring issues can lead existing customers to seek alternatives and limit opportunities for continued deals.
AI-powered sales process solution
AI platforms like ProPair help you prioritize your contacts, from leads to existing customers. Our portfolio retention applications provide predictive insights into which customers are growing unhappy as well as which customers may be interested in another purchase. We alert you of changes to customer behaviors and statuses so you can prioritize your sales activities.
Prevent customer churn and optimize relationships with AI portfolio retention. Learn more with our free download.
9. Inadequate data analysis
Inaccurate data interpretation leads to flawed business decisions and missed opportunities. Mismanaging data can also mean countless hours and resources spent trying to manually make sense of data, which all creates sales process problems.
For instance, overlooking crucial sales performance data might lead to a misplaced focus on less lucrative products or markets.
AI-powered sales process solution
AI decision support systems use machine learning models to provide precise analysis tools focused on sales performance data to give intelligent predictions about outcomes. This allows you to recalibrate how to optimize the sales process. It raises awareness of underperforming products or successful sales territories, for example, allowing you to adjust resources to where they'll be most effective.
10. Poor time management
Mismanagement of time leads to missed sales opportunities and a wide range of sales process problems.
For example, a sales agent spending too much time on data entry might miss a timely follow-up with a prospective client, losing a potential deal.
AI-powered sales process solution
AI automation tools streamline administrative tasks, enabling sales agents to prioritize revenue-generating activities like client interactions. By automating data entry tasks, it ensures timely follow-ups, maximizing the chances of securing deals.
Other AI tools like ProPair make common sales process tasks more efficient and intelligent by providing automated and predictive lead scoring, qualification, assignment, nurturing, and more.
Eliminate your sales process problems with AI solutions like ProPair
These problems of an underperforming sales process might have seemed commonplace to you before. Hopefully, this article shines a light on the invisible risks of ignoring these problems, which can lead to missed sales opportunities, team turnover, inefficient use of resources, and ultimately decreased ROI.
AI technologies offer simple and effective solutions that help you refine your sales strategy, maximize lead and sales data, prioritize leads, and guide your sales team with clarity.
To improve the sales process, consider starting with ProPair's AI application that simply plugs into your current system to enhance your sales process within a matter of days (not weeks, months, or years).
Ready to supercharge your sales process? Schedule your free demo with ProPair today.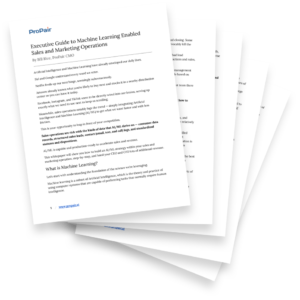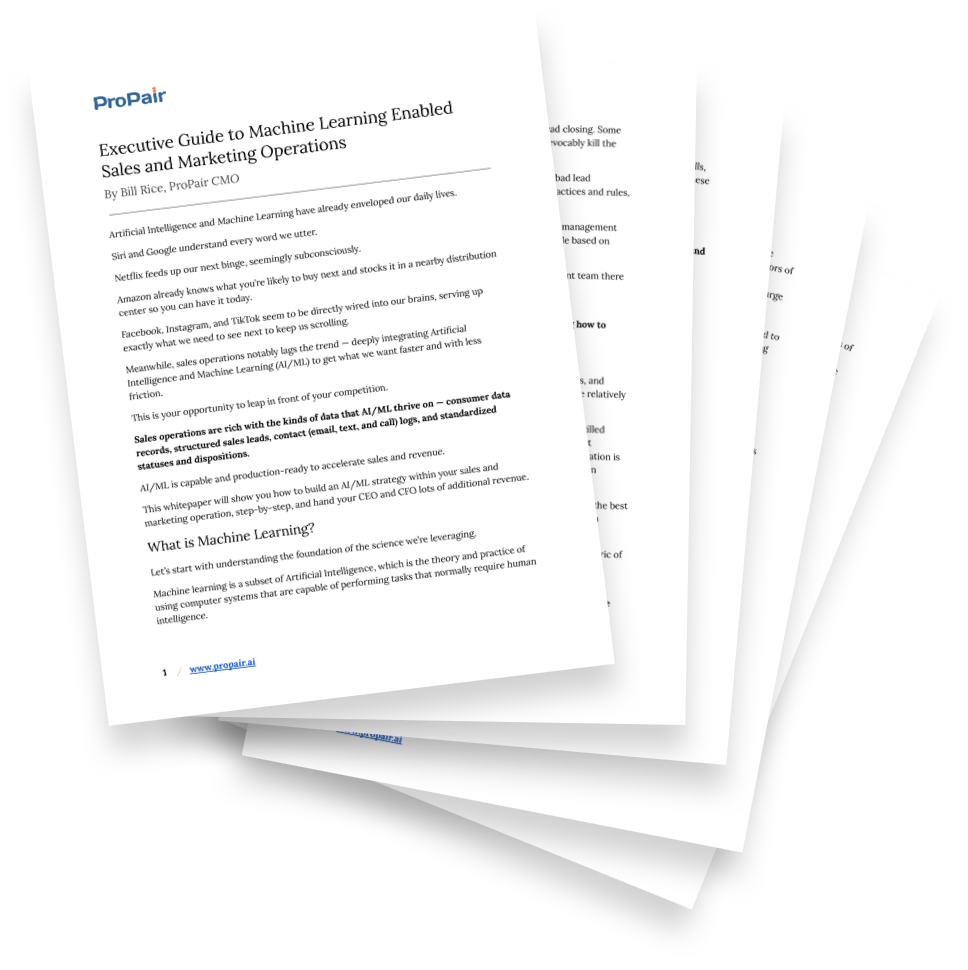 How does AI increase sales?
Download our executive guide to understand the current state of AI and machine learning. We'll show you how innovative sales and marketing organizations use it to get ahead of their competition.