To inspire you to upgrade your sales operation, we're sharing the top ideas for improving the sales process.
Let these spark new opportunities for optimizing your current sales process and the systems you use to support it.
We recommend focusing your efforts on adding artificial intelligence capabilities because they're accessible, production-ready, and hugely impactful on revenue and ROI.
See how just a few of these ideas can significantly change how you run sales, whether you want to overhaul your sales process or just need a little fine-tuning.
Schedule a free demo with ProPair to see how AI plugs into the sales process to grow your business.
Add AI sales applications to enhance all areas of lead management
1. Qualify leads effectively by implementing predictive lead scoring
Predictive lead scoring measures several complex dimensions of leads using your incoming and historical data to predict which leads are most likely to convert. This allows for data-driven lead qualification to ensure you're working the right leads.
Dive deeper with The Ultimate Guide to Building and Maximizing Your Sales Process + How AI Will Help
2. Enhance sales agent matching by aligning performance with lead data
AI-powered lead distribution uses lead and sales performance data to automatically match the best qualified leads with the right salespeople, at the right time. Sales agent matching is automated and based on several complex dimensions of both lead data and your sales team.
How Intelligent Lead Assignment Software Streamlines Your Sales Process Using AI
Increase conversions from the start with AI lead assignment. Download our free guide to learn more.
3. Develop a lead nurturing program with tailored content and follow-ups
Don't discard leads that aren't immediately purchase-ready. Set up various paths for leads through lead nurturing journeys that guide them closer to a purchase decision.
Many triggers, steps, and follow-ups can be automated. And AI sales applications can help alert your team of changes to lead statuses in real time to help prioritize aging leads.
The Art of Follow-up: Sales Directors' Best Practices for Lead Nurturing and Deal Closing
4. Create a lead prioritization strategy driven by data
As AI can predict which leads are most likely to convert — at any stage through the sales funnel – you gain the capability to prioritize leads based on their demographics but also on their changing behaviors over time.
This helps with prioritizing how you work fresh and aged leads, as well as managing portfolio retention.
Optimize relationships with AI portfolio retention. Learn more with our free download.
5. Personalize outreach and tailor messaging with segmentation
AI-powered segmentation allows you to automatically group leads based on various insights. This makes it easier to then also automatically tailor and personalize ongoing touchpoints with each lead.
Through AI segmentation and personalization, salespeople can be more hands-off while leads still get customized engagement.
6. Automate initial lead interactions by integrating chatbots
Chatbots and virtual assistants use conversational AI to communicate with leads 24/7 regarding basic concerns and questions. Chatbots can also use these conversations to help qualify leads. When a lead is deemed qualified, it's sent on to a salesperson or the next step in the sales process.
Sales Process Secrets: 12 Insider Tips to Create a High-Performing Sales Operation
Improve sales performance
7. Gamify sales performance to motivate teams and track key metrics
Provide visibility into the metrics you're measuring to reach sales goals so that the whole team can get behind watching the numbers move. Engage and incentivize all team members involved to get them excited about moving the numbers in the right direction.
8. Set clear performance expectations and offer training and resources
This is often overlooked but an essential idea for improving the sales process. You can't improve and grow if the majority of the people participating in reaching a goal aren't clearly informed of their role in the process.
Provide clear expectations and offer the necessary support to meet the expectations.
9. Foster collaboration between multiple departments
When teams like sales and marketing align, the consumer experience improves and sales grow. It's essential that these two teams are connected when planning how to reach and convert leads. Set designated times and expectations to encourage collaboration as well as visibility into shared tools and metrics for regular alignment.
Consider what other teams can offer helpful cross-departmental collaboration as well. Maybe product development or the finance teams have insights to offer sales and marketing.
Use direct mail to reach leads? See how AI guides your campaigns to get results with our free download.
10. Clearly distinguish Marketing Qualified Leads (MQLs) from Sales Qualified Leads (SQLs)
Sales revolves around leads, and both sales and marketing impact leads. So they need to agree on what marketing deems as an MQL, as well as when the lead changes to sales-ready becoming an SQL for the sales team to work. Agreeing on the criteria for both will eliminate confusion in the sales process.
Improve Sales Performance: 12 Strategies for a Winning Sales Culture + 5 AI Tools for Proactive Lead Management
Understand how leads move through the sales funnel
11. Understand the lead's experience throughout the sales cycle
Have you stepped back to think of the sales process from a lead's perspective? Consider assessing the flow of steps and touchpoints to understand why leads engage more or less at certain points.
Are there areas you assumed were working well but aren't actually measuring up? Are there strengths you want to adopt in other areas of the sales process?
Download our free aged leads AI guide to maximize the leads you've already invested in.
12. Focus on presenting solutions that address lead pain points
When communicating with leads, focus more on how your solutions to their problems are a benefit to them rather than just stating product or service features. This helps bridge the gap from their need to the solution you can provide them.
Find places throughout the sales process where you can improve how you relate to the problems leads are facing and then guide them to a purchase decision.
13. Identify trigger events that guide leads to the next sales phase
To ensure the entire sales process flows effectively, define what the trigger events need to be to automate leads moving further through the sales funnel.
For example, when a lead responds to a certain outreach email campaign, what happens next? When they don't respond, does communication stop or are they engaged in another way?
Get more from each lead with AI-powered lead nurturing. Download our free guide here. 
14. Monitor lead sources and assess the quality of leads
Whether you have a steady flow of leads or not, an ongoing assessment of your lead sources can give your overall sales process a boost — after all, this is where the selling process begins.
Use lead data to compare lead qualification and conversion rates from various sources. Notice which ones perform best. If lead sources aren't delivering, is there something you can change within your sales process to better cater to those leads or is the lead source no longer useful?
Essential Sales Process Troubleshooting to Improve Your Sales Operation from Top to Bottom
Focus on your tech stack
15. Build a robust tech stack with CRM system integrations
In today's digital landscape, your sales process is only as good as the software you have to support it. And newer tools available make sales easier than ever. Assess your current tech stack, see what capabilities your CRM system provides, and learn what simple integrations will boost your sales process.
The Full Sales Process Tech Stack You Need to Close More Deals with Inbound Leads
16. Ensure your tech stack can scale with business growth
Your tech stack and various resources that support your sales operation can be flexible to meet your needs as you scale up or down. If you're running into frustrations, limitations, or bottlenecks, research new options or connect with your software providers for a solution. Chances are, there's a better way to run things and no question is too simple to ask.
Lead Distribution Trends: Machine Learning and Predictive Analytics Revolutionize Sales Operations
17. Incorporate marketing automation for efficient lead management
Beyond your CRM system, adding marketing automation software helps to automate many touchpoints with leads like email, social media, lead nurturing, and various other channels. Look at adding marketing automation to streamline communication with leads between sales outreach and marketing campaigns.
18. Use data visualization tools to gain accurate insights into sales processes
Managing lead and sales data well goes a long way toward improving the sales process. Rather than manage data manually or use cumbersome tools, upgrade your software to incorporate data visualization that shows you actionable insights that can be easily interacted with.
Other decision support tools like ProPair's AI sales applications also allow you to make predictions within your data to see potential future outcomes that inform sales strategies.
Sales Director Guide: The 5 Core Lead Management Strategies You Need to Build a High-Performing Sales System
Make day-to-day sales operations more manageable
19. Create a sales process flow chart to clearly map next steps for your team
If you want to make bigger changes across your sales process that are concrete enough for the whole sales operation to implement, consider creating a sales process flow chart.
It serves as a roadmap that outlines next steps for leads and salespeople. By detailing a full flow chart, you can also find gaps and weak points to strengthen in the sales process that you might've otherwise overlooked.
Get our free download to learn the top 5 ways to boost sales with AI.
20. Implement a 90-day action plan to optimize your sales process
Many of the ideas above can be addressed in one dedicated effort by implementing a 90-day plan for improving the sales process.
We've outlined a 90-day plan example here that you can use to get started. It even incorporates adding new AI capabilities to your sales process.
It breaks down into less than a dozen steps that make a major impact on overall sales performance.
Check it out: The Actionable 90-Day Plan to Improve Your Sales Process + Getting Help from AI for Sales
Ideas for improving the sales process: Add AI sales applications quickly and simply
If you're intrigued by some of these ideas and interested in improving the sales process, connect with us to understand how simple it is to add AI sales applications to your current tech stack and quickly see an overall improvement.
With our production-ready AI models, we've built and tested AI that can simply integrate into your current CRM system within a matter of days. We can also customize the models and we ensure AI is being used for the specific use cases you need to grow sales.
You don't need to overhaul your system or build custom AI to improve the sales process. Instead, see how we can help.
Schedule a free demo with ProPair to learn more about improving the sales process.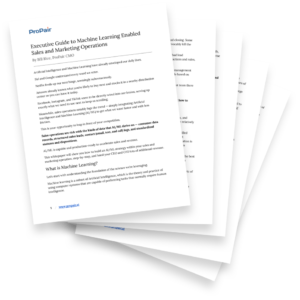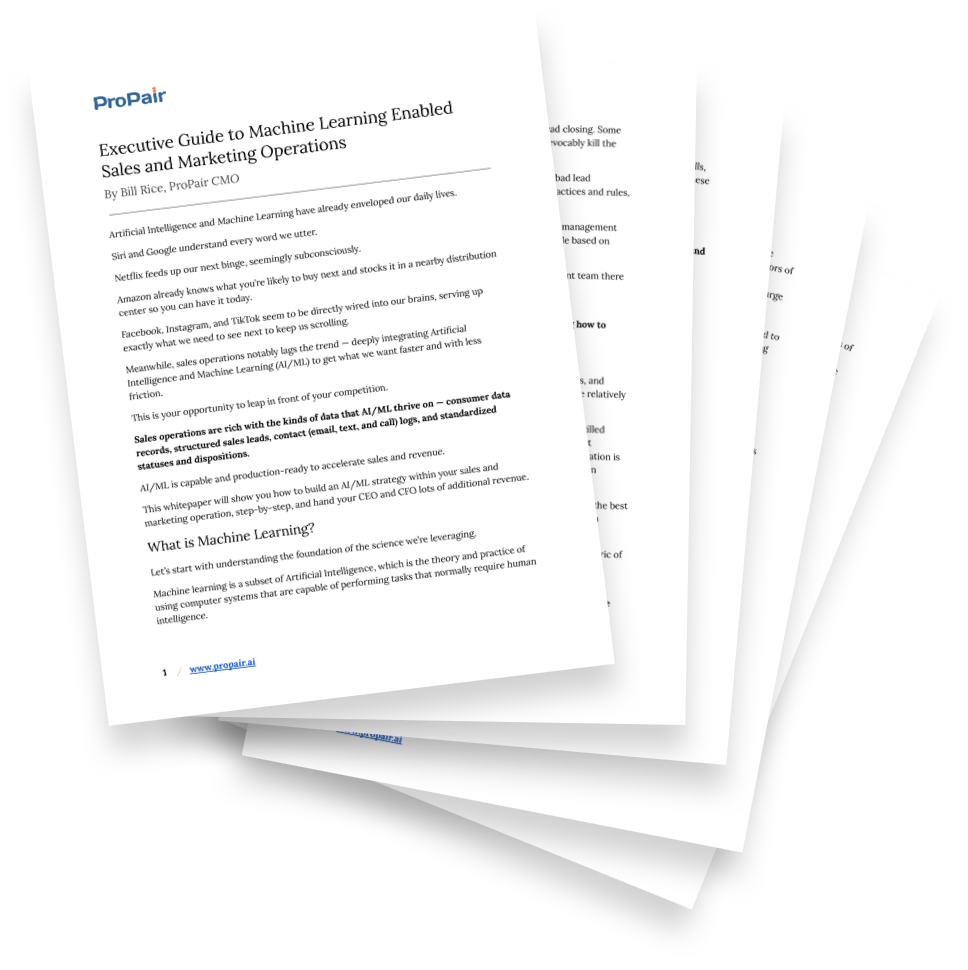 How does AI increase sales?
Download our executive guide to understand the current state of AI and machine learning. We'll show you how innovative sales and marketing organizations use it to get ahead of their competition.