Struggling to meet sales quotas can't simply be attributed to a "tough market" or a lack of effort by the salespeople. Maybe it's time for sales process troubleshooting.
Because more often than not, the real culprit is the sales process itself. Somewhere along the line, there are missing links. But where?
Identifying which step is problematic can be challenging. You know there's an issue, but pinpointing exactly where along the sales chain it resides and how to fix it is the real task.
To find the precise areas of concern and equip you with actionable measures to resolve them efficiently, we'll explore how troubleshooting your sales process and introducing new tools to support sales process improvement significantly impacts your sales operation.
You'll not only understand where things might be going wrong but also take away tangible solutions to improve sales process issues.
As you'll see many of the solutions to your frustrations lie within technologies like artificial intelligence and machine learning, which use sophisticated data management to fine-tune your sales process, close more deals, and grow revenue.
Schedule a free demo with ProPair to see how AI will improve your sales process issues.
The importance of addressing underlying sales process issues
Recognizing and resolving underlying issues in your sales process helps to prevent small inefficiencies from spiraling into unmanageable problems for your company.
When these hidden warning signs go unnoticed, they can gradually erode the performance of your entire sales operation and the growth of your company.
However, when you can correct sales process issues early, you get the following benefits:
Prevent escalation: Detecting and resolving minor glitches early prevents them from becoming major, obstructive issues, ensuring the smooth operation of sales activities.
Boost team performance: Clarifying and streamlining the sales process enhances team morale and focus, allowing for more effective selling strategies.
Secure revenue and growth: Addressing sales process issues promptly safeguards company revenue and supports sustained growth by eliminating inefficiencies in lead conversion.
Enhance customer satisfaction: Optimized sales processes lead to better-informed and supported sales representatives, improving customer interactions and relationships.
Dive deeper with The Ultimate Guide to Building and Maximizing Your Sales Process + How AI Will Help
Troubleshooting sales process issues + action steps to solve them
We'll start by exploring common bottlenecks and provide insights on troubleshooting and fine-tuning your strategies.
You'll want to put special focus on pivotal elements such as lead scoring, sales performance, lead assignment, and lead nurturing, all of which are critical in ensuring a streamlined and effective sales process.
By addressing these essential areas, you pave the way for an enhanced sales operation and better conversion rates, allowing your team to reach its full potential in acquiring and retaining clients.
The Actionable 90-Day Plan to Improve Your Sales Process + Getting Help from AI for Sales
Inconsistent sales performance
Sales agent performance
When sales are up and down, it's a sign that something's not right, whether the stats change within your overall sales operation or in relation to one or two specific sales agents.
For example, if one month the sales are through the roof and the next they plummet, it can suggest a lack of consistency in how well your sales agents perform, revealing potential issues with the support they have, their training, the quality of leads, and many other factors.
(However, it's also essential to check historical sales data, to ensure you're not entering a down period. This helps you understand typical cycles within your industry.)
What to do
Sales process troubleshooting: Regularly review sales data for any unexpected drops or spikes in sales figures, particularly related to specific products or team members, and lead scoring accuracy.
Action step: Implement a tool to analyze sales performance data like ProPair's AI platform. This helps you match the right sales agents to the best leads at the right time, using data-driven insights to eliminate questions and uncertainty around sales performance.
Team turnover
A constant influx and outflux of sales staff usually points to issues within the sales process, impacting team morale and job satisfaction.
For instance, unrealistic targets or lack of support can lead to frustration and job changes that strain the entire sales team.
What to do
Sales process troubleshooting: Seek feedback on job satisfaction and concerns related to sales processes, lead assignment, and workplace environment. Look at the data you have available to troubleshoot sales process weaknesses.
Action step: Use AI applications to more accurately measure sales performance data with predictive analytics. Measure sales performance using AI tools like ProPair to make sense of several complex dimensions of each sales agent. Track performance and use AI to make intelligent predictions about outcomes to understand where improvements can be made.
Ineffective sales training
Issues stemming from subpar or non-existent sales training significantly impact sales outcomes. If your team struggles with product knowledge, closing deals, or using approved scripts, it can lead to lost opportunities and even weaker ongoing lead nurturing.
What to do
Sales process troubleshooting: Continually assess the relevance and effectiveness of training materials and methods, soliciting feedback from your team on areas needing improvement.
Action step: Start by measuring sales agent performance and have ongoing tracking in place to monitor the effectiveness of training. Next, you can even implement AI coaching to provide automated and tailored feedback and support to team members that need more.
Read more: Sales Process Secrets: 12 Insider Tips to Create a High-Performing Sales Operation
Missed revenue targets
When your sales team consistently fails to meet its revenue goals, it's usually a clear sign of a disconnect in the sales process.
For instance, if your team is continuously falling short because the lead qualification process is misaligned, leading to a focus on prospects with lower conversion probability, it indicates a pressing need for process optimization.
What to do
Sales process troubleshooting: Start by examining lead qualification and lead assignment, paying close attention to goal alignment and the adequacy of strategies in place. If this isn't causing the issue, look to lead nurturing and lead prioritization to see if your sales operation is managing these next steps well in the sales process.
Action step: Leverage your lead and sales data with predictive analytics that help you understand potential outcomes based on your historical and incoming lead data. Use AI tools like ProPair to enhance decision support, while automating lead scoring and assignment. This provides data-driven insights that help you stay on track toward goals.
Get our free download to learn the top 5 ways to boost sales with AI.
Data overload and analysis paralysis
Did you know that only 28% of a salesperson's time is spent on selling?
An overflow of data can lead to analysis paralysis, where sales teams find it challenging to make decisions because they're bogged down with too much information.
For example, a sales team might waste considerable time sifting through irrelevant data points when a simplified, targeted dataset could lead to quicker, more informed decisions.
What to do
Sales process troubleshooting: Assess if manual data management and the current software you use to manage data are overly complicated or just not effective. Is your sales team able to take actionable insights from your lead and sales data?
Action step: Implement ProPair to streamline data analysis, focusing on key, actionable metrics that allow for clear lead prioritization. Utilize ProPair's AI to automatically filter irrelevant data using machine learning and train the team on efficient data interpretation tools for quicker, informed decisions.
Inefficient resource allocation and lead assignment
When resources like time, personnel, and budget are not allocated properly, it leads to inefficiency and frustration.
For instance, allocating too many staff members to a low-return client while high-potential leads are neglected can result in missed opportunities and revenue loss. Or assigning a lead to the wrong salesperson based on their expertise can result in wasted opportunities.
What to do
Sales process troubleshooting: Evaluate whether the resources like staff and budget are allocated to high-return activities and if there is a misalignment affecting outcomes.
Action step: Deploy more efficient ways of running your sales process, such as integrating tools that maximize every salesperson and every lead with automated, actionable lead management. ProPair is among tools that use AI for data-driven decision support that supports your overall business.
Increase conversions from the start with AI lead assignment. Download our free guide to learn more.
Disconnected sales and marketing strategies
Sales and marketing misalignment can lead to inconsistent messaging and missed opportunities.
For example, if marketing brings in leads with promises the sales team can't deliver, it can create a disconnect and potential loss of leads. If the two teams have different expectations for what makes a lead sales-ready, they'll both have trouble reaching those leads and hitting team goals.
What to do
Sales process troubleshooting: Check for inconsistencies in messaging between sales and marketing. Identify any communication gaps between the two teams. Investigate instances where lead qualification seems misaligned when moving from a marketing lead to a sales-ready lead.
Action step: Rely on your data to predict which leads are most likely to convert. ProPair offers this lead scoring capability to eliminate disagreements and lack of clarity between sales and marketing by providing data-driven predictions for the best possible outcomes.
Top 20 Ideas for Improving the Sales Process to Spark Change and Growth Within Your Business
Lack of scalability to grow business
When sales processes can't accommodate growth, it hinders the ability to capitalize on market opportunities, like when a fixed, slow sales process can't handle an influx of leads, leading to potential clients slipping through the cracks.
What to do
Sales process troubleshooting: Start by troubleshooting sales processes to identify any rigid structures or fixed protocols that can't accommodate an increase in lead volume. Review sales processes for adaptability and identify bottlenecks that limit the capacity to manage increased lead volume and efficient lead assignment.
Action step: Build a reliable tech stack that supports a more flexible sales process and can scale with your business. From your CRM system to the other tools it integrates with, there are plenty of options tailored to your specific needs that eliminate this problem within the sales process.
Run effective sales process troubleshooting to improve the sales process
It's not always easy to assess your own performance and see clearly where improvements need to be made.
It helps to have strategic expertise when navigating the many steps within the sales process. At ProPair we have experience in the sales industry and we build AI solutions to solve problems for sales teams.
Transform your sales approach with ProPair, an AI-driven lead management solution designed to optimize every aspect of your sales process.
We'll help you prioritize high-value prospects and improve conversion rates through intelligent insights, efficient data management, and streamlined prioritization.
With ProPair, you gain access to advanced AI features like predictive lead scoring and predictive sales agent matching through production-ready models that simply integrate with your current system while still providing options for customization.
Manage customer relationships more efficiently, streamline your sales funnel, and significantly improve the overall sales process with our AI models that plug into your CRM system.
Schedule your free ProPair demo and take action to optimize your sales process.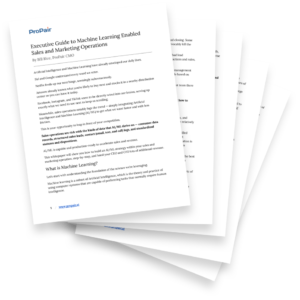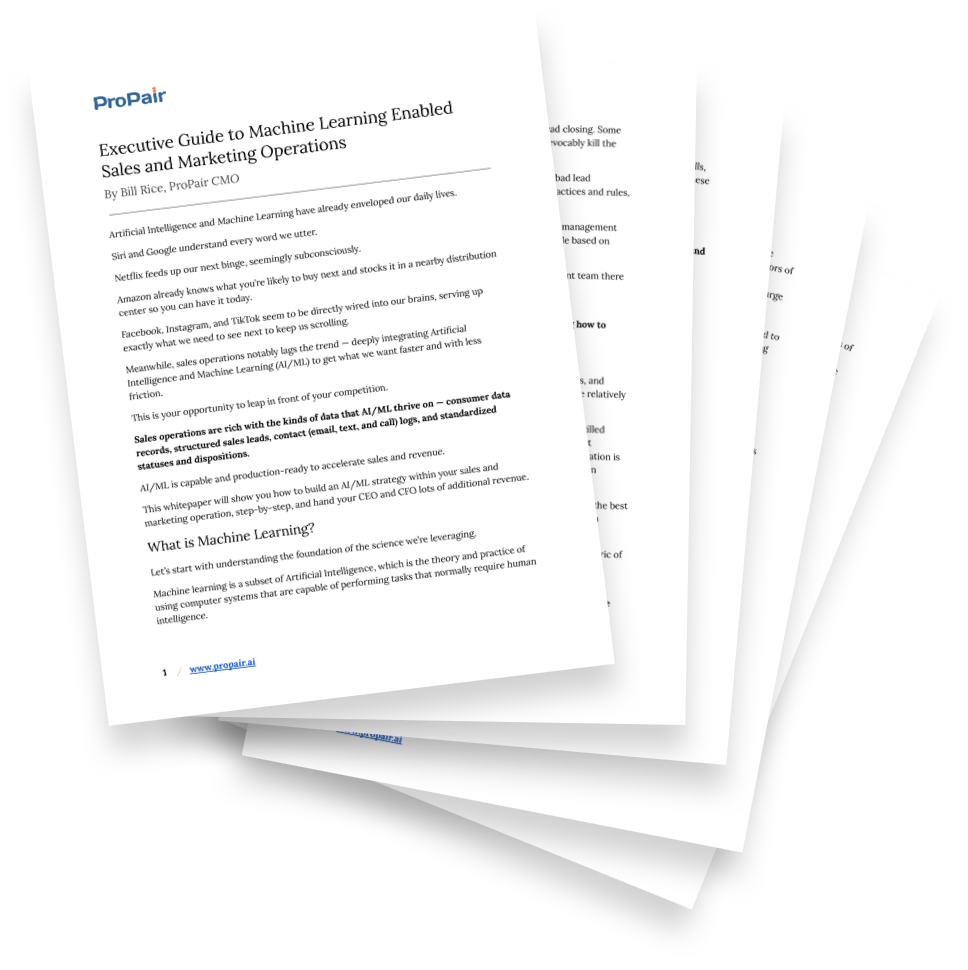 How does AI increase sales?
Download our executive guide to understand the current state of AI and machine learning. We'll show you how innovative sales and marketing organizations use it to get ahead of their competition.