Your sales process will only perform as well as the tools available to support it.
Running a successful sales operation comes with enough challenges as it is, especially one focused on inbound leads. Don't make converting deals harder on your business. Implement the right tools to support each step in the sales process.
It's simpler than you think. We've broken down the exact sales process tech stack you need to streamline sales operations, maximize the value of every lead, and boost conversion rates, all while improving ROI.
Schedule a free demo with ProPair to enhance your current tech stack.
How does the sales process tech stack impact your business?
You've managed leads and led sales strategies, so you can appreciate how these efforts are significantly improved when you have the right tools in place to do them well.
Otherwise, you run into a wide range of issues that affect the bottom line, including:
Lost sales opportunities
Missed revenue targets
An inability to scale
If you invest the time and resources to build the right tech stack, you improve sales process systems and make sales easier with the following benefits:
Streamlined workflows
Optimized lead management
Boosted conversion rates
This is why we've broken down the components you need to build the best tech stack to maximize your inbound leads.
Dig into The Ultimate Guide to Building and Maximizing Your Sales Process + How AI Will Help
CRM system
We're starting with your Customer Relationship Management (CRM) system because it's the true foundation of any sales process.
It serves as the hub for all of your lead and sales data to flow through. It's also the central tool that other essential technologies will integrate with to ensure your sales process software is streamlined and connected.
Your CRM works as a database for the entire sales operation and other teams that need to be involved like marketing. It should be built to allow every step of lead and customer management to flow through it so you can track sales activities, measure performance, and drive sales success.
Popular CRM systems
Salesforce
Salesforce is often touted as the gold standard for CRMs, offering robust customization and scalability, as well as wide-ranging integration options. Its advanced lead management capabilities include AI-driven insights, automation, and analytics.
Because it's so customizable, it requires close collaboration with the software provider to maximize its performance. Some teams hire a Salesforce sales process expert or other resources to assist with this as well.
HubSpot
HubSpot is another popular choice among sales directors. It works for a large range of businesses, even offering a free tier with essential features to smaller teams.
For more robust sales operations, it provides comprehensive lead management with AI-powered lead scoring, personalized marketing automation, and an omnichannel approach to customer engagement. It has fewer options for customization but is still robust and user-friendly.
Get our free download to learn the top 5 ways to boost sales with AI.
AI-powered lead management
Lead management is another essential aspect of your sales operation that is heavily dependent on building a strong sales process tech stack.
Lead management software — especially when powered by artificial intelligence — enhances how leads are worked to optimize your full sales process systems, including lead scoring, distribution, nurturing, and even sales agent matching.
New technologies offer capabilities that significantly improve sales performance and improve ROI with data-driven, AI-backed predictions and analytics.
Sales Process Secrets: 12 Insider Tips to Create a High-Performing Sales Operation
Recommended lead management software
In this digital landscape, you need lead management software that makes the most of current AI technologies. And there are more production-ready applications than you may realize.
ProPair
ProPair provides intelligent and predictive lead management that enhances lead scoring, lead distribution, and even lead nurturing by simply plugging into your current CRM.
It also provides predictive decision support to make informed decisions that improve sales strategies by predicting likely outcomes in various areas of the sales process.
Its production-ready machine learning models continuously learn and improve accuracy on their own, without requiring human intervention and heavy maintenance, unlike many other data management tools. The models are even customizable.
ProPair's lead management capabilities help you do the following:
Know exactly which leads to focus on and when. This helps with lead qualification and prioritization, as you measure several complex data points for each lead and get predictive values for how likely they are to convert.
Know exactly what sales agents to assign leads to. Maximize the value of every lead and every salesperson using complex sales data and predictions.
Know exactly how to optimize sales activities. Get alerts when lead status and behavior changes to inform how to prioritize leads as you work them.
Other lead management software options
CRM capabilities: Major CRM systems HubSpot and Salesforce have added AI lead scoring capabilities you can use if you're already set up on these platforms.
InsideSales: InsideSales also uses AI to score and sort leads with playbooks that increase efficiency for sales teams.
Clearbit: Clearbit's lead management software for scoring and routing leads helps you eliminate bad leads and manual sorting using enriched lead data.
Read more:
Marketing automation
Converting leads obviously requires more than just basic sales activities. It calls for some marketing expertise. For inbound leads you need marketing tools, especially automation, to nurture leads efficiently as they move through the funnel.
Integrating marketing automation into your CRM and lead management systems allows you to streamline communications and engagement. Map, track, and measure marketing efforts including various campaigns, emails, and touchpoints with leads.
This provides deeper records on overall lead engagement, from leads' introduction to your brand, all the way through to closing and customer retention.
Visibility into more dimensions of lead and sales process data helps your sales operation spot opportunities for improvement and strategize the impact of marketing on sales — all of which is essential for lead nurturing strategies that many of your competitors likely overlook.
Popular marketing automation software
The following popular options both provide marketing automation with predictive capabilities to maximize every interaction with leads. Trigger personalized communications and engage leads automatically to make strategic and efficient touchpoints that improve lead responsiveness.
HubSpot: HubSpot is a great choice for marketing automation using an omnichannel approach, especially if you're already using its CRM.
Adobe's Marketo Engage: Marketo is also a strong contender and works well for more complex, enterprise-level needs.
Read more: Align Marketing and Sales Collaboration to Grow Business Using Your Lead Management System
Email outreach tracking and automation
Within sales operations, there is more to consider than email marketing. Sales sequences are an essential part of the sales process for reaching and engaging leads that more directly sell to prospects than marketing campaigns.
Key email outreach tracking and automation features include capabilities to send personalized and timely emails based on various predetermined lead triggers or actions — at scale. Email tracking allows you to analyze how leads engage with email sequences to customize their continuing journey within your sales process.
Recommended sales email tools
Outreach: Outreach offers powerful email tracking and automation features for salespeople, sales directors, and other team members to improve the flow of leads through the sales pipeline while also reducing time and resources spent managing email outreach.
Yesware: Yesware offers similar functionalities and works as an add-on that functions directly within your current email client, allowing you to manage tasks like scheduling meetings and following up with leads.
Read more: How to Use AI for Automated Lead Management Solutions
Analytics and reporting
As you run various sales and marketing tactics that impact the sales process, you'll need to measure KPIs to gauge whether your efforts are worthwhile.
There are many different ways to do this, from AI-informed predictive analytics to lead and sales data visualizations, as well as marketing reporting.
Recommended analytics tools
ProPair's predictive analytics: ProPair's AI platform informs decisions related to qualifying leads, evaluating sales agent performance, and optimizing lead distribution. It uses AI to make data-informed predictions about how likely each lead and sales agent is to convert. This informs how you structure your sales team and lead flow to optimize conversions.
Tableau: Tableau offers in-depth analysis of business data, using visualization for simplicity when gaining insights from the data, as well as quick manipulation and adjustments to data dashboards for deeper analysis.
Google Analytics: Google Analytics helps with tracking engagement with your website, mobile app, and events that relate to other digital marketing campaigns and the traffic they generate.
Read more:
Contract management
Don't overlook the importance of your tech stack at the point in the sales process where a lead is ready to close a deal. You need a reliable contract management tool to seal the deal.
Contract management software helps with collecting, sharing, and managing secure documentation, which also reduces paperwork and manual processes.
Popular management tools
These two US-based contract management software companies help sales teams manage contracts digitally and automate steps in the process to accelerate processes, close deals more efficiently, and reduce overhead.
DocuSign: DocuSign works with most apps, CRMs, and devices for a simple and intuitive experience with sending, signing, and managing contracts in one place. It's widely used by a range of businesses.
PandaDoc: PandaDoc offers customization options to simplify business documentation. It helps you manage contracts, proposals, and quotes to help with streamlining sales processes.
Increase conversions from the start with AI lead assignment. Download our free guide to learn more.
Communication tools
Whether you're communicating with your internal teams or potential customers, you need tools you can jump in and out of for daily communication needs.
There are many tools that can help here, ranging from video conferencing solutions, to productivity tools, to chat capabilities. All of these allow for sophisticated sales communications, including the ability to conduct virtual sales presentations and product demos using real-time interaction, collaboration, and visual tools for a one-on-one meeting or when presenting to a group.
Essential Sales Process Troubleshooting to Improve Your Sales Operation from Top to Bottom
Common communication tools
Zoom: Zoom is the obvious choice for video conferencing and meetings, whether you're using it internally or to connect with prospects more deeply. It's a trusted and widely-understood platform that provides well-developed capabilities for video calls, chat, webinars, whiteboarding, VoIP phone, and more, all allowing for remote communication from any location.
Slack: A productivity tool like Slack is a popular choice for many businesses' internal communication. It provides a simple, quick, and secure platform to communicate internally in a way that allows for detailed organization of conversations, resources, projects, and more.
Read more — Improve Sales Performance: 12 Strategies for a Winning Sales Culture + 5 AI Tools for Proactive Lead Management
Integration platform
Last but certainly not least, you need a platform that allows for integration between all of the tools we've listed above. Even the most robust CRMs are best customized with the addition of integrated tools that meet the specific needs of your business.
Integration platforms ensure that your entire tech stack will seamlessly work together. They save you time so that you can streamline workflows and automate tedious tasks.
Recommended sales process software for integrations
Zapier: Zapier is a popular choice for basic integrations of web applications that impact workflow automation. It integrates with 5000+ apps and offers a range of free and paid plans.
Tray: Tray can handle more complex integrations for workflow automation on an enterprise level. It allows businesses to connect their entire cloud-based software stack and automate complex processes.
Read more — AI Strategies for Sales Directors: Optimize Lead Management Processes with the Latest CRM Integrations
Why is this the optimum sales process tech stack?
As you've likely come to understand, each of these areas have a significant impact on your sales process, making them essential for closing more deals with leads. Let's reiterate how this tech stack positively impacts your sales operation and your ROI.
This tech stack offers the following benefits:
Streamlined: When all of these tools work together, every aspect of the sales process has the support it needs to accomplish its goals smoothly and efficiently.
Data-driven: New technologies leverage data-driven decisions and measured strategies to ultimately maximize the value of every lead and every member of your team.
Scaleable: Through simplified sales process software, and improved conversion rates, you expand your opportunities and your capabilities for growth and adaptability.
User-friendly: As your team becomes more aligned and efficient, the experience of every team member will improve with the right sales process tech stack, which in turn improves the customer experience.
Read more:
Ready to maximize your sales process tech stack and close more deals?
Creating your essential tech stack will boost your sales process to outperform your competitors.
This could require overhauling your system. In many cases though, it only requires you to revisit the capabilities currently available to you and potentially integrate a new tool here or there — which can make a surprisingly large impact.
If you're interested in learning more about adding AI capabilities to your sales process software or curious about enhancing your lead management and overall use of data, we're happy to explore what's possible for your business.
Schedule a free demo with ProPair to get started.
Read more: The Actionable 90-Day Plan to Improve Your Sales Process + Getting Help from AI for Sales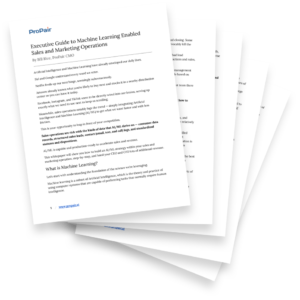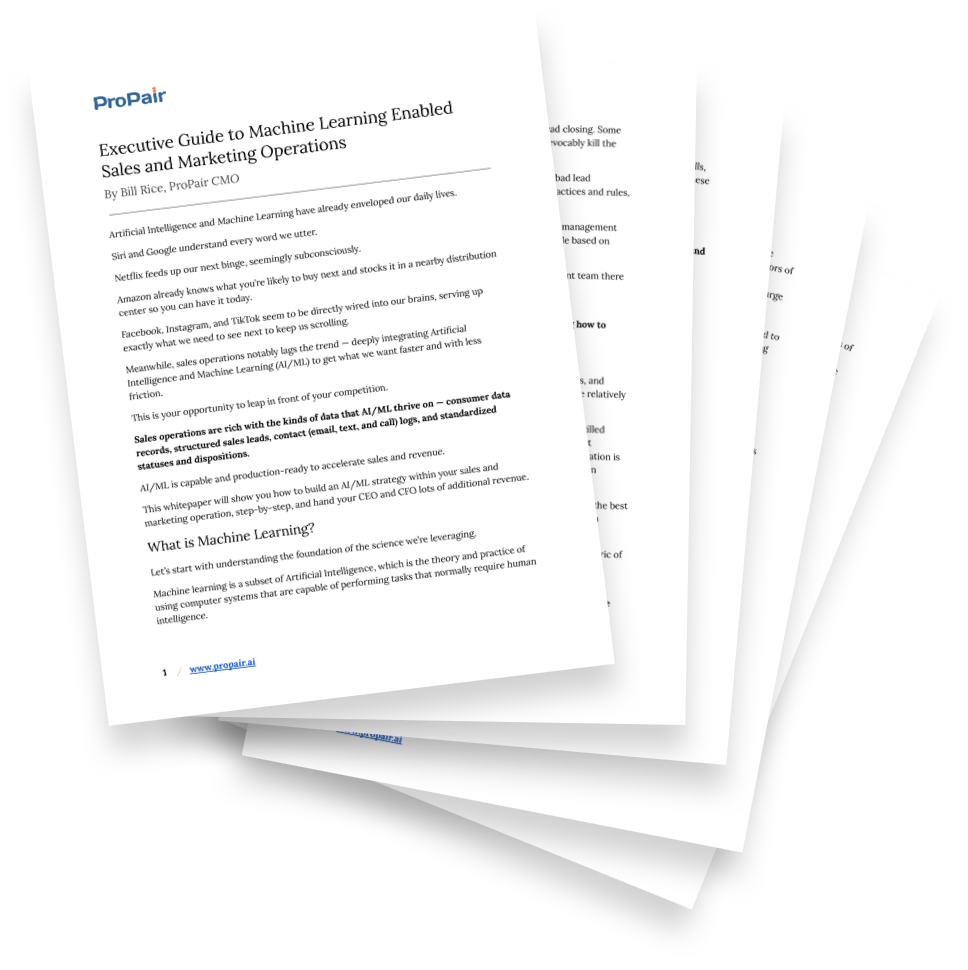 How does AI increase sales?
Download our executive guide to understand the current state of AI and machine learning. We'll show you how innovative sales and marketing organizations use it to get ahead of their competition.