Let's go deeper than the typical sales advice you've received ad nauseam. Instead, we'll provide the concrete insider tips that successful sales operations currently use to close more deals, improve ROI, and scale business.
Learn how to maximize your current resources, streamline daily tasks, empower your teams, and stand out from the competition to build a high-performing sales process.
You'll notice that among these sales process secrets, we focus on making the most of the resources you already have, while also suggesting additional resources that can be easily added to your current system.
Schedule a free demo to uncover hidden opportunities in your lead and sales data now.
Maximize current resources
1. Make lead prioritization clear and simple
You need the right tools to support this task and the right internal expectations.
With predictive AI platforms like ProPair, machine learning models are used to measure the complex dimensions of each lead. The models then predict which leads are most likely to convert and can alert the sales team of changes to a lead's status in relation to sales readiness.
This provides data-driven and predictive prioritization that clarifies the confusion around which leads to work and when.
Machine learning models also learn continuously from lead outcomes and incoming data to make more accurate predictions. With a tool like this, it's easy to set clear expectations for the team to prioritize leads based on data-driven insights.
Read more: Guide to Predictive Lead Scoring and Why Most Lead Scoring Models are NOT Predictive
2. Make the most of every team member
You have a sales team and you've likely made assumptions about who are the top and bottom performers within your sales process. But are you using data to match the right salespeople to the best leads? Or struggling to distribute leads effectively?
AI platforms like ProPair predict not only which leads are most likely to convert but also which salesperson is the right person to convert them.
Our AI platform measures several complex dimensions of lead and sales data to make its predictions. For your sales team, this can include factors like their expertise, location, experience, sales cycle length, and more to sort them into various tiers.
Leads are diverse and come from many different scenarios. Your sales team is unique too. Chances are, you're not making the most of your sales agents because you haven't had the data to do so previously. It's possible now with production-ready predictive analytics.
Dig even deeper with The Ultimate Guide to Building and Maximizing Your Sales Process + How AI Will Help
3. Maximize the value of all your leads
Some leads get lost and some get overlooked. These two problems arise usually either because the sales process isn't streamlined or because there is a misconception about what makes a lead valuable.
Better lead prioritization solves both of these problems with support from the right tools — and setting clear expectations for how to use those tools to prioritize and work leads.
When leads don't convert quickly or easily, don't discard them. Look at what else is possible. What different paths could they take to increase their sales readiness?
This is where lead nurturing is essential. It allows for various streamlined paths that leads can take until they learn enough about their needs and your business to make a purchase decision.
According to Forrester Research, businesses that focus on lead nurturing generate 50% more sales-ready leads at 33% lower cost per lead. Various automation and AI technologies make lead nurturing simple, personalized, and more effective than was previously possible.
Read more:
Build from a strong foundation
4. Be data-driven
We've already mentioned data a few times, because it's often overlooked or made overly confusing among high-performing sales process secrets.
Sales operations are ripe for data-driven tactics because they own thousands of data points. At its core, sales is a data-driven business. Yet many sales processes are stunted because organizations struggle to manage data efficiently and accurately.
By making sense of data with reporting and analytics, you inform intelligent business decisions and often reveal opportunities for improvement that you would otherwise miss.
Predictive analytics is essential for tapping into this data to provide actionable insights for the present, as well as accurate predictions for future strategies within your business.
Read more: 10 Ways Mismanaged Lead Data Hurts Your Sales Conversions + the ONE Solution You Need to Fix it
5. Build the right tech stack
You might've noticed we're putting a lot of emphasis on the tools and technologies you use as well. That's because in this digital landscape, these tools provide access to new insights that help businesses blast past their previous goals and performance.
We have access to production-ready tools that make complex data and deep analysis easy to grasp and act on in a matter of days.
Sales process secrets: Core tools you need in your tech stack
CRM system
Lead management system
Marketing automation
Email outreach tracking and automation
Analytics and reporting
Contract management
Communication tools
Integration platform
Read more here: The Full Sales Process Tech Stack You Need to Close More Deals with Inbound Leads
Streamline tasks
6. Create efficiencies with automation and AI
Save your sales agents time so they can focus on tasks and strategies that require their more valuable skill sets.
Many automation tools now handle repetitive daily tasks like emails, data entry, and scheduling. Early conversations with leads can even be done automatically with the use of AI-powered chatbots or virtual assistants that help to qualify and pass leads along to the next best step.
AI provides a range of simplified sales process improvements beyond these uses too, including simplifying and empowering data-driven sales forecasting, along with areas we've discussed like lead scoring, sales agent matching, lead prioritization, and predictive analytics.
Read more: Top 10 Emerging Trends in Sales Lead Management Systems for 2023
7. Determine trigger events
Beyond automation and visibility, decisions need to be clearly made to make streamlining tasks actionable on a daily basis.
These sales process secrets involve determining clear trigger events and actions for leads throughout each step of the sales process to guide clear sales activities and next steps. This avoids confusion about what happens to each lead as they become more or less sales ready.
Trigger events need to be worked into the various paths you create for leads and will vary depending on their purpose. This makes it even more essential that they be built into workflows and clearly communicated to all involved.
Get more from each lead with AI-powered lead nurturing. Download our free guide here.
Empower your business
8. Align with marketing
Sales and marketing need to work together, this isn't a secret. But it's still something that causes frustration within many organizations.
Don't settle for a philosophy that these two areas of expertise align, make it a clear actionable priority to ensure they're working toward the same goals.
Create regular opportunities for communication and collaboration:
Empower your sales and marketing experts to work together knowing it will make both of their jobs easier and boost conversions in the long run.
Read more: Align Marketing and Sales Collaboration to Grow Business Using Your Lead Management System
9. Set clear expectations
Creating opportunities for open communication doesn't stop between the sales and marketing teams. All teams that touch the sales process need to have support and clear expectations to be fully motivated to perform well, and to do it in a way that aligns with big-picture strategies for the business.
Regularly communicate expectations. And offer the necessary support for your team to meet these expectations.
Remember too that it's normal for expectations to shift and evolve. Be honest with your teams, open about changes, and provide ongoing context. This builds mutual trust, which makes it easier for you to know that they're also working toward the best goals for the business.
Essential Sales Process Troubleshooting to Improve Your Sales Operation from Top to Bottom
10. Provide ongoing training
As you add new technologies for sales process improvements and shift goals to meet changing business needs or market adjustments, don't forget to inform and educate your team.
Consider training a natural part of running a sales operation. There will always be something new to learn, whether it's new software, a new selling philosophy, new data tracking, performance goals, or something else.
Sales process secrets: AI streamlines training
When it comes to measuring and tracking performance, AI can simplify this with automation.
AI coaching also provides intelligent, automated training to those on the team who aren't performing to the standards needed.
Ream more — Improve Sales Performance: 12 Strategies for a Winning Sales Culture + 5 AI Tools for Proactive Lead Management
Stand out from the competition
11. Know what makes you unique among competitors
Are you familiar with the competitive landscape? What do leads find online when they search for a solution like yours? What are your competitors sharing on their various channels? How does your brand and messaging compare?
Consider how competitors promote their products or services, how they educate (or don't) consumers, and what information they ask for when collecting a lead.
Is there anything you can do better? Are there universal flows or features you're missing that create a barrier for consumers?
Sales process secrets: What makes you stand out from the competition?
Is your product or service widely favored among certain types of consumers?
Are you specialized in certain client scenarios?
Have you built a reputation for trust, transparency, or something else?
Do you hold the consumer's hand or is it a more hands-off process?
Is your offering unique from competitors?
Get our free download to learn the top 5 ways to boost sales with AI.
12. Understand your leads' paths to finding and working with you
Maybe you've created personas or determined an Ideal Customer Profile (ICP) but have you truly stepped back and put yourself in your leads' shoes? Based on what you offer, consider the many different paths someone could take to need your services.
Don't overlook the wide range of paths, even those with the most resistance. Create automated flows for these leads that nurture them toward sales-readiness without much manual management.
This broadens your reach and likely connects you to leads your competitors are overlooking. But those leads still have high intent to make a purchase decision and may just need some guidance.
10 Common Underperforming Sales Process Problems + How to Solve Them with AI
Create your high-performing sales process with these 12 sales process secrets
Building a high-performing sales process is an ever-changing endeavor. While gaining awareness of your current processes and setting KPIs are essential steps, you also need to go deeper to ensure your sales process improvements will truly perform among the many lead and sales scenarios that can arise.
Although these sales process secrets might currently evade your competitors, we'll see that innovations like AI and automation will become the norm over time.
Stay ahead of your competition and evolve your sales process. See how simple it is to add new production-ready technologies to your current system within days, not months or years.
Uncover hidden opportunities for growth with tools like ProPair's AI and machine learning platform.
Schedule a free demo with ProPair. We'll help you understand your data and make the most of AI.
Read more: The Actionable 90-Day Plan to Improve Your Sales Process + Getting Help from AI for Sales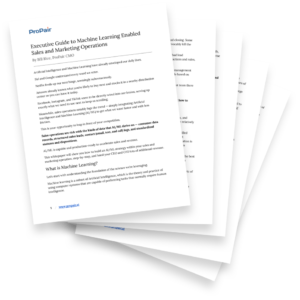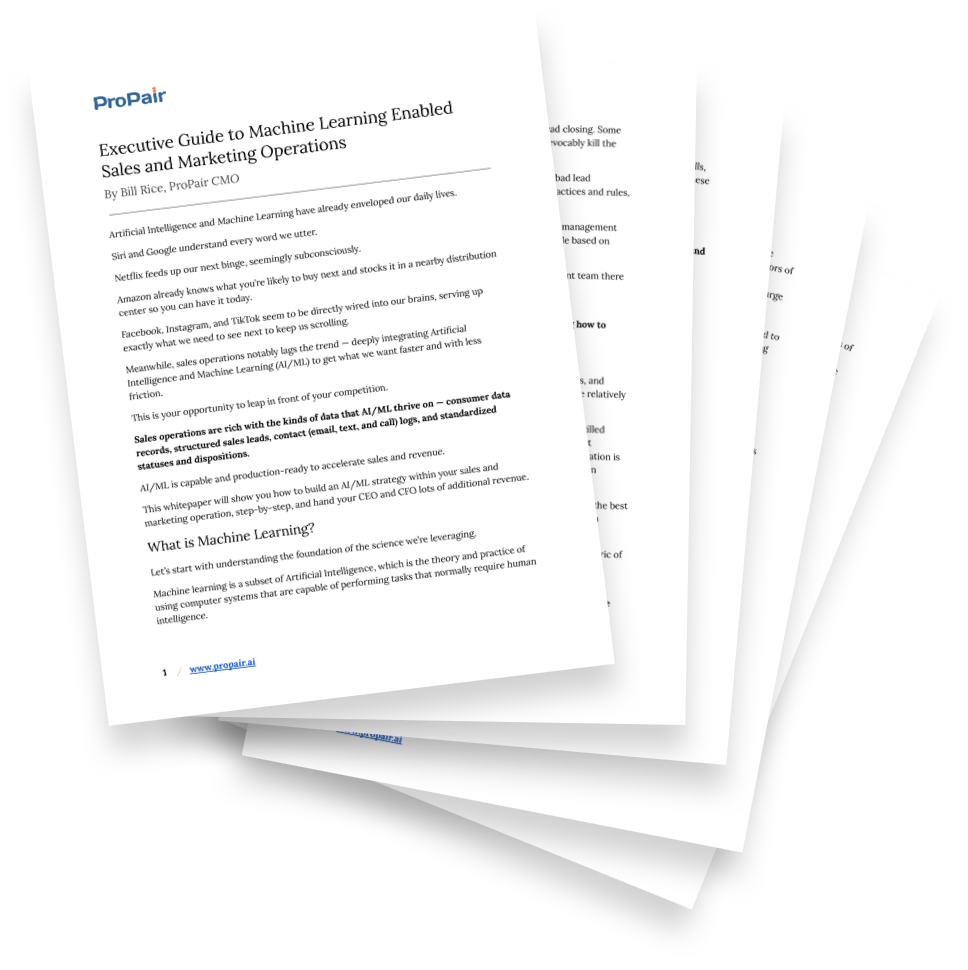 How does AI increase sales?
Download our executive guide to understand the current state of AI and machine learning. We'll show you how innovative sales and marketing organizations use it to get ahead of their competition.