Lead nurturing is so important to sales right now because leads are inundated with information that bogs down their ability to make a quick purchase decision — and the stakes for making a purchase are higher in this high-inflation market.
Business is competitive, so touting that you have the best product or service likely won't be enough to win over leads.
Intelligent and purposeful lead nurturing is the secret to maintaining a relationship with your leads until they're ready to close a sale. Your less strategic competitors will likely either annoy leads to the point of losing them or give up on them before they've realized their value.
Let's explore the art of the follow-up where we provide simple and straightforward insights into how to connect with leads and the technologies that are making it easy and effective.
Schedule a demo with ProPair to improve how you manage and convert leads.
The art of the follow-up: Best practices for lead nurturing
Whether you purchase leads or generate them yourself, online leads come to your business with a vast range of scenarios, needs, questions, and concerns.
To not only reach them but also connect with leads and ultimately convert them, you need to master the best practices for nurturing leads beyond initial outreach efforts.
Intelligent use of lead data is the best way to inform your lead nurturing strategies, which we go into more detail about in the next section.
Consistent and timely communication
Show up for leads consistently to remain on their minds. Using lead data, strategically show up in the channels they interact most and provide the content they're most interested in seeing, at the right times.
This level of timely communication means you're there to support leads as they move closer to making a purchase decision. By answering their questions, addressing their concerns, and educating them through their decision, you offer better support than your competitors.
Personalized interactions
Generic communications are easy to pass over and boring to engage with. Automated responses with no personality and no personal connection to each lead are easily forgotten.
But with intelligent use of lead data, segmentation, and strategic communications, you can efficiently nurture leads using simple ways to connect on a personal level. From using their names in emails to tailoring content to their interests and most used channels, there is a range of ways to add personal touches to lead interactions that make the sales process feel more human.
Providing value
When you do interact with leads in hopes of continuing to grow the relationship, your touch points will only be effective if you provide value. Otherwise, your emails, texts, and calls will be more of a nuisance.
Provide value by communicating helpful information that can guide their purchase decision. Send resources and educational content, provide answers to common questions you receive, and deeper insights about how they can use your product or service. Show that you're there to help them meet their needs.
Read more — Sales Director Guide: The 5 Core Lead Management Strategies You Need to Build a High-Performing Sales System
New technologies make lead nurturing easier and more effective
So how do you deliver on best practices and successfully follow up with leads that don't convert quickly? New technologies powered by artificial intelligence are game changers for navigating the complexities of lead nurturing.
With a wide range of leads that land on what seems like infinite points of the sales funnel, AI and machine learning make it possible to interpret lead data and act on it to inform conversion tactics.
Get more from each lead with AI-powered lead nurturing. Download our free guide here.
Automate initial lead interactions that continue to inform lead journeys
Predictive lead scoring
Predictive lead scoring uses AI and machine learning to automatically analyze several data points for each lead, allowing for a more complex understanding of their quality as they flow in and continue to engage with your business.
This includes analysis of a combination of basic demographics as well as changing behaviors and interactions. AI uses this data to predict which leads are most sales-ready, and how their readiness changes over time so that sales teams can prioritize leads more intelligently.
Chatbots and virtual assistants
Automating initial outreach and basic interactions with prospects, AI-powered chatbots and virtual assistants are available around the clock to support consumers. They answer questions immediately, address initial concerns, and move leads further into the sales funnel, automatically.
When leads reach a certain point, chatbots and virtual assistants automatically pass the qualified leads to a salesperson or even schedule a meeting for the sales agent and the prospect to connect.
Automated initial outreach
Rather than stress about quickly responding to leads with initial outreach and then maintaining basic communications with them throughout lead nurturing, automate these touch points.
Machine learning analyzes historical sales data to determine the best times and follow-up methods that have worked for reaching leads with the highest likelihood of conversion. It then informs how these communications can be automated going forward, which allows your sales team to keep in touch with leads in the most effective and efficient way possible.
Make the most of the leads you already have. Download our free guide to maximize aged leads with AI.
Use AI and automations for ongoing lead nurturing that gets results
Personalized content and recommendations
By analyzing several complex data points for each lead automatically, machine learning models assess each lead's interests, sales-readiness, behaviors, engagement, demographics, past interactions, and more — in real-time — to inform how communications with leads are personalized.
This automatically allows sales teams to suggest products and services that are most likely to meet a lead's needs, as well as to tailor communications, segmentation, and campaigns that are most likely to convert each lead while streamlining the efforts to do so.
Automated email marketing
An important part of lead nurturing is staying top of mind for each lead and providing value as they consider their purchase decision and prepare to buy. Email marketing is a great way to guide and educate consumers, as well as offer them custom and relevant offers.
AI helps sales teams determine the best times to send emails to leads, as well as how to segment email lists to personalize content. By giving leads more of what they want, you optimize open rates and overall engagement with email campaigns.
Read more — AI Strategies for Sales Directors: Optimize Lead Management Processes with the Latest CRM Integrations
How to move forward and master the art of lead nurturing
The technologies are available and you have a clearer picture of the strategies you need to reach leads. But how can you improve your processes to maximize the tools available?
Take these steps to get started on the path of mastering lead nurturing:
Start with process engineering: Use a systematic approach and map out your process for improving lead nurturing so that you have a clear path to follow using an outline of the next steps and goals.
Invest in training: Set the expectation and create a clear plan for the entire sales team to train on new lead nurturing processes. Build in opportunities for continuous learning and development to improve lead nurturing through each sales agent.
Adapt to changes: As you introduce new lead nurturing processes, ensure you have the buy-in and resources you need to make the changes successful. This requires flexibility among internal teams and dedicated time to discuss updates, questions, concerns, and wins.
Monitor and make improvements: As new lead nurturing processes begin, it's crucial to track and analyze performance to then make adjustments as needed to stay on track with your original goals. Predictive analytics can help you do this more simply and intelligently.
Make the most of analytics: By monitoring and tracking adjustments to your sales process, you gain a wealth of data. Maximize the data's value with predictive decision support that helps you understand what's working as well as what needs to be improved with predictions for the best possible outcomes.
Read more: ​​Top 10 Emerging Trends in Sales Lead Management Systems for 2023
Demo ProPair's AI platform to discover opportunities for better lead nurturing
You likely already have thousands of data points from leads and from your sales process.
What if you could take this historical data and use it to reveal opportunities for increased conversions, while also improving ROI?
ProPair's AI platform is production-ready to plug into your current system and provide AI and machine learning capabilities. It helps you intelligently manage your data, provide predictive analytics, and offer decision support beyond the basic data management and forecasting you've used before.
Know which leads are most likely to convert in real-time, which sales agents will have the most success converting them, and what timing is best for engaging each lead.
Schedule a free demo with us to see the opportunities your data can reveal to your business.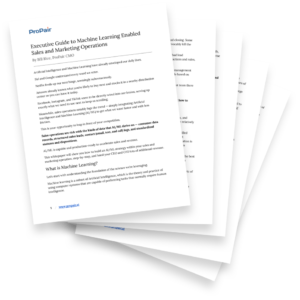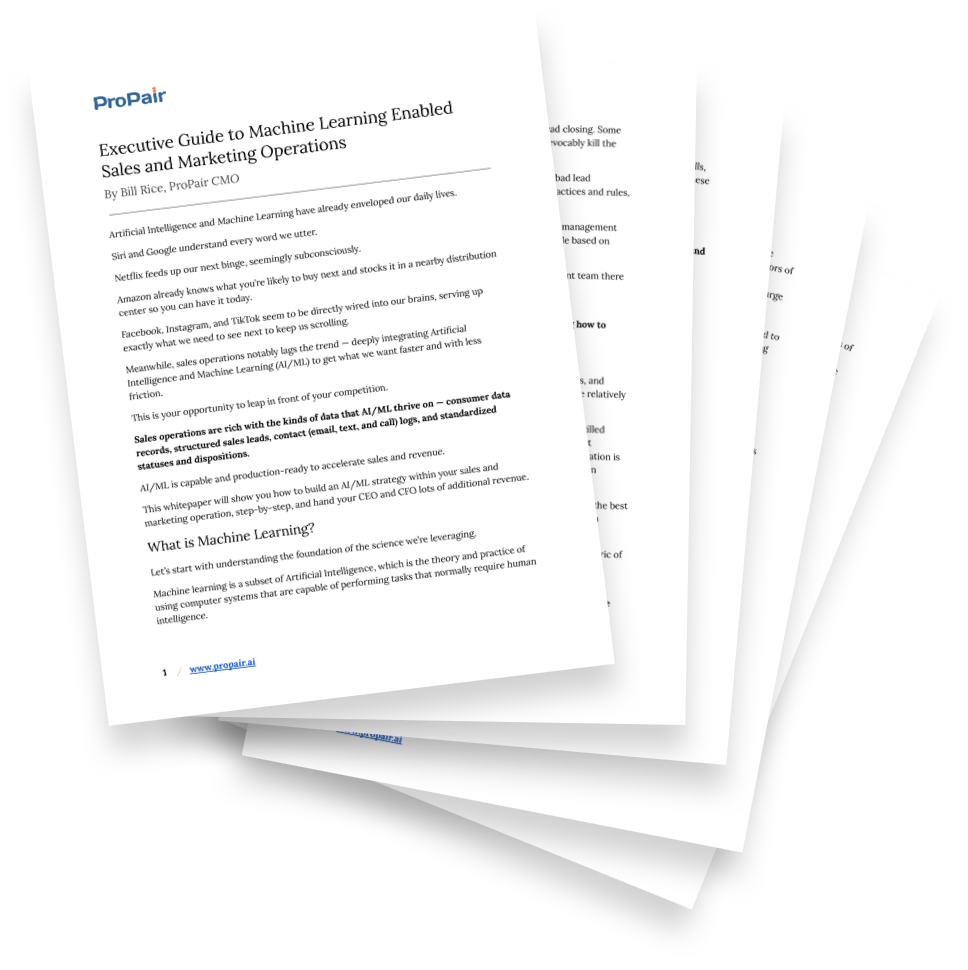 How does AI increase sales?
Download our executive guide to understand the current state of AI and machine learning. We'll show you how innovative sales and marketing organizations use it to get ahead of their competition.