If you're buying, generating, or managing leads, you've likely wondered how you could optimize these efforts and get the best ROI from those leads.
Whether you've worked with lead scoring before or are just learning how to develop a lead scoring model and why it matters, we can help you understand the basic concepts and how they improve sales operations.
Let's dig a little deeper too, into the innovative tools that involve improved lead scoring models, making it easier than ever to analyze, prioritize, work, and convert leads using artificial intelligence and machine learning (AI/ML).
Lead scoring is automated with artificial intelligence. See how applying AI to your data reveals sales opportunities with our free demo.
What is a lead scoring model?
Lead scoring involves ranking leads as they come in, based on the probability of each one turning a sale. So a lead scoring model provides the structure for lead scoring. Within the model or system, different criteria are established for assigning values or points to each lead to determine how qualified it is.
Using different models will get you different results, as each model relates to certain criteria chosen to reach certain sales and marketing objectives.
With the best lead scoring models, organizations are able to quickly identify qualified leads and prioritize how to work them as they're generated.
THE PROPAIR CHALLENGE
Are you closing all the sales you can?
See exactly what you're missing and why.
Factors to consider when developing models
As lead scoring models are essentially the structure by which leads are evaluated, they need to be built around certain lead criteria that can be measured.
Many lead scoring models rely on a handful of common factors to analyze and value leads. This includes basic facts about leads, actions leads take, and certain goals or benchmarks that leads are being evaluated against.
Let's dig into some of these factors in more detail for lead scoring model examples.
Get our free download to learn the top 5 ways to boost sales with AI.
Lead behavior
This requires some strategic marketing and sales efforts as well as a system to track how leads interact with these efforts. But it's worth the effort.
By tracking leads' behaviors, a lead scoring model can assess how they're moving through the sales funnel and help to steer the strategy to continue guiding them to conversion.
This would include measuring behaviors such as:
Website visits
Time spent on website pages
Links clicked
Downloads
Forms filled out
Phone calls
Responses to voicemails or text messages
Email opens
Email responses
Social media engagement
Lead demographics
The basic facts about your leads tell you a lot about whether they're qualified prospective customers. Analyzing data points like their job title, income, the industry they work in, the company they work for, age, location and any other basic information can help you understand what demographics make them more or less qualified as leads.
With the right lead scoring model, this data can help you understand how someone's personal information relates back to your product or service and how ready-to-buy they are.
When a lead becomes an MQL or SQL
Beyond lead behavior, we also mentioned a lead scoring model example that could measure leads against certain benchmarks.
Establishing what makes a Marketing Qualified Lead (MQL) and a Sales Qualified Lead (SQL) — using agreed-upon criteria between both the sales and marketing teams — will help a lead scoring model perform well. It establishes a threshold that makes it clearer when a lead is sales-ready so that lead tracking goals are kept in mind when scoring leads.
Want to learn other ways to optimize lead management? Check out our Guide to Lead Distribution: Getting the Right Leads to the Right Sales Agents
How to use an intelligent lead scoring model
Manually establishing and managing a lead scoring system is difficult to do well. Having to monitor whether the criteria you're measuring are working, and how to assign value to that criteria, while guessing at what makes a lead convert involves a lot of trial and error. This manual method is not an exact science.
This is why intelligent lead scoring is becoming increasingly important to businesses. It automates your lead scoring model using machine learning to analyze thousands of lead data points in real-time. Not only does it analyze this data quickly, but it also makes instant evaluations of the data, providing immediate decision support.
Over time, as more data runs through an intelligent or predictive lead scoring model, the model gets smarter. It makes more accurate predictions based on the outcomes involved in generating and closing previous leads.
This means you know your lead scoring model is continuously optimized without having to manually reevaluate and update the model.
Read about how intelligent lead management tools can improve sales: Guide to Implementing AI/ML for Executives in Sales Operations
Why do models matter
Of course, qualified leads are important to both your marketing and sales teams. But their value goes beyond that, impacting revenue and even operations.
The resources that go into generating leads need to be backed by a system that can take in those leads and manage them with a high probability of converting them to customers.
The best lead scoring models create a system for leads to flow into. From here lead scoring models automatically assign value to each lead, based on the criteria within the model. This helps get leads to the right part of the sales funnel. It helps sales operations prioritize working the right leads, including understanding how ready-to-buy a lead is or whether they need more nurturing.
As much as lead scoring has improved sales operations, lead scoring models that are static and manually updated are no longer the best solution. In fact, they're becoming obsolete and may be interfering with your ROI. Instead, intelligent lead scoring is growing in popularity.
Predictive lead scoring allows organizations to make the most of their leads, impacting overall lead management, customer experience, and ROI. 
Get more from each lead with AI-powered lead nurturing. Download our free guide here.
Need a better lead scoring model for your leads?
With intelligent lead scoring models, much of the lead scoring work is done for you. With one simple integration, you can apply machine learning models to your leads as they flow into your CRM and are then passed onto your sales team.
ProPair's decision support tools help you predict which leads and sales agents have the highest probability of closing.
Know exactly which leads to focus on and when
ProPair RANK provides a predictive lead value ranking system designed to help sales teams prioritize leads, guide follow-up activities, and revisit abandoned opportunities.
Know exactly what sales agents to assign leads to
ProPair MATCH is our turnkey solution that leverages historical sales team performance data and machine learning technology to get the right leads to the right sales agents.
Maximize the potential of every lead and every sales agent
ProPair MIX optimizes your entire sales operation and equitably distributes leads from top to bottom performers, maximizes sales production, and reduces the need and expense of churning your salesforce.
How could a predictive lead scoring model help you optimize leads?
Schedule a free ProPair demo here to find out.
To start, we'll help you uncover any missing sales opportunities using machine learning to analyze your current leads and their performance. From there, one of our decision support tools can be applied to help you close more sales.
Our clients see a 10-15% lift in conversion rates without changing anything in their sales operations, using ProPair within their existing systems and data.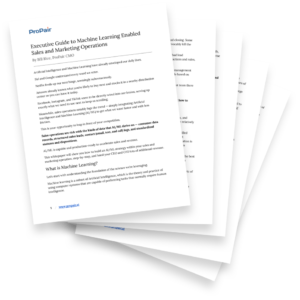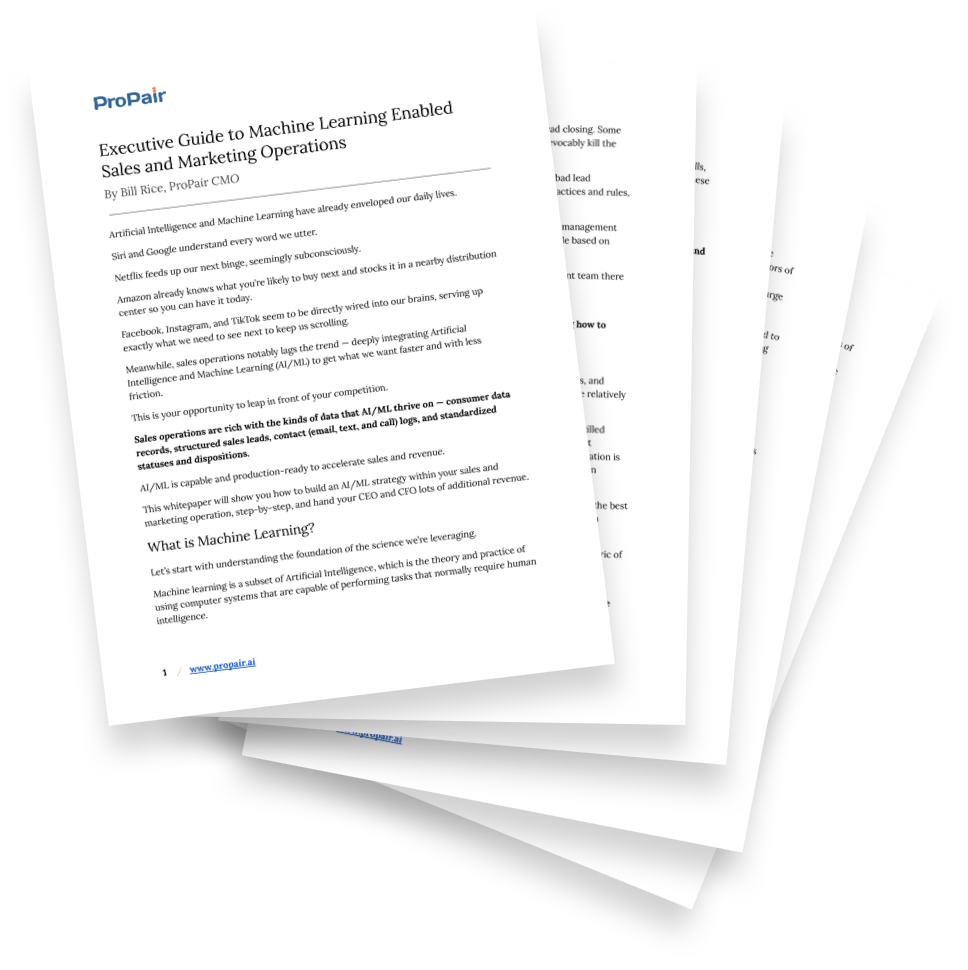 How does AI increase sales?
Download our executive guide to understand the current state of AI and machine learning. We'll show you how innovative sales and marketing organizations use it to get ahead of their competition.